(BPT) –
If you've ever seen hot spots on your dog, you know the havoc they can cause. If left untreated, a spot of dermatitis can turn into a gooey, oozing, bloody wound that will continue to get worse the longer it is left alone. Summertime is a hot bed for hot spots because pups are more active outdoors and can start itching from a variety of irritants like fleas, environmental allergens, skin infections or trapped moisture from swimming. Once itching, biting and licking start, bacteria can invade the area, combined with heat and humidity, and it's the perfect recipe for nasty hot spots. Then rapid relief is the name of the game.
Here are three easy and super-fast ways to help your dog recover.
1. Identify the Problem: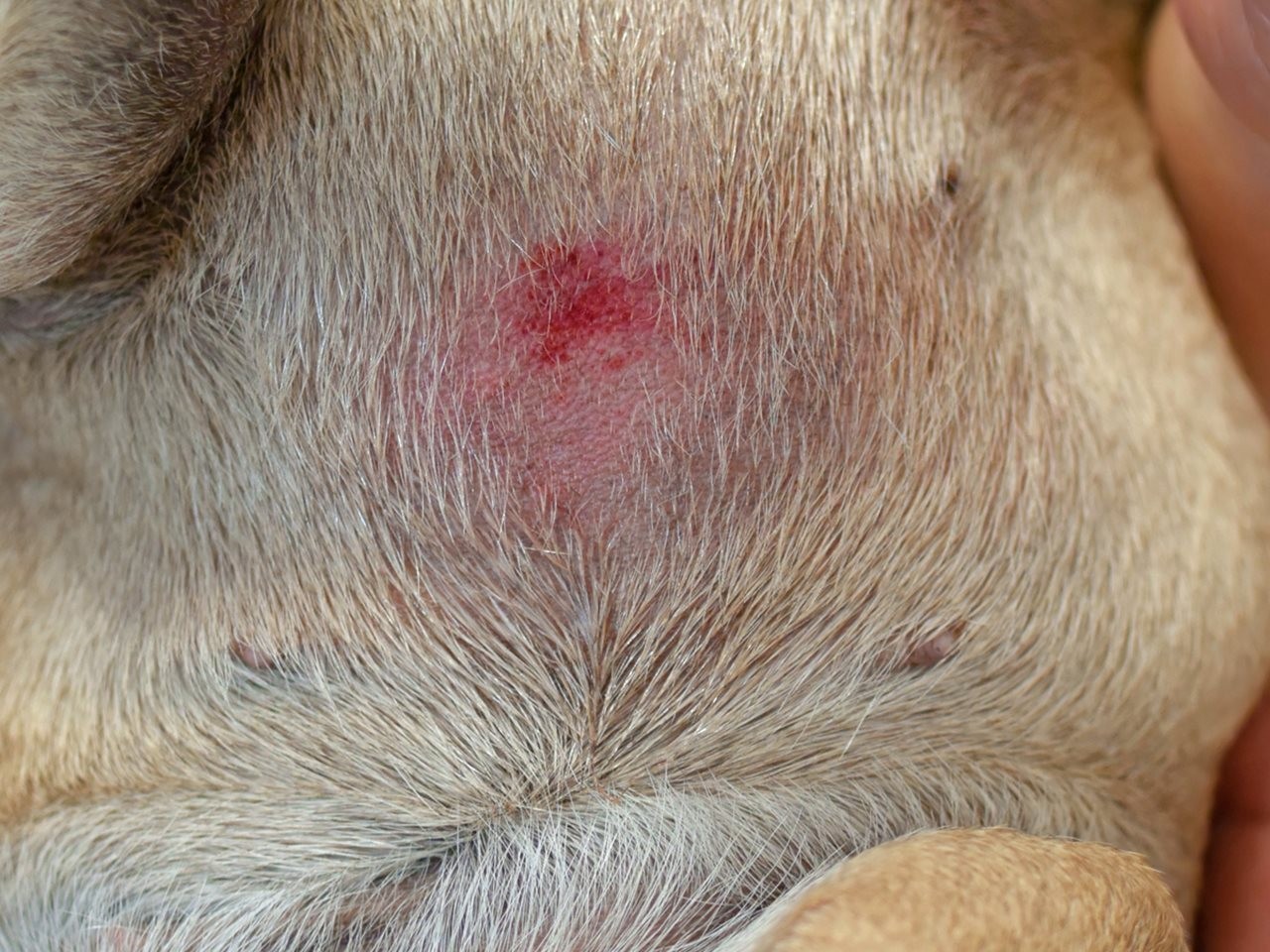 Hot spots are localized areas of inflammation. Look for well-defined areas of redness, swelling and hair loss. There may be a discharge of fluid or blood, which can cause crusting and matting of the surrounding hair. Your dog will help identify them too, with tell-tale itching and biting that can create additional inflammation and secondary bacterial infections. That perpetuating cycle of itching and scratching will cause frustration for both of you! If you find anything that looks more like a puncture wound, an animal bite, large cut, or your pet is in pain, a visit to your vet is needed. But if all signs point to a hot spot or smaller wound, you can provide fast soothing relief, stat!
2. Find Treatment:
Here's the good news. Treating hot spots does not need to be a costly and complicated process. Silver Honey™ Hot Spot & Wound Care from Absorbine Pet Care™ combines the natural power of medical-grade Manuka Honey and MicroSilver™ BG to heal hot spots and wounds quickly on dogs, cats and horses. It is gentle on skin yet powerful, proven to stop 99.9% of bacteria immediately and start healing faster.
While this revolutionary formula is tough on bacteria, it soothes and moisturizes the treatment area to protect the skin. Silver Honey™ is effective on hot spots, cuts, abrasions, sores, rashes, fungus, scratches, burns and wounds. Made with natural, medical-grade active ingredients, Silver Honey™ goes to work to shed dead tissue and promote new healthy tissue growth. So your pup will feel better AND look better.
Silver Honey™ is the first product of its kind to combine Mother Nature's strongest antimicrobials to soothe, protect and heal. Gathered exclusively from the hives of bees that feed off the nectar of the Manuka Tree, Manuka Honey has unique antiviral, anti-inflammatory and antioxidant properties. MicroSilver BG is a powder of micro-sized pure medical-grade silver particles that fight germs and boost the skin's natural defenses. Together that is a whole lot of goodness and quick relief.
Available in two convenient application methods, Silver Honey™ Spray Gel is ideal for treating large areas of skin and provides continuous coverage of the wound. The ointment option is great for treating wounds with long-term scabbing. It will soften older, persistent scabs to promote the healing of the wound beneath.
3. Monitor During Healing: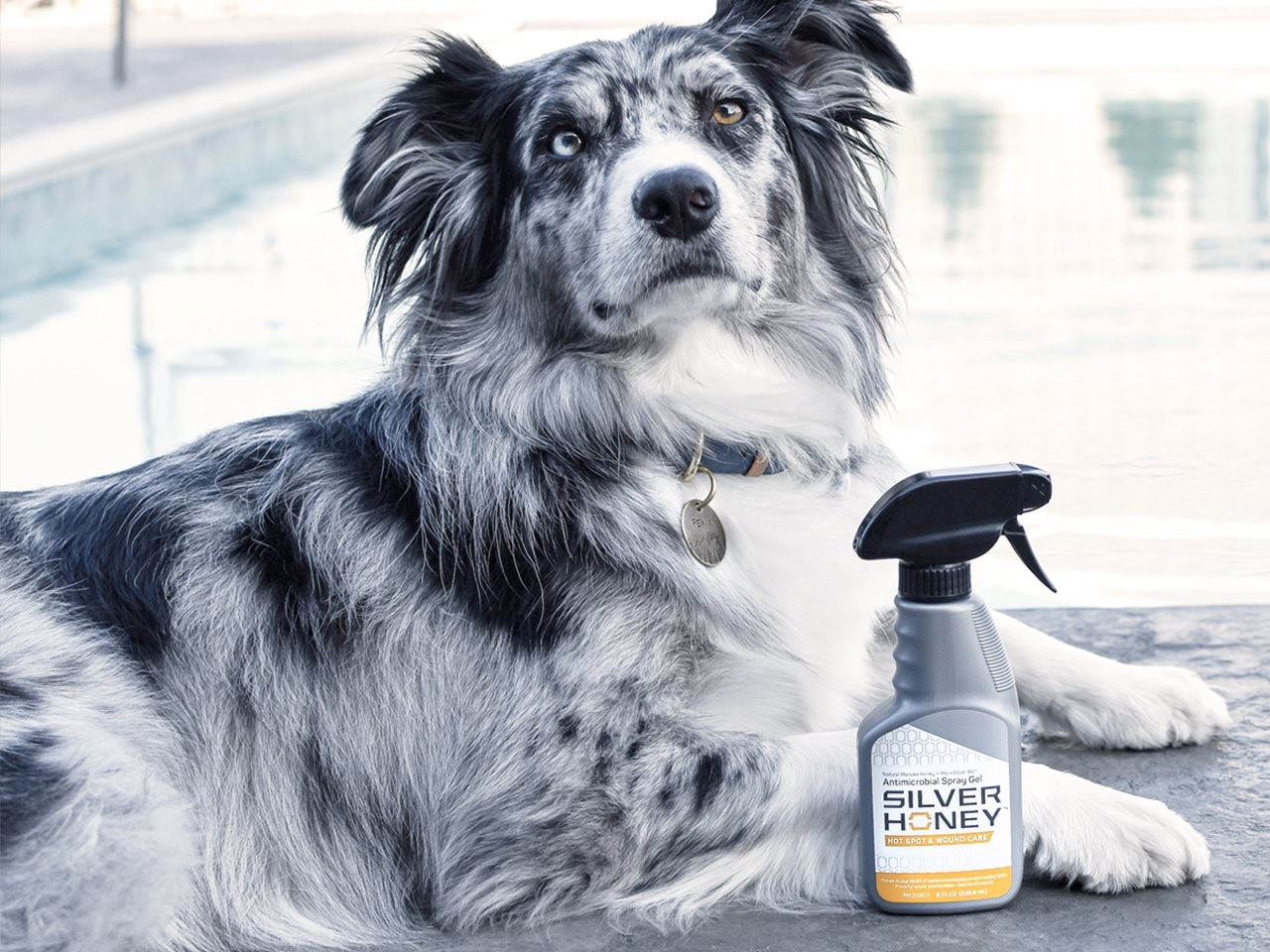 Silver Honey™ soothes the skin to reduce the desire to scratch and bite, plus includes a bittering agent to deter licking. However, we all know dogs can be persistent! Do your best to dissuade your pup from going after the area (even if it means wearing the 'cone of shame' for a couple of days). Keeping your dog interested and active in play time will help distract from the wound and avoid boredom that can lead to scratching and licking. Be sure to keep the area clean. You may need to trim the hair around the area to prevent matting. If the wound gets wet, dry it carefully (remember, hot spots love moisture and heat!) and re-apply Silver Honey™. Since Hot Spots can be a recurring problem, arm yourself by adding Silver Honey™ to your first aid kit so you can start treatment at the very first sign of trouble. Quick, easy, pain-free relief and an end to frustration – now THAT'S a recipe for stress-free summer fun.
Be ready for quick relief for your pet this summer and all year long with Silver Honey™ Hot Spot and Wound Care from Absorbine Pet™. Available at independent pet stores nationwide, or order online at AbsorbinePet.com and Amazon.com.