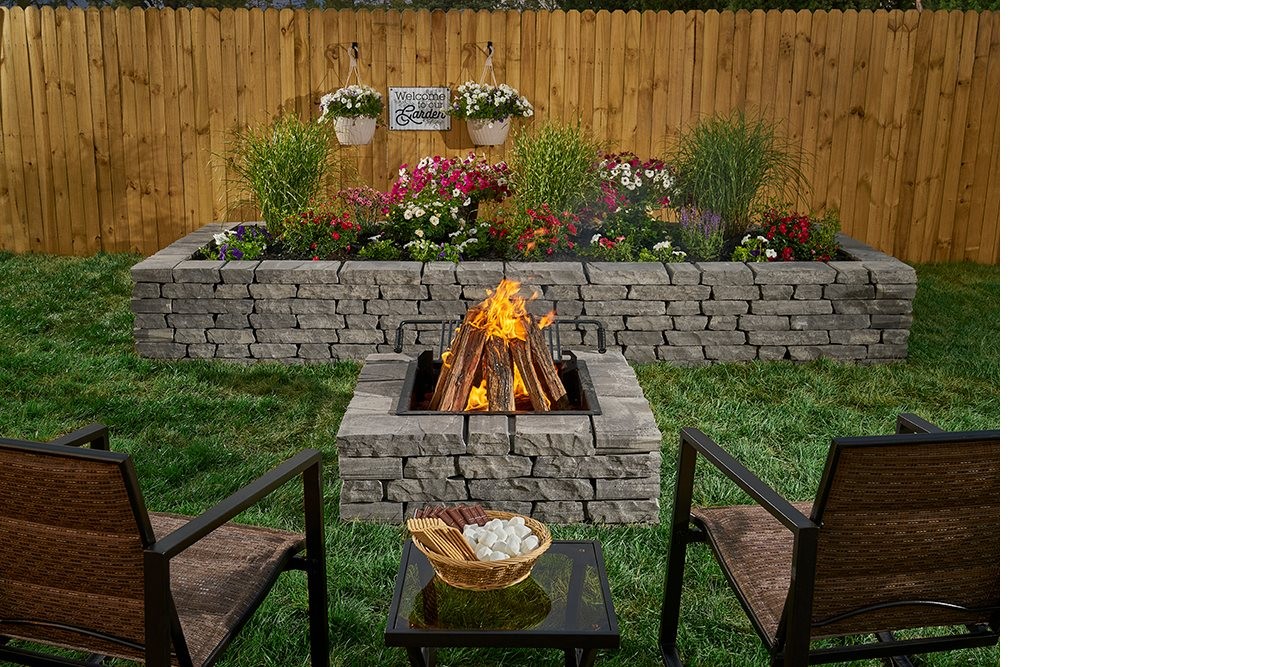 (BPT) – Fire pits are more popular than ever, and for good reason. Not only do they look beautiful, but they provide real warmth, and their flickering flames entice friends and family to gather for storytelling, making s'mores and having a great time together. Fire pits are also a relatively easy DIY project, even for beginners, as long as you have the right materials.
If you're considering adding a fire pit to enhance your yard, here are some things you'll want to think about before you begin.
1. Determine your top reasons for building a fire pit
Knowing why you want a fire pit and how you primarily plan to use it can help you make a number of other decisions, such as where to put it, the materials to use, plus what size and shape you want it to be.
For example, are you primarily interested in its decorative value? A well-constructed, attractive fire pit adds visual interest to your outdoor space as well as increasing the value of your home. Do you mostly want to create a warm place to gather, extending the use of your yard into the evening and beyond the warm-weather months? Would you like to grill or cook food on it (beyond the obligatory s'mores, of course!), and do you see it as another way to help keep pests at bay? Fire pits can provide all these benefits, and more.
2. Choose concrete blocks to create your fire pit
Square fire pits can quickly and easily modernize a space, and they are easily created using concrete blocks. Because a square shape mimics the angular lines of your home, it helps to create the visual sense of a natural continuation of your living space, drawing the indoors out.
You can use Ladera Wall Block or the versatile Rumblestone® Wall System to create your square fire pit, and make sure to get a Pavestone fire insert to create a heat barrier between the fire and the wall blocks.
3. Where should you put it?
Placement is very important. For fire safety, first of all, it's crucial that your fire pit is not located too close to your home or any other structures, as well as trees, shrubs or other plants. You'll also want to check with your local municipality for rules and regulations regarding the placement of fire pits, and some areas also require that you apply for a permit.
Beyond safety considerations, you'll want to decide whether your fire pit will be a central focal point for your outdoor space, or if it will serve as a natural boundary feature. Where you place the fire pit will also help you decide on its size and shape.
4. Don't be afraid to DIY
While you could hire a professional to build your fire pit for you, it's actually not that hard to construct a fire pit for less cost — and in minutes — using the right products.
For example, creating a fire pit with Ladera Wall Block is a satisfying weekend project, and can easily be installed using QUIKRETE® Construction Adhesive. No cuts, special cap or corner blocks are needed to complete your fire pit. The blocks are available in seven different face patterns, allowing varying false joints to mask any pattern repetition, so you can achieve a contemporary look that blends linear lines with subtle, natural textures. Then all you'll need is a fire pit insert and lava rock to fill the cavity base.
5. Opt for durability
Creating a fire pit using concrete blocks has definite advantages. Your new fire pit will be strong enough to withstand the elements so you'll be able to enjoy it for a long time. However, you will also be able to pick up and move your firepit elsewhere if your design changes, as long as it is installed on the surface.
Keeping these factors in mind, you should be able to create a beautiful fire pit that will transform your backyard into a cozy spot to gather and make memories with friends and family for years to come.
Visit Pavestone.com/retaining-walls to watch a step-by-step video showing how to construct your fire pit using Ladera Wall Block.