A decorator at heart, Brooke Ulrich, of All Things Thrifty, was destined to update her bathroom. With just one weekend, Brooke transformed the outdated space into her dream bathroom.
Read on to find out Brooke's six easy  bathroom project ideas to make your bathroom look great.
Easy Bathroom Project Ideas
All it takes is a weekend to make your bathroom feel brand new!
Here are six bathroom project ideas to consider if you need a bathroom transformation of your own.
Look at our weekend transformation!
The Bathroom Before the Update
After the Bathroom Update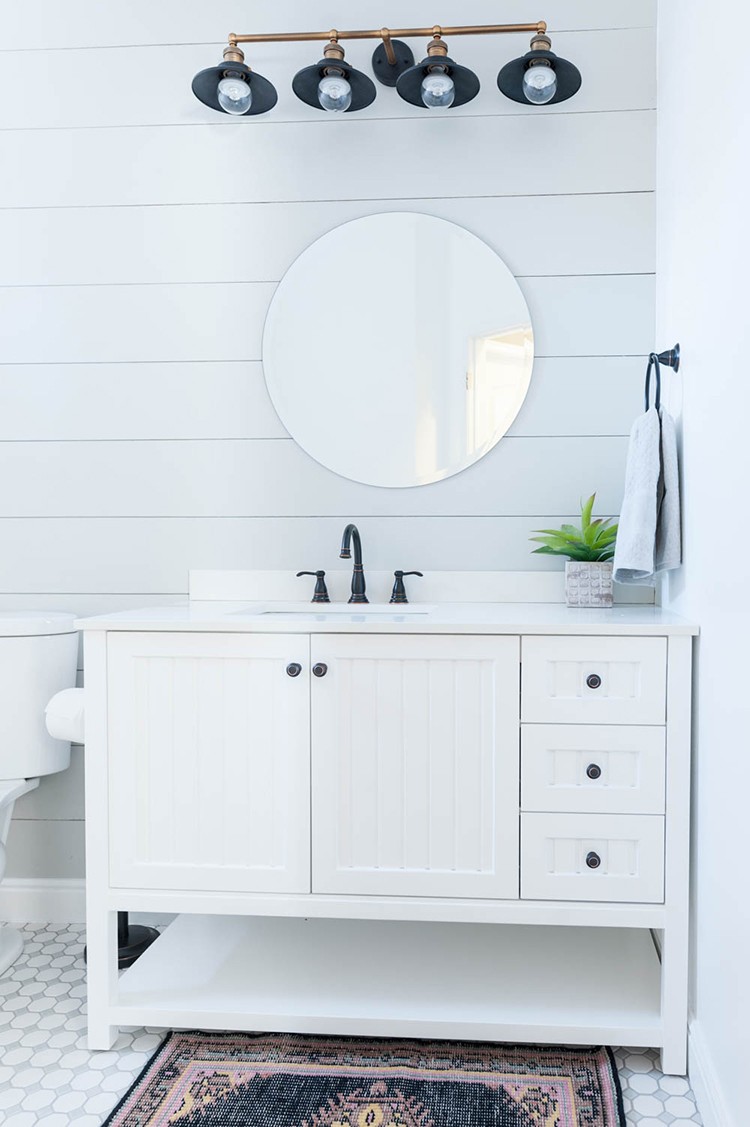 I cannot believe the difference a weekend project can make!
---
1. Add texture and character through moulding or shiplap
Shiplap in the bathroom can add so much character, but in our case it solved a major problem. It can also cover damaged drywall!
When we took out our builder basic mirror, the glue came with it damaging the drywall behind it. Plus, when we removed the old vanity, the drywall behind the cabinet had never been finished. The shiplap solved all of our drywall problems.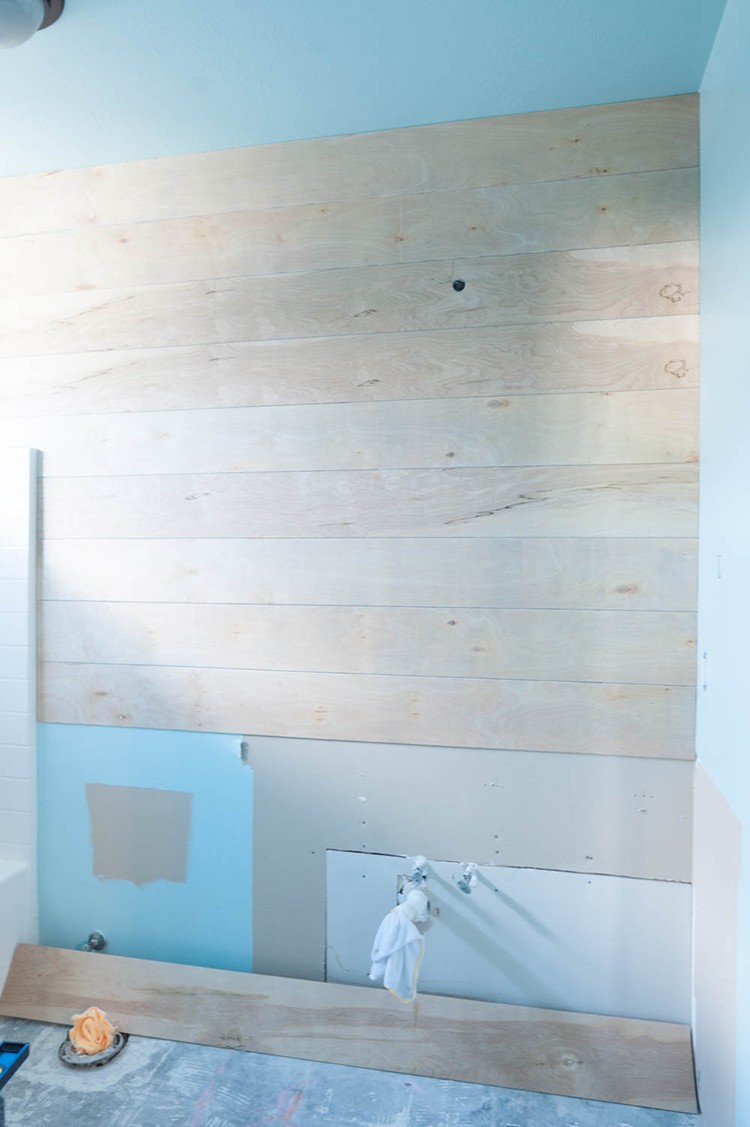 The entire wall of shiplap cost less than $40 in lumber. The lumber department at my local Home Depot store made the project extra easy by ripping the quarter inch birch plywood for me on their wall saw. We cut our planks to be 8 inches thick.
---
2. Paint the bathroom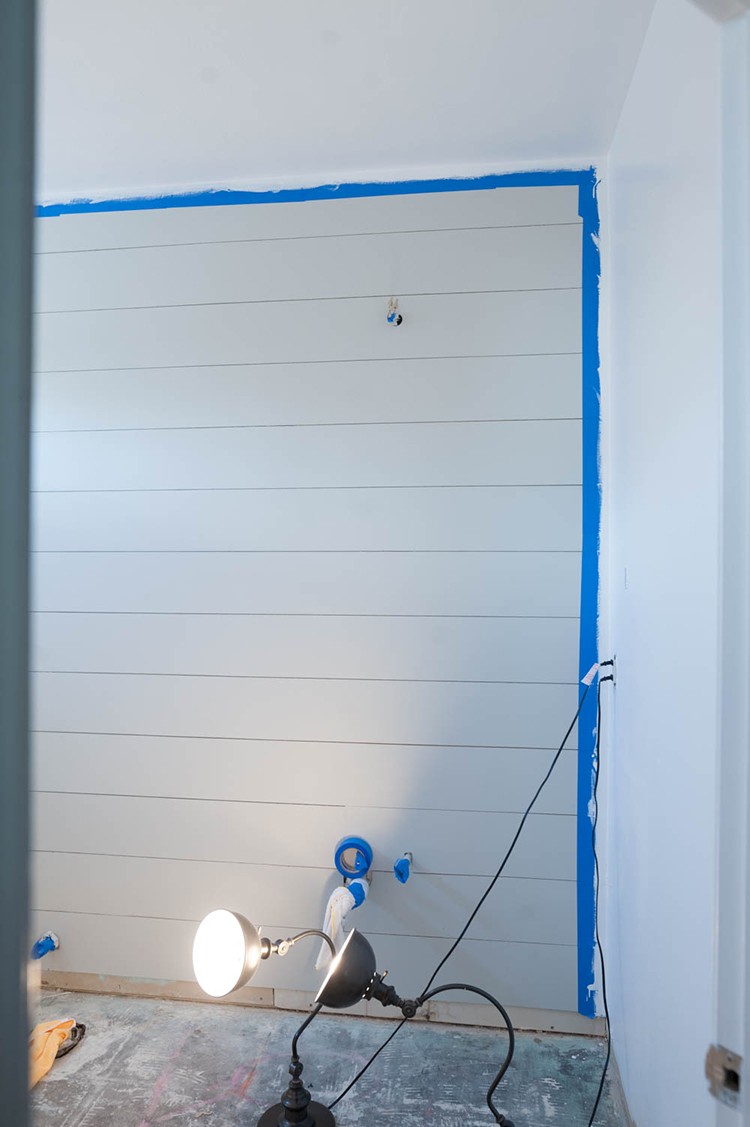 After we installed the shiplap, we painted it with BEHR Whitewash Oak at 75 percent saturation. It took less than a gallon to cover the shiplap, and then we brightened up the other walls by painting them with BEHR Ultra Pure White.
As you can see, painting is one of the fastest ways to transform a space and plus it is one of the most inexpensive! A gallon of paint costs less than $30 and it's astounding how much of a difference it makes. The room doesn't even feel like the same space as before. This has to be the best of the easy bathroom project ideas, ever.
---
3. Replace the lighting
Updating the lighting was so much fun! And it's a pretty fast switch that makes a big difference especially in a small space like a bathroom. We chose this pub style light from The Home Depot online, and it's stunning. Pictures don't do it justice.
---
4. Rip out that outdated tile!
The first time I removed tile myself, I was very intimidated. But it's actually really fun!
We like to use a pulsing hammer drill and tile chisel bit. But do not forget to wear gloves and protective eyewear.
A small bathroom is a great room to replace the tile yourself. We had the entire room of tile removed in less than two hours from start to finish. But, if you are doing a larger project, it would definitely take you more than a weekend.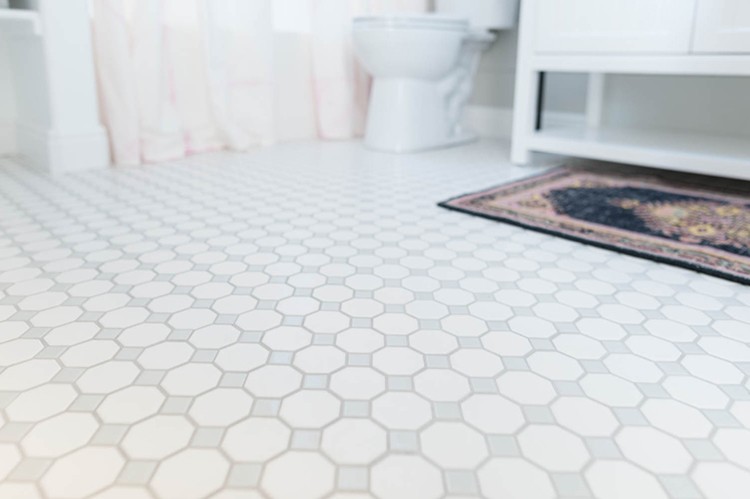 We chose Daltile Prologue Dot tile for our bathroom because it's a classic style that will stay in style for a very long time. It's beautiful.
---
5. Switch out your hardware and faucets
Updating the hardware and faucets in the room is an instant update to any bathroom. We went with the Delta Porter collection in oil rubbed bronze for our space, and it's a perfect fit.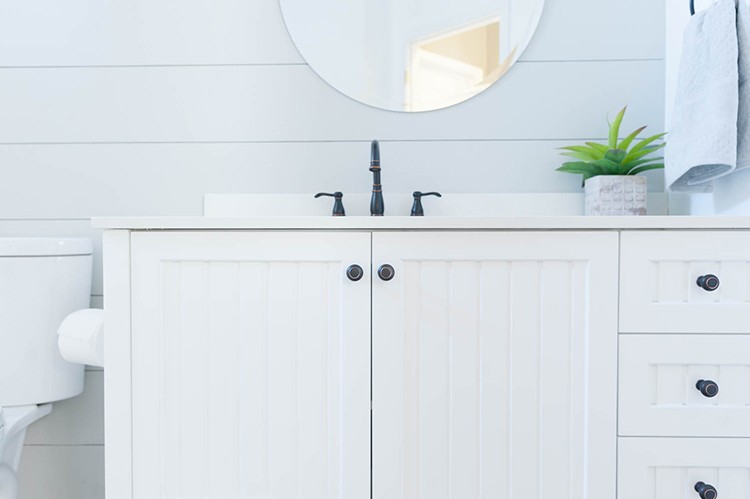 I even liked it so much that I switched out the cabinet knobs on our vanity to match.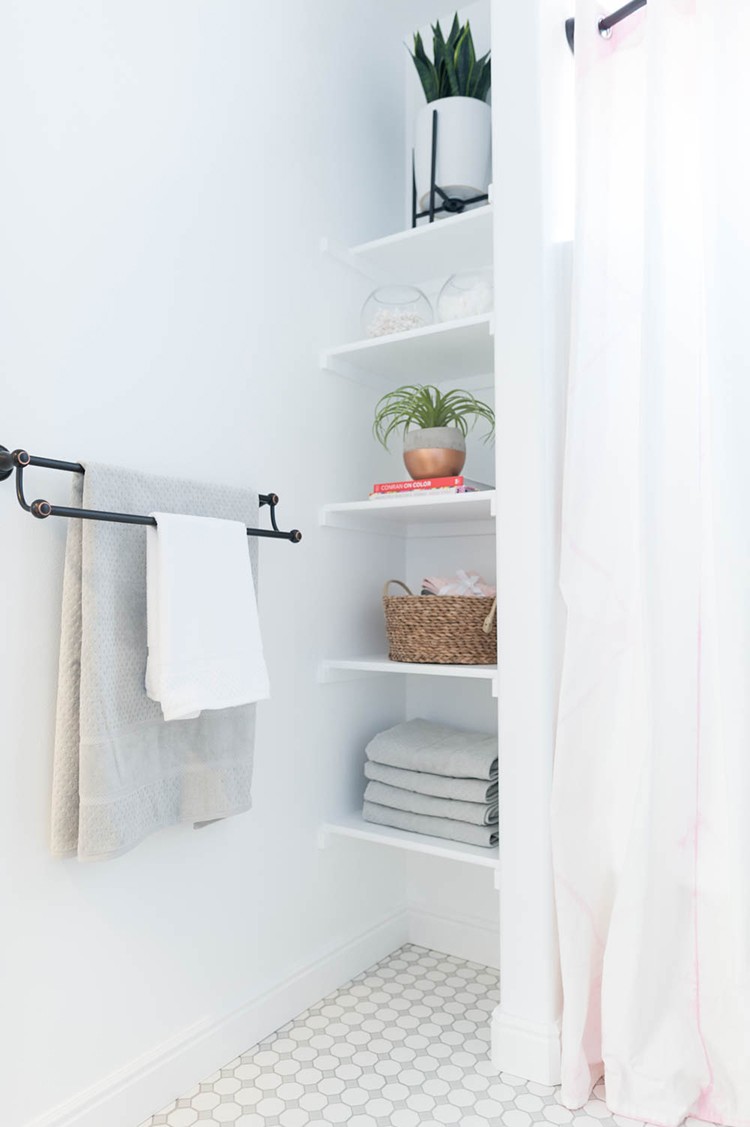 We chose the Delta Porter bathroom faucet, the towel ring, and the double towel bar from the same collection too.
One thing that you may also want to consider is a standing toilet paper holder. We didn't want to drill into our brand new vanity, so we opted for a floor standing toilet paper holder ourselves.
---
6. Vanity Switcharoo
Our vanity was dingy and water damaged, so it was a simple decision to replace it with a new one.
But if yours is in good shape, you may not need to replace it. You can paint your vanity to make it feel new again to gain a few more years with your current cabinetry. Check out my painted bathroom cabinet in this post.
But since our vanity was pretty beat up, we replaced it with the Seal Harbor Vanity, and it's darling! It even came with a piece of quartz to use as a backsplash. I love the detail on the side with the X pattern.
I am extremely happy with the results of our weekend bathroom project, and I hope you have been inspired to tackle a few of your own projects too!
The post 6 Easy Bathroom Project Ideas You Can Complete in a Weekend appeared first on The Home Depot Blog.