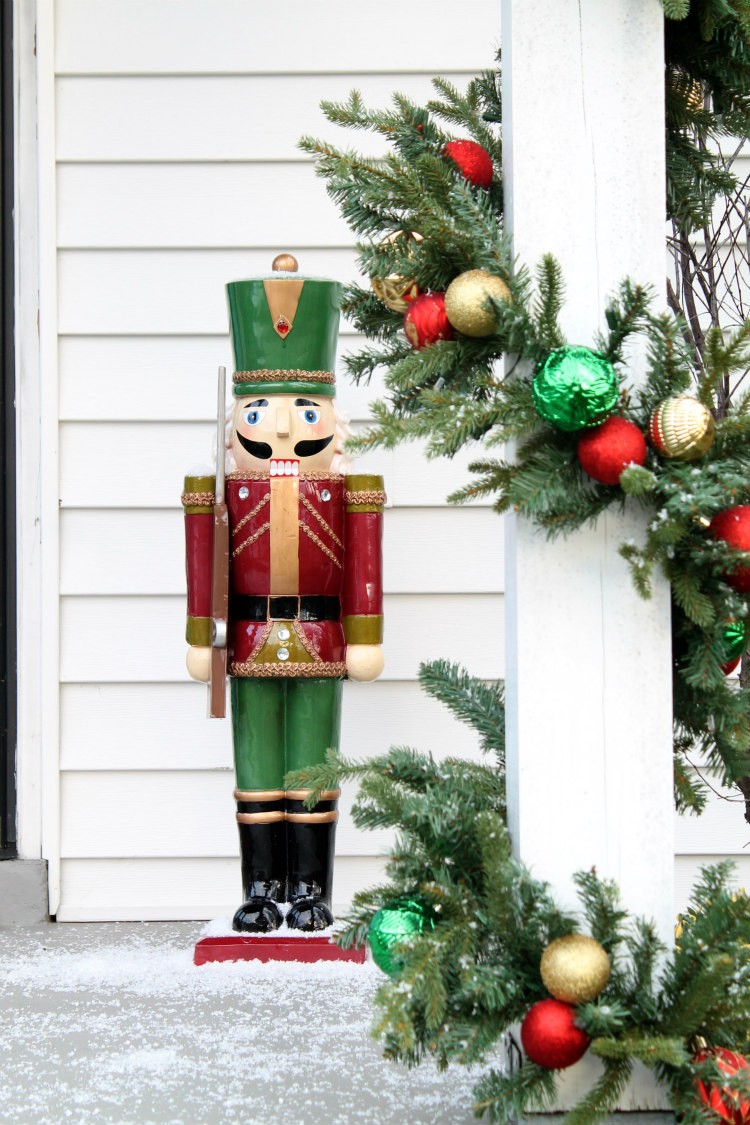 For this year's Holiday Style Challenge, Darnetha Myers, of ChippaSunshine, channeled her love for Christmas and dressed up her front porch using bright, festive colors. We sent her some Home Depot Christmas decorations and challenged Darnetha to create a holiday look that she could share with the world.
Read on to see how Darnetha created this beautiful nutcracker Christmas porch.
A Nutcracker Christmas Porch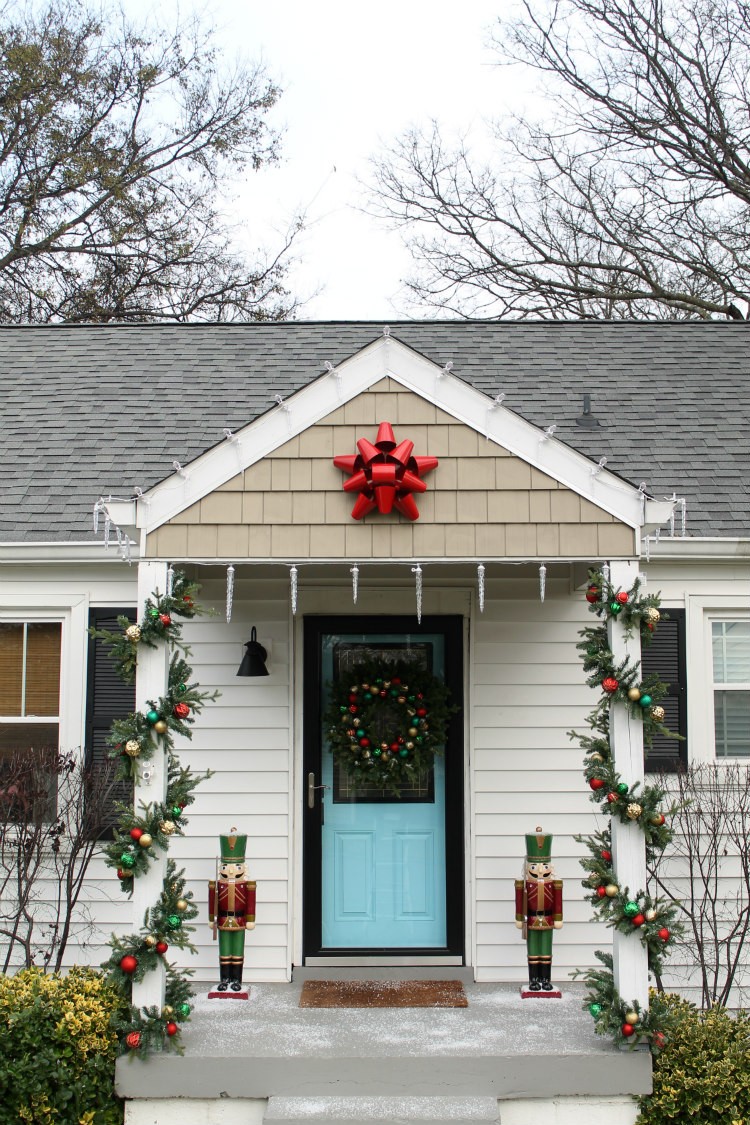 Christmas is my very favorite time of the year and I'm always excited to deck the halls for the holidays. Throughout the year my design style is understated and simplistic. However, for the holidays I like to add a bit of whimsy, bright happy colors, festive patterns, and childlike fun, all while sticking to my overall style.
One thing I love about Christmas is twinkle lights. We often take the long way home so we can ride through the neighborhood to see all the pretty lights. Some neighbors go all out and some stick to only the front porch but no matter what, it all brings a smile to our faces. A simple thing as a string of lights, garland, and a wreath can add so much holiday joy for guests, family, or a passerby to see.
Hang Clip Lights
This year Home Depot provided the 2017 Holiday Style Challenge bloggers with a feature item to include in our projects. My feature product was icicle lights. I received a set of LED Light Shooting Star ClipLights Icicle Light Strings and ColorMotion ClipLights Icicle Light Strings.
I must admit it's a little daunting when you think of climbing a ladder and stringing lights up on your roof. One thing I loved about these lights is the swivel clips that you can gently attach to your roof or gutters at any angle.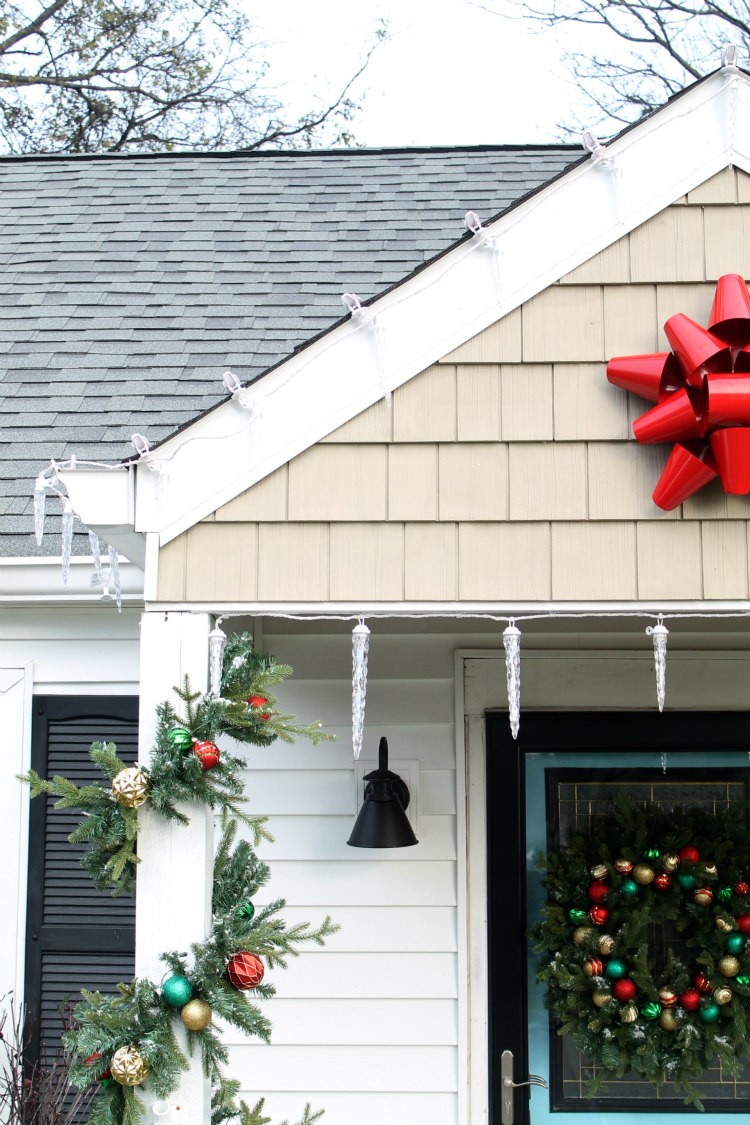 We attached the color motion icicle lights around the porch roofline using the clips. The swivel feature allowed us to place each light in a natural downward position. The shooting star icicle lights were added to the bottom ledge of the porch roof. One unique thing about these lights is if you cannot use the chips you have the ability to remove them. After removing all the clips off this set we positioned them into place using 3M Command outdoor light hooks.
Fresh greenery is something I look forward to during the holidays. On my front porch area, I do like to use faux garland and wreaths. The Norway wreath and matching garland have a fresh look with realistic Norway branches mixed in.
Often times when we are out shopping for a wreath or garland we cannot find one that matches our décor or current theme with a ton of plain pre-lit options. Today I will show you how to decorate a wreath and garland with ornaments.
Decorate a Wreath & Garland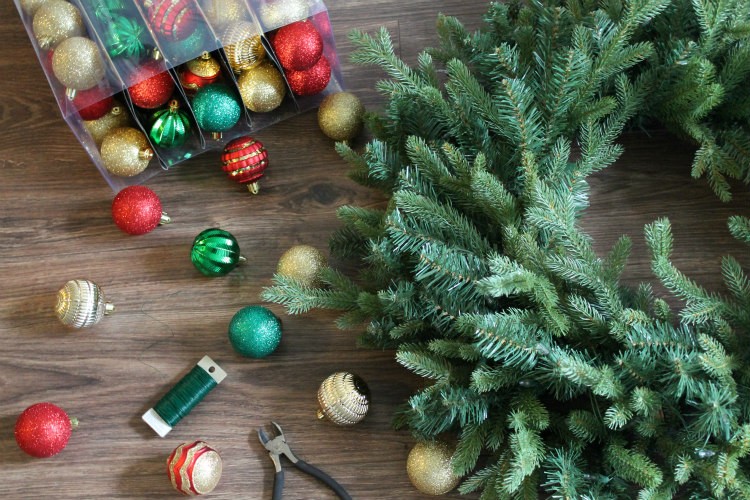 ---
Materials
Step 1: Prep the wreath and garland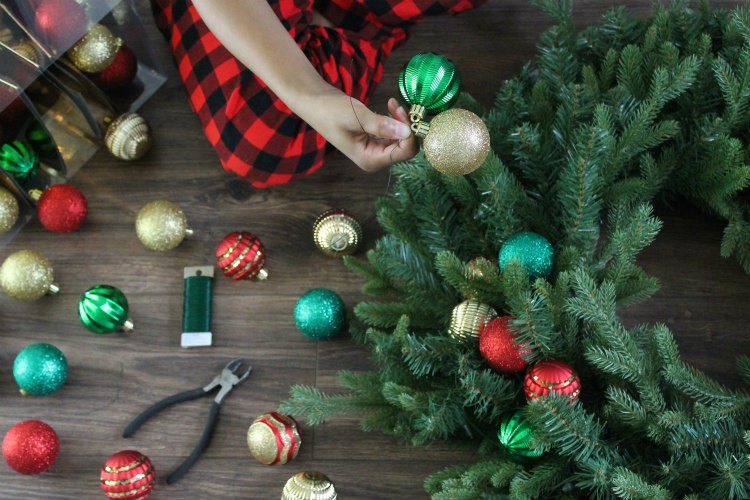 First make sure lights work. Then shape and fluff your wreath and garland by straightening the tips and bending them to look more natural. Shift tips to fill in any gaps.
Step 2: Attach the Ornaments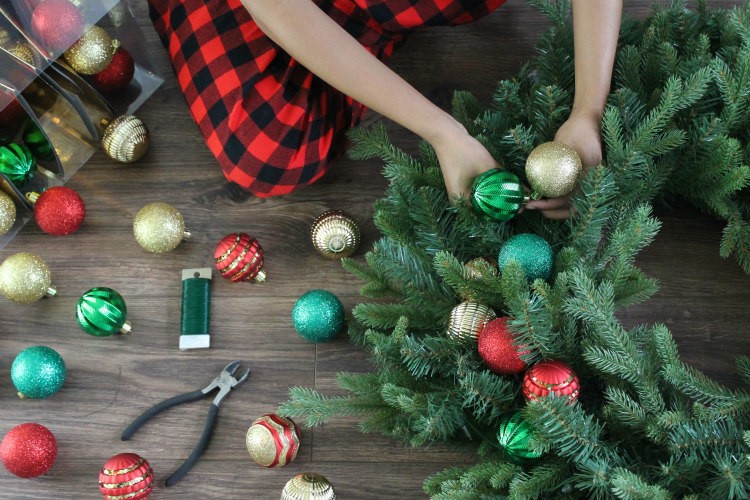 Pair bulbs together in groups of two to three and secure them together with floral wire, twist wire near base of ornaments. Make sure you have enough wire to properly secure the bulbs to the wreath and the garland.
Starting on one side of the wreath or garland, evenly disperse ornaments around the wreath or down the center of the garland. Secure pairs of ornaments to the wreath form with floral wire.
Step 3: Evenly Distribute Colors
Take a step back from time to time to see how your wreath or garland looks and to check if your color distribution is even.
Step 4: Show it off
Display your wreath by either hanging it on your front door or over a mantle. Wrap the 12 ft. lengths of garland around porch posts, railing, or around the door frame. Either way it will be beautiful and unique to your style.
When decorating outside with ornaments my tip is to opt for shatterproof ornaments. A great design feature of both the Norway garland and wreath is that it is battery powered meaning no cords to mess with and timed lights.
Finish the Look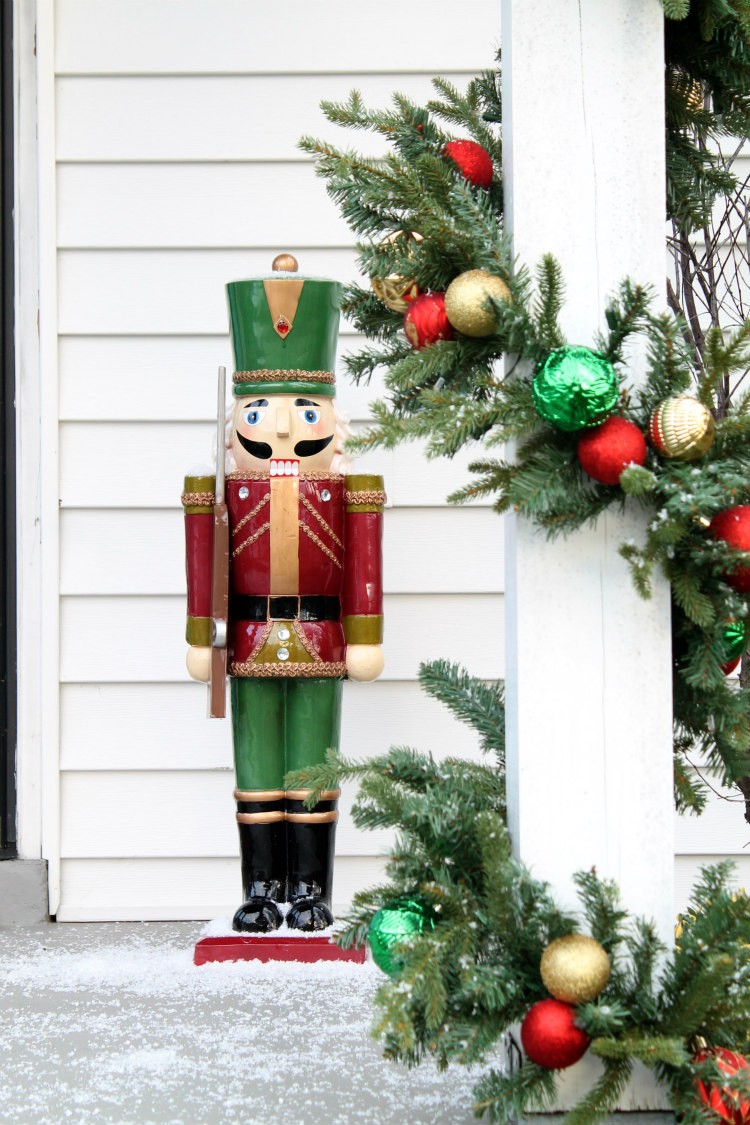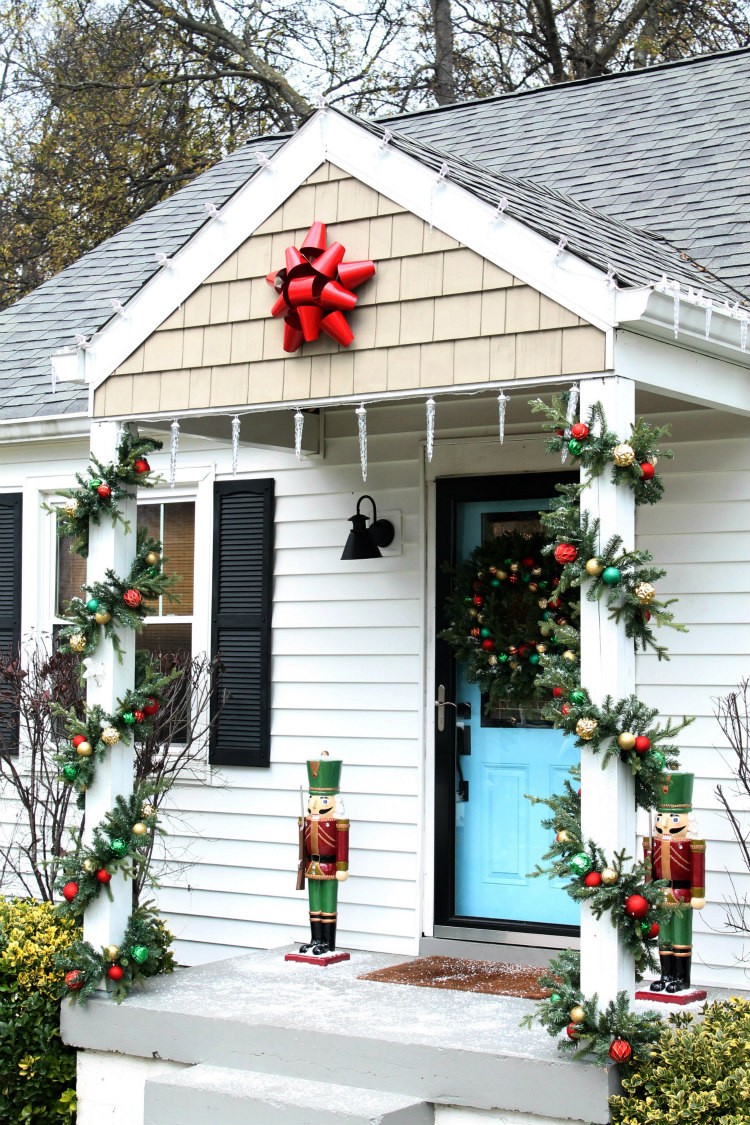 To complete my porch, I added a red rolled metal bow to the gable with two nutcracker soldiers flanking the door. The nutcrackers are so much fun and a nod to the play that I love so very much.
I have the lights turn on at dusk. The wreath and garland have a soft steady glow from the twinkle lights. The color motion icicle lights dance with multi-colors almost to a tune. The shooting star lights are so pretty with a white light shooting down each icicle.
No matter your design style or theme I hope you add your festive touch to your home this holiday season. Don't forget to stop by The Home Depot and shop their holiday decorations to help you add your special touch this holiday season.
The post A Nutcracker Christmas Porch appeared first on The Home Depot Blog.