When people talk about kitchen design, you can understand it's not always the most stimulating conversation. A cultured conversation might not stretch to splash backs and lighting locations but more people are staying home now due to the economic situation. This means that they have time to really take a long hard look at their interior design and make some changes. Blow out the cobwebs so to speak.
Changing the look
The kitchen is a fairly obvious place to start. It offers a great deal of range when it comes to design and we spend a lot of time there. A centrepiece to every kitchen is the cooker. With this in mind, here is a heads up in regards to cooker hood trends you can expect over the next 12 months. Whilst most kitchens are not going to change in any major way, there are several type types of cooker hood that are not the status quo. These refreshing trends are increasing in popularity, with particular focus on technology and material. Stainless steel is definitely a trend to look out for:
Subtle
Ceiling hoods are excellent for open plan kitchens as they don't obscure the overall view. Minimal and stylish, they are becoming more popular due to this. Places such as Best Hoods UK have some really amazing designs which are perfect if you want something that does the job effectively and without drawing attention to itself.
Standout
On the other end of the spectrum, pendant hoods provide a unique and very stylish aesthetic to the kitchen. It's looking as through camouflaging the hood via tasteful and impressive designs are a growing trend, which looks set to continue into 2013.
Technical knock out.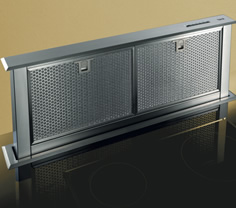 Cutting edge advances aren't restricted to entertainment and mobile technology. Kitchens also benefit from being in the 21st Century.  Sliding downdraft hoods are on the increase and mainly used when you need an impressive island-orientated design. Either manually or via remote, they slide neatly into the island, hidden until needed.
New wave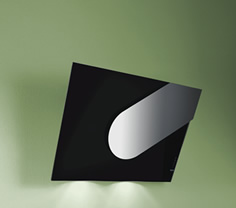 Interior design is becoming much bolder. Use of striking, vibrant colours are being utilised to create a wide range of innovative home looks. Unique designs are becoming much more commonplace now, with artistic flourishes being added to all types of appliance in the kitchen. Especially prevalent are asymmetrical designs which are immediately eye catching and statement making.
Bio: Written on behalf of Best Hoods UK, offering some of the best designer cooker hoods in the UK