Halloween skeleton, witch and pumpkin decorations galore! As a part of The Home Depot's Halloween Style Challenge, we asked Haneen Matt of Haneen's Haven to get creative and use Home Depot's Halloween skeletons and witches to transform a space.
Pick up some ideas from Haneen so you can throw your own spooky back porch Halloween skeleton party!
Back Porch Halloween Skeleton Party
Hi, everyone! I'm so excited to participate in The Home Depot's Halloween Style Challenge this year! The Home Depot is your one-stop-shop for all things Halloween related. I had a blast roaming the seasonal section (and so did my four year old). I love that we can try out all the spooky stuff to see what noises they make or how they move. I couldn't resist grabbing some goodies like some Halloween skeleton, witch, pumpkin and spider decorations. We throw a Halloween party every year for the kids and their cousins, and I thought they'd get such a kick out of us spooking out the back porch/sunroom.
There were so many fun "characters" that The Home Depot offered. I thought the best route to go was to pick my favorites and make it look as if they're having a party all their own back there.
---
Halloween Witches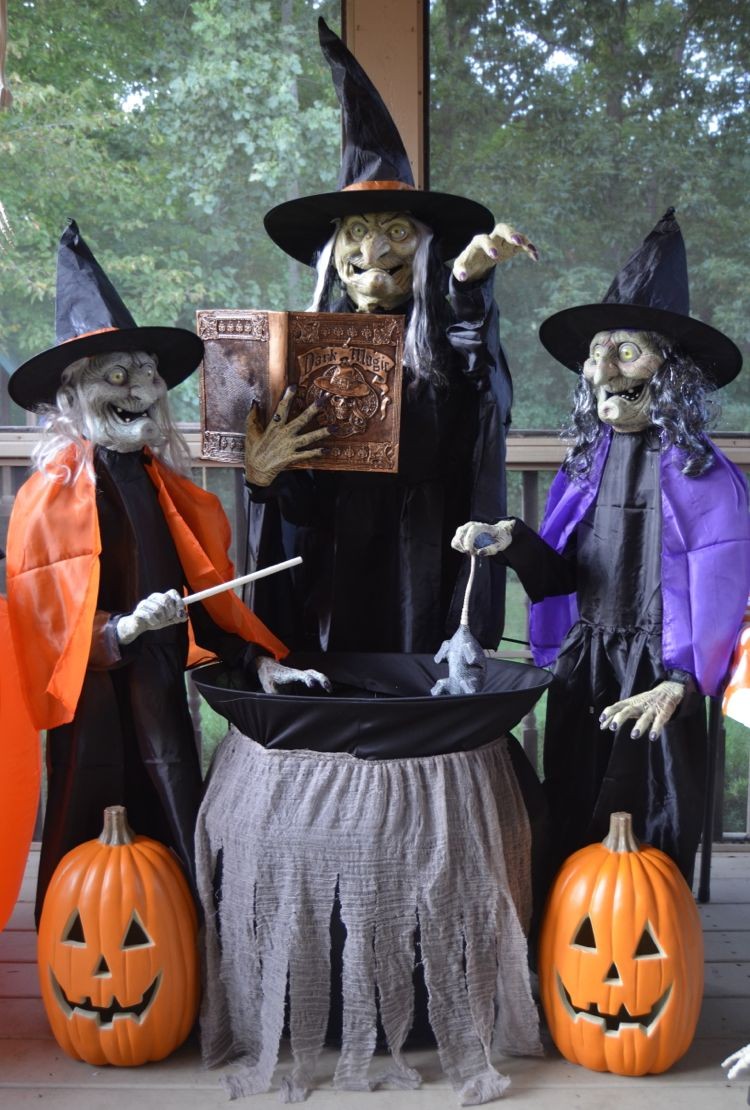 Front and center is the trio of witches! How fun are they? My son loved how animated they were. Their jaws move as they talk and their eyes light up! For the Halloween lover (like myself) these witches were a must!
---
Pumpkin Decorations
These cute pumpkins were a fun addition. I just nestled them around the cauldron for a pop of orange.
From there I added this fun pumpkin blow-up on the left. Once the party's over, I'll for sure be transferring this to the front yard for all of our trick-or-treaters to see!
---
Spooky Appliances
The Home Depot sent me some fun items to style amongst what I picked out on my own. One was this spooky TV! When you turn the knob, a face creeps out of the front! What? How cool is this! A 3D moment I was not expecting!
This skeleton is being antisocial. He's watching TV instead of mingling. I don't blame you, dude. This is pretty mesmerizing!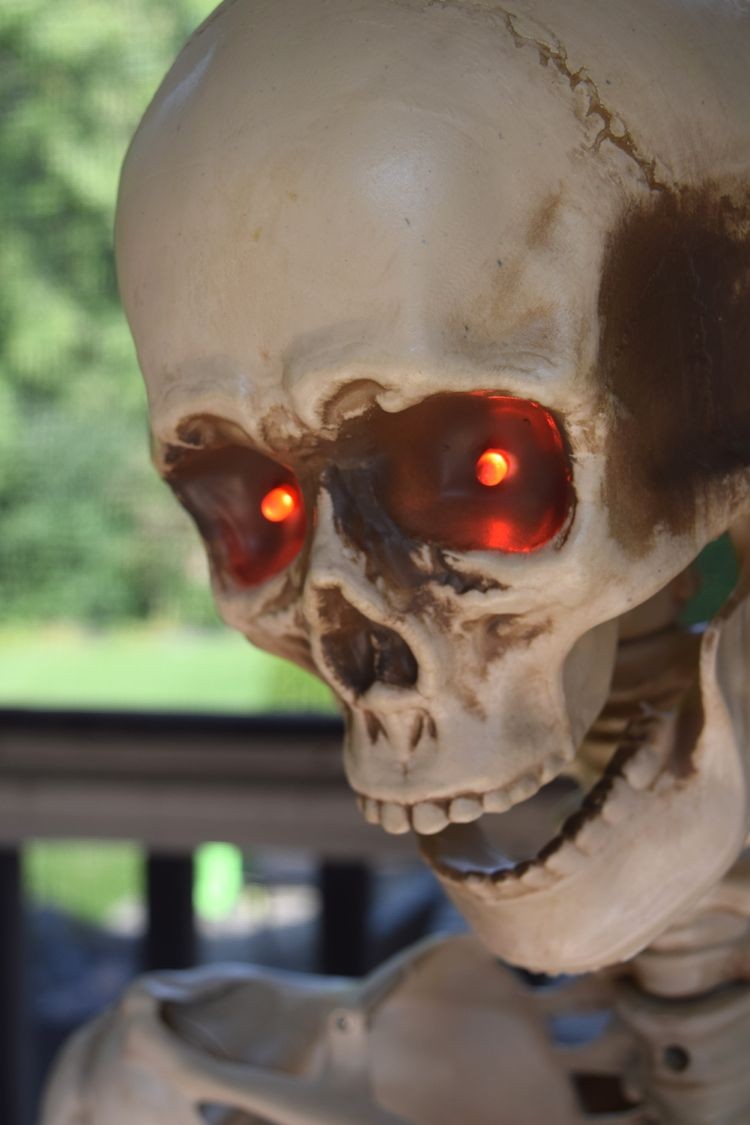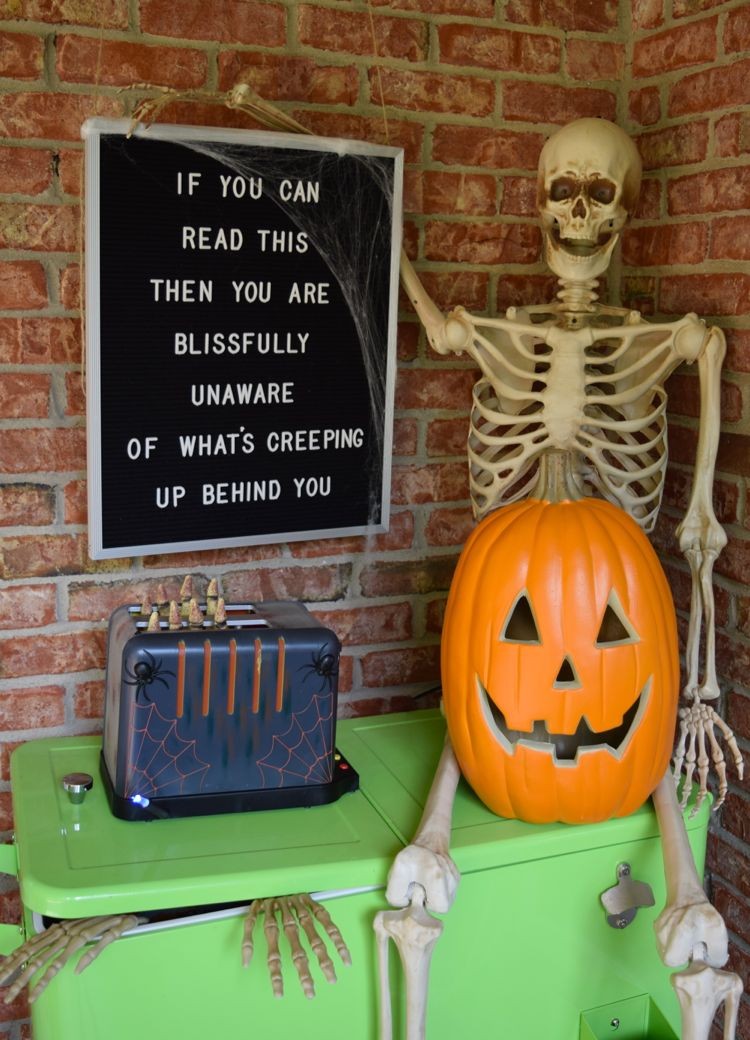 Speaking of skeletons, I bought four of these! What I loved is that they are fully positionable. I knew a floppy skeleton wouldn't do since this fella was going to be sitting up and watching TV. So I loved that I could shift the joints just as I wanted him. Same for the guy in this corner.
This corner is one of my favorites! I used a cotton web package from The Home Depot to make the letter board sign look old and spooky. I also bought a pack of skeleton parts because I thought it'd be funny to add hands sticking out of the cooler. Almost looks as if the skeleton sitting on top is just chilling, waiting for what's in the toaster, without a care in the world that his buddy is stuck inside.
Really, though, how cool is this toaster? It lights up, makes noise, and hands pop out of it!
---
Skeletons & Spiders
The other two skeletons are hanging from curtain rods on each side of the porch. I simply clipped the string attached to their heads onto the curtain clips I already had up there for my summer outdoor drapes.
I always like to decorate for a party in a way that makes your eyes travel around the room. Not just eye level! Don't forget to look up! With the vaulted ceiling in our sunroom, I decided to suspend three spiders on hooks. These fuzzy guys have eyes that light up. This is all going to look awesome at night!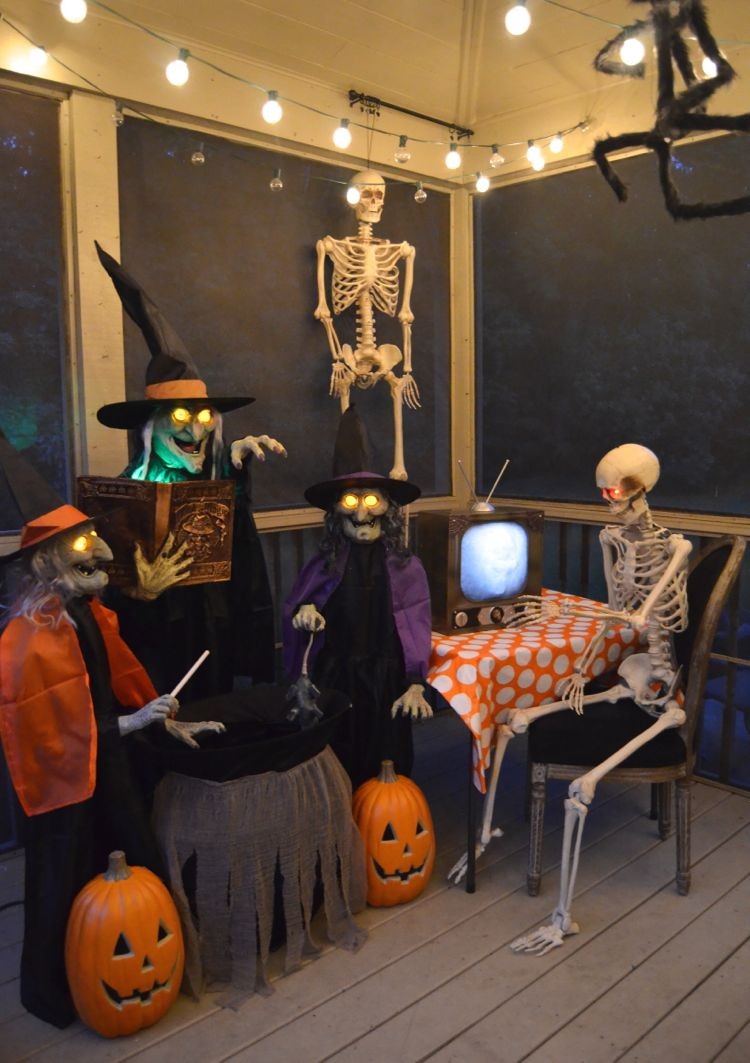 I hope this inspired you to have a little fun with your decorating this season! I love Halloween because it's an opportunity to not take yourself too seriously. Yes, it's a tacky, silly, sometimes gross holiday, but it's fun! And the kids love it!
The post Back Porch Halloween Skeleton Party appeared first on The Home Depot Blog.