The blue color scheme of this backyard deck is so soothing and sophisticated. Keeping the blue color scheme consistent from the outdoor umbrella, to the patio set, to the outdoor carpet was made possible by having enough outdoor decor options.
Kelly Rowe of Live Laugh Rowe styled her blue deck makeover with comfort and function in mind mixing and matching patio items from The Home Depot. And it looks smashing!
Blue Deck Makeover
There are many options when it comes to building a backyard deck. The choices range from composite decking, to deck tiles, to wood decking. At the time we built ours, the budget allowed for a wood deck; however, it was in desperate need of a sprucing. We created an outdoor oasis in blue that has the neighbors wanting to move-in (wink).
Deck Restoration
Before we could start with the deck decor, though, the deck itself needed some attention.
We had stained our deck a couple different times over the years, but decided to try the Behr Textured DeckOver™ this year.
WOW! This product has taken our deck from frumpy to fabulous. After a great deal of April showers, it's holding up so well too! My husband asked why we didn't do this sooner.
After prepping the deck with some sanding and washing, we were ready to tackle the project with paint brushes and rollers in hand.
For the hand railings we used the Behr Solid Color Weather Proofing All-in-One Wood Stain & Sealer. The paint department matched it perfectly to the DeckOver color we chose, Tugboat SC-141. It compliments the light beige color of our siding too!
Once we completed the painting and allowed for the appropriate time to dry — it was time to work on the decor!
Deck Furniture
It's always important to know what furniture will fit within your space and will be functional. We love having a seating area to sip our coffee in the morning and enjoy a bowl of ice cream in the summer. The Oak Cliff 4-Piece Metal Outdoor Seating Set seemed to fit the bill.
Having accent tables for holding cups, trays, magazines, etc. is always a must. This wicker pouf also serves as storage. Versatility for the win, right?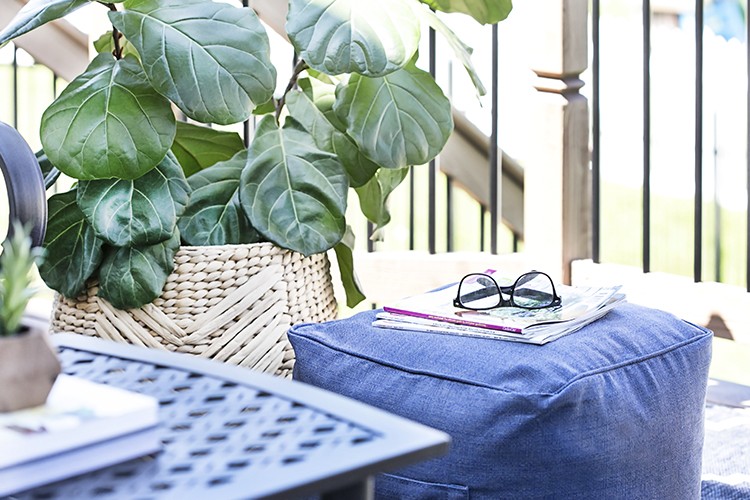 The Sky Blue Square Outdoor Poufs were a must, as they provide additional seating or serve as excellent foot rests as well. My pups enjoy resting on them too.
---
Blue Color Scheme
While the default chili color cushions are lovely for the Oak Cliff seating set, they really didn't fit the look I was going for. I was going for a blue deck makeover, after all.
You can imagine how excited I was to see that they offered slipcovers! Ummm, I had no idea they had slipcovers for outdoor furniture. This is BRILLIANT!
After seeing the Sky color slipcovers — I knew that the blue would create a serene space! This blue has a denim hue to it, it wasn't your everyday navy or royal blue. I fell in love with this color and it's one that has never made an appearance in my outdoor space.
---
Accessories and Lighting
Regardless of the space size, you can always add accessories! They can add pops of color, too!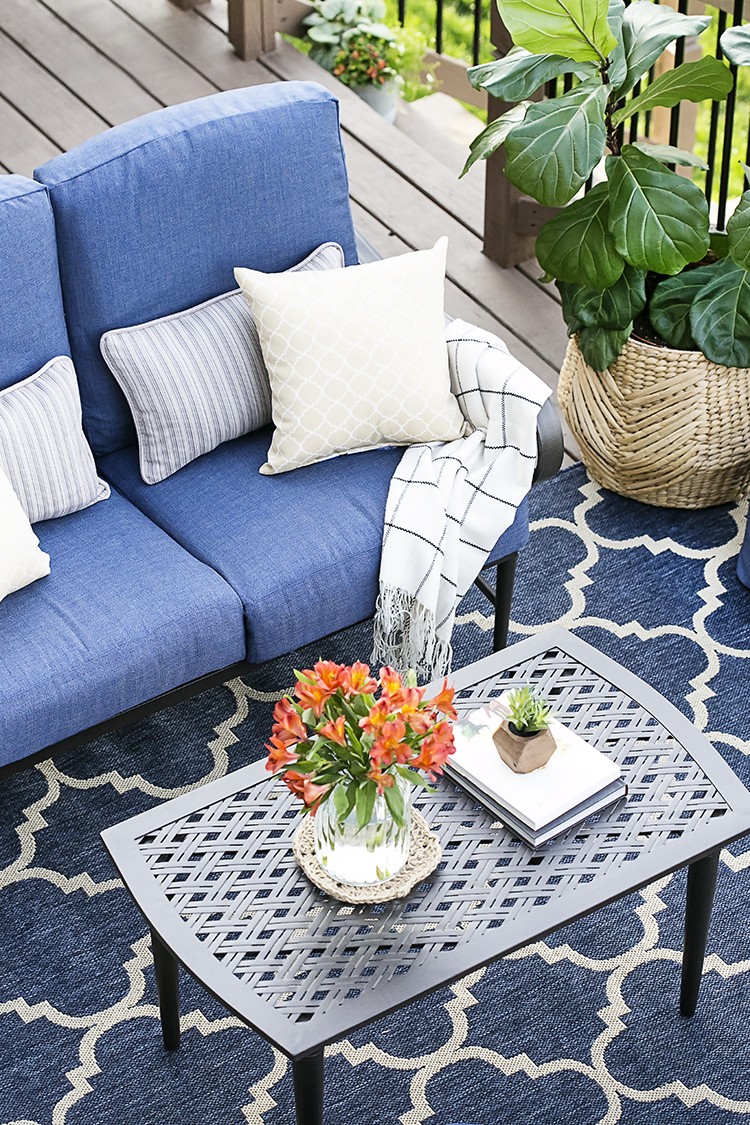 I added pillows (pictured are the Hampton Bay Saddle Stripe Lumbar Throw Pillow and Sand Geo Square Outdoor Throw Pillow) and a light throw blanket for those chilly nights.
Freshly picked flowers make for a lovely centerpiece too! The orange-red still made an appearance, just not a permanent one.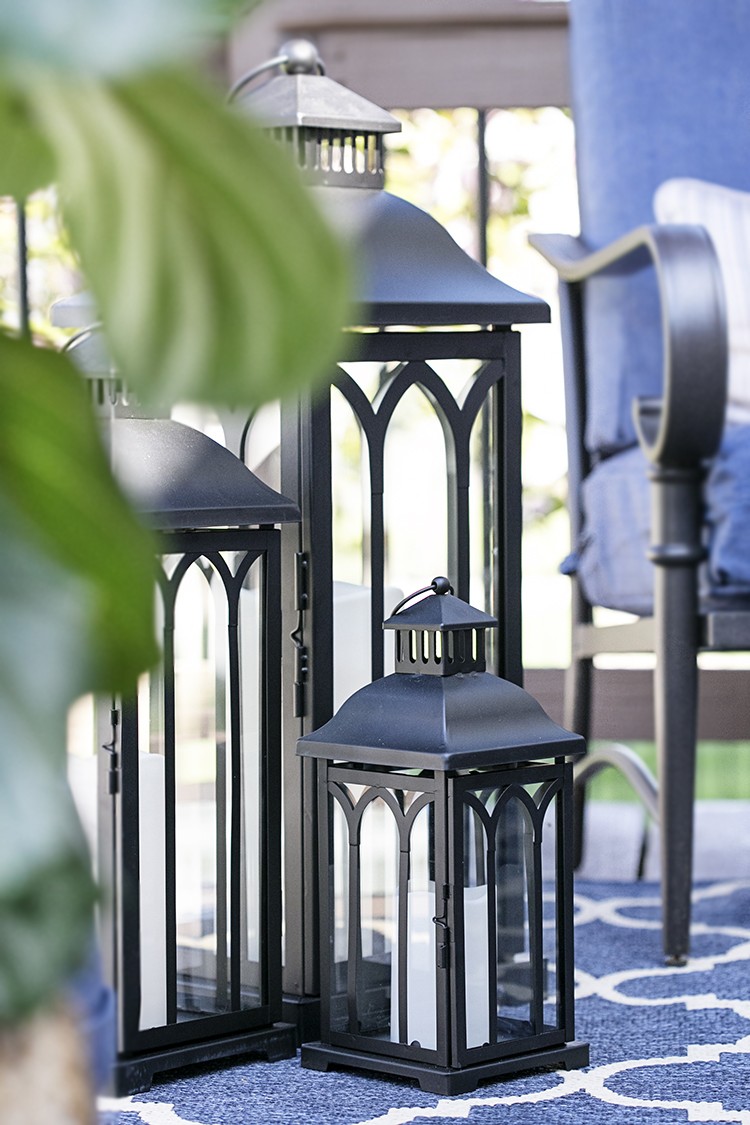 The black lanterns were a wonderful addition to the space, adding some contrast and decor. At night, they serve as additional lighting, creating a lovely ambiance on my blue deck. Using the three different sizes was the perfect pairing too.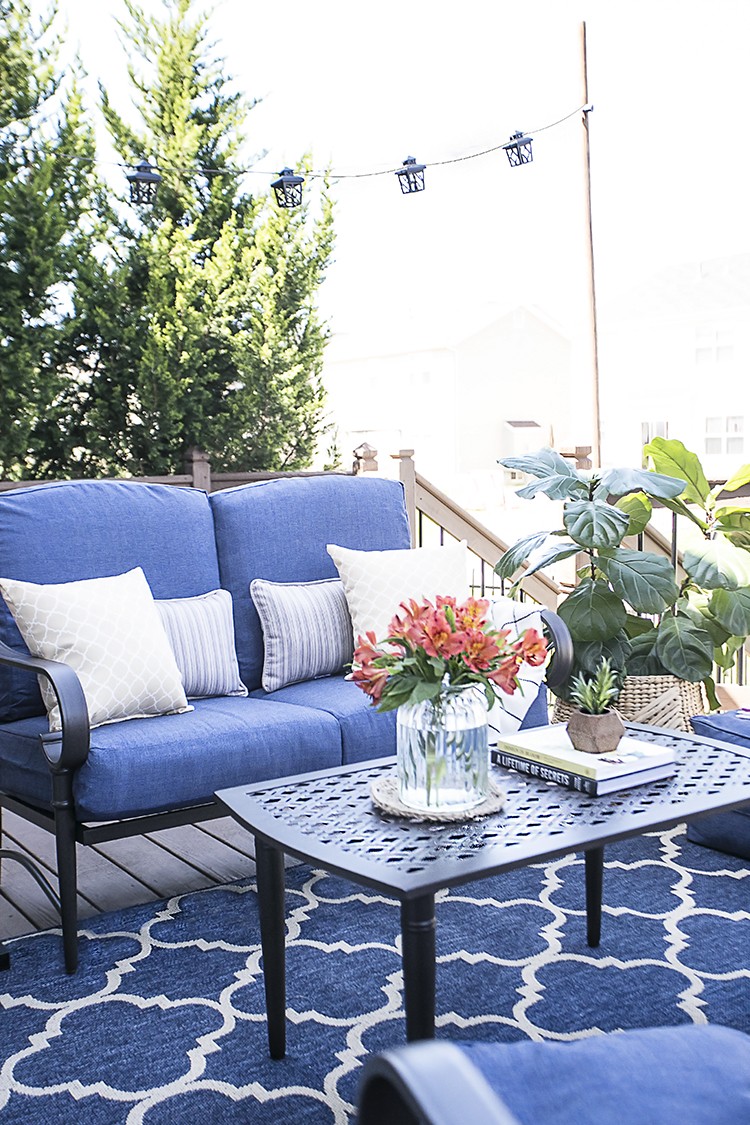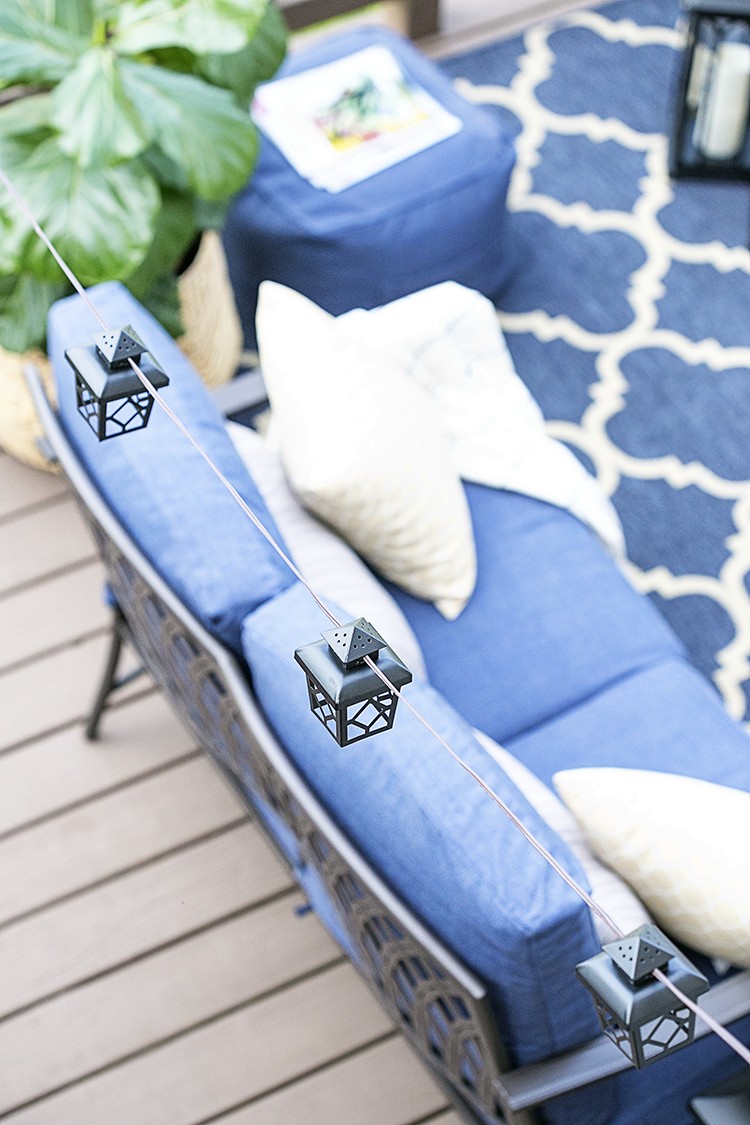 What's an outdoor space without some string lights too? The metal lantern hanging cafe lights really seemed to complement the space.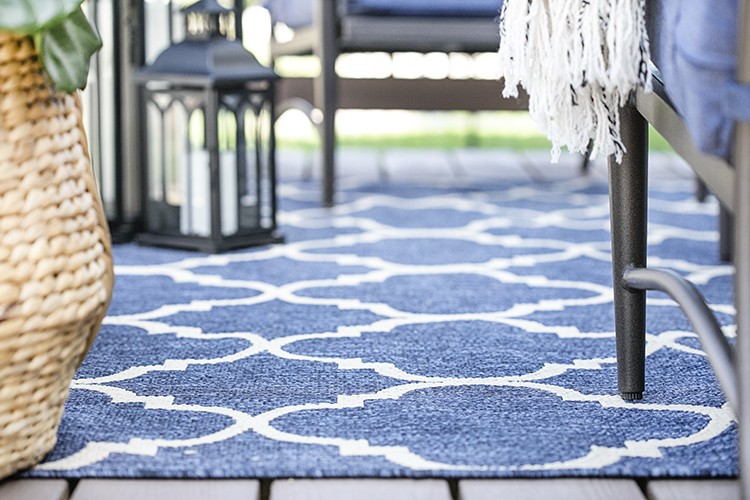 An outdoor rug is another great accessory that can add some dimension to the space! I found this reversible trellis rug in Cape Cod blue and fell in love. Reversible means options, and I am a connoisseur of options!
---
Shade
As the intense heat rolls in, it's always nice to know there is a shady spot to retreat to.
We use our patio umbrella a lot when the sun is at its peak — and being able to tilt it is an added perk. Staying in the same blue color scheme was fantastic too.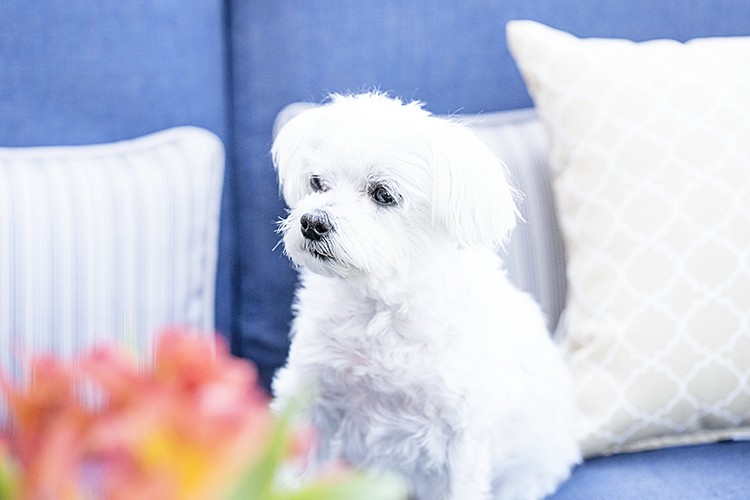 Finding the right pieces and a color scheme is essentially the key to creating an outdoor space that makes you happy. For us, our backyard deck is an extension of our home and our fur babies take full advantage of it too. I think my blue deck makeover turned out wonderfully!
I appreciate how you can take a few basic pieces and pair them with complimentary accessories to create a stylish oasis that is functional and comfortable. Now, care to join me for some sparkling iced water or tea?
The post Bottom to Top Blue Deck Makeover appeared first on The Home Depot Blog.