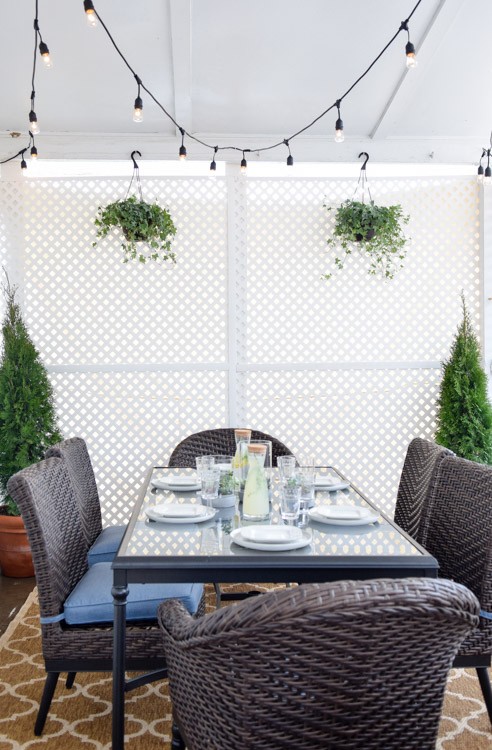 Turn your unused outdoor space into a functional patio dining room in a few easy steps. Follow along as Ty Stewart of Little Home Reloved transforms her unused carport into a space for eating and entertaining for this year's Patio Style Challenge.
Carport to Patio Dining Room Transformation
We knew when we started renovating my husband's grandparents' 1950s cottage last fall we wanted to create a special space to spend time together outside. We love to have friends and family over often and knew an outdoor dining room would be perfect to help with entertaining. Our little home had a dated carport we knew we could transform into a beautiful covered patio, perfect for family dinners!
Using Lattice for Privacy
The Veranda Vinyl Lattice we found in our local Home Depot helped create an outdoor space that also opens to our backyard. We needed something that would keep the little ones and pups in, but also cost efficient and private. We decided to purchase the smaller pattern and followed the directions on the display. The vinyl is very durable and the perfect solution to create an outdoor room we can use most of the year!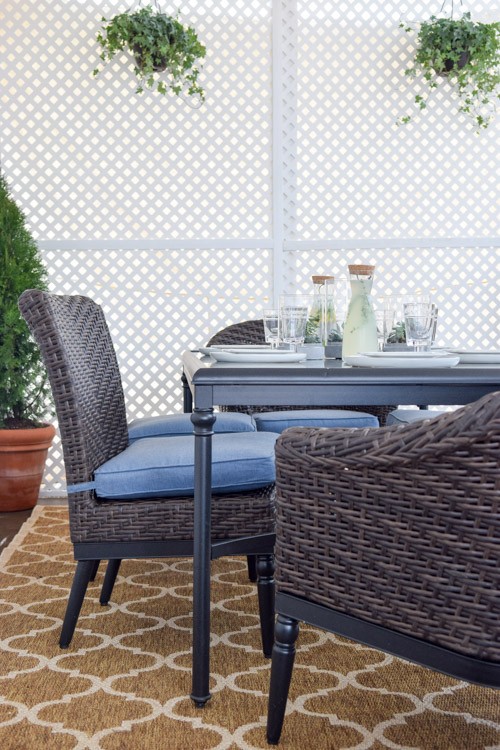 Patio Dining Room Set
The Home Depot sent us the gorgeous Camden 7-piece Wicker Dining Set with Spectrum Denim Slipcovers to give us the perfect amount seating for family and friends! I love how the dark wicker pairs perfectly with the glass to give the set a beautiful farmhouse feel. I paired it with a large Hampton Bay Trellis Outdoor Rug to help cozy up the concrete floor and make it a little more kid friendly. The rug looks beautiful and can just be hosed off to keep it clean!
Adding Greenery & Lighting
I really wanted to give the space a natural feel. I found these lovely Blue Point Juniper Trees and Hanging Ivy Baskets at our local store! We hung the baskets above the lattice to help with privacy since this side of the patio faces the road. I can't wait for the ivy to spread. Hopefully it will eventually cover this whole wall! I love how the pops of green look with the beautiful Camden dining set. We also hung Hampton Bay String lights to give the space more charm. They have a thick cord and seem to be holding up great, even with our windy spring storms.
DIY Table-Top Succulent Terrariums
While shopping, I found these beautiful Concrete Base Lantern with Glass Cylinder at The Home Depot. I knew they would make beautiful terrariums. This simple DIY created the perfect tabletop planters in just a few minutes!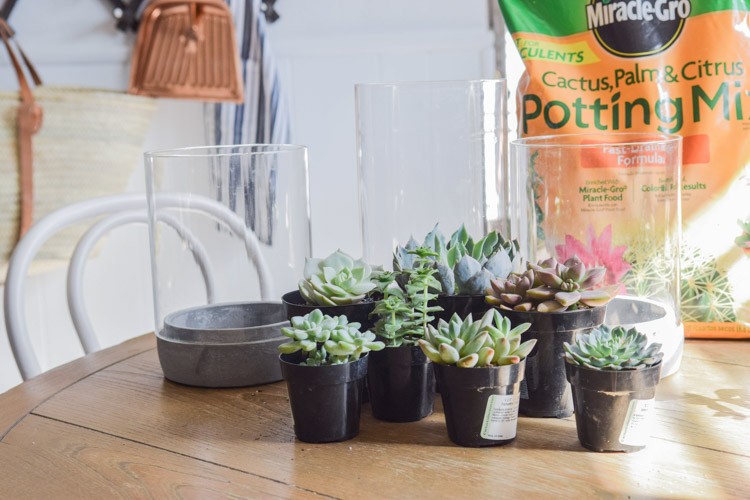 To create these planters I picked out various sizes of succulents and cacti soil to make sure they stay nice and healthy.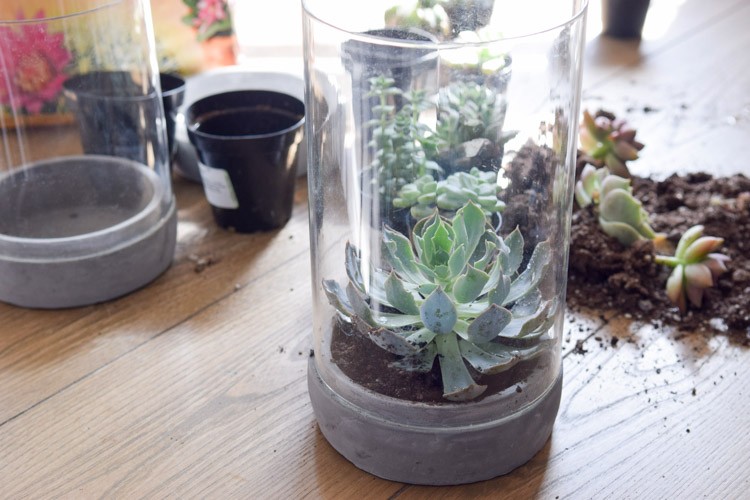 Once I was ready to plant the succulents I simply removed the glass and most of the original soil from the roots of the succulents. After the roots were carefully cleaned I arranged them to my desired look, then simply added the new soil around the plants and gave them a little water to help the soil settle. Finally, I added the glass and placed it outside on our table!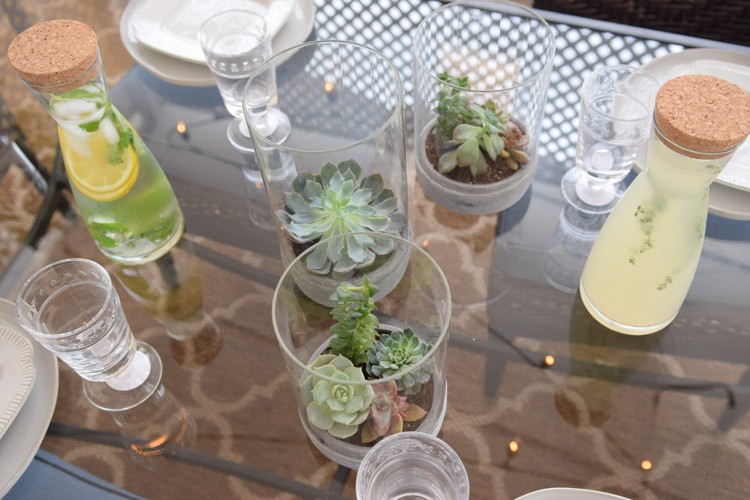 I love the modern but natural feel they add to our table and can't believe they only took ten minutes to create!
Final Reveal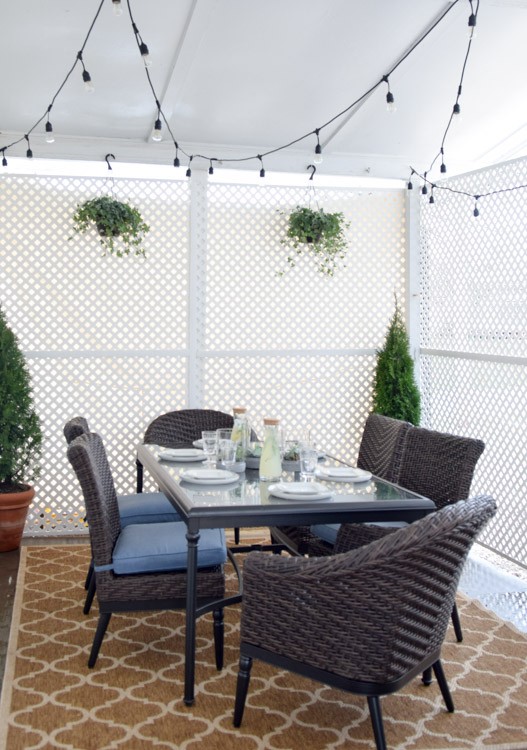 I can't believe how our once dated carport turned into a beautiful patio dining room we can enjoy for years to come. It's amazing what a few simple do it yourself projects can create and I am so happy to have worked with The Home Depot to create our dream patio dining room!
Create your own patio dining room with the help of The Home Depot. Find more Patio Style Challenge ideas on the Home Depot blog.
The post Carport to Covered Patio Transformation appeared first on The Home Depot Blog.