Choosing the Perfect Washer and Dryer Set for Laundry Rooms
Choosing the perfect washer and dryer set for your laundry room is a daunting task and a big investment. You'll be living with your new appliance for years, and you want to get the most for your money.
Savannah Kokaliares of Classy Clutter faced this issue at the beginning of summer break when old her washer and dryer broke. Her kids use the pool a lot, so she wanted something that was durable. Savannah researched, and with a little help from The Home Depot found the perfect laundry room appliances for her home.
Check out the rest of Savannah's laundry room renovations on Classy Clutter.
When our washer and dryer went out, it was a real bummer. It's the last thing that we wanted to worry about at the beginning of the summer, especially with kids being in and out of the pool using a million towels every day. 
Here is a picture of what our laundry looked like when the broken washer and dryer came out.
We had some work a head of us to make this laundry room work and function the way that we wanted it to. We decided that we wanted to add in a second set of washer and dryers. We needed to address a few things to make this work, but I also knew that we need to have a washer and dryer as soon as possible.
We started work on the laundry room renovations while we waited for the washer and dryers to be delivered.  I went over my must haves with my husband and we took a few measurements of the space.
MUST HAVES:
Electric
Large capacity machines
Stackable, especially since we were getting two sets for capacity
Not really a must have, but something we kept in mind… we had a white washer and dryer set before. We wanted to change things up a bit and try a new color or finish to add a fun flair to the room
But the last and most important thing to me on this list:  I wanted to get the washer and dryer set as quickly as possible!
With our list in hand we headed up to The Home Depot to discuss our must-have list, our budget, and see what our options were with an associate. 
When we got to the store, we were greeted by very friendly associates. But before we sat down with them, we browsed around a bit on our own to kind of get a feel for what we liked.
We were able to see a lot of different options there at The Home Depot that day, which made the decision even easier. We sat down and talked to an associate a bit about our list and after discussing and looking at all of our different options we ultimately decided on an  LG washer and dryer . 
The Home Depot associate made it very easy to make the ultimate decision on which washer and dryer was best suited for our needs.  After we made our final decision, the associate ordered them for us and set up a delivery schedule and time.
All of our needs were met and we really enjoyed the experience. I was grateful that the associate took the time to go over all the options with us. Picking out of an appliance can be very stressful and it's a lot of money, but The Home Depot associates made this process so smooth and put my mind at ease. 
The process did not stop there. I was so glad we got the washers and dryers ordered, but we had a lot of work a head of us. Because we were doing two sets, we had to change up some of the plumbing in our existing laundry room. 
Luckily, my husband is a contractor and also owns a plumbing company. He was able to do all the work himself. He added a second dryer box, rerouted some of the plumbing and a million other things to get ready for the install.  
We ended up redoing the flooring and also removing some existing cabinets and the soffit where the washer and dryer would go so that we could put some cabinets above the washer and dryer for storage. 
We wanted the laundry room to be ready for the washers and dryers to be hooked up the second they arrived. So after a crazy amount of work the laundry room was ready.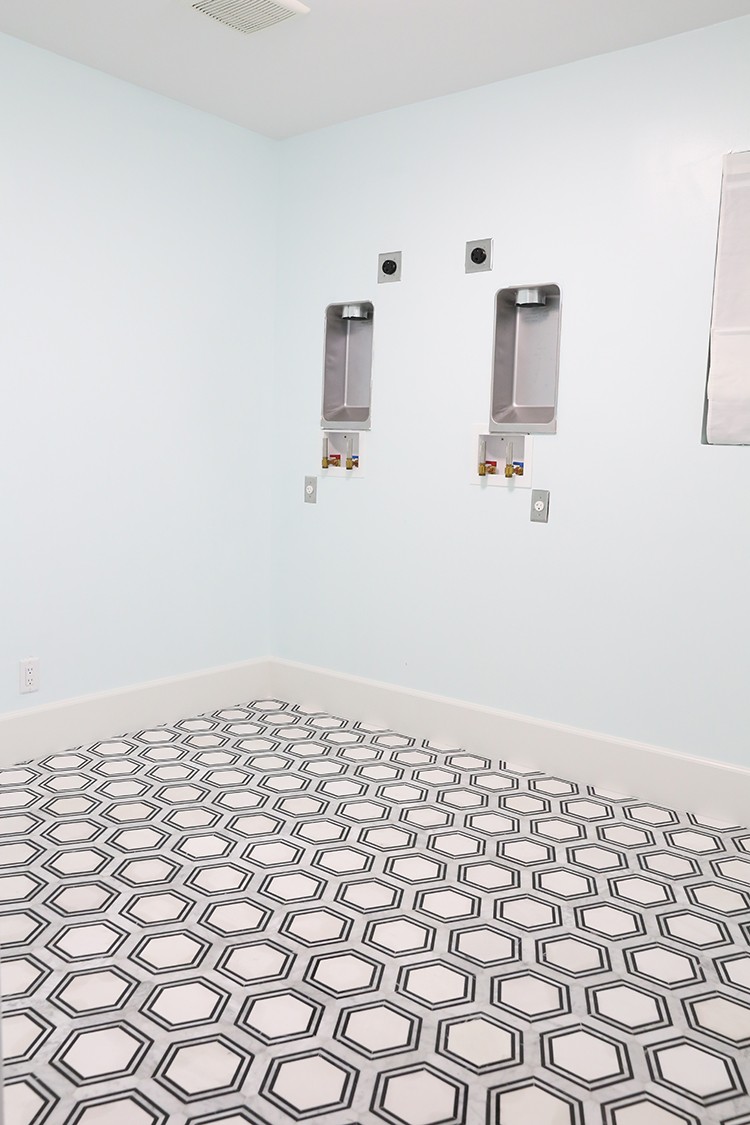 The day before the scheduled delivery date a delivering company called me with a time frame for the next day delivery and I could not be more excited.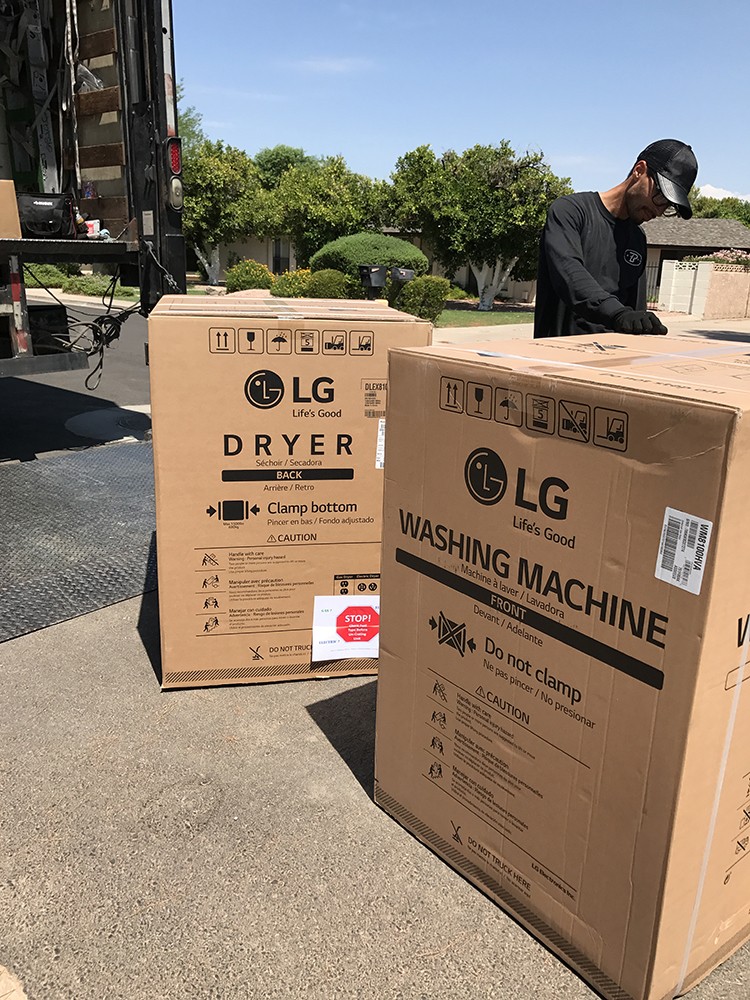 The day had finally arrived and the washer and dryers were delivered. The color and the finish of the washer and dryers were perfection and we were all set for install. 
As each piece came in, I got more and more excited.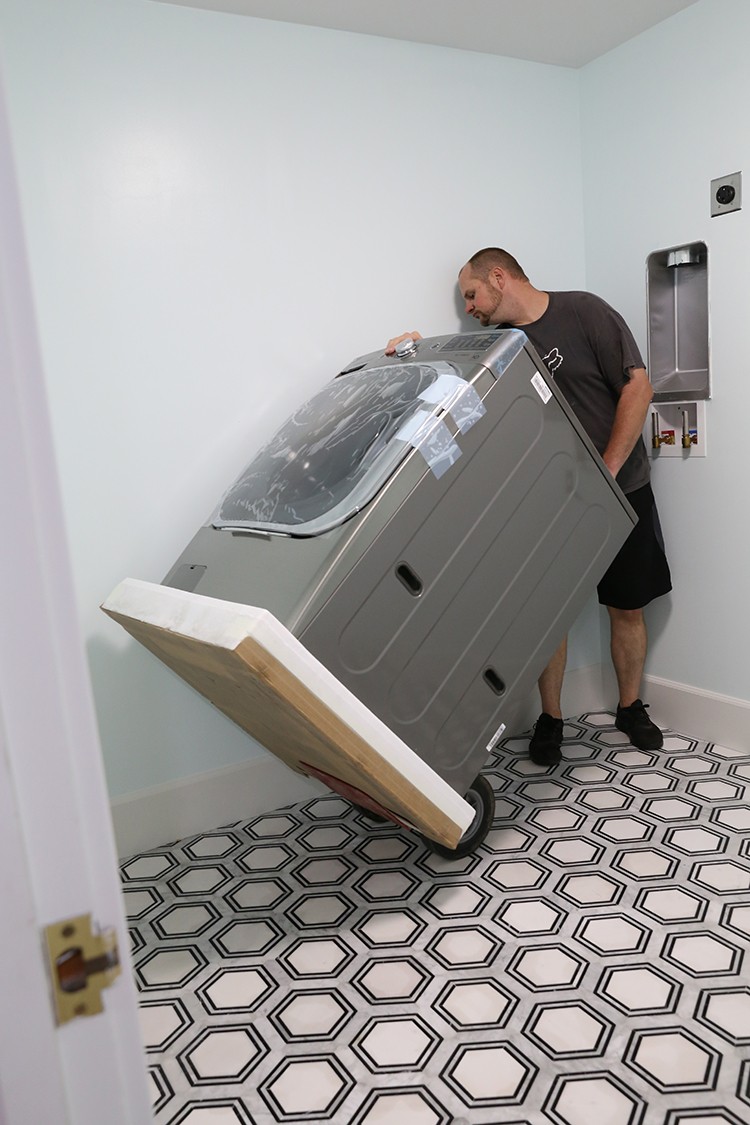 They fit perfectly in place, I loved the color and they have a very larger capacity. Every thing on our must have list was checked off. I was beyond happy. 
We have not had a new washer and dryer for 9+ years and doing the first load was music to my ears.
 My husband and I both love our washer and dryer. The Home Depot brought so much comfort and ease, making a very stressful situation more bearable. 
This is the other side of the laundry room. We now have a little folding area to make this space functions perfectly for our family. We love this set up and we love these washers and dryers. 
Our laundry room has come along way since we bought this house. There was so much work that went into this room, but we're thrilled with the outcome!

The post Choosing the Perfect Washer and Dryer Set for Laundry Rooms appeared first on The Home Depot Blog.