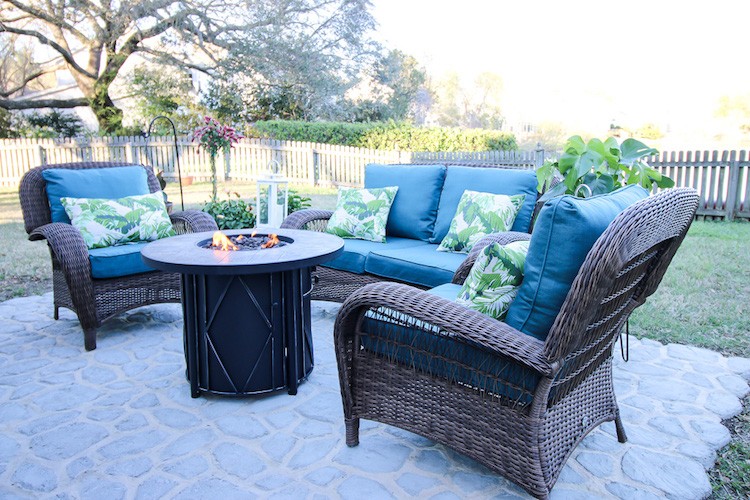 Creating a cozy space in a large open back yard can be challenging. See how Morgan McBride of Charleston Crafted used this year's Patio Style Challenge as motivation to create an outdoor space that they will enjoy for years to come.
Creating a Cozy Patio Space with Outdoor Furniture
We love our backyard and its lakefront view, but, until recently, there hasn't been any space to hang out and enjoy everything we had. After working hard to get grass and other landscaping growing last year (our first summer in the house) we made it our goal this spring to get a comfortable, beautiful patio area set up.
Creating the Patio
The first step in this process was to create a patio. We laid a concrete stone-look patio that is 12 ft. x 14 ft. This really defined the space almost as walls would define an interior space. Then it was time to decorate!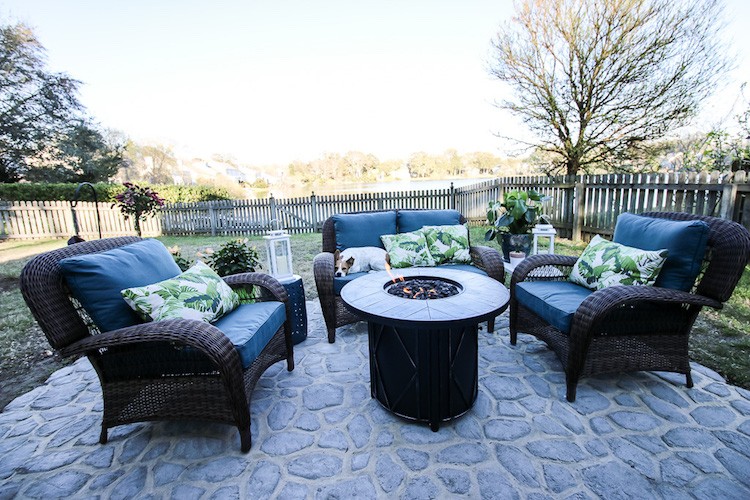 Choosing Furniture
We wanted the patio to feel really comfortable and inviting and yet still tie into our home's decor. I was so excited to find the Hampton Bay Beacon Park Collection love seat and chairs.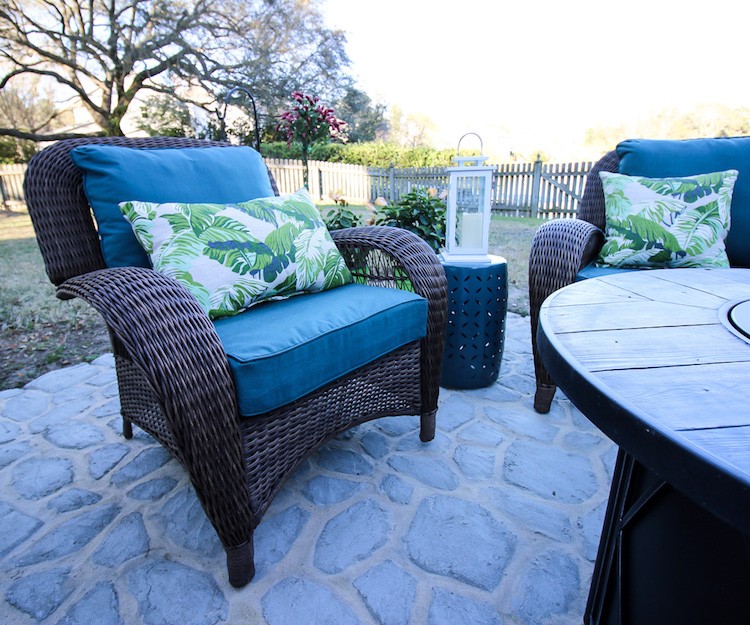 They fit the space perfectly, and the cushion covers in the "Charleston" color were just meant to be! The Hampton Bay Fern Tropical Outdoor Throw Pillows perfectly complement the teal cushion color and all of the green surrounding the space.
Adding the Fire Pit
We were excited to add a gas fireplace to our space. Not only would it serve as a source of light and heat at night, but the Hampton Bay Castle Hill Gas Fire Pit also has a faux reclaimed wood top that makes an excellent coffee table when not lit. This really became the focal point of our whole patio.
Accessorizing
Of course we had to deck the space out with accessories! I love the look (and price!) of these Hampton Bay White Metal Lanterns, so I paired two with battery powered outdoor LED candles for a little extra lighting and a beachy feel.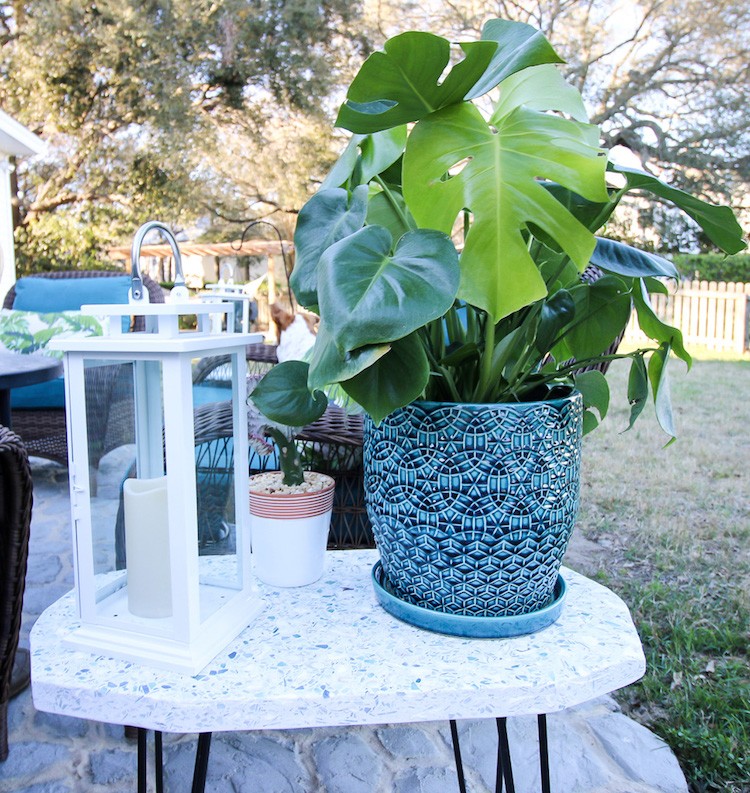 In addition to the fire pit coffee table, we added two side tables to this space. On the left is the Hampton Bay Metal Garden Stool in "Charleston." I love that the color perfectly matches the seat cushions! On the right is a table that we DIYed from the sink cut out scrap of our kitchen counter tops! We are all about re-using.
Adding Greenery
Because I am obsessed with plants, indoor and out, I added some potted plants to the patio! I picked up two shrimp plants and potted them in these teal rubber self watering planters. I love the look and height of the planters and the fact that they are made from 100% recycled rubber. We added some gravel to the bottom of each since the shrimp plants are a bit top heavy and tend to blow over in windy conditions. They haven't fallen over at all!
Alongside the shrimp plants I have a stunning hibiscus in green poly planters. I love the huge, endless blooms on hibiscus plants and look forward to enjoying these all summer.
On the countertop side table I have two plants. One is a Monstera in a stunning Dia Rivage Planter. We thought people would love the homemade side table, but everyone always comments on the planter. There is also a small cactus that came in that really cute white textured pot.
Additionally, we have a Philodendron in the wooden scalloped planter that we made from a pallet. I love how it looks in this space! Paired with the wooden planter is a wooden lantern that was also a simple DIY.
I am obsessed with our new outdoor furniture and how cozy and inviting it feels. I am so excited to be able to entertain in and enjoy this beautiful space!
The post Creating a Cozy Patio Space appeared first on The Home Depot Blog.