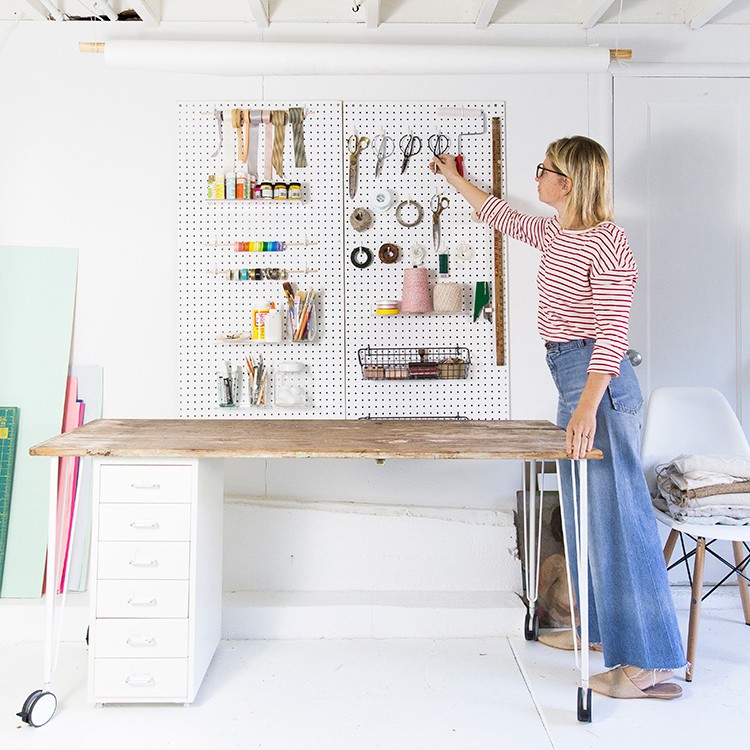 Liz Stanley of Say Yes renovated her unused basement space into a multipurpose creative home studio that provides a creative workspace as well as space for her family to enjoy! This small studio is packed with easy, fun DIY projects that make this home studio as fun as it is functional. Get inspired by these stylish solutions and create your own home studio space.
Creating a Fun & Functional Home Studio
Over the last few months we've been transforming a storage space in our basement into a studio space where we create projects with my Say Yes team, and craft in with the kids. Happy to partner with The Home Depot's new decor line for this project. So excited that The Home Depot now sells furniture: modern desks, lighting, rugs, couches, shelving, tables, etc. Here's how we styled a few favorites from The Home Depot line, and some easy projects we worked on for this home studio.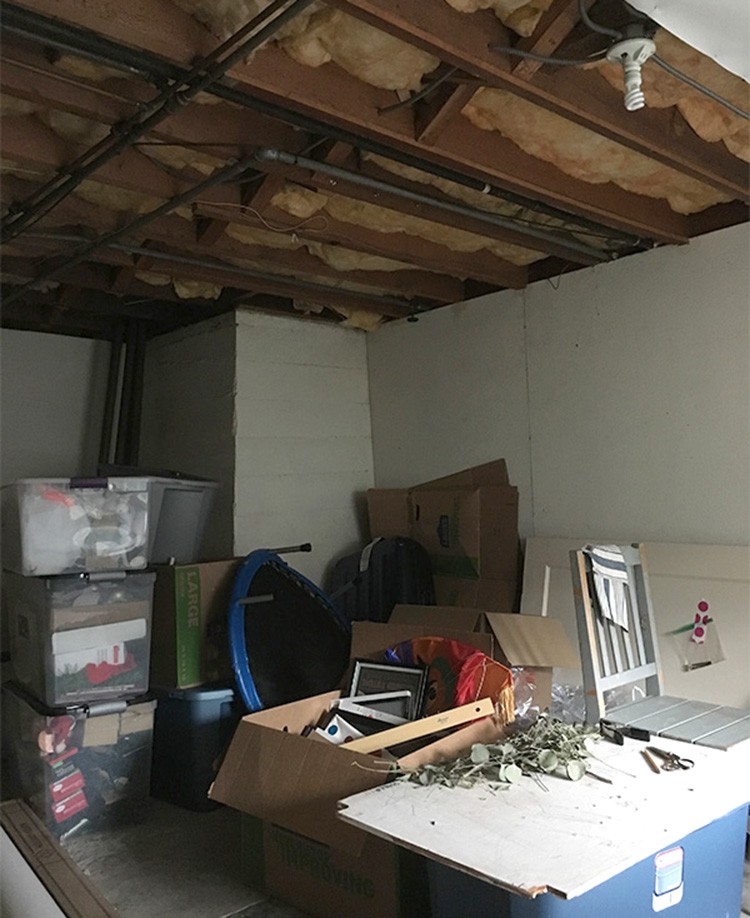 The biggest issue in here was the ceiling and flooring. It was concrete, which was fine and interesting in its own way, but I really wanted everything to be white to capture the most light in here. We ended up painting the concrete all white, and also removed the insulation out of the rafters and painting those white as well. It makes the low ceiling feel a lot taller and the space feels very warehouse-y which is really fun.
Also, the exposed rafters make it really easy to hang things, as you'll see in some of the projects we've done.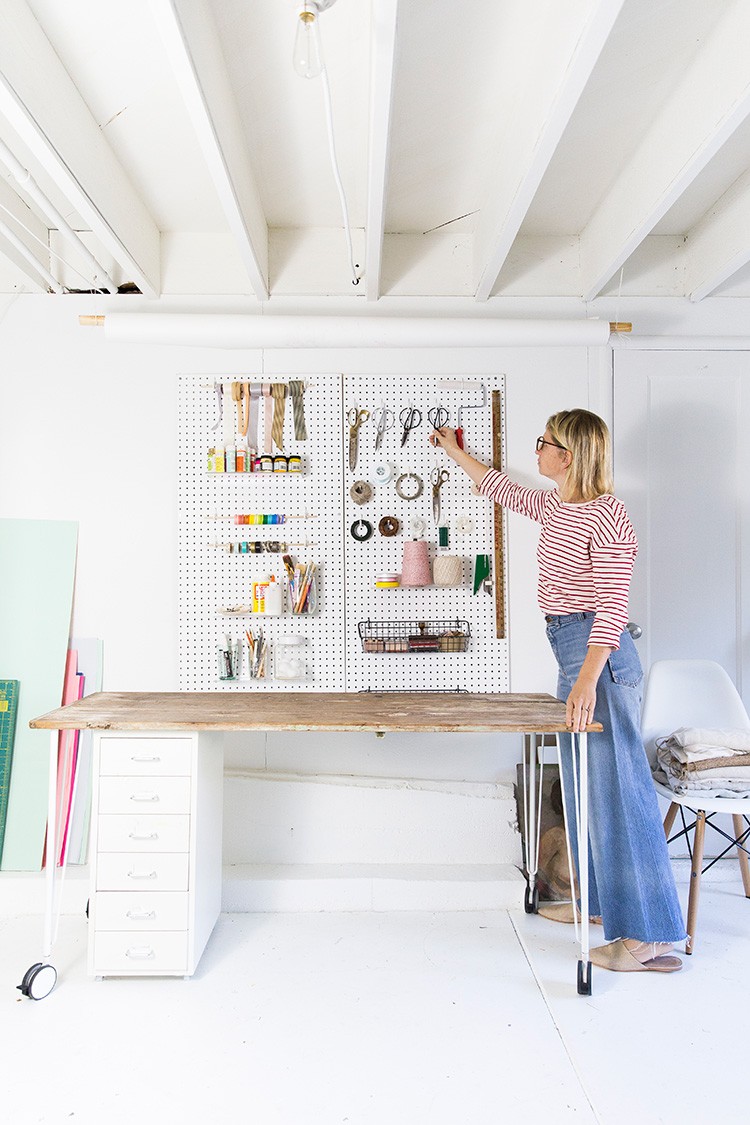 ---
The Crafting Area
I knew I wanted to hang pegboards here for crafting. It's crazy how much they transform a room and can make you feel instantly organized. We used two pegboards from The Home Depot (under $10 each), some hooks, baskets, and acrylic shelves to organize all of our crafting tools.
Before, we were mostly crafting on the guest room floor carpet, but this area is about 1000x times better to work in. Also, aren't hanging scissors and ribbon the prettiest things?
Hanging Pegboards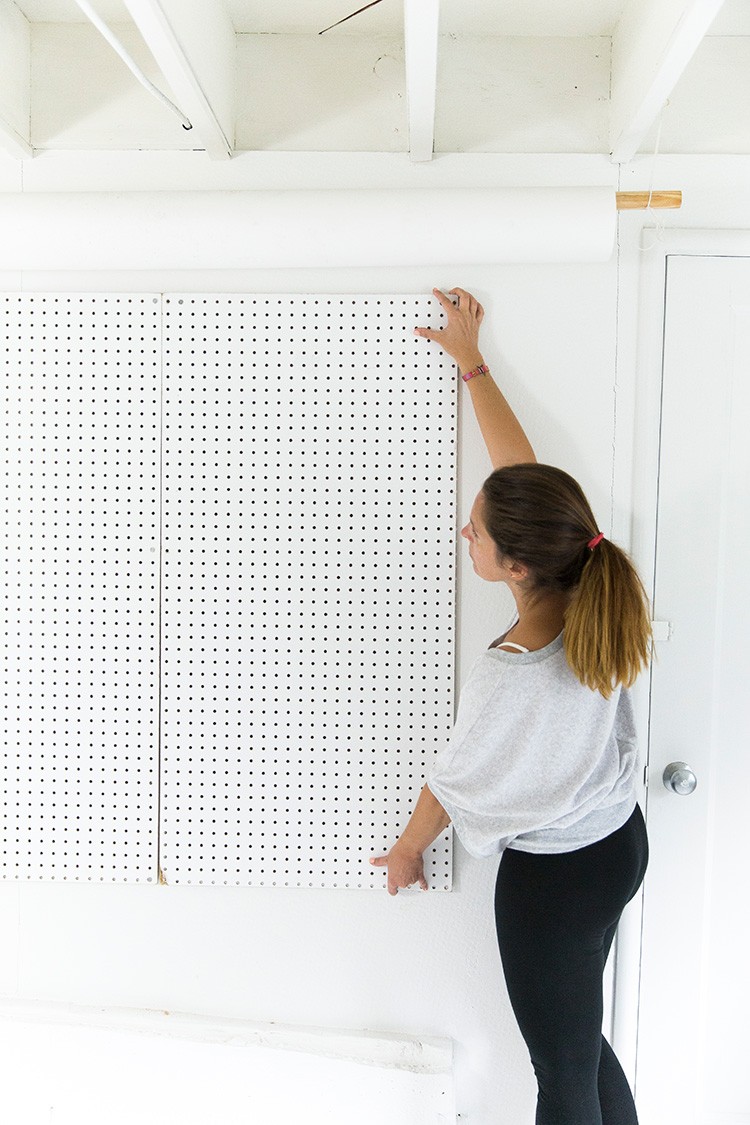 To hang the pegboards, we glued a thick bolt on the back of the hole where the nail was going through into the wall.
My favorite part of this crafting area might be the hanging rod we hung from the rafters to hang our backdrop paper on. It makes an endless backdrop so easy. Before, when we needed an endless backdrop for shoots, we had to set up two stands and a bar and then put the paper on there. Now, with rafters, the paper is always ready.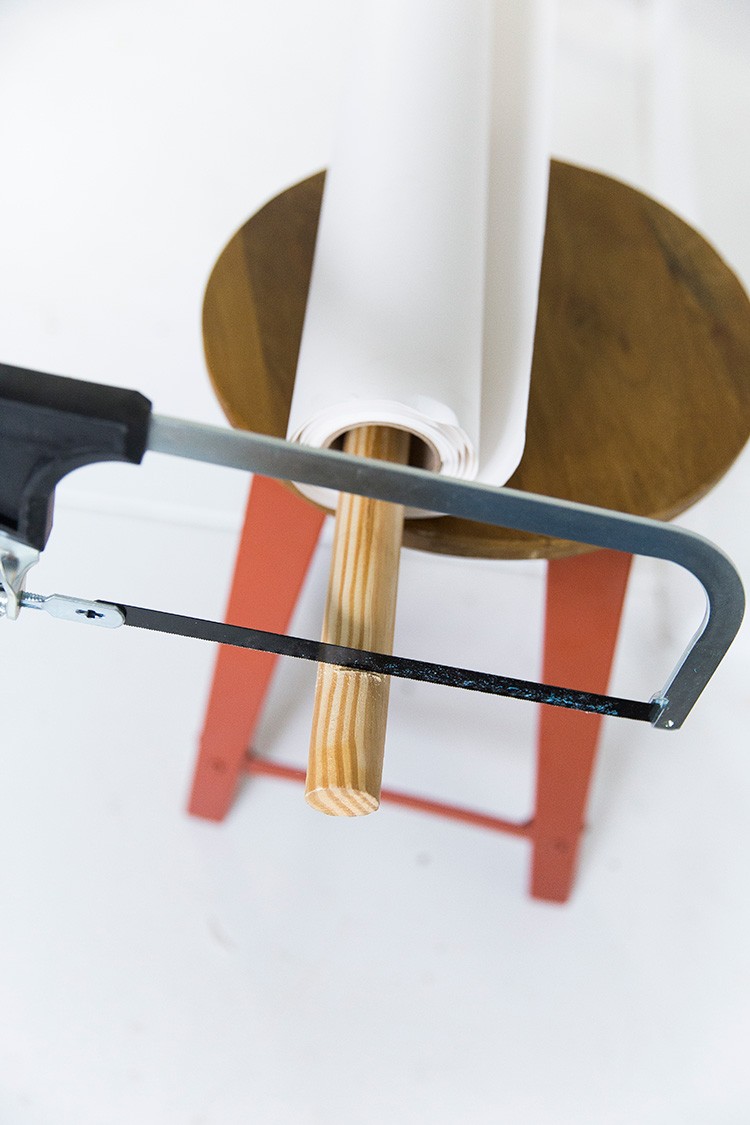 We hung some string from a couple of hooks, bought a large dowel from The Home Depot, and sawed in a notch on one side to make the string stay in place. It's so easy to pull that backdrop down now!
The table is a piece of salvaged wood we added legs on. The cool, modern, white chair is from Home Depot!
It also doubles as our desk chair, which I'm excited to show you next…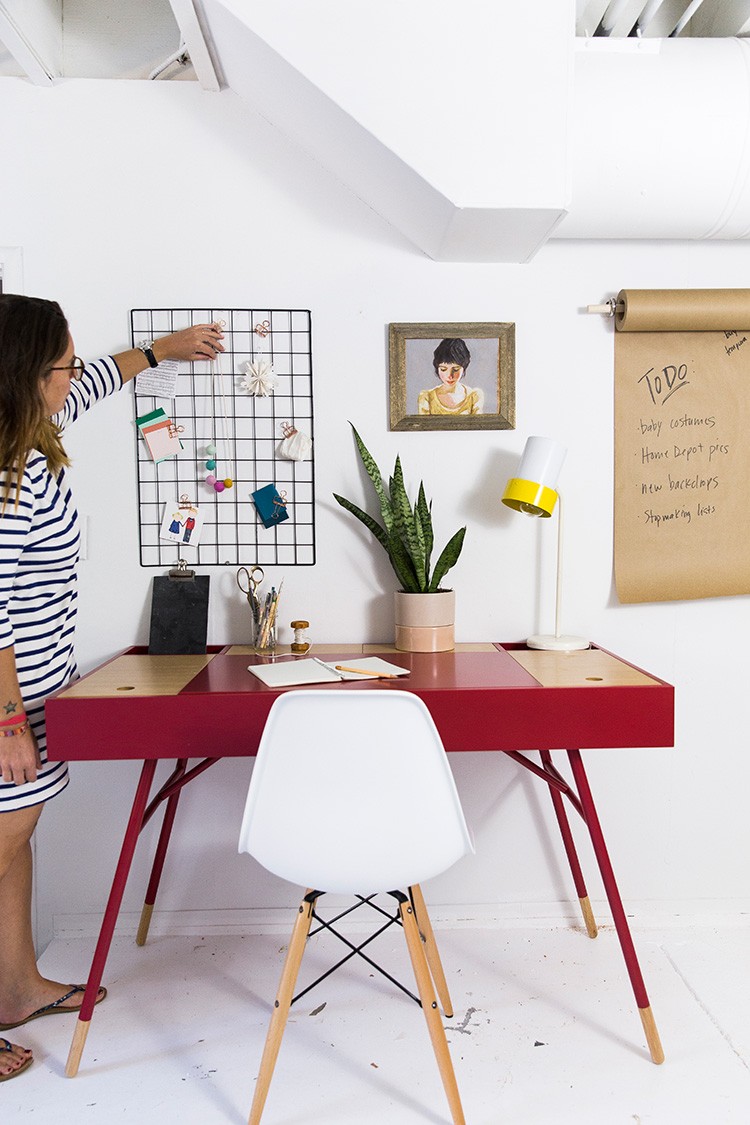 The Desk Area
Opposite the crafting area is the desk area for computer work. Again, the white chair is here as well, it's such a versatile piece for the studio.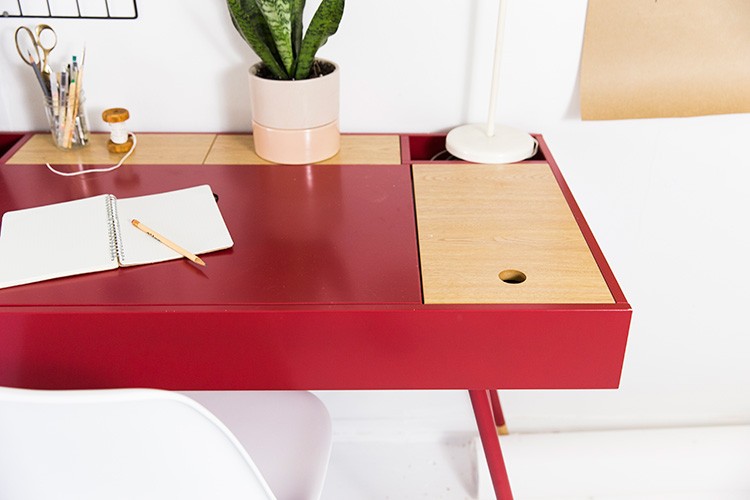 Home Depot has this awesome modern red desk with all sorts of great storage spots built into it.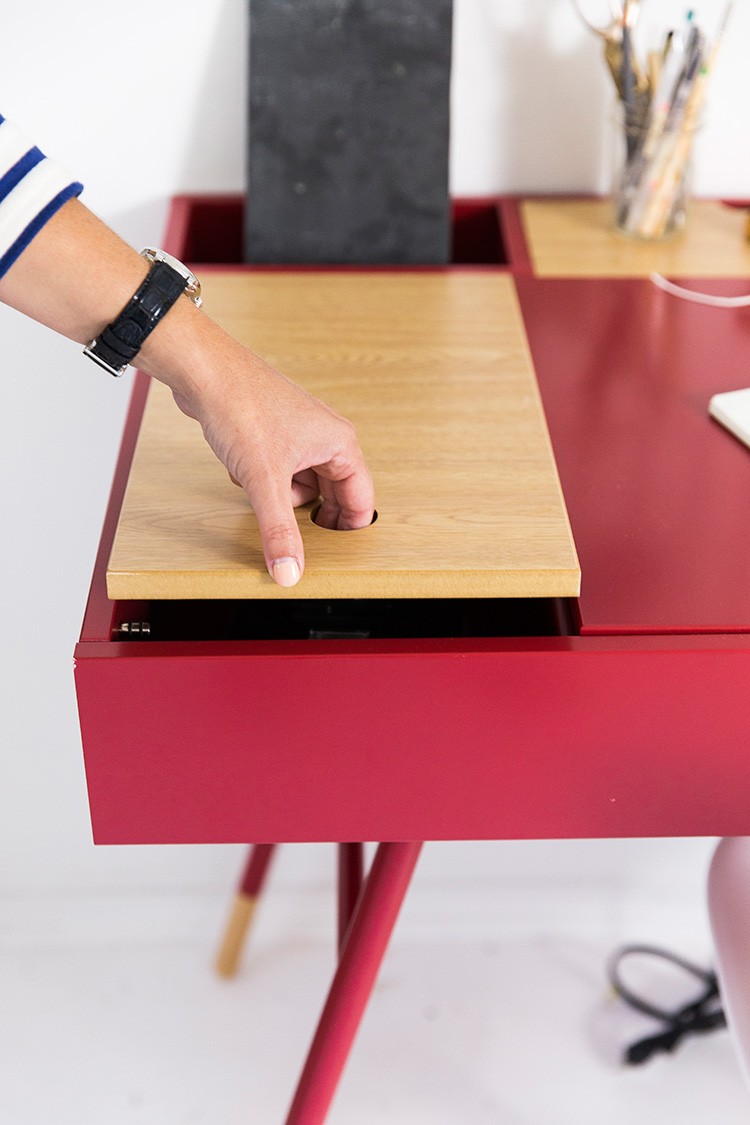 I love the pop of color against the white space, and there are plugs and all sorts of fun drawers and pockets to hold things in. So much great storage!
The inspiration board was made with some pet fencing from The Home Depot cut to size.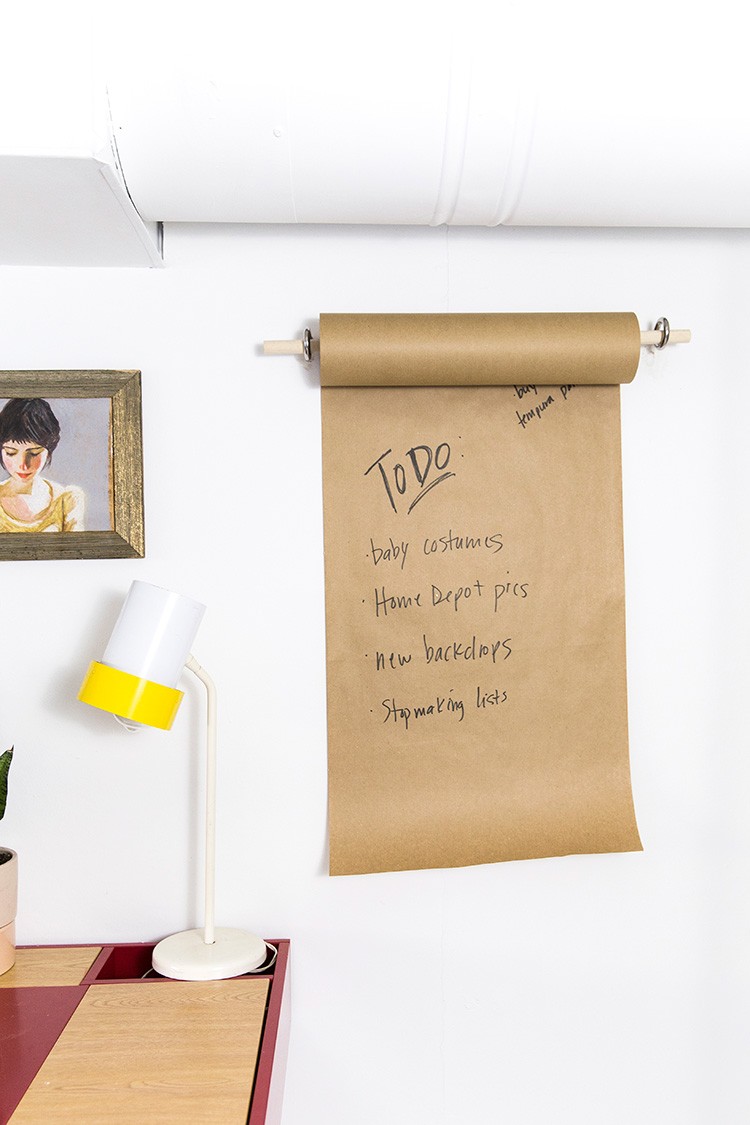 We also hung some art and a vintage desk lamp.
Hanging Notepad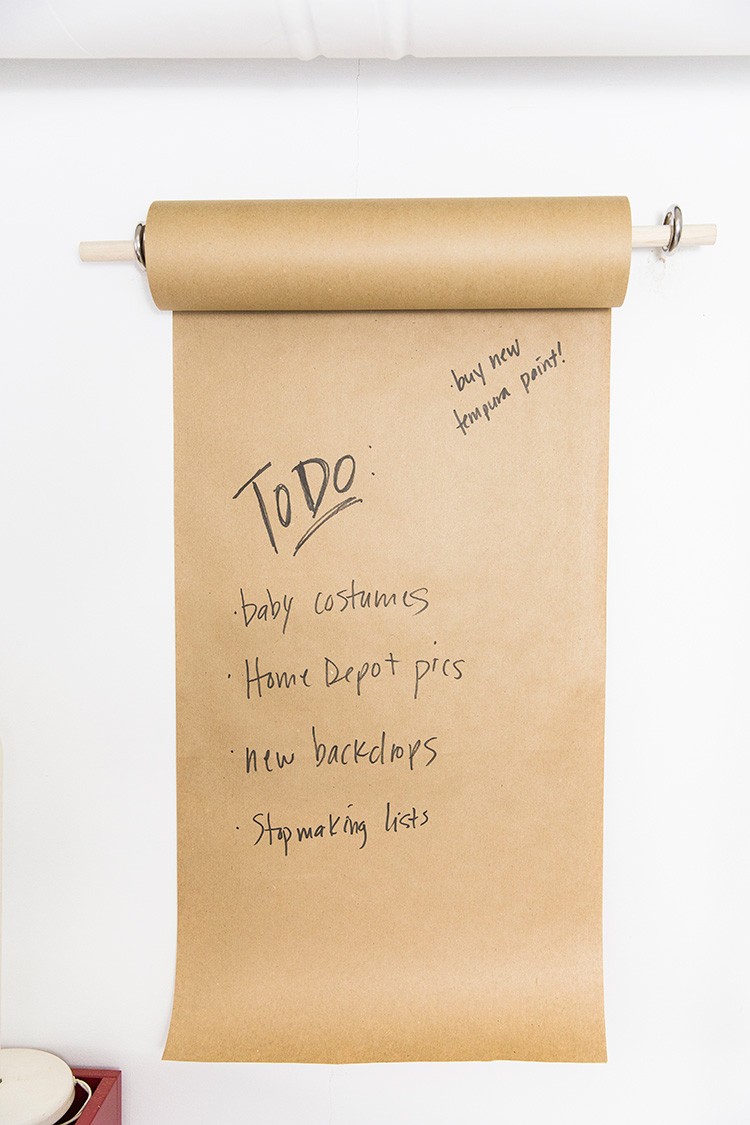 This project was such a cinch! I just got two screw hooks from Home Depot, secured them into the wall, and added a dowel between them to hang the kraft paper. Perfect spot for sketches, supply lists, and daily reminders.
Studio Living Room Area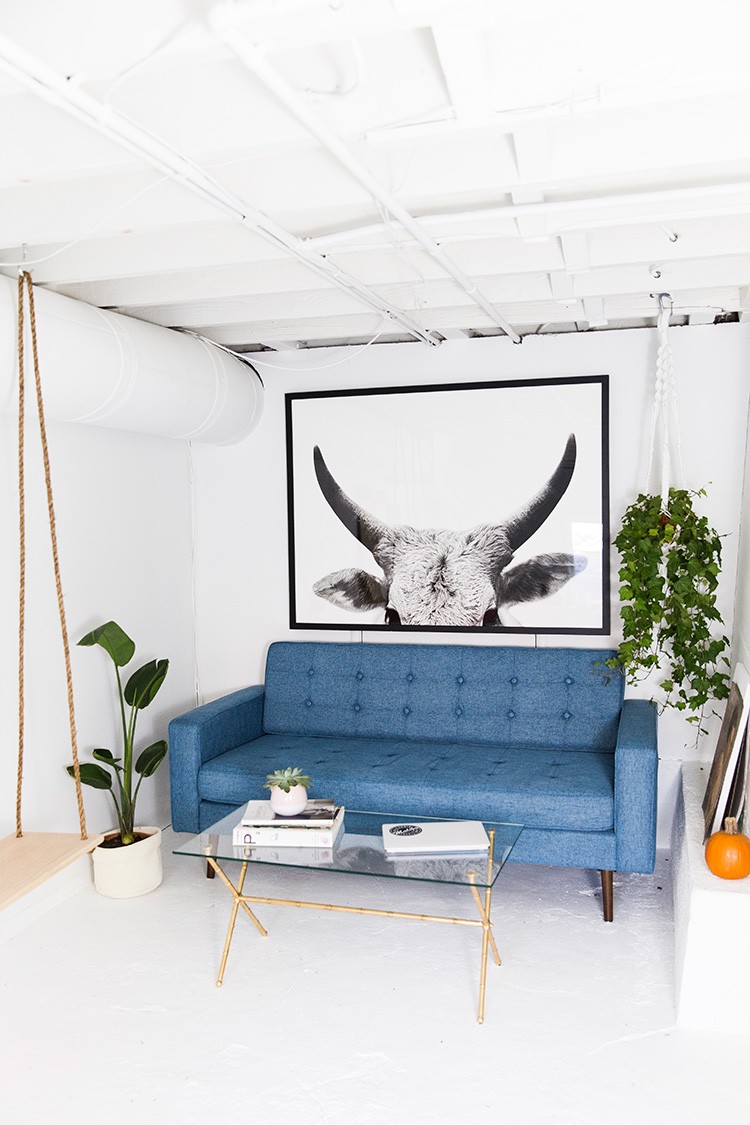 The back corner of the studio is where we sit and relax, brainstorm, do computer work, each lunch, etc. It's a cozy corner.
This blue couch is from The Home Depot (crazy cool, right??). It's perfect for the space and makes the whole area feel so cozy and comfy.  Also, the glass coffee table is from Home Depot too! I knew I wanted something glass so it wasn't taking up to much visual space. We piled a few inspiring design magazines and books on top. Above the couch, we hung this cool art print t's a reminder to be straightforward and brave in our work here on Say Yes. I love how intense it is!
We made this really cool woven plant hanger with rope from (you guessed it) The Home Depot, there's a simple tutorial on making one right here. I can't go to Home Depot without picking up at least a couple house plants, like the one here we have hanging.
Studio Swing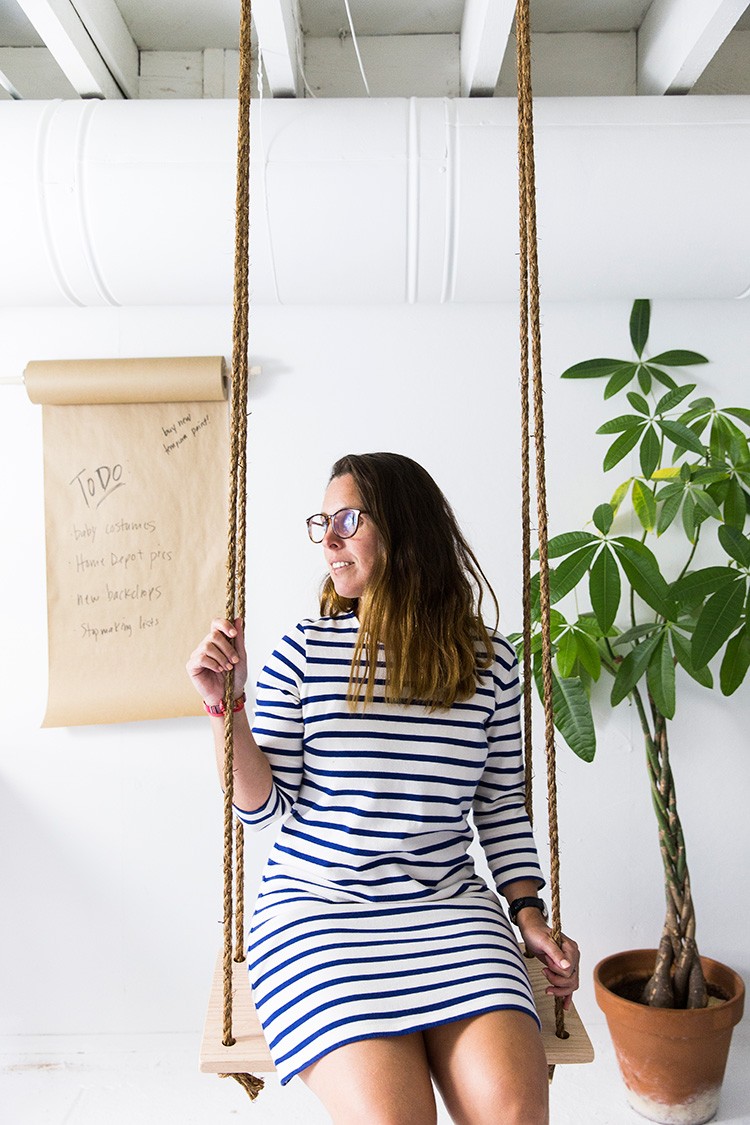 We made this swing from a piece of pinewood and some rope.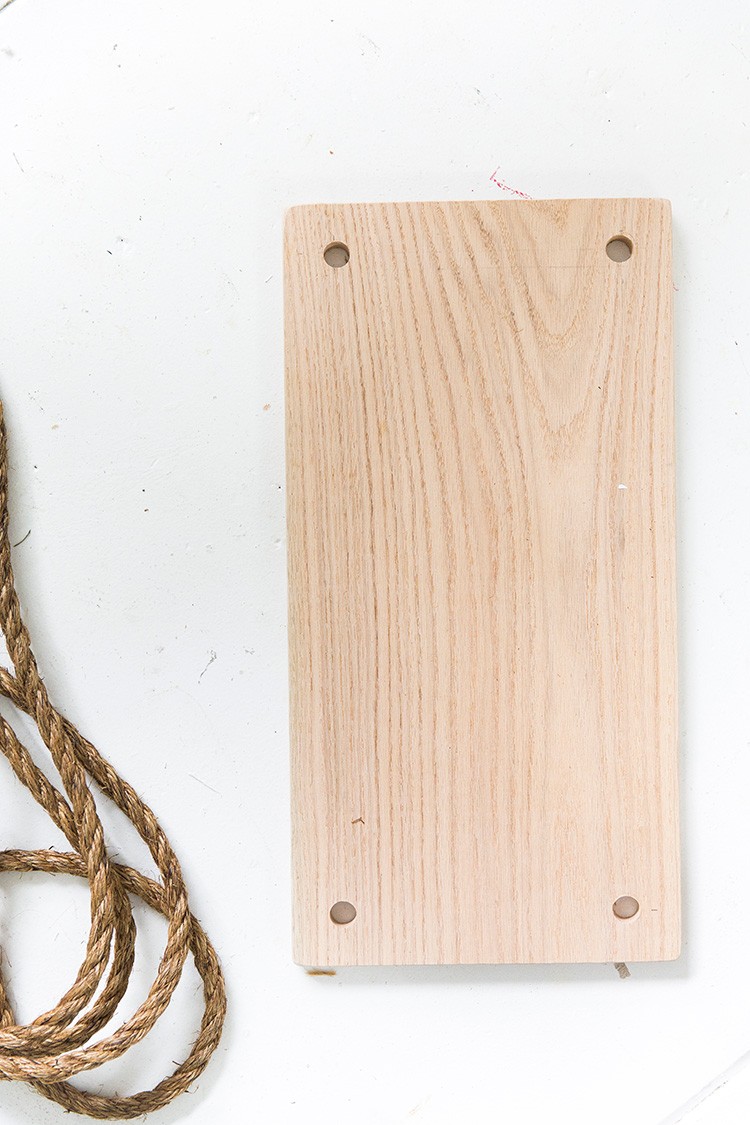 We drilled round holes with our electric drill and a round bit, then hung the rope from the exposed rafters. You can just as easily use hooks into the ceiling if you don't have rafters.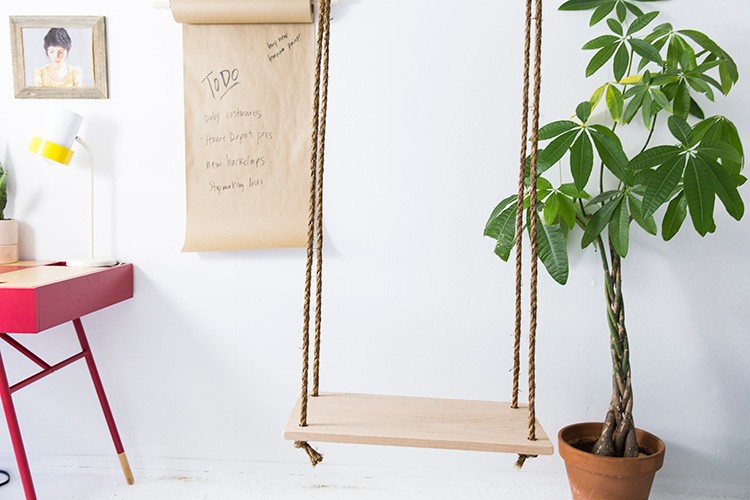 Then, you simply tie a knot on the other end of the hole to secure. It's a fun extra seat while we're brainstorming and hanging out.
---
Plexiglass Dry Erase Calendar
This was such an easy project.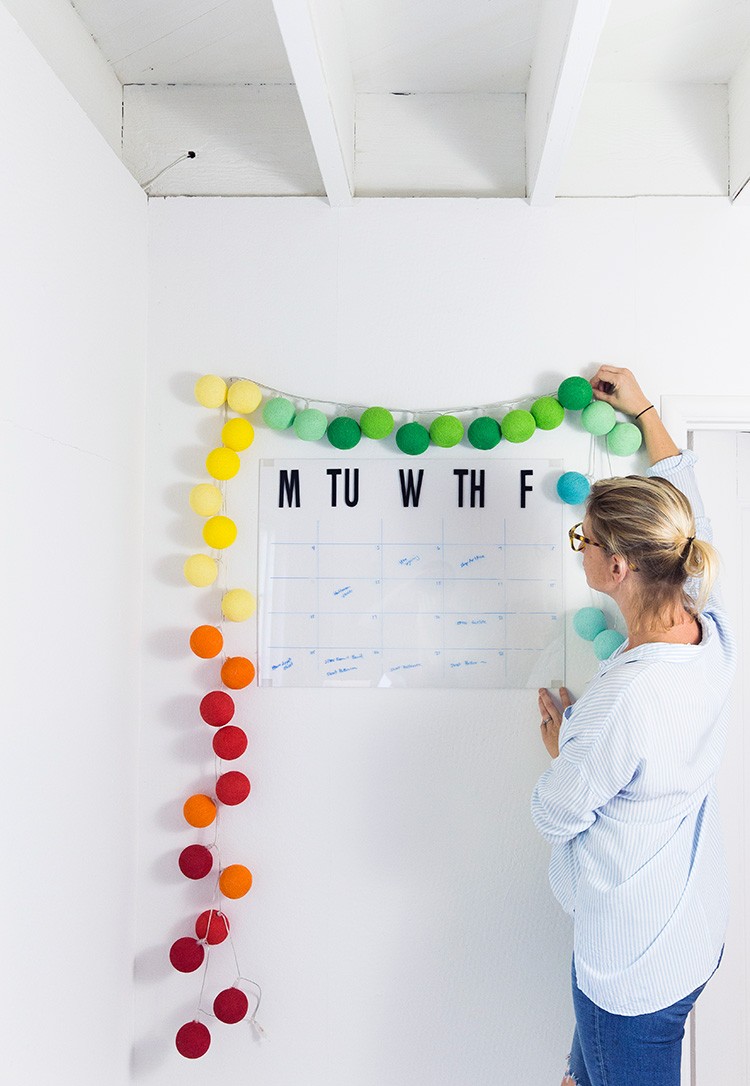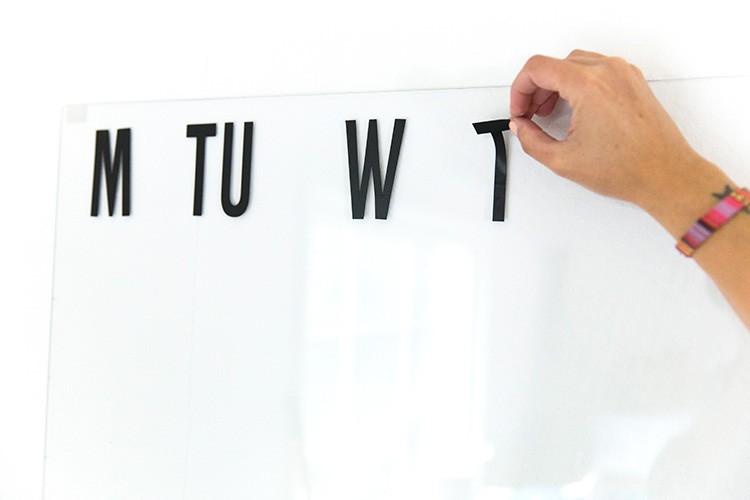 We got a piece of plexiglass from The Home Depot (it was sold in that size) and then added stickers on top for the days of the week.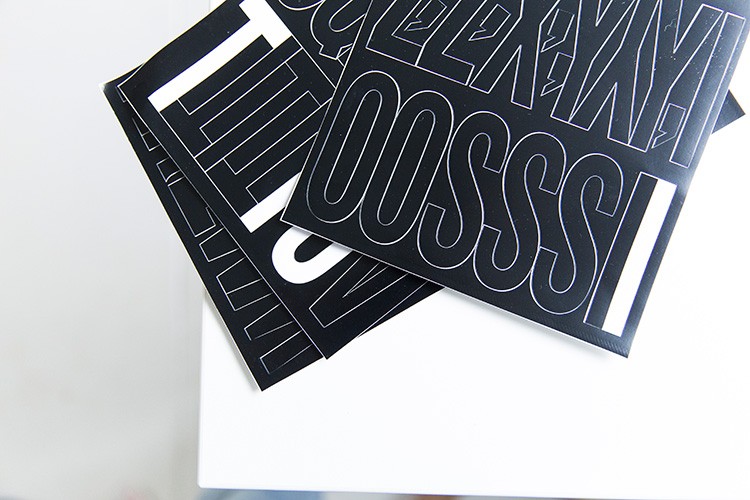 To hang it, we simply used those Command Strips that hang everything!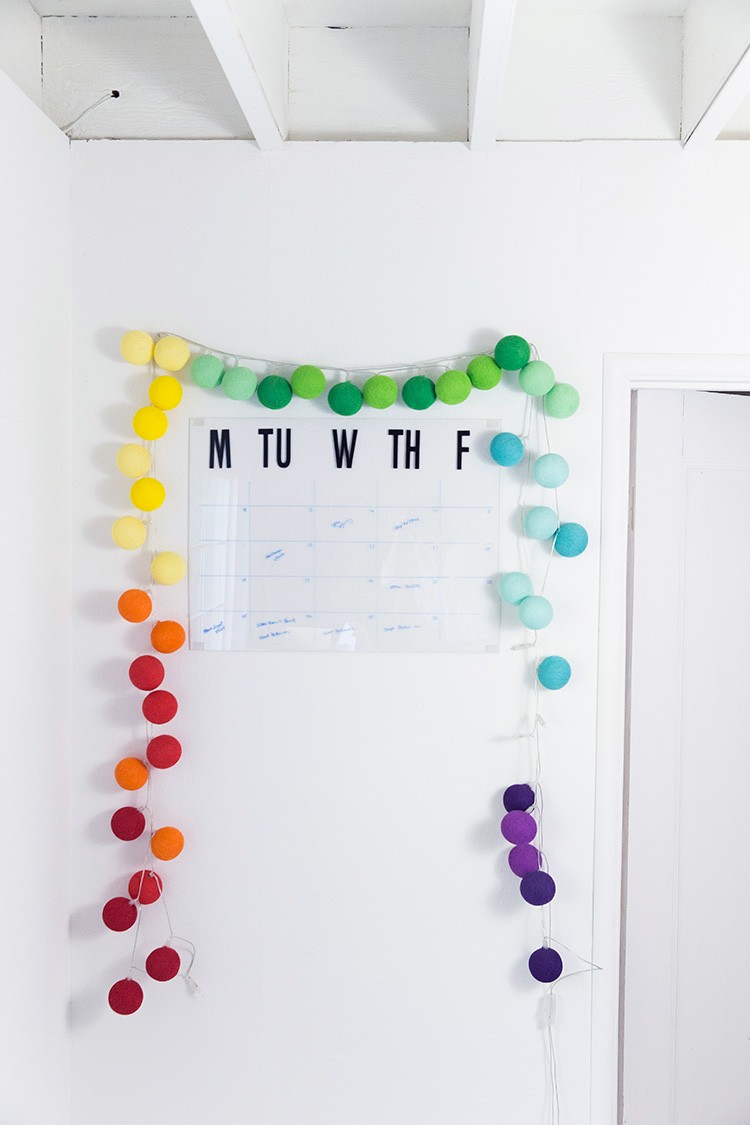 I love how sleek it looks and so easy to write on/erase each month, and when deadlines and schedules change.
Prop Storage Area
We use this Home Depot bookshelf to house our props and other supplies for shooting. I love the open shelving of the design and it was really easy to put together. Behind it and to the left of it is the perfect spot to store all of our surfaces, wood,  and paper backdrops for shooting.
Our new studio space is my new happy place. Have you thought of renovating an unused spot in your house for creative projects?
The post Creating a Fun & Functional Home Studio for DIYers appeared first on The Home Depot Blog.