When choosing flooring to fit the style of adults and functionality of lively children, you need to pick flooring with versatility, durability and the perfect finish. Adrianne Betz of
Little Adi+Co
took advantage of The Home Depot's styles, colors and brands, proving that you can have a modern look for a family friendly home.
The Original Flooring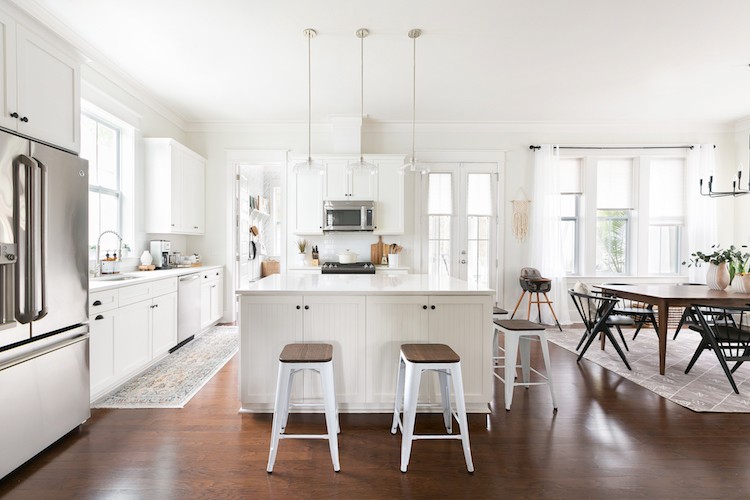 We bought our home a little over 4 years ago. I knew from the very beginning that I'd want to upgrade the floor when given the chance. We currently have builder grade hardwood in our home that has not held up to our growing and very active family.  The floors have cracked, split and warped from the tiniest things (like a cup spilling). When searching for our "forever home", one of my requirements was to have hand-scraped flooring.
The flooring was one of the only things that I had to sacrifice in order to get all of the other dreamy features included in our home. The dark wood seemed like it could be livable for a few years while our kids were still in the baby-phase. Well, let's just say that the past few years have certainly flown by, and now our babies are little people that have naturally provided a lot of wear and tear to our flooring. It was time for us to find the perfect low-maintenance hardwood for our busy growing family.
The New Flooring
We did a lot of research on durable hardwood flooring, and were so excited to find water-resistant and sustainable bamboo flooring at The Home Depot. It was the right price, and the style was exactly what we wanted. I loved the fact that it was a wide-plank, hand-scraped wood. It's also durable enough to withstand every day wear. We chose the color Mojave. It's the lightest option and has a coastal feel that fits the aesthetic of our home perfectly. The smooth installation was an added bonus.The crew had our entire first floor done within 48 hours thanks to the glueless installation.
Durability
When we were looking at flooring options, the first thing that came to mind is "will it stand up to the beating it will inevitably get from my kids and my dog?"  Our three rough and tumble toddlers always find a way to make their mark on anything and everything. If you have young babies crawling around the floor, toddlers rough-housing with each other or kids tracking in dirt from playing outside, the type of flooring you have in your home can definitely affect your quality of life. It was important that we found a hardwood that could handle anything our family dished out. The bamboo water-resistant flooring we chose is sustainable, stylish and durable with a Janka rating of 3,000 for extreme hardness.  The pre-finished flooring features seven layers of protective coating including two layers of aluminum oxide finish that provides excellent protection from every day wear.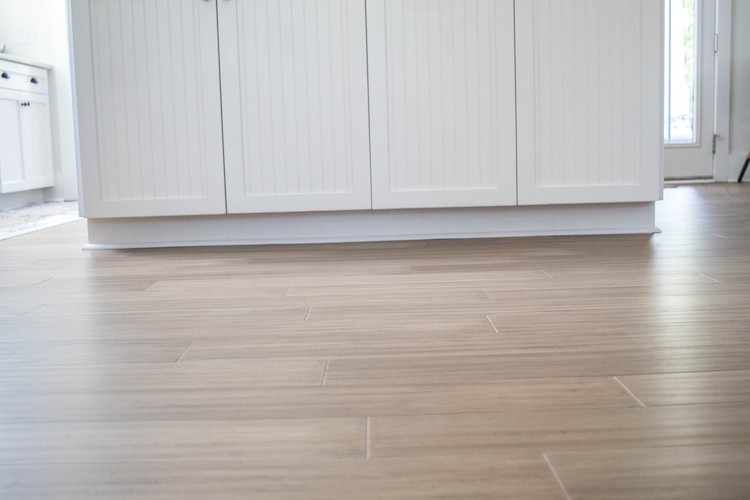 Maintenance
No matter how hard the wood is, no floor is 100% resistant to scratches. So, it was important for me to ask, "how easy is it to maintain?" I can spend all day cleaning my floors with three little ones running around, but who has time for that? Our old hardwood floors showed everything – every crumb, every little footprint, and even dog hair. No matter how much I attempted to stay on top of it, the floor always felt dirty. The new sustainable bamboo flooring is easily cleaned with a soft brush or damp cloth. Even more importantly, dirt isn't visible. So, I don't have the constant urge to sweep, but when I do, it takes no more than five minutes. For a busy mom, time is key. I couldn't be happier with how low-maintenance it is!
Versatility
Replacing the flooring in your entire house can be a daunting task. It's often the smarter financial decision to use the same flooring throughout your home. Versatility is important when choosing one type of flooring that looks good throughout your home. Finding a finish that looks good can depend on how much natural light a space gets or even the decor. We chose the lighter Mojave shade because the natural-tone fit in with the color scheme of our home.
The Final Look
I'm so in love with our new flooring and the facelift it brought our entire house. I know that the bamboo water-resistant flooring by Home Legend was an excellent choice for our family. It not only provides so much character with the wide-planks and hand-scraped feel, but it completely lightened up our space. The ease of maintenance and durability brings more life to my days. I can put that extra time into what really matters most, like spending more time with the boys.
The post Family Friendly Flooring Upgrade appeared first on The Home Depot Blog.