The one thing better than a patio refresh is a budget-friendly patio refresh. Alma Arrietta, who writes the blog Almafied, knows a thing or two about keeping things affordable. She also knows how to make a space, indoor or outdoor, look terrific.
Alma breaks her own budget-friendly patio refresh down to four simple elements.
Budget-Friendly Patio Refresh
If you are still trying to figure out how to update your space or thinking of some ideas that are affordable yet effective, keep reading cause today I wanted to share four affordable ways we gave our patio a little face lift on a budget.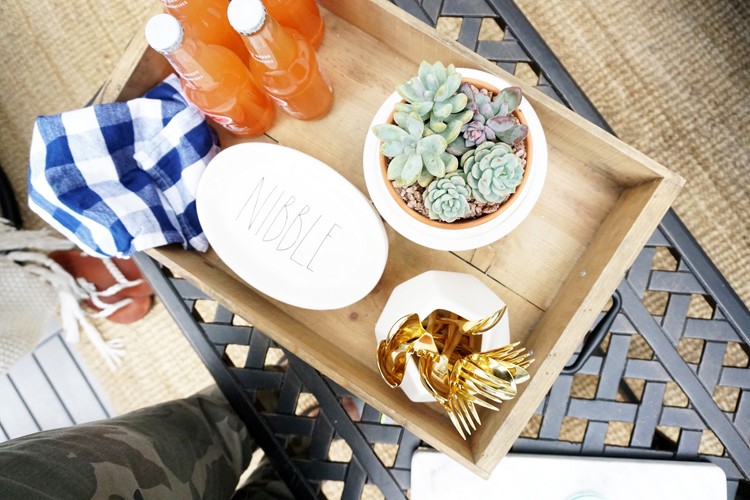 But first, grab your coffee because the best conversations are held over coffee, am I right?! I would include tea in there, but my friend hates tea so just in case any of you are like her, I'll play it safe and stick with just coffee today 'cause who doesn't like coffee?!
Paint
So, the first and biggest way to give your patio a whole new makeover: (and this is the bang for your buck guys!) PAINT. It's the most affordable way to TRANSFORM any space, patio included! Let's be real, you gotta put your back into it. But with a little sweat, it'll be done and looking fly.
Oh and why did we just now discover one coat coverage?? We used the Behr Marquee in the exterior flat finish. The color we went with is called "Still Gray". It definitely covered with one coat and we didn't have to use a primer. We also painted a pergola a bright cool white called "Frost" which actually brings in a lot more light into the house. With this, you are on your way to the patio refresh you've been wanting.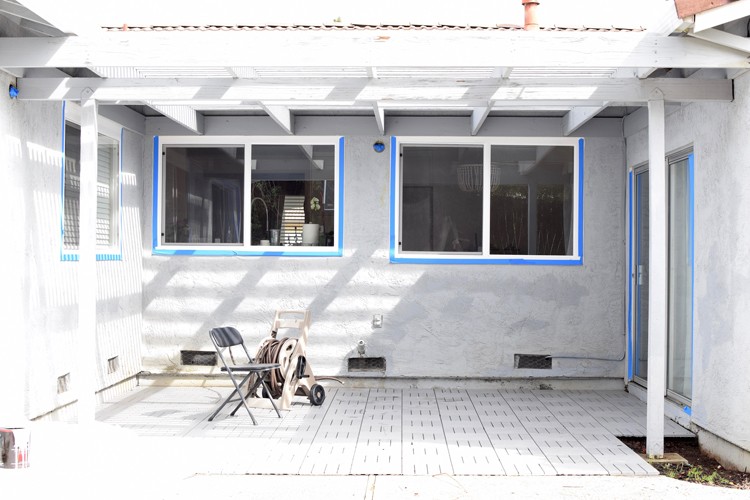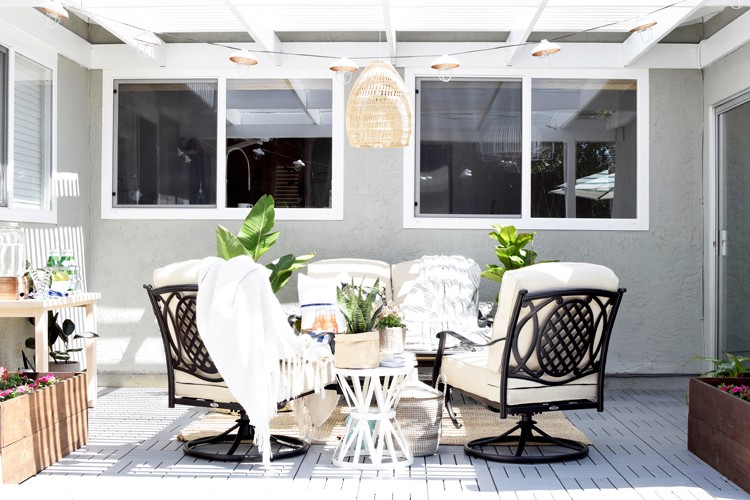 And I know there are some of you reading this and thinking, it's too much work. Well, we used a paint sprayer, and I have to say the job was 10x easier. Pergolas are not fun to paint. But I promise, it cut our painting time in half. And seriously, it made the world of difference in our update!
Planters
Moving on. Second way to give your patio the ultimate refresh is to add something personalized and fun like a DIY planter box. Which in my case meant two. I love these guys and it was so easy to make.
We used this pine wood, and it was perfect for this project. They definitely make the space. Where it was once blah is now a little more interesting. I blogged about the details and how we made them over at our blog: pinewood planter tutorial.
Flowers and greenery says, "welcome, come on in," without a word. And of course in this case, it's saying, "come on out." 😉  We even picked up these Ames wood handle garden tools and Digz garden gloves to help with my black thumb!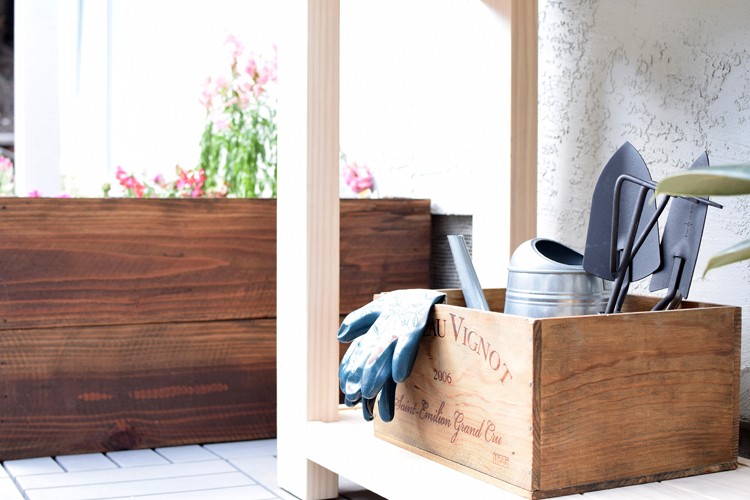 Your planter box could be a wine crate, a window box, etc. They all are just as effective. Their beauty needs no words. And don't limit them to the planter box. I have it throughout the space all from The Home Depot garden center.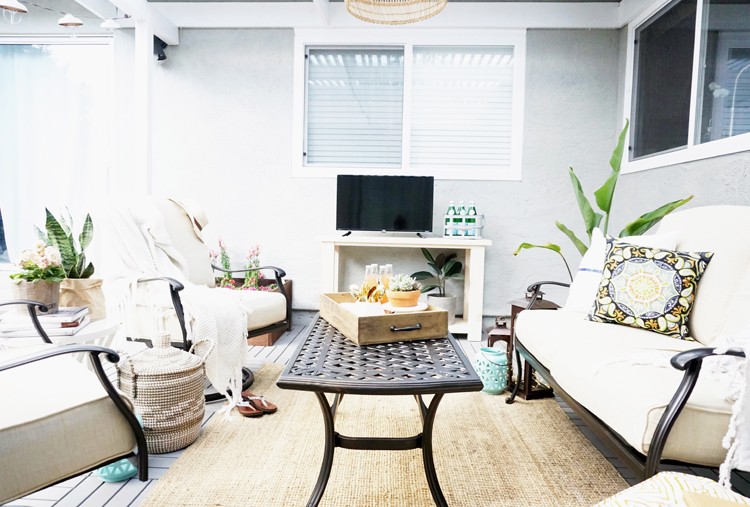 Seating
So my third big advice for a budget-friendly patio refresh is by making it inviting. There are many ways to make a place inviting. First, for me, is comfortable seating. Remember, your patio is an extension of your home, not an afterthought. These comfy Sky Medallion Square Outdoor Throw Pillows and the Metallic Diamond Square Outdoor Pouf are just as much for style as they are for comfort!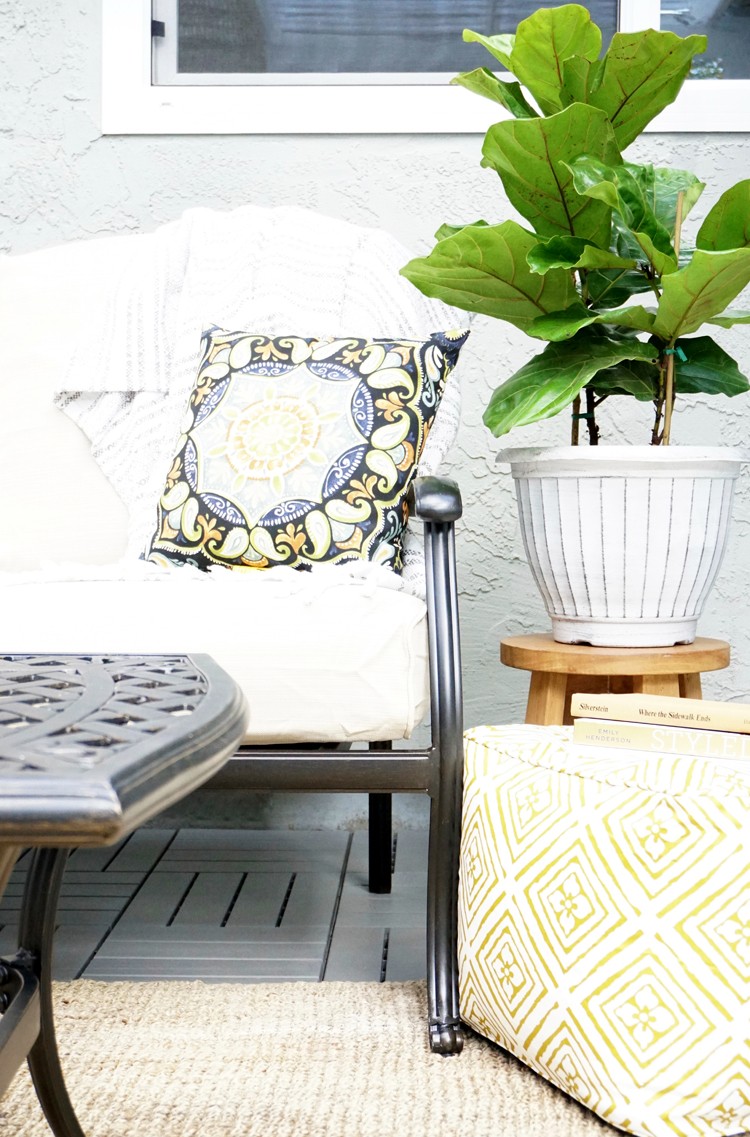 We don't want anyone's tush falling asleep on us five minutes into a conversation! We are using the Hampton Bay Belcourt 4-Piece Metal Patio Conversation Set with Spa Cushions in our patio, and it's super comfy.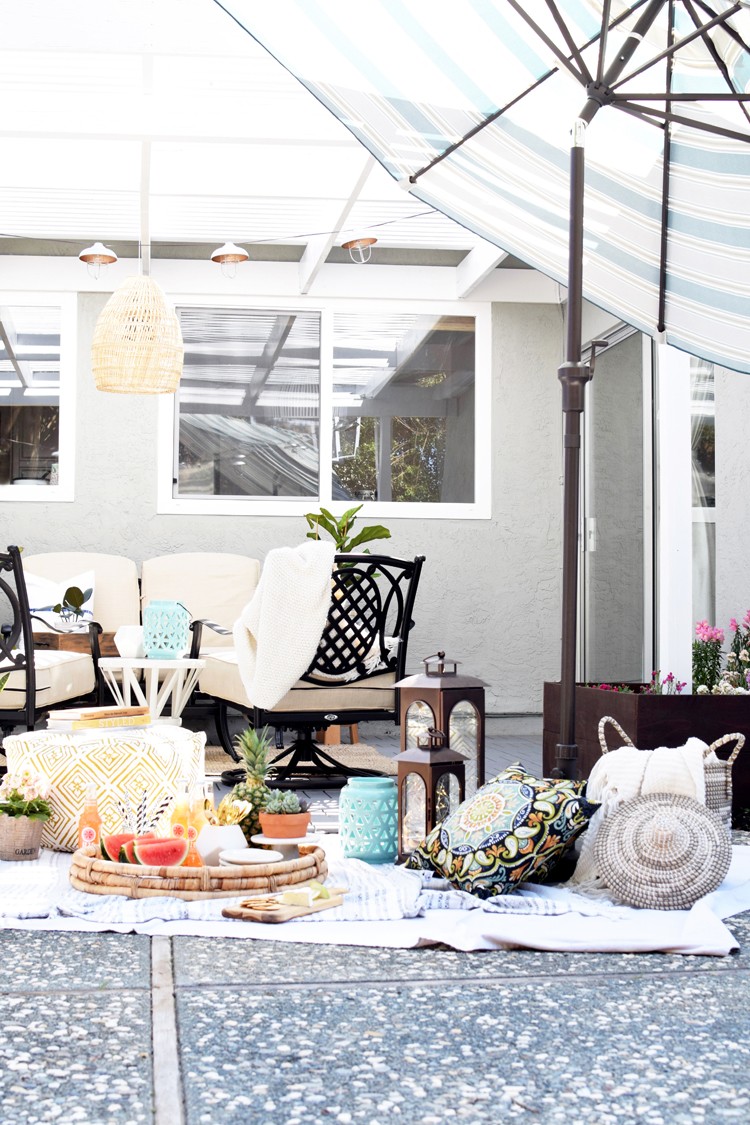 Another part of being comfortable is shade! If you don't have an overhang or a pergola, have some seating below a tree or even under an umbrella! We want to be able to lounge and enjoy our time outside! You certainly don't want to worry about sweating profusely just sitting down or getting a sunburn while you sip your coffee 😉 There's a little place to chill under our 9 ft. Steel Crank and Tilt Patio Umbrella in Surplus Stripe for those who enjoy the picnic feel like my kids!
Lighting
The fourth way to give your patio an affordable update (and this one's easy) is with lighting.
Lighting enhances the ambiance at night and these zinc outdoor sconces we just purchased for this patio gives the patio a cool touch of farmhouse too. And you guys, these are not expensive. Umm, I really can't beat that!
These 8-Light Hood and Cage Outdoor Hanging Cafe String Lights we hung on the pergola and the 60-Light Warm White LED Battery-Operated Garden String Light in our Hampton Bay 22 in. Metal Lantern in Copper on the ground just creates a lot of interest to the space and not just ambiance at night.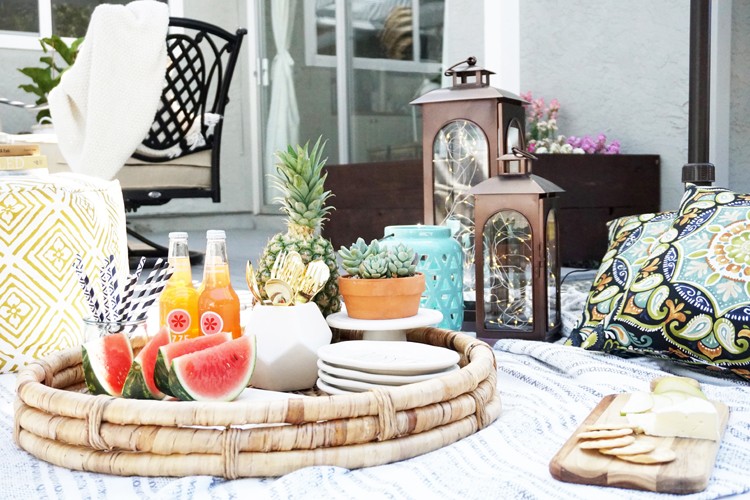 Your Motivation
OK, I know I said four elements for a budget-friendly patio refresh, but most importantly, is what the motivation and purpose is for this patio refresh? That's hopefully to exercise hospitality!
Once you've done the refresh, (and let's just be honest, I could enjoy some BBQ even without the refresh) it's meant to be enjoyed with others. The most important thing to this project is to put your hard work to good use, enjoying it with your family and also extending that invite to that someone in your life that needs a friend or encouragement!
So, who's ready to get started?? Hope you're feeling a little more motivated today to get started on your own patio refresh!
We still have more work to be done back here, but a very big thank you to The Home Depot for inviting us to participate in this challenge and reminding me to not let my patio go unused!
If you enjoyed hanging out with me, let's hang out some more over at my blog. Come say hi, and let me know you came from The Home Depot!
The post Four Elements for a Budget-Friendly Patio Refresh appeared first on The Home Depot Blog.