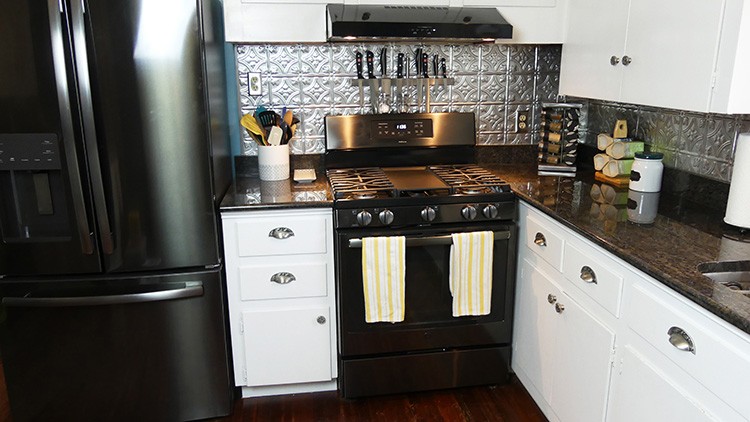 The kitchen is the focal point of most homes. Even if your home is older, your appliances don't have to be. Adam Beasley of Lazy Guy DIY was limited in size, storage and functionality of his kitchen appliances. Today, he spends more time in his kitchen than ever before, and he'll tell you why while highlighting some of his favorite GE appliance features.
GE Appliances That Will Transform Your Kitchen
I don't know any other way to sugarcoat it, but these new kitchen appliances by GE are ruining my marriage. With the initial fingerprint resistant sheen of the black stainless-steel kitchen upgrades wearing off (metaphorically, they still look beautiful in person), our happy home was left with something we hadn't really expected…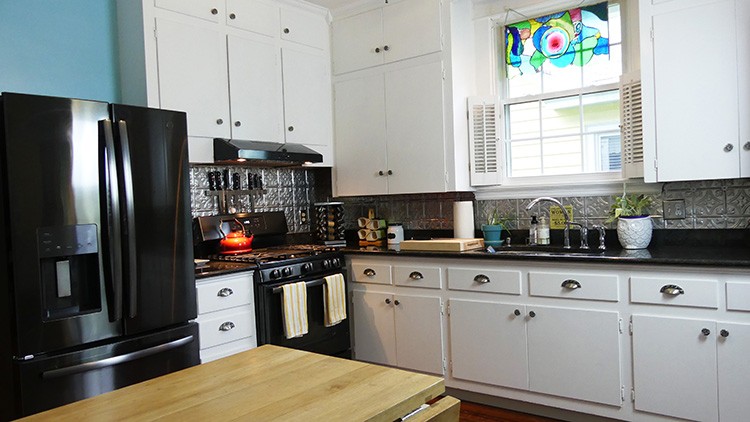 What Mess?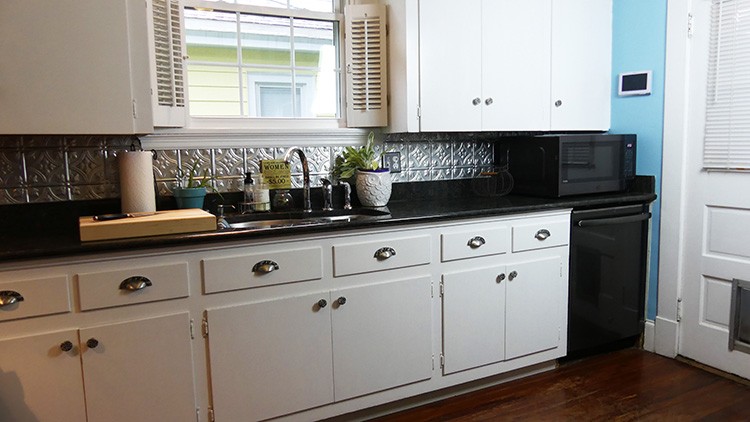 It started out with the dishes; dirty dishes in fact. I previously talked about this on Lazy Guy DIY when we were choosing the new kitchen appliances, but we used to have the tiniest and oldest dishwasher known to man in our kitchen. There was no logical reason why the previous homeowners opted to install it; it definitely wasn't because of space. They blocked off the cabinetry and installed the pint-sized one where our new full-sized unit went right in. But something funny started happening when our new GE Adora Top Controlled Dishwasher arrived… My wife and I started quietly accusing each other of taking silverware to work and leaving it there, or losing it. Then, the bowls and coffee mugs started disappearing, too (and I'm the only one who drinks coffee in our house)!
Where were they all going? Is this like the case of the missing socks in the dryer? Our cabinets and drawers were bare! Well, it turns out this new dishwasher holds a heck of a lot more dishes than we were used to. So, while we were placing blame, these dishes were eagerly awaiting the best clean of their lives. With true load detecting zone cleaning, we don't have to completely load the dishwasher if we don't want to! If we are feeling nostalgic and only want to load the number of dishes our old dishwasher could handle, we still run it and the unit adjusts to an appropriate run cycle with only a press of a button. Only want to run the bottom rack? Just select the zone and wash away your fears (and bits of left over taco).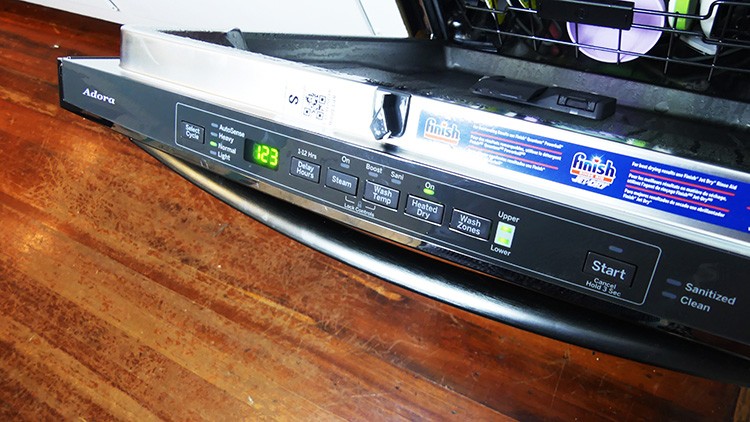 But then there's the other "problem"… "I thought I asked you to run the dishwasher?" I did… It's running right now. Can't you hear it? No…? Oh, that's because the Adora Dishwasher is ridiculously quiet. While the old dishwasher was loud enough to wake up the entire house, this one purrs like a quiet kitten. If it wasn't for the countdown to finish feature on the top information center, we might never know it's running and the accusations would continue to fly.
If You Can't Handle the Heat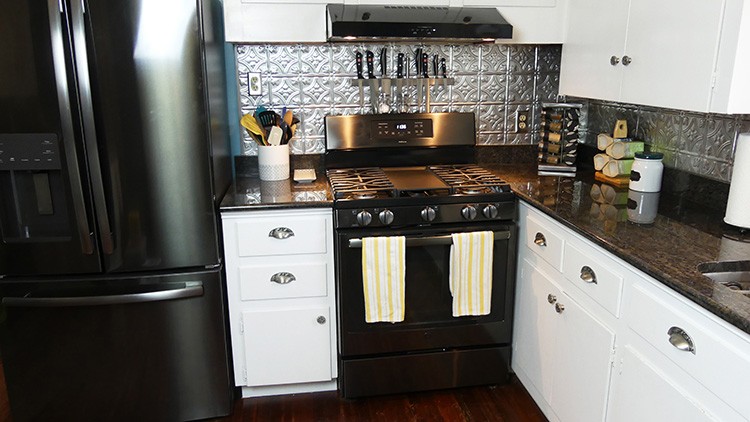 Then there's the GE Adora Free Standing Gas Range… I've started spending a lot more time in the kitchen recently. Stove top cooking and baking have never been easier. Sure, we had a gas range before, but the heat came out unevenly and the burners would only occasionally ignite without a lighter. Every so often I'd get the singed eyebrows whooshing fireball when the burner actually ignited. That's a look I try to avoid, so that meant ordering more carryout. With these new kitchen appliances, I've decided I'm now a DIY'er, Woodworker AND Gourmet Chef. TRIPLE THREAT! It also helps my inflating ego that with a press of a button, I'm literally in the spotlight with the GE Under the Cabinet Range hood.
Not to mention that Extra-Large Griddle in the middle of the range. Did you know it can hold up to six grilled cheese sandwiches??? We don't even have enough mouths in our home to eat six grilled cheese sandwiches (but I think I could try…) My wife and daughter hear my "oohing and ahhing" mixed with a little maniacal laughing from the other room and they just assume I'm watching another funny cat video instead of spending time with them. Really, I'm just marveling at my culinary masterpieces that I'm now inspired to cook. Do I know how to prepare a foie gras amuse bouche? No, but at least my grilled cheese sandwiches are no longer using Kraft Singles and Wonder Bread.
The Cold Shoulder

Let's be honest here, I'm not one who likes to place blame on the innocent. If I take a long look at myself… and really soul search… the blame falls on… the GE Counter Depth, French Door Refrigerator. Our old ice box was a side by side refrigerator with a (faux) stainless steel finish (ooh fancy).  It was easy to overload and impossible to find anything in. Refrigerator blindness is a real thing and it was a crutch I often relied on, but now… there's no excuse! The double doors open (or just a single door if I'm feeling lucky) and light pours out into the kitchen. Because of the refrigerator's layout, you can see absolutely everything with the friendly and effective illumination from the LED light (that gets brighter, so it doesn't blind you during late night snacks). So now when my extremely pregnant wife asks me to get her something from the fridge and I forget… I can't get away with saying I couldn't find it. Now she knows I'm lying, lazy and forgetful, which is not the lauded triple threat from above.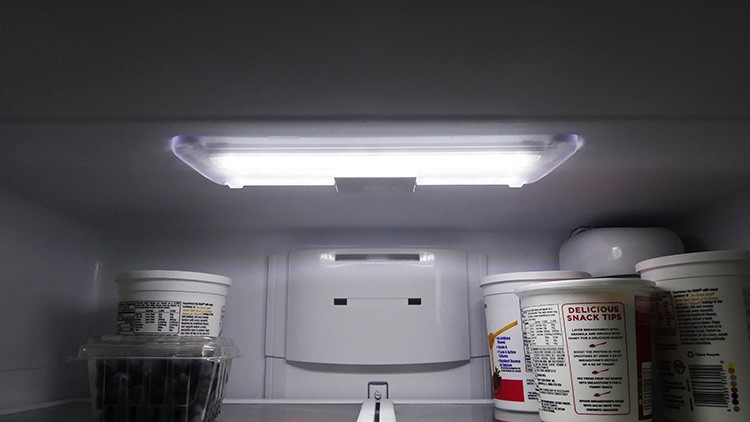 Now it's time I come clean; I've got a confession to make that even my wife doesn't know about (that is until she reads this) …  I replaced the old fridge with… a smaller fridge – Phew! So much weight off my chest. That's right, this refrigerator has 17.5 cubic feet of storage while the old one had 22.2 cubic feet. That's not a bad thing though, because the layout inside this fridge makes better sense and has a better use of space. I found something in the old freezer that was five years out of date! The storage was so narrow on the side by side design that there was no way to tell what was actually in there. With the pull-out freezer drawer that shows me ALL the contents, that will never happen again. So why the smaller model? Our kitchen has a limited footprint for a fridge, which meant of the 13 different models of GE French Door Refrigerators in Black Steel finish offered at The Home Depot, we were able to find the perfect fit for us with this model.
While I am completely joking about our new kitchen appliances tearing my marriage apart, this whole process couldn't have been easier. I started on The Home Depot website by sorting the style of refrigerators we liked, then narrowed it down to the exact size our kitchen could accommodate. Then came the ultimate decision… the finish. From there, we were able to choose the corresponding appliances in seconds. Getting new kitchen appliances should be exciting and stress free. So even when we had a little hiccup when delivery day rolled around (our municipality required a permit for new stove???), every representative I spoke to was friendly and helpful, only making the experience that much better. Although… I'll never forgive myself for not getting that fridge with a built-in coffee maker…
~Lazy Guy
The post GE Appliances That Will Transform Your Kitchen appeared first on The Home Depot Blog.