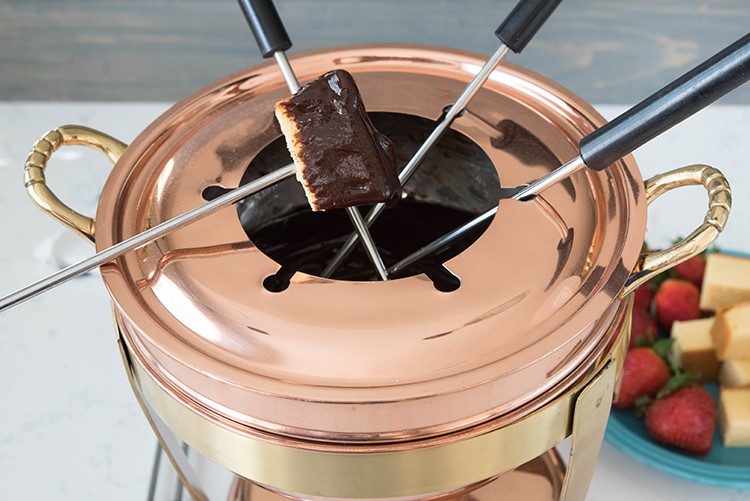 Get this easy, must-have holiday chocolate hazelnut fondue recipe by food blogger Dorothy Kern from Crazy for Crust. Your holiday guests will love this delicious holiday treat!
Holiday Chocolate Hazelnut Fondue Recipe
Fondue is something that I associate with the holiday season. Every year on New Year's Eve we have a fondue party. We started it when my daughter was young and she looks forward to the cheese and chocolate goodness every year.
The first year we just did cheese fondue because that's our tradition. But, because we love dessert, we soon added a gooey chocolate fondue to the mix. The first time I made chocolate fondue I fell instantly in love; how could you not? Rich and melty chocolate that you can dip fruit and pound cake in? Sign me up.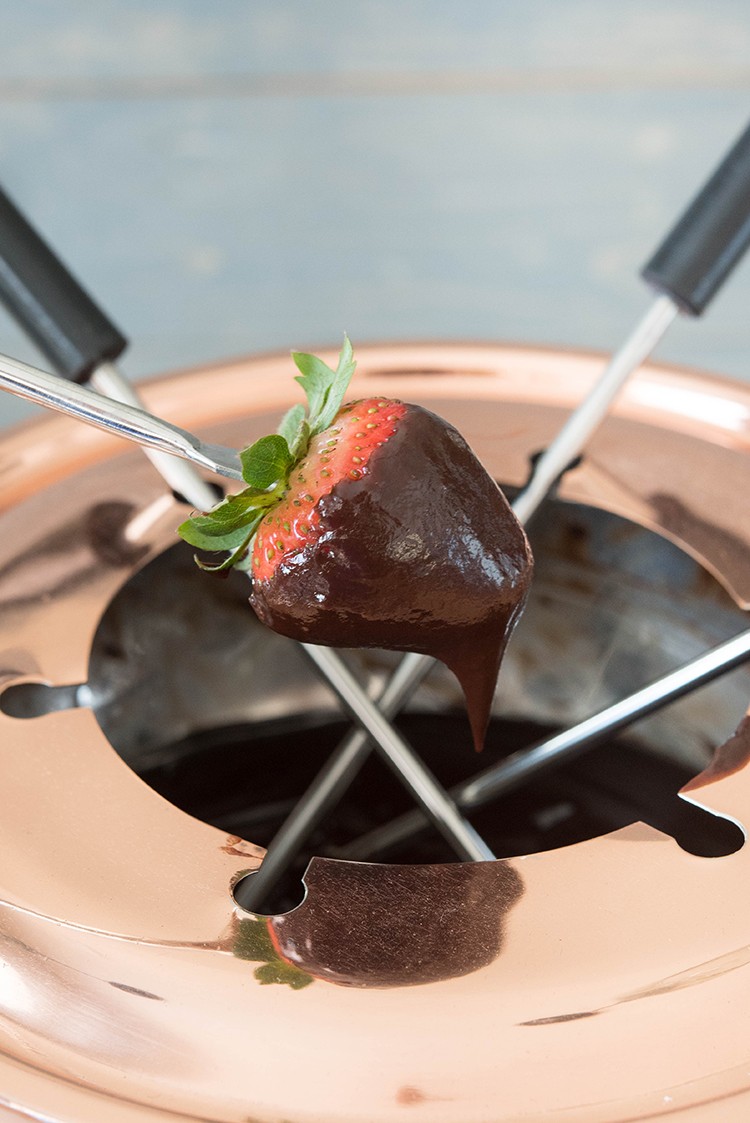 After that first year we started to get more adventurous, adding flavors and different things to our chocolate fondue. Peanut butter was a natural progression and then soon after that, a chocolate hazelnut spread. Chocolate hazelnut spread is good eaten by itself with a spoon but when it's hot and melty and made into a rich ganache it's even better. Probably because you get to eat a chocolate hazelnut spread with other things like pound cake.
In order for us to have a proper fondue party every holiday season, we needed a fondue pot. This Old Dutch Decor Fondue Set is such a fun addition to any fondue occasion. It actually reminds me of one I grew up with; my parents received a very similar one for their wedding This gorgeous copper fondue pot is perfect for the retro decor of today.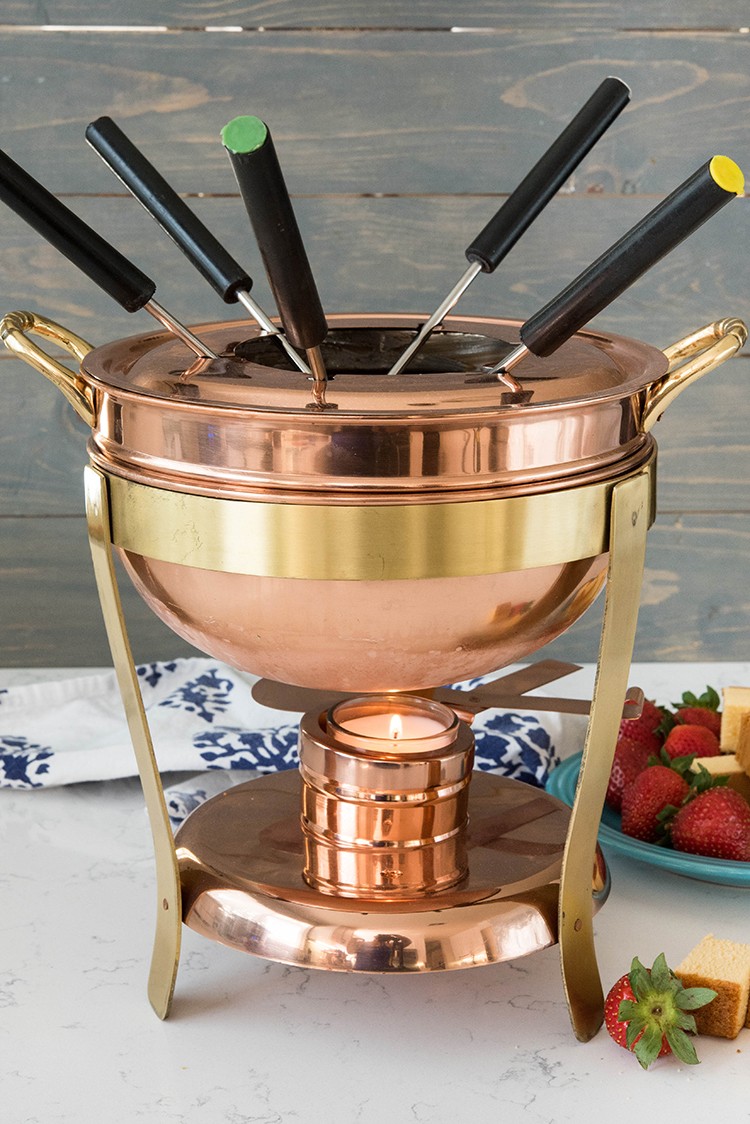 This easy chocolate hazelnut fondue recipe is simple to make. It has just three ingredients: a chocolate hazelnut spread, chocolate chips, and heavy whipping cream. You can melt all three together on the stovetop or in the microwave and then transfer it to your fondue pot. Then get to dipping with your favorite cookies, pound cake slices, or fruit.
Tips for Fondue Success
You can use any kind of chocolate chips (semi-sweet, dark, or milk) or you can use baking chocolate.
Feel free to substitute generic brand chocolate hazelnut spread or any chocolate spread you find at the grocery store.
Whipping cream may be substituted if you don't have heavy whipping cream.
Be sure to heat over low heat (or on 50% power in the microwave), stirring often.
Leftover fondue is a great snack for lunches. Simply place a few tablespoons in a small container and send with apple slices. You'll be the hit at school lunch!
I am already looking forward to our next New Year's Eve celebration so that I can make this Chocolate Hazelnut Fondue again. Even though we like making new versions, I think this one will stick around for awhile because it is so good.
Ingredients
12 oz. chocolate chips (about 2 cups)
1 cup heavy whipping cream
1⁄3 cup hazelnut chocolate spread
Assorted cookies or fruit for dipping
Yield: 3 cups
Time: 10 minutes
Step 1: Add Ingredients
Stovetop: Add all three ingredients to a small saucepan. Heat over medium-low heat, stirring almost constantly, until melted and smooth. Pour into fondue pot.
Step 2: Microwave
Next, place all three ingredients in a microwave safe bowl. Then, heat on high in 30-second increments, stirring between each, until melted and smooth. Now, pour into fondue pot.
Step 3: Serve & Enjoy
Now you can serve with assorted dippers: fruit, crackers, cookies, or marshmallows. Enjoy!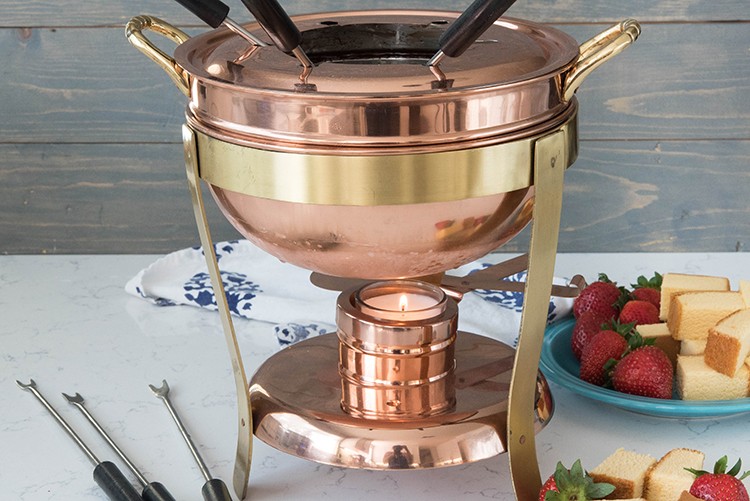 For more recipes like this 
Holiday Chocolate Hazelnut Fondue recipe, check out our Holiday Recipes on The Home Depot Blog. Shop our Cooking & Food Prep department at The Home Depot to find all your cookware needs for this holiday season.
The post Holiday Chocolate Hazelnut Fondue Recipe appeared first on The Home Depot Blog.