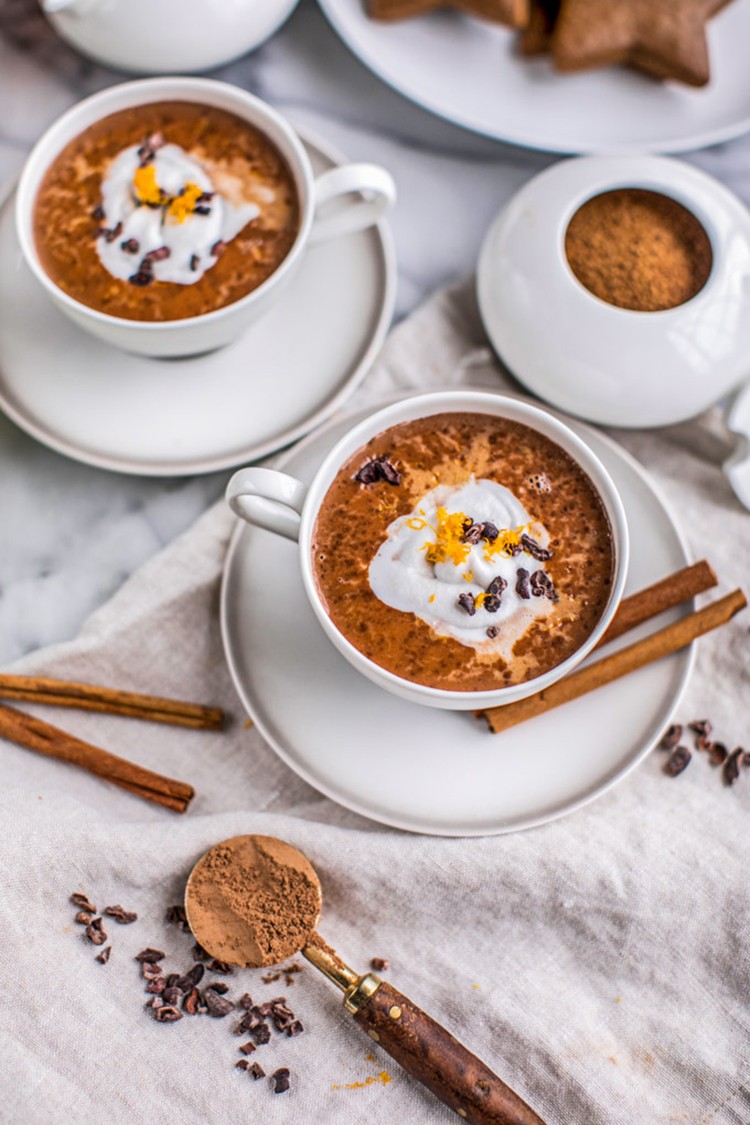 See how food blogger Kate Parham Kordsmeier from Root + Revel created this delicious and easy hot chocolate recipe that's perfect for the holiday season.
Hot Chocolate Recipe
Ingredients
4 tbsp. unsweetened cacao powder
3 cups coconut milk, whole milk or half and half
1 tsp. vanilla extract
½ tsp. ground cinnamon
2-3 tbsp. sugar (depending on how sweet you like it)
¼ tsp. sea salt
Optional: Whipped Cream, Cacao Nibs, Orange Zest
Serves four.
Step 1: Simmer
Bring milk, cacao powder, vanilla extract, cinnamon, sugar, and salt to a simmer in a medium saucepan over medium-high heat. Make sure it doesn't scorch. Whisk until mixture is smooth and creamy, and the chocolate and sugar have dissolved.
Step 2: Serve
Divide hot chocolate among four mugs. Optional: Top with whipped cream, garnish with cacao nibs and orange zest. Serve and enjoy!
*Note: You can make this an "adult" hot chocolate by adding 3 oz. of bourbon or vodka after you remove the hot chocolate mixture from heat.
Kate Parham Kordsmeier, a food blogger from Root + Revel, believes that food heals. But that doesn't mean bland meals. Taste is paramount. She takes cooking back to its basics and infuses beauty, flavor and celebration into everyday life, helping you strike the balance between good and good for you.
Find more delicious Holiday Recipes on The Home Depot Blog.
The post Hot Chocolate Recipe appeared first on The Home Depot Blog.