This giant pegboard accent wall is trendy and quite practical. For Rachel Metz, of Living to DIY, it's an eye-catching accent wall to her office space. We could easily see it working in a kid's bedroom, or casual bonus room.
Rachel shows us the steps to follow so you can build your own pegboard accent wall in your home.
Jumbo Pegboard Accent Wall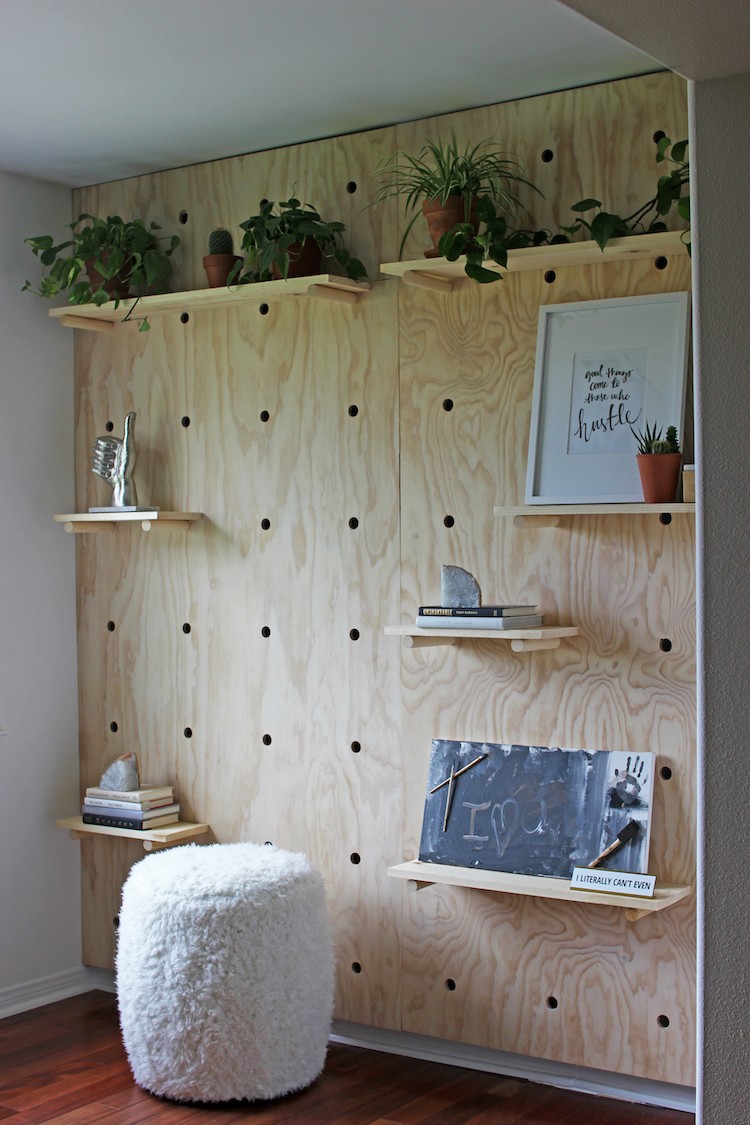 Pinterest interior design inspiration has always been a weak spot of mine. I goo and gah over the photos that I search at one in the morning when I should be sleeping. When I decided to take on the task of transforming my office space, I decided make all my wildest Pinterest dreams come true. First on the list – not just a DIY giant pegboard but an entire DIY jumbo pegboard accent wall – yes, the entire wall!
Materials
Plywood
Wood dowels
Pencil
Wood screws
Wood putty
Slimmer wood pieces – width depends on the look you want!
Tools
Drill

Forstner Drill bit

Table Saw

Orbit Sander

Ruler

Drill Guide (optional)
---
Step 1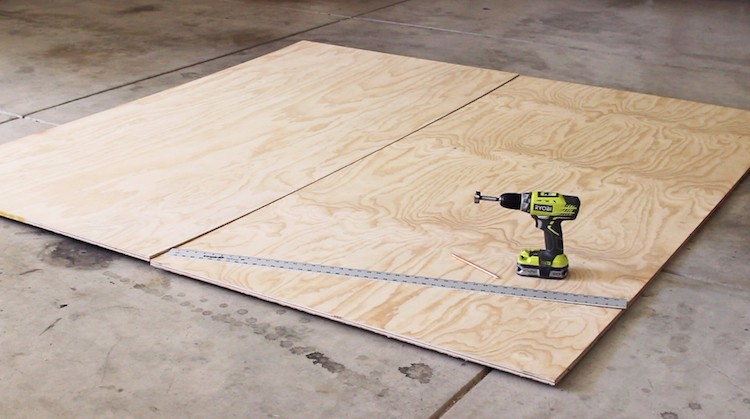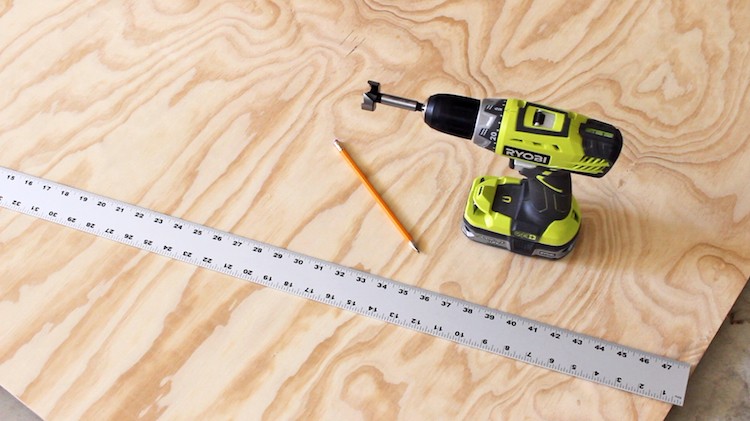 I started off by getting my plywood cut down to size at my local Home Depot store. This saves me a ton of time and it will for you too if you aren't familiar with large cuts. I bought two pieces and cut them down to 46 in. x 92 in. since I wanted to put them together (flush) to cover my entire wall.
Per all DIY projects, these measurements will vary with your space.
---
Step 2
Take your ruler and figure out the spacing that works best for you! Everyone's taste will be different whether you want the holes to be closer together or not. I took my pencil and went along the bottom/sides marking a line at every 5¾ in.
---
Step 3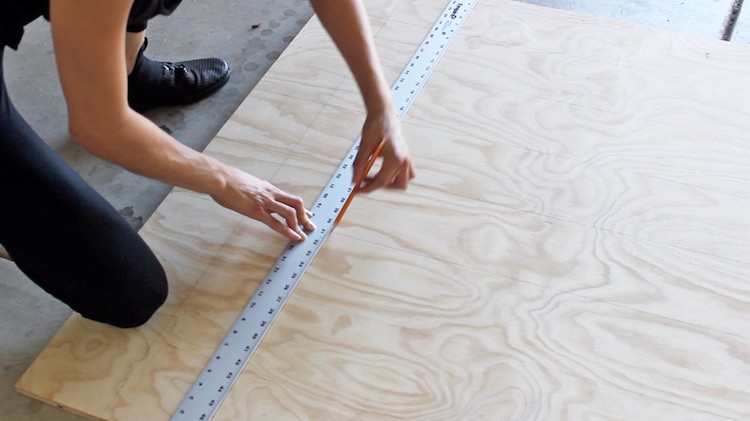 When you have made your marks along the sides; take your ruler and pencil to draw straight lines at those markings which will create a grid.
---
Step 4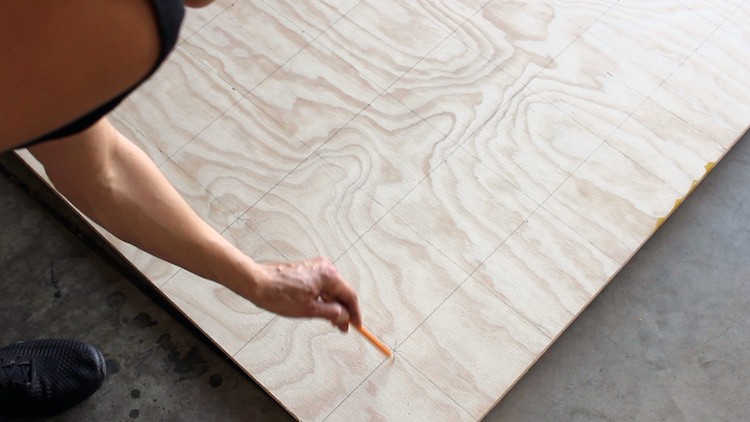 Where the lines intersect is where you will be drilling your hole to place your dowels or "pegs."
For me, the spacing was a little too close, so I decided to go back in with my pencil to create a "X" at every other point. This will space it out which gives me that minimalist vibe I am looking for.
---
Step 5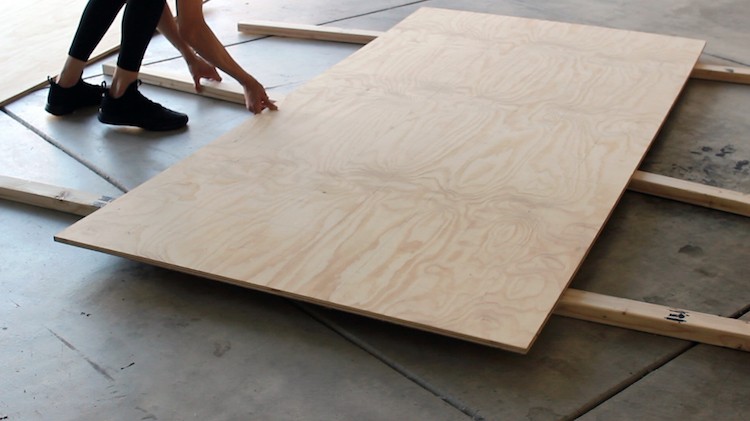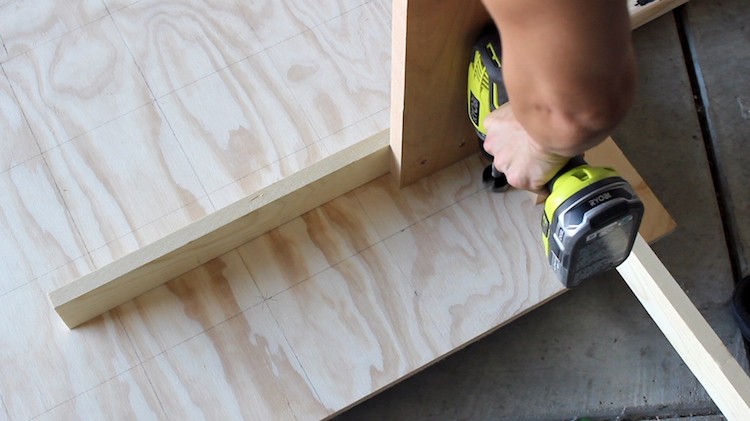 You want to slide some wood underneath the plywood you are about to drill to protect the drill bit and flooring. When you prop it up, simply drill a hole exactly where your X's are marked, or if you are okay with how close the grid is naturally, make a hole at every intersection.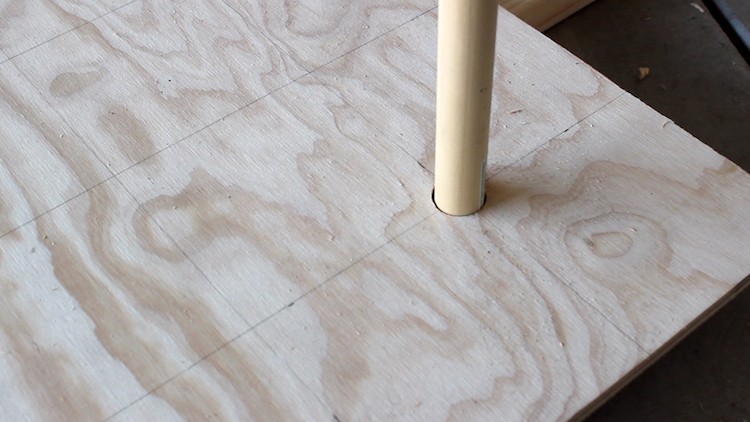 Tip: You can purchase a drill guide or DIY one, which I show you in my full YouTube tutorial for this giant pegboard wall project. This will ensure your holes are straight so your dowels won't go in crooked!
Tip: Drill a little bit to break through the surface so the wood doesn't splinter so much then drill all the way through. This makes the holes look super clean opposed to splintering and sanding it down.
---
Step 6
Sand off your pencil markings once you've drilled all your holes.
---
Step 7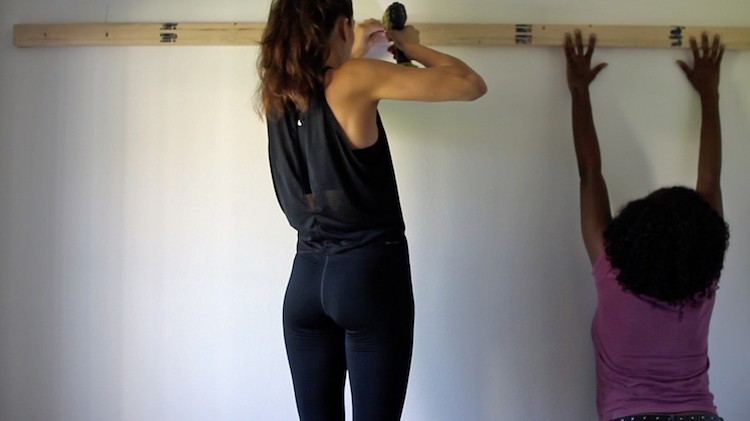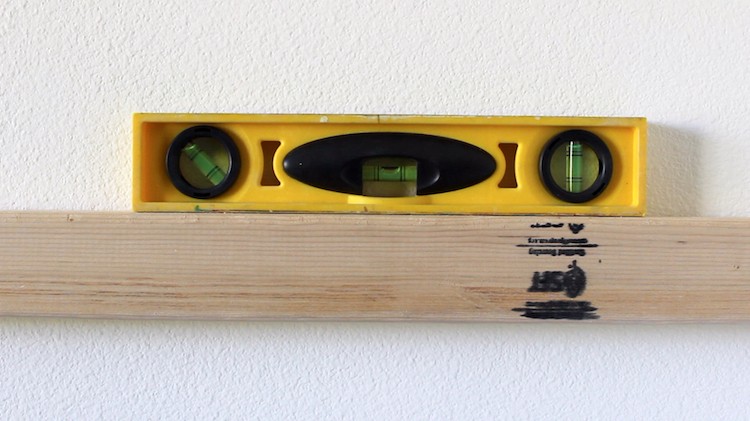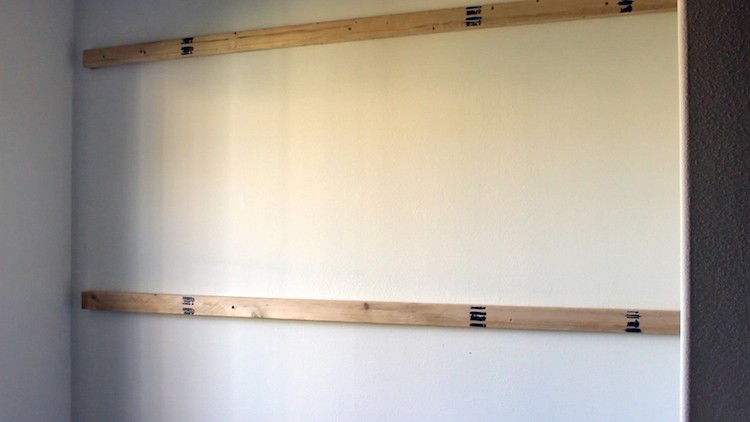 In order to install the pegboard accent wall properly, I needed to find the studs in the wall.
I marked the studs with a X and screwed my 2 x 4's horizontally into the wall, which the pegboard will be directly screwed into. To find out where I wanted to hang the 2 x 4's, I measured from the top of my plywood piece and made note of where there weren't holes. I then measured and marked the same spacing on the wall when I put up the 2 x 4's.
Tip: Make sure you have your level handy to ensure all your 2 x 4's are straight.
---
Step 8
Please make sure you have a human handy to help you install your plywood.
Place the board up and align it so the beams are hiding into between the holes! Then drill your wood screws into the plywood then into your beams.
---
Step 9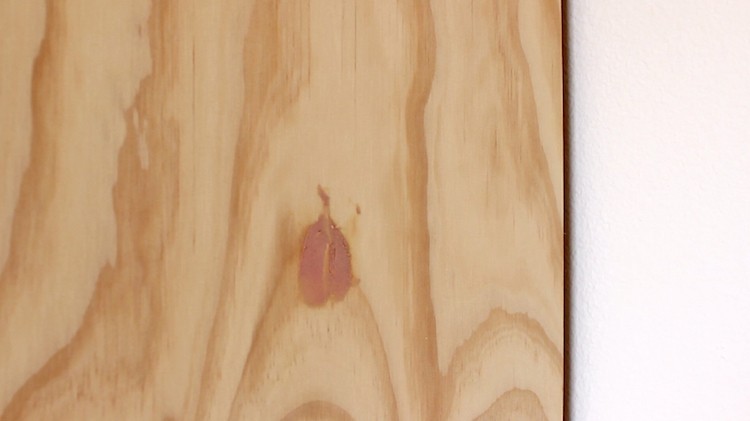 I used wood putty to cover up the screws and then sanded it down once it dried – it looked flawless!
---
Step 10
Slide your dowels into the pegboard accent wall and measure where you'd like to cut. Grab some wood (width of your choice) and ensure your dowels are long enough to hold them up. Once I figured out how long I needed these, I cut them on my table saw.
---
Step 11
Hang them up! Have fun with it, get crazy and move stuff around on the pegboard accent wall until you are happy with the placement.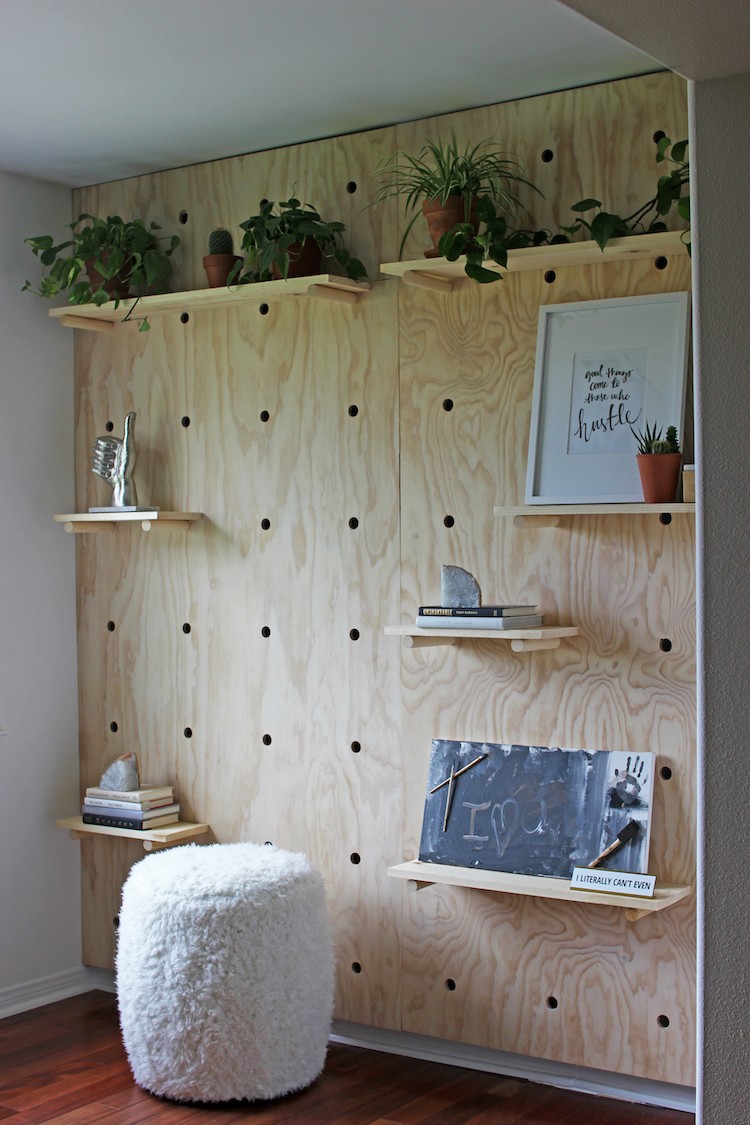 Creating an accent wall has always been on my list of DIY home decor and this was the perfect addition.
The post How to Build a Giant Pegboard Accent Wall appeared first on The Home Depot Blog.