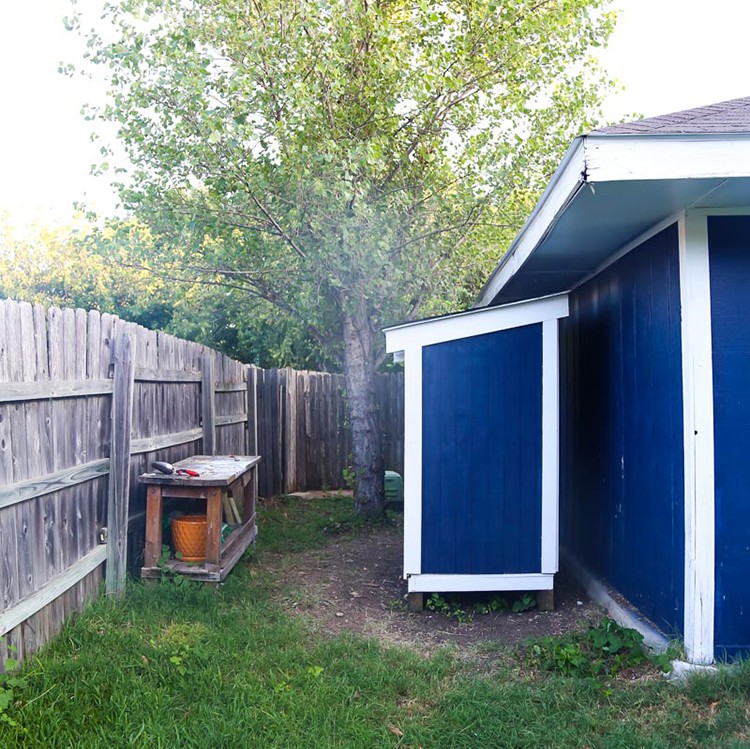 Since buying her home in 2011, Amanda Hendrix, of Love & Renovations, has been making both big and small updates. The next thing on her list was to find a way to keep her outdoor tools organized and safe from the elements.
Check out how Amanda built a small wooden shed in 11 steps!
DIY Small Wooden Shed
This small wooden shed is perfect for keeping your lawn mower safe from the elements. It also has some great wall storage to hang other outdoor tools. You won't need any fancy tools or DIY know-how to build this storage shed. With a few basic tools that you probably already have on hand, you can build this shed in a weekend and keep your backyard looking clean and clutter-free!
Materials
(2) 8 ft. Pressure-treated 4 x 6 skids

(5) 8 ft. Pressure-treated 2 x 4 boards

(18) 8 ft. 2 x 4 boards

(2) 6 ft. 1 x 6 boards

(8) 8 ft. 1 x 4 boards

(1) 4 x 8 sheet of 3/8 thick plywood

Porch and floor paint 

Paint or stain for outside of shed
Tools
Tape measure

Power drill/driver

Circular saw

Speed square

Nail gun
---
Step 1: Lay the foundation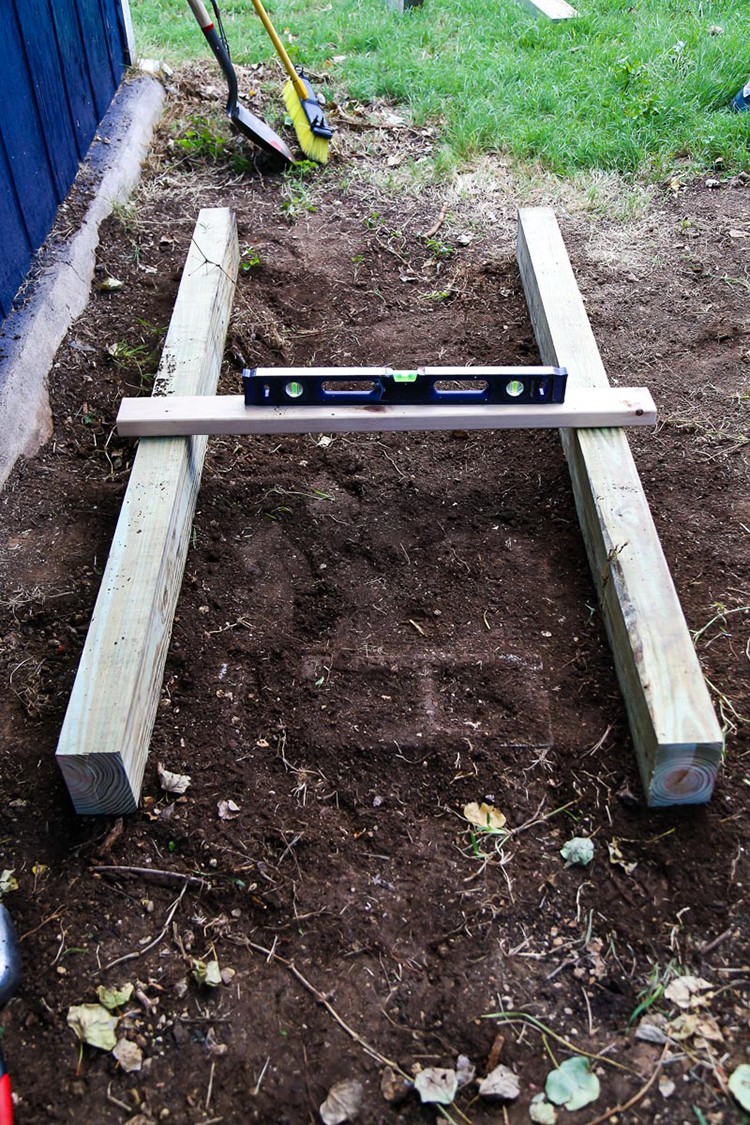 First up, you'll need some sort of foundation for your shed.
We originally planned on burying some cinder blocks to rest our shed on. We quickly realized, though, how difficult that would be with our Central Texas "soil." If you dig down more than a few inches, it's almost entirely rock! So instead, we chose to use shed skids.
Basically, all this means is that we used pressure-treated 4 x 6 boards that we laid directly on level, compacted soil. This was the best choice for us. For one thing, the shed was going to be small. We also wanted to be able to quickly and easily move the shed if needed.
For a larger shed, one that will be in a location permanently, or a shed that will be on ground that is prone to freezing, you're going to want to use a more permanent foundation. Be sure to check local building codes if you use a permanent foundation.
We cut our skids down to the length of the shed (which is 72 in.), leveled the ground, ensured the soil was compact, and laid them down so that the outside of each skid was 36 in. apart (which would be the width of our shed). We made sure the skids were level, with each other, and that they were exactly parallel. There's a lot of little adjusting and re-checking involved here, but this step is vital to ensure the rest of your shed is square, straight, and level.
---
Step 2: Build the base
Now you're going to build the base of your shed.
We used pressure-treated wood for the base since it was the closest to the ground and the most likely to be exposed to the elements. Create a rectangle in the dimensions of your shed (again, ours was 72 in. x 36 in. – our only goal was to fit the lawnmower inside, so we kept it small) using outdoor wood screws. Be sure to check that it's square as you go.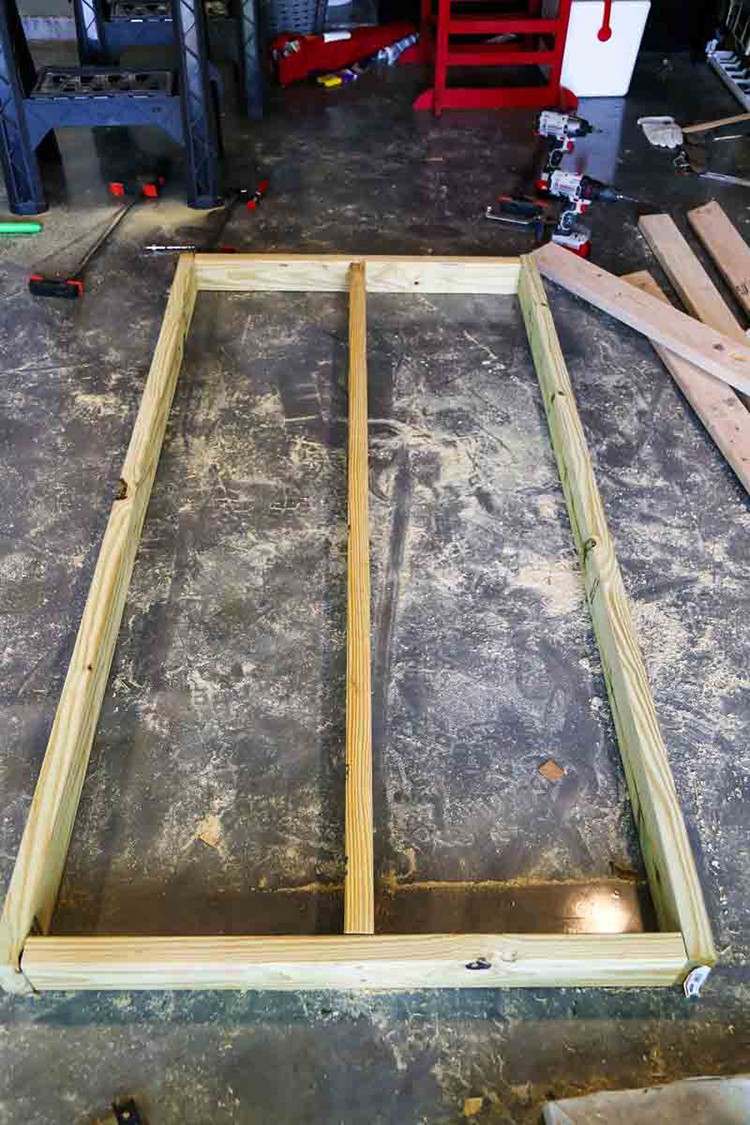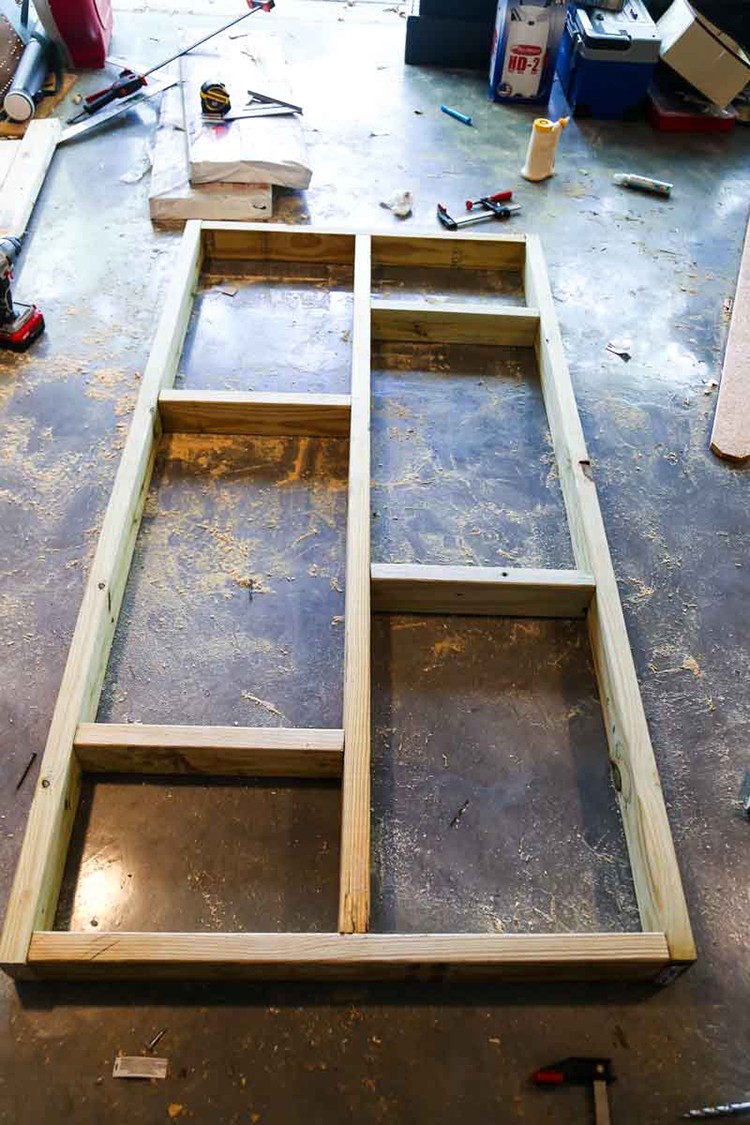 Once you've built your base, cut a board that will fit lengthwise inside the base and attach it.
Then, add support boards perpendicular to that on either side – we did two on each side.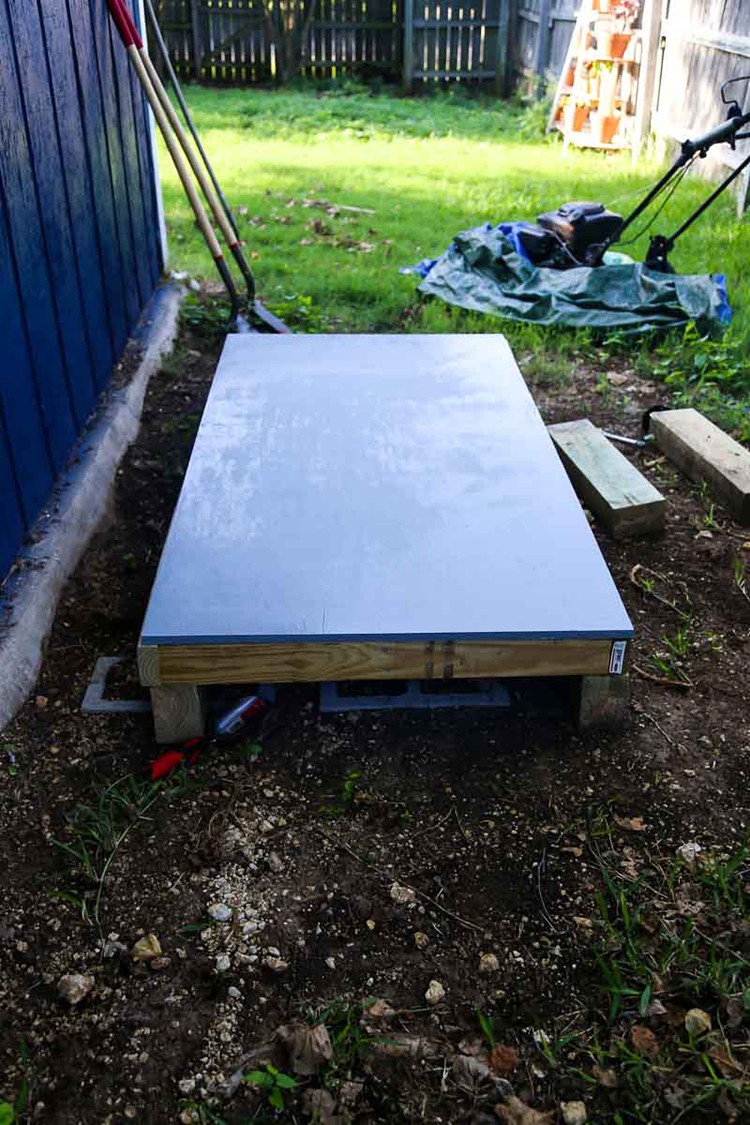 Cut your plywood base down to the correct size to fit on top of the base, then prime and paint it.
You can leave it bare if you purchase pressure-treated plywood that is intended to be used outside, but we went with non pressure-treated wood, so it was vital to paint it. We used oil-based porch and floor paint – we've found that to be the most durable when it comes to these types of buildings, and it's relatively easy to keep clean as well.
Be sure to give it ample time to dry – oil-based paint typically takes 24 hours or so before you can handle it – the longer you can give it, the better.
Install your flooring by simply screwing the plywood on top of the base. Then, bring your base out to your foundation and lay it in place. We did not attach the base to the foundation in any way, because we knew we'd be moving the shed at some point and we wanted the flexibility of moving it easily.
---
Step 3: Frame the walls
Framing out the walls is very similar to building the base. It's the exact same process, only we used regular 2 x 4s (not pressure-treated). You could definitely use pressure-treated wood here, but it's significantly more expensive – this part of the shed will not be exposed to the elements, so a plain old 2 x 4 is just fine.
For our shed, we wanted a slightly slanted roof, so we made one wall 5½ ft. tall and the other 5 ft. You'll create a rectangle for your wall just like you did for the base, then add your studs every 16- or 24-in. We went with 24 in. simply to save on wood and since it is an outside building, we didn't feel the need to build it to standard 16 in. centers.
In this step, you'll only build the two side walls (the ones that run lengthwise down the shed) – you will build the back wall of the shed in place after these have been installed.
---
Step 4: Install the framing
Once your walls are framed, you can put them into place. Simply use your outdoor wood screws to attach them directly to the base of the shed. Don't forget to pre-drill here, and you'll definitely need a second person on hand to help you hold the wall in place as you work.
---
Step 5: Build your final wall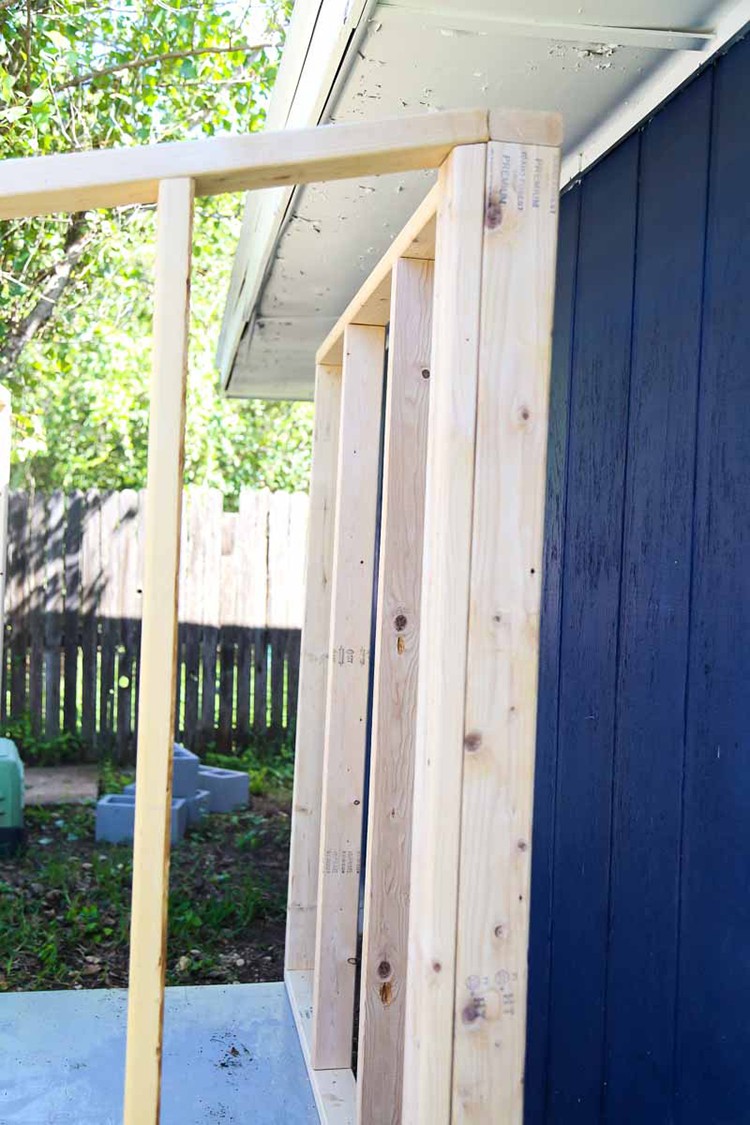 You will build your final wall in place.
We started by installing the base plate and the studs on either side, since those can easily be measured. Once the outside studs are in place, the top plate must be measured and installed at an angle. This part can be can be intimidating, but if you cut an extra piece that is the same length as the base plate and clamp it between the two outside studs, it will keep them in-square while you measure for the top plate. Once the top plate is installed, measure for a center stud, cut to length, and install.
---
Step 6: Add the ceiling joists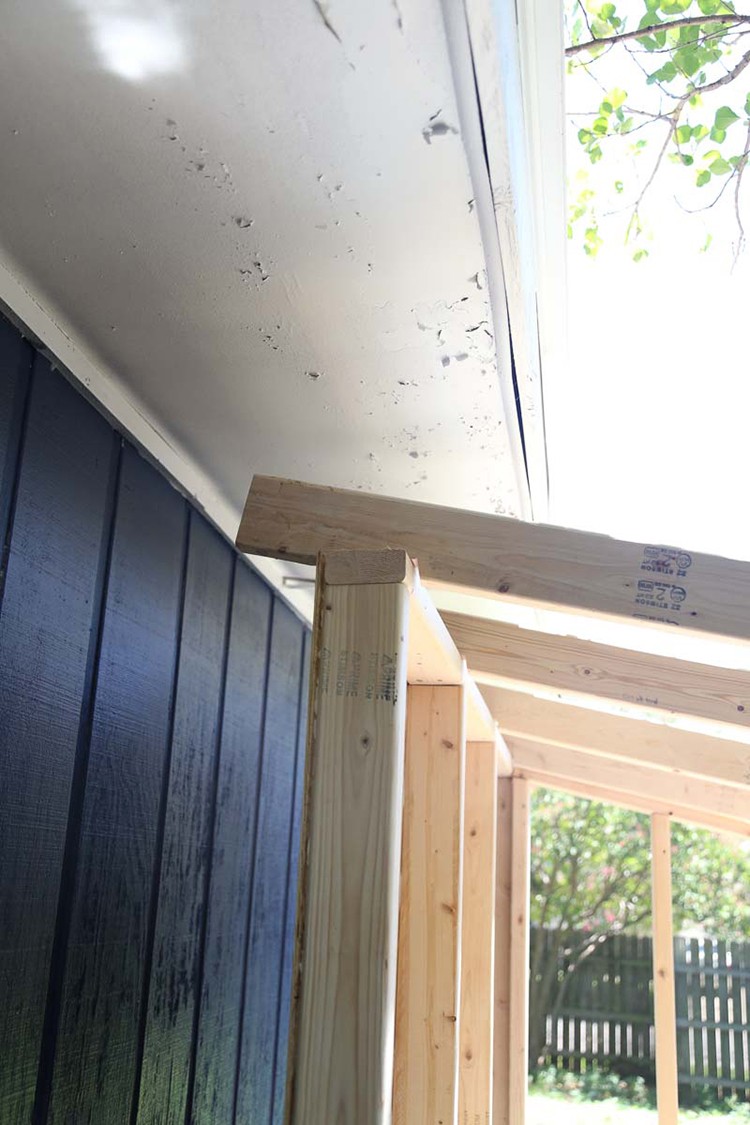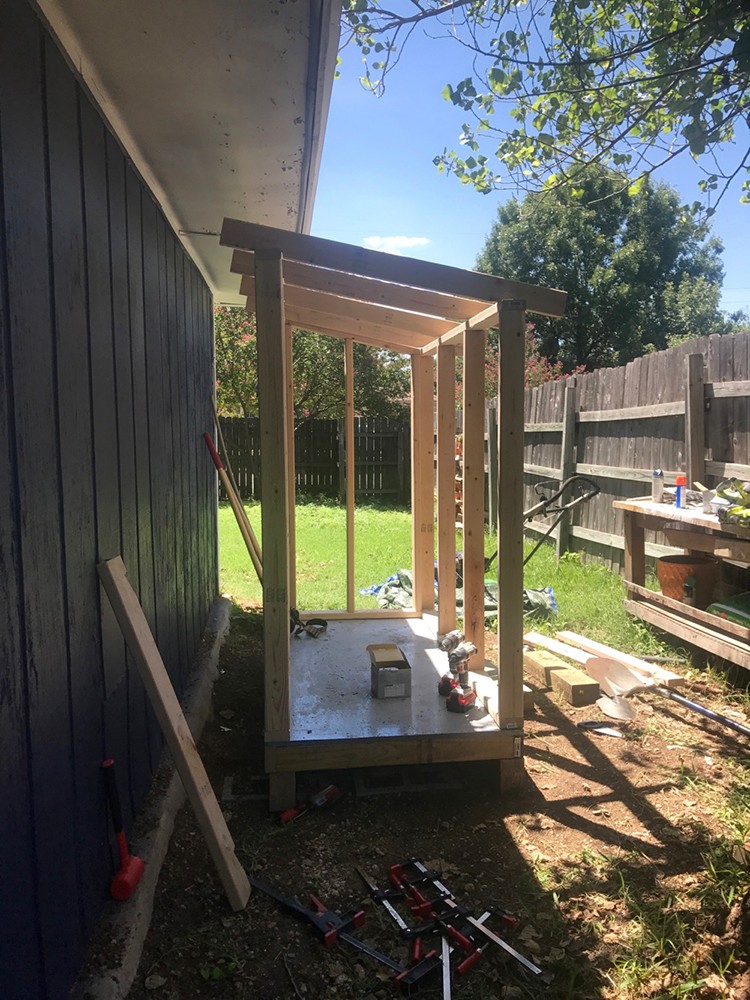 For the ceiling joists, we cut 4 pieces of 2 x 4 to 47½ in. and then drew out the "birdsmouth" joints, or the little cut-outs that rest on the top plates to support the roof sheathing. We spaced them out evenly across the top and secured them with screws.
---
Step 7: It's time for siding
Now comes the fun part – siding! Installing the siding is very simple, and probably the most rewarding part of the process as it's finally going to look like a shed!
Simply cut the siding down to the appropriate size, have a partner help you hold it in place, and use construction adhesive and your nail gun to attach it. Siding is typically interlocking, so as you lay it be sure it all fits together properly.
---
Step 8: Add the roof
Now, take your second (thinner) piece of plywood, cut it down to size, and lay it on top of the ceiling joists. Use the same outdoor screws to attach it.
---
Step 9: Add trim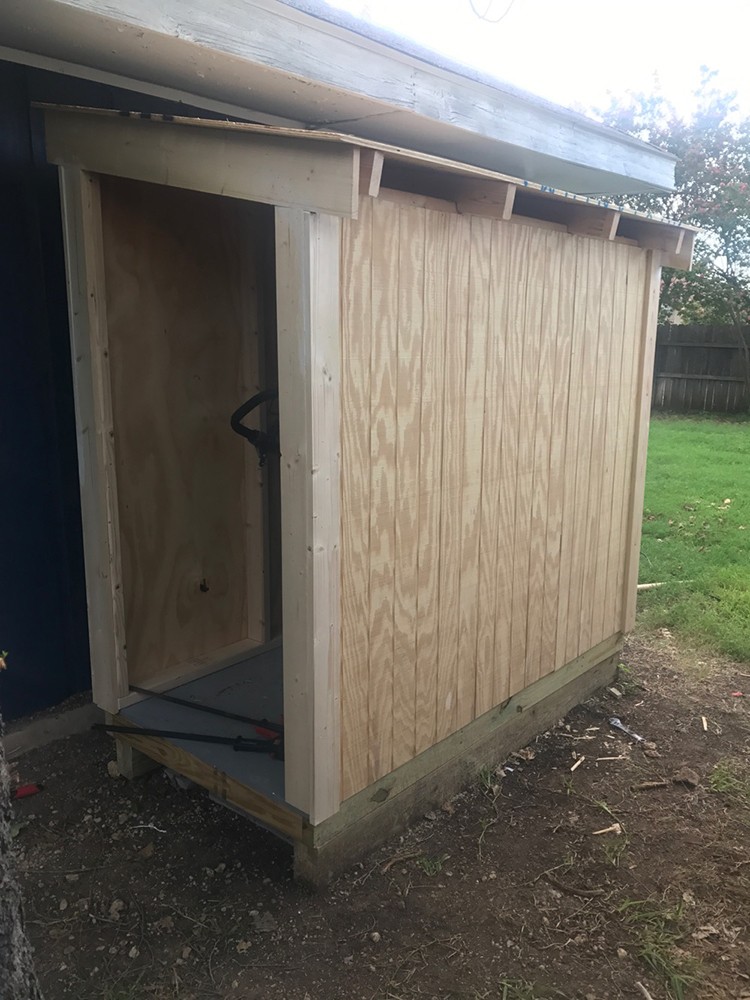 Now it's time to put the finishing touches on the shed.
We used 1 x 4 boards to add trim to all of the corners. We used the 1 x 6 boards on both the front and the back of the shed to make the finished product look more polished (and to hide the slight gap between the ceiling joist and the edge of the shed). This can be attached with construction adhesive and your nail gun.
---
Step 10: Paint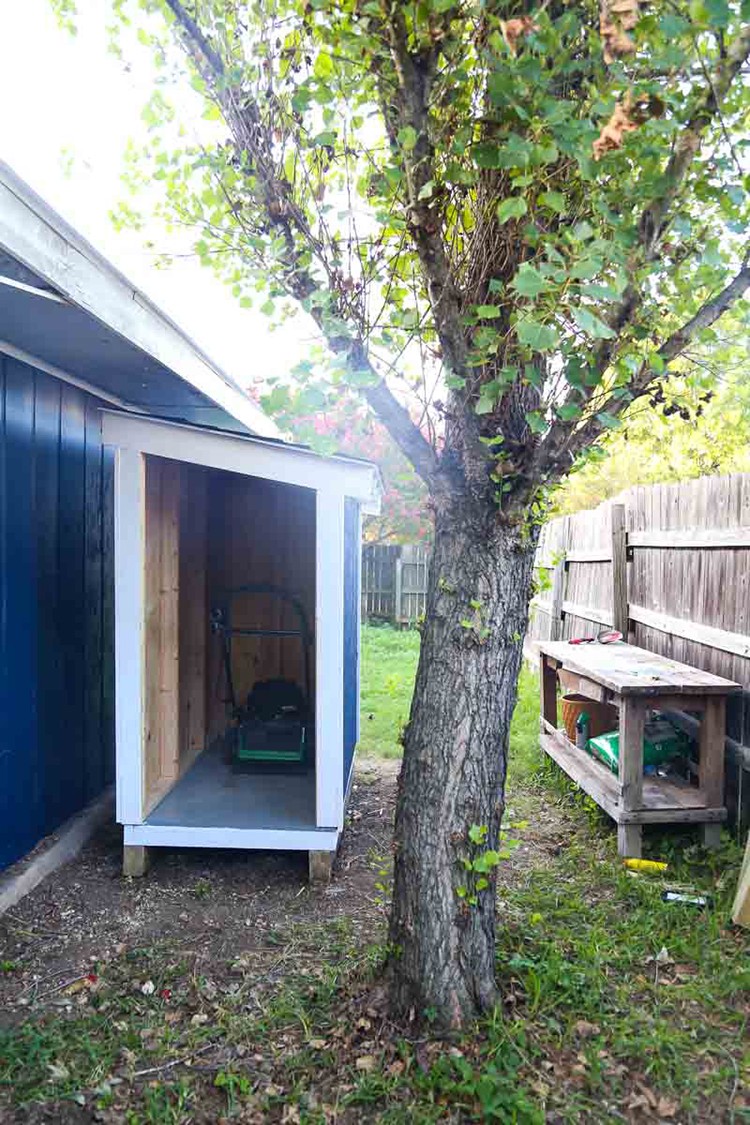 I know I said the siding was the most rewarding part, but this might actually be the best part. It's time to stain or paint your shed whatever color your heart desires.
We went with navy siding and white trim, to match the workshop in our backyard.
---
Step 11: Add the roofing
This technically could be done sooner, but we chose to save the shingles for last because we didn't want to accidentally get any paint on them.
This process is relatively simple – just lay your felt barrier, then nail the shingles in one sheet at a time. For this step, be sure to follow the directions laid out for the specific brand and product you purchase, as every different shingle brands will require different offsets.
---
The Small Wooden Shed Completed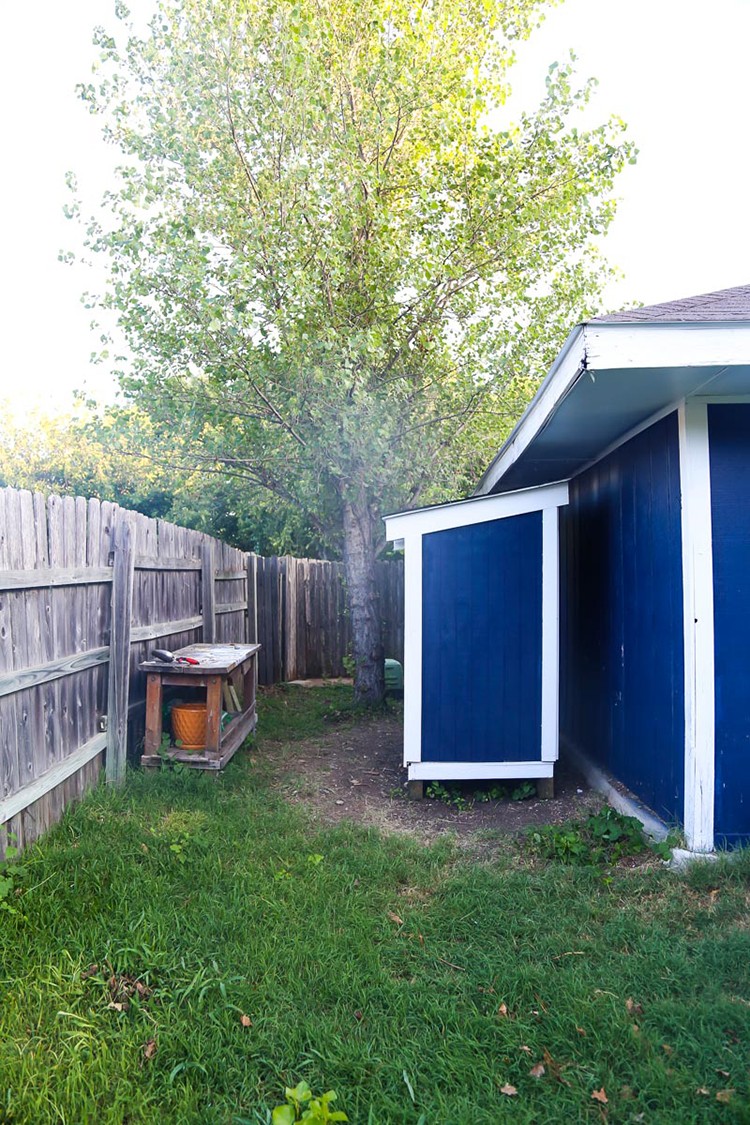 The post How to Build a Small Wooden Shed appeared first on The Home Depot Blog.