(BPT) – It takes hard work to train a dog, but have you ever thought about what it takes to create a champion for a prestigious competition like the Westminster Kennel Club Dog Show?
Each year, thousands of dogs and handlers come from across the world to compete for the coveted title of 'Best in Show.'
This year, Wasabi the Pekingese, with handler David Fitzpatrick, stood out from the competition to be crowned Best in Show at the 145th Annual Westminster Kennel Club Dog Show presented by Purina Pro Plan.
So how does just one dog win Best in Show? Westminster handlers often say it's the 'little something extra' that sets the Best in Show winner apart. But the basics are always the same. Handler Valerie Nunes-Atkinson, whose German Shorthaired Pointer, CJ, won Best in Show in 2016 – and whose German Shorthaired Pointer, Jade (also CJ's daughter), won the Sporting Group this year – shared the three key components of building a Westminster champion: genetics, nutrition, and training.
1. Genetics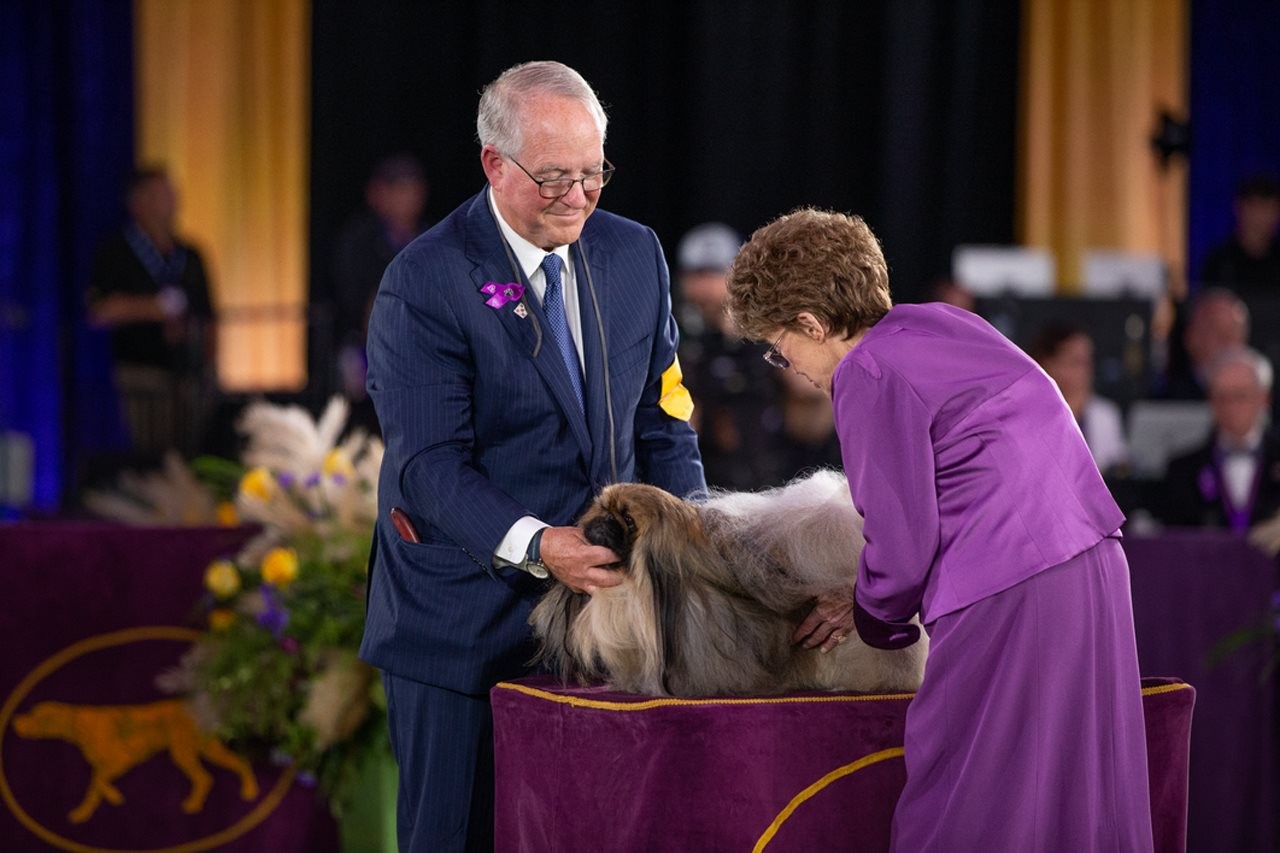 The competition starts with 2,500 dogs across 209 breeds. Each breed has its own standards, which are established by its parent club, and judges then use those standards to evaluate each dog accordingly. With so many dogs competing, determining who's the top good boy or girl isn't easy. Training styles and diet play a critical role in a dog's success, and so do their genetics.
'Genetics play a huge role in developing a competitive dog,' says Nunes-Atkinson. 'The goal is for your dog to have all of the standard traits needed in order to compete.'
Everything from the dog's bone structure, shape, movement, health and temperament all play a role in how well a dog performs, as judges look for the ideal characteristics for each dog's breed.
For Wasabi, the winning Pekingese comes from a long line of conformation dogs – his grandfather Malachy was the Westminster Best in Show champion in 2012, and his father Chuckie won the Westminster Toy Group in 2017.
2. Nutrition
Even a dog with the best genes can benefit from the right diet. Nutrition is one of the most important factors that goes into preparation, especially when competing at this level. Many handlers – including 95 of the top 100 show dogs¹ – feed Purina Pro Plan as their food of choice.2 Pro Plan is advanced nutrition that's backed by research, including input from more than 500 nutritionists, behaviorists and veterinarians. "I started feeding Purina Pro Plan when CJ was a puppy," says Atkinson. "It's the only food I trust to feed all of my dogs."
This year's winner Wasabi became the 14th of the last 15 Best in Show champions to be fueled by Purina Pro Plan². His formula of choice is Purina Pro Plan Adult Complete Essentials Shredded Blend Chicken & Rice.
3. Training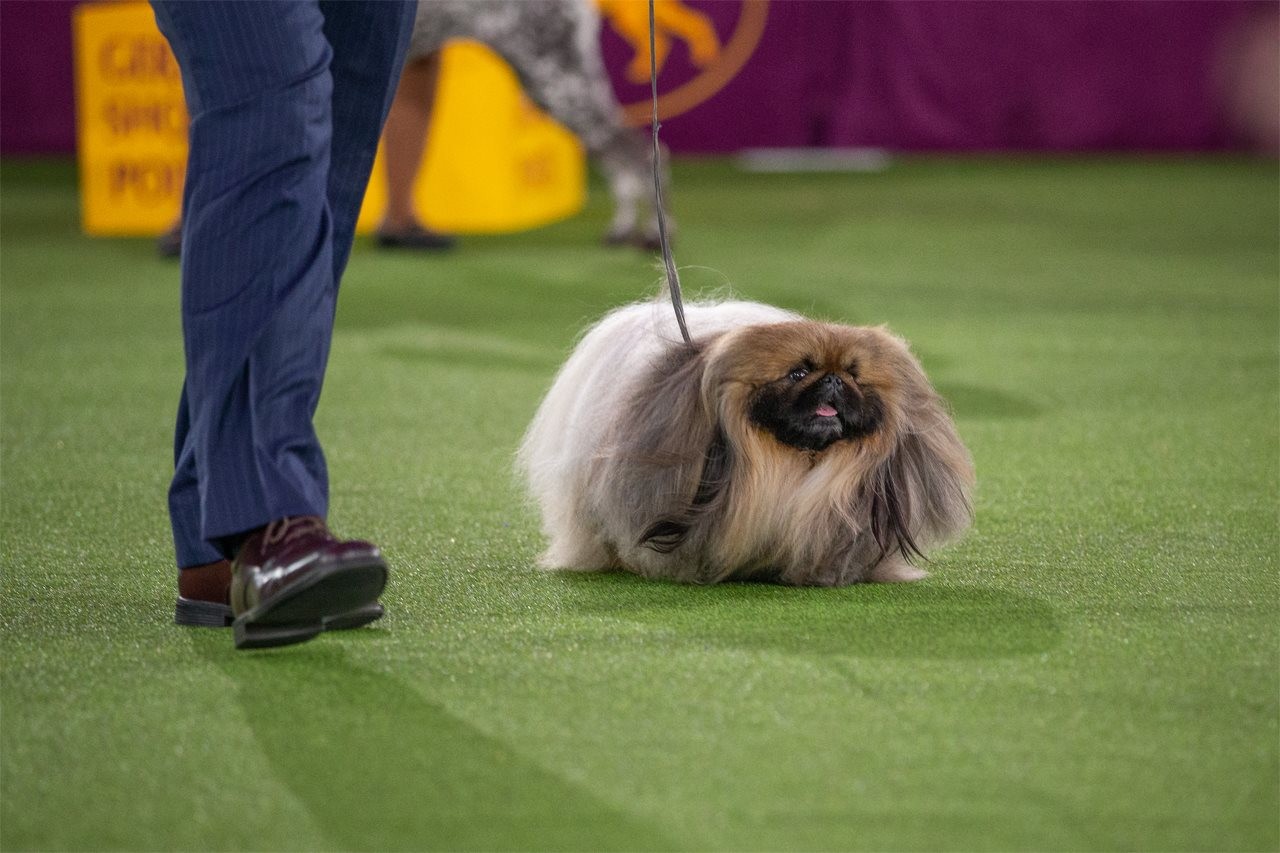 Just as runners train for marathons, handlers prepare their canine competitors well in advance by dedicating their time to training and socialization to ensure they are ready for the big day.
'I start training my dogs when they're newborns,' says Atkinson. 'I begin by handling them every single day and getting them used to human touch and different positions. And when they are old enough, socialization to new people, places and experiences helps ensure they aren't phased by the spotlight of the ring.'
Training for dog shows also involves teaching core skills such as the 'stack' – the static pose the dog enters when being judged – and the 'trot" – bringing the right front leg and right back leg together while moving to show off the complete physique. Just keep in mind not to overdo it. Even a few minutes of training a day can be enough.
Even if you're not entering your dog in the Westminster Kennel Club Dog Show, your furry friend deserves to eat like a champion. Check out Purina.com/pro-plan to learn more about Purina Pro Plan.