Miranda Anderson of Live Free Creative Co. used this year's Patio Style Challenge as an opportunity to transform the backyard of her new fixer upper into a perfect outdoor entertaining space. Follow along her style journey for tips on creating a cozy, lively patio space.
How to Create a Lively Patio Outdoor Entertaining Space
The spring has finally arrived for good in Virginia, and I have never before been more excited to hang out on my back patio! Creating a cozy, comfortable, and beautiful outdoor living area is a high priority for me, because I love to be outside. The transformation of our back patio area from sad to fabulous has been so fun, and Home Depot had everything we needed to bring the space to life.
We moved to Richmond at the end of last summer, found a fixer upper the beginning of this year, and have been renovating for the last few months. In addition to all of the interior work we are doing, the back patio needed some serious help. We were happy that the house had a deck built when we bought it, but it was in poor repair and oddly oriented to the side.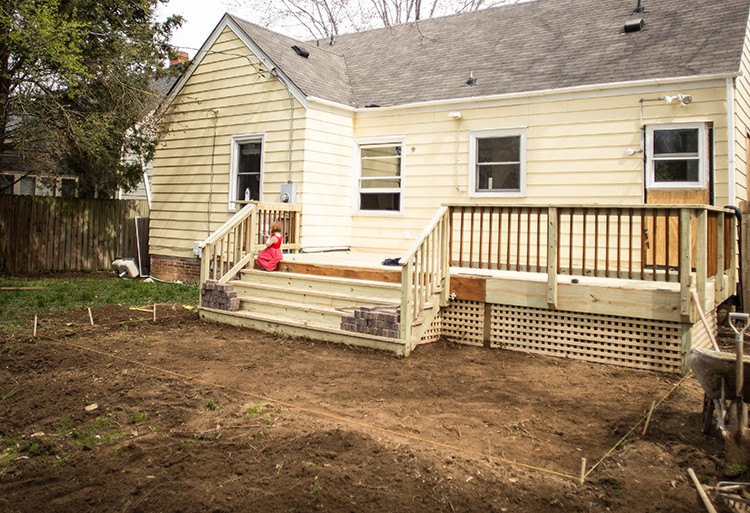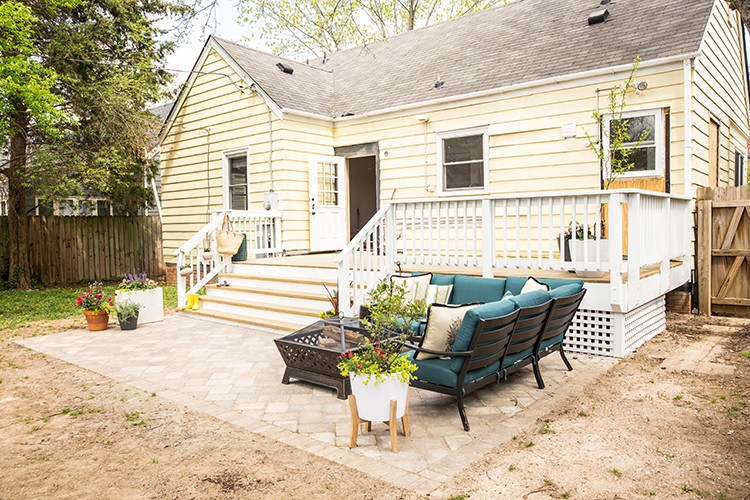 Planning the Deck & Patio Pavers
We decided to rebuild most of the deck, orienting it toward the yard and widening the stairs for a more connected feel. Then we added a herringbone paver patio at the bottom of the stairs to continue the living space and have a safe surface for a family fire pit off of the wood. I am excited to share the full DIY for the paver patio soon!
The new deck and patio make the yard feel like a natural continuation of the house, which is just what we hoped for. We love to entertain, and having a space right off of the kitchen for grilling, eating, roasting marshmallows, and chatting with new neighbors adds so much fun to our life!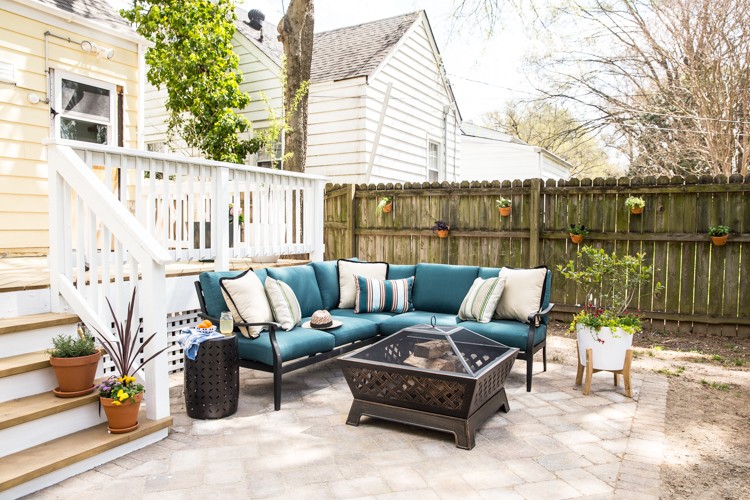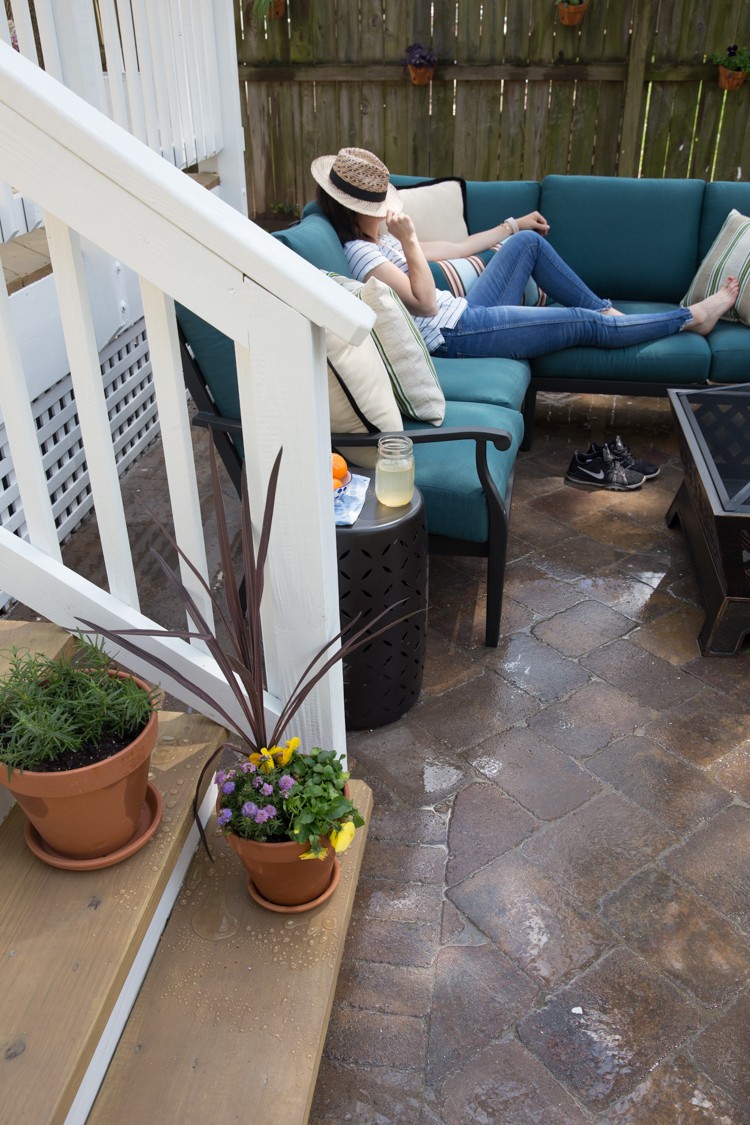 Patio Furniture
This Riley Sectional by Hampton Bay is so comfortable, it feels like a real couch. I added a few fun throw pillows for added design and easier nap-taking. The Hampton Bay CushionGuard Pineapple Outdoor Throw Pillow can go either way, these Hampton Bay Fern Stripe Outdoor Throw Pillows are so fun, and I loved adding a Striped Lumbar Outdoor Throw Pillow for a little variety in shape. Adding this Hampton Bay Metal Garden Stool as a side table ensures I can have my cold drink at arm's reach.
This Tipton Deep Steel Bowl Fire Pit is the perfect size for both small, family fires, and inviting friends over for a night of roasting! I love the square shape echoing the conversation set and look forward to many s'mores happening right here.
One of the quickest ways to make a newly decorated patio feel cozy and alive is by adding plants, of course! I'm a crazy plant lady by nature and am thrilled to begin a new patio garden in this new house.
Mix and Matching Planters
I like to mix and match coordinating planters for a collected look. This Composite White Wash Deck Box in a Smooth Cement Finish is so cool for a feature planter, then I added a smaller Dark Blue Cabana Dia Planter for my lavender, and a classic terra cotta for my new rose bush.
You can really never go wrong with terra cotta pots. I added a few to the steps as well, one with rosemary, which always needs it's own pot because it grows like crazy, and another with a few pretty annuals.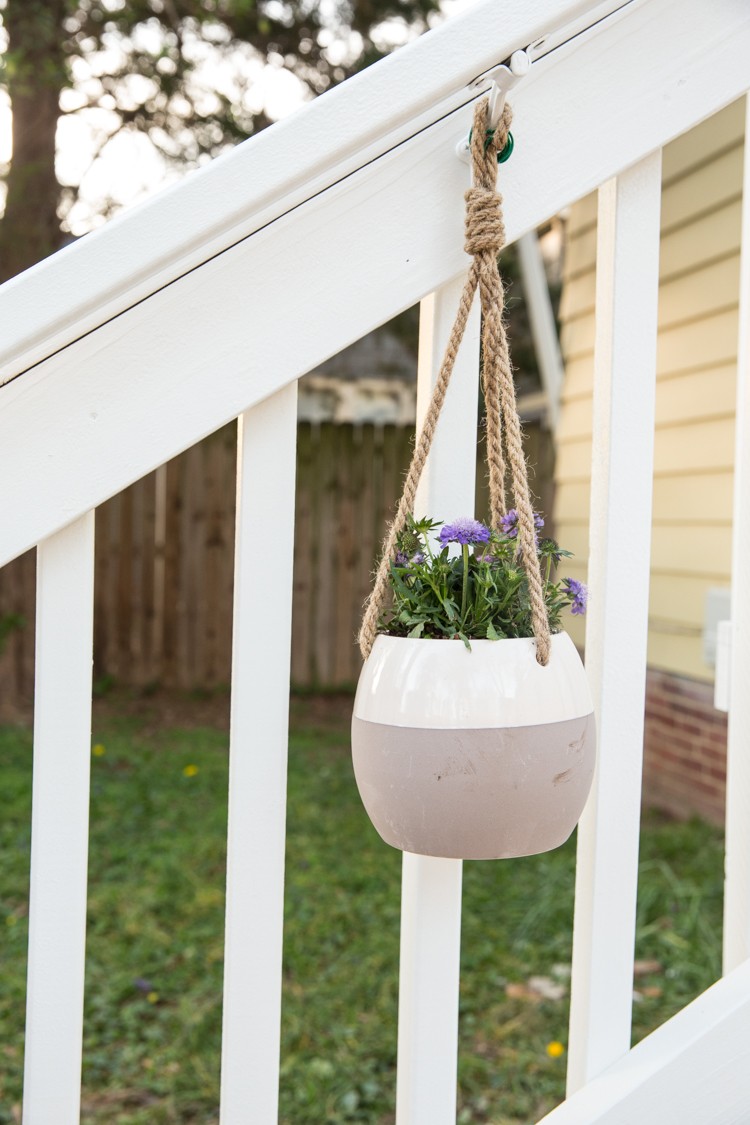 For a little added touch, I included a couple Havana Ceramic Hanging Planters onto the stair rail. They bring a little unexpected whimsy and detail to the wide staircase, and I love another place to add plants!
Privacy Fence Hanging Planters
The backyard fence is old and has developed a really pretty weathered green over the years. I wanted to both highlight the fence and add some interest with this little hanging herb garden.
I used Terra Cotta Orchid Pots, which already have holes in the sides. That made it simple to hang them onto the fence by simply placing screws where I wanted the plants! I could easily slide the hole in the pot over each screw, and the pots stay suspended.
My favorite backyard herbs are basil, sage, thyme, mint, and pansies (which are fun to add to salads and onto cakes as decoration). I also always grow lavender and rosemary, but they are big enough I kept them off of the fence.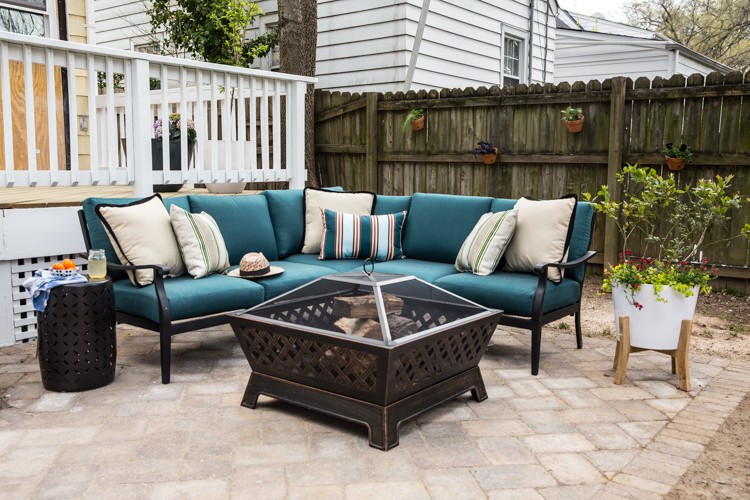 Growing Garden Edibles & Herbs
When I spotted a blueberry bush for sale in the garden department, I couldn't resist it! Growing edibles is such a satisfying process, and I love blueberries! I added it to this amazing Contemporary Plastic Planter with a Wood Stand to enjoy for now, although eventually it will need to go into the ground.
I have had so much fun creating the perfect outdoor space for my family, knowing how many memories we will make right here. With the warm weather slowly hanging on, I want to spend all of my time right here in the sunshine, fresh air, and good vibes.
While we still have a lot of work to do on this house before we move in next month, it is so nice to have a little oasis in the yard where we can escape and enjoy a little break.
You can keep up with our renovation by following me over on Instagram (@livefreemiranda), or check out my blog or youtube channel where I share updates and DIYs every week as we turn our house into a home. In the meantime, if you need me, I'll be on the patio.
Perk up your patio space with the help of Home Depot. Find more Patio Style Challenge ideas on the Home Depot blog.
The post How to Create a Lively Patio Space appeared first on The Home Depot Blog.