For this year's Patio Style Challenge, April Erhard of
April GoLightly
was inspired to create a poolside patio lounge to make the most of her outdoor space. Check out her style journey, including easy step by step instructions for painting a concrete patio area.
How to Create a Poolside Patio Lounge
Over the past several months, I have been working with The Home Depot on backyard patio ideas for my home. They came to my home and helped me style the yard with Home Depot patio furniture, planters, lanterns, cafe lights, outdoor carpets and more goodies. It was so much fun styling my backyard with so many options. When it came time for me to style my yard on my own, I had tons of ideas for patio furniture, accessories and painting the concrete pool area. Here are some backyard patio ideas executed and revealed for you!
Home Depot Patio Furniture
The Home Depot Patio Furniture selection is awesome! I found a ton of Home Depot Patio Sets that I fell in love with. My favorite is this Home Decorators Collection Camden set in Fretwork Mist Sunbrella Fabric. There are tons of options and backyard patio ideas that stemmed from exploring the Home Depot website. I chose the Camden Loveseat, Lounge Chair Set, Ottomans, and the Light Brown Wicker Outdoor Coffee Table.
The Camden Collection also has a ton of other options like a large outdoor sofa, chaise lounge chairs that remind me of being at 5-star spa, and even a really comfortable dining set to match. The best part is that tons of the furniture have Sunbrella fabric options!
Sunbrella Fabric
Sunbrella Fabric is engineered with performance characteristics that provide resistance to staining, fading, and degradation from sunlight. The fabric is comfortable yet durable and is extremely easy to care for and offers longer life for outdoor patio cushions.
Painting a Poolside Patio
When we moved into our house the backyard was in really bad shape. All the trees were really sick and the fence was falling over. We had all the sick trees taken out, a new fence built and added turf. We've been wanting to add travertine on top of the concrete, but the pricing on travertine is far too high for our budget at this moment. Instead of attempting to lay tile ourselves, my husband and I decided to paint the concrete patio with concrete floor paint.
How to Paint Concrete
Creating a Patio Living Room
My goal in choosing patio furniture was to create a patio living room that is as comfortable as my own living room inside my house. I wanted to be able to put my feet up and lounge with plenty of space to put snacks and drinks. That is why I chose to the outdoor lounge chair sets and matching ottomans. I just love putting my feet up by the pool!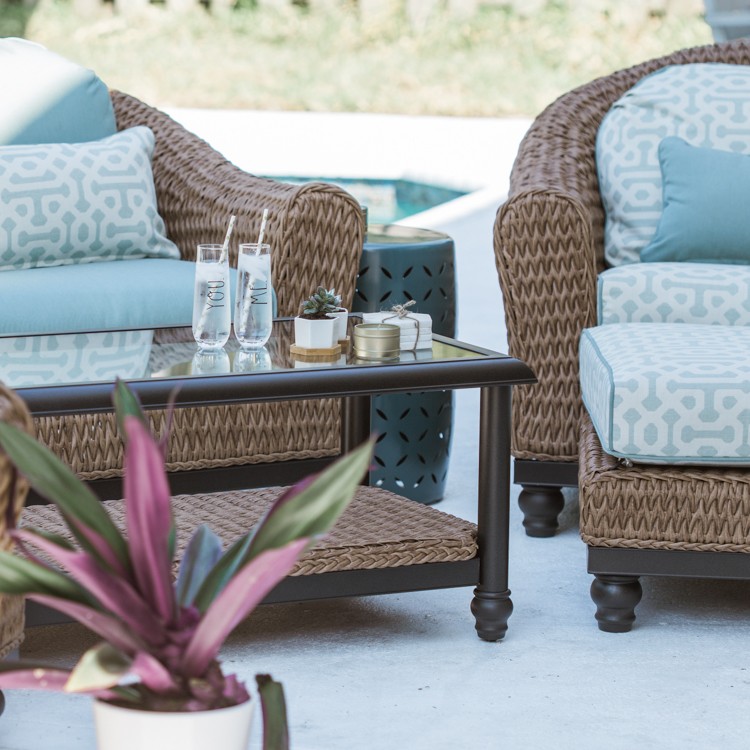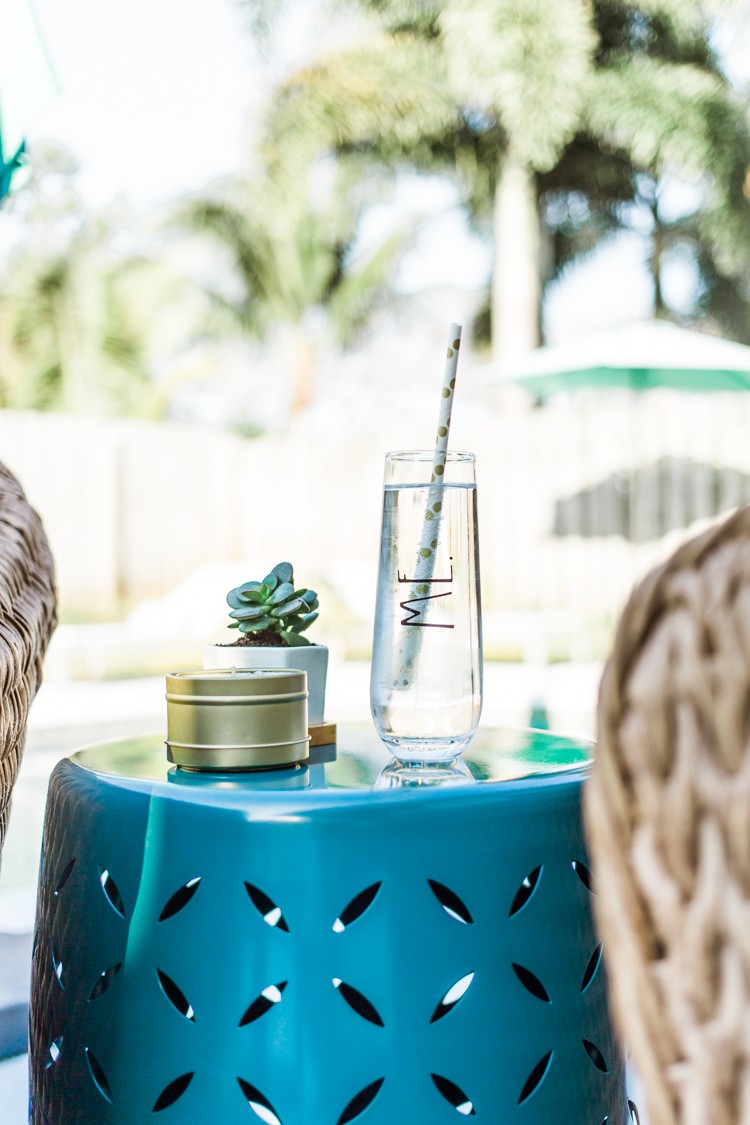 I also wanted a lot of table space without cluttering the space. The Camden Outdoor Wicker Coffee Table and the Metal Garden Stool as a side table were our top picks. This coffee table is made of rust-free aluminum frame is built to last with handwoven all-weather wicker on the shelf for added storage. I think it looks extremely chic and opens up the patio living room.
How to Decorate a Poolside Patio
The best way to decorate a poolside patio is to create conversation areas and little patio set ups around the pool area. I have the patio living room in one corner, a table and chairs in another corner, and chaise lounges with with a side table.
Accessorizing the Patio
To accessorize the patio, I used planters with easy to care for plants like the Oyster Plant, Sansevieria trifasciata aka Mother in Law's Tongue or Snake Plant, and the Clusia Plant. All of these are pretty easy to care for and won't lose a lot of leaves, leaving a mess by your pool.
The Home Depot has a ton of amazing planters! I bought a few and have a wish list for more. After years of buying planters, I suggest investing in ceramic planters as they will last the longest. You will not regret choosing a ceramic planter over plastic. I love this Contemporary Ceramic Pot with Wood Stand. It is really easy to put together with a screwdriver or handy drill.
Final Reveal
The post How to Create a Poolside Patio Lounge appeared first on The Home Depot Blog.