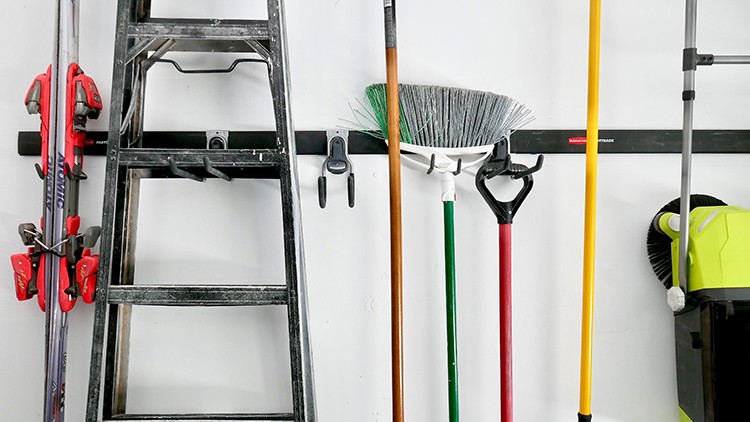 Spring Cleaning: Start by Organizing Your Garage
Now that the cold dark season we call winter is coming to an end, we're finally starting to see some hope in the form of blue skies and slightly less freezing temperatures. Ah, spring is right around the corner. Naturally, the garage is the messiest place in our house during the winter months. There's sand, dirt and ice caking the garage floors and random things cluttering the sides of the garage because no ond wants to linger in the ice box of a garage to put things away. I think enough is enough, time organize the garage to bring order to this chaos.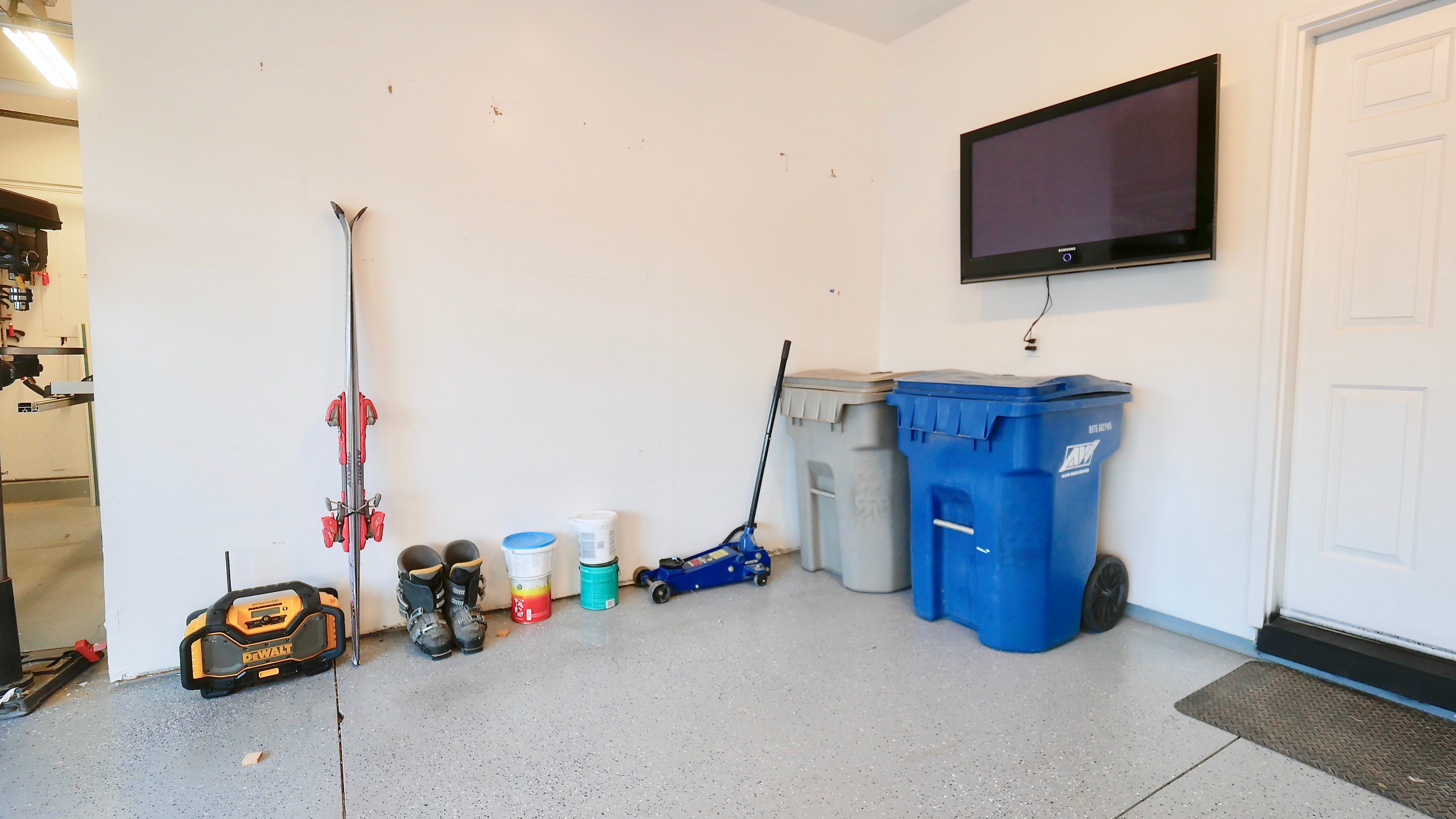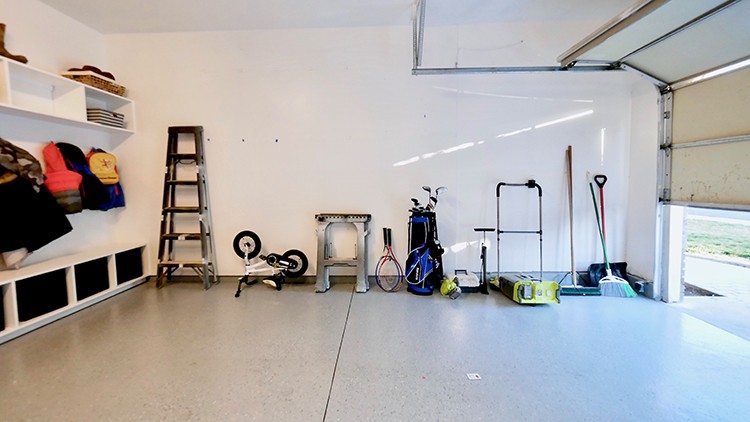 Vision
My love language is organization. I love it when there's a place for everything and day in and day out everything is in it's place. The hard part is getting everybody else that I live with to be on the same page. When figuring out what we wanted to keep in the garage, we made a list. First, it needed to store daily usable tools like brooms, ladders and extension cords. Second, it needed bins for all the seasonal things that we are holding on to, for example baby clothes, Christmas lights, cold weather accessories and craft supplies. Third, we needed a deep freezer. With two fast growing boys in the family it's nearly impossible to keep food stocked. Buying in bulk keeps the kids happy and leaves more time for mom and dad to be at home and not at the store. Lastly, the space needed to store all of our cleaning supplies. Our laundry room is small and lacks cabinets. When picking out an organization system it needed to be be easy to use, adjustable, functional and aesthetically appealing.
After heading to our local Home Depot store, they walked us through a few options and we found just the solution for our big project. Without wasting anytime, let me share with you what we went with and why it was the perfect solution to organize our garage.
Wall Organization
What really caught our attention with this Rubbermaid, 15-piece FastTrack Multi-Purpose Kit organization system is the flexibility that it creates. Apart from the discrete black rail, all of the attachment accessories come off with one simple lever. It also has the stability of locking the accessory in place to prevent moving or falling. This means we can hang up brooms and extension cords, and they won't fall when we come to remove them from their proper storage.
Cabinet System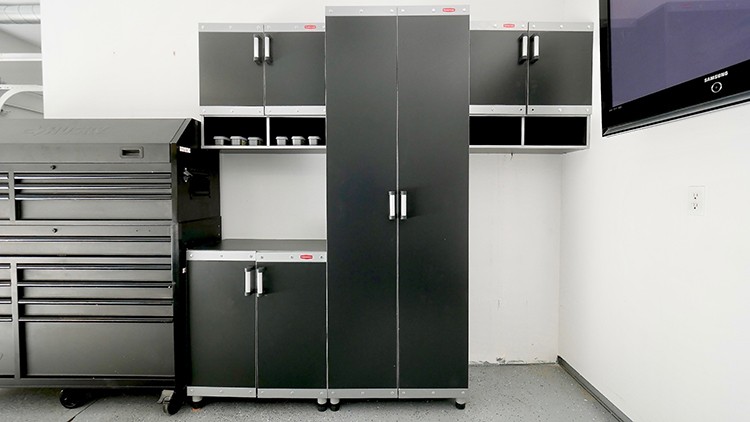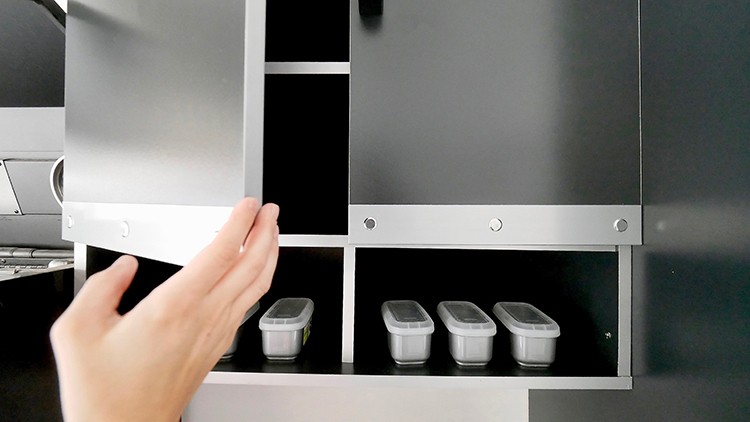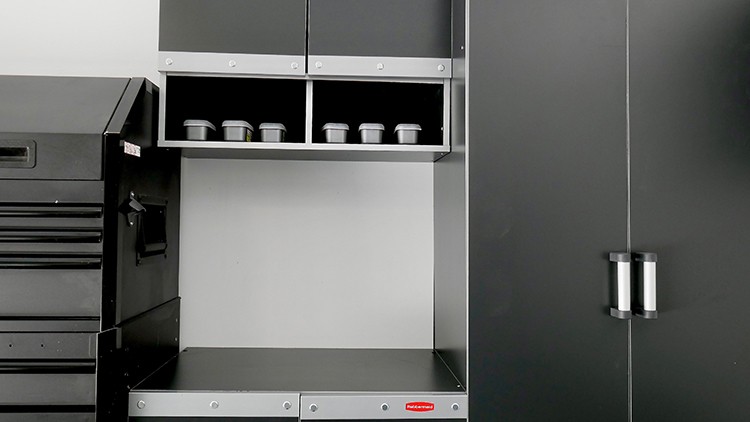 It's every garage owner's dream to have built-in style cabinets to create a space in the garage that looks clean, tidy and organized. Among many choices that are out there, we went with the Rubbermaid, FastTrack Garage Laminate 7- piece Cabinet Set with shelving set because it was aesthetically appealing, just like we wanted. It's black and laminate for ease of cleaning, and it too has the FastTrack attachment option if you choose to not to hang the cabinets the traditional way (into the wall) to have flexibility to re-arrange the configuration of the storage units.
Totes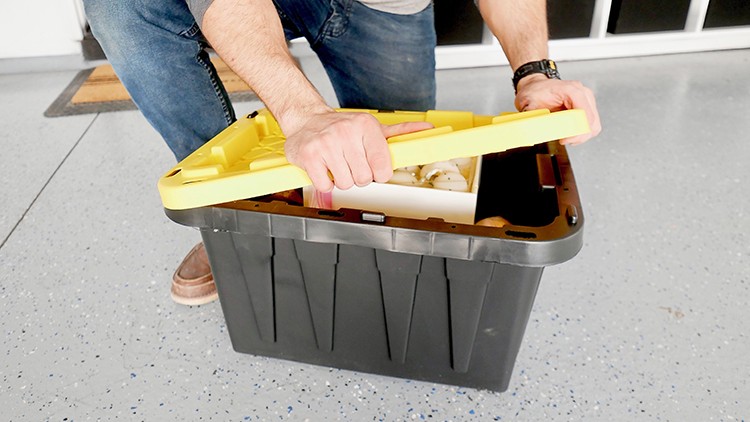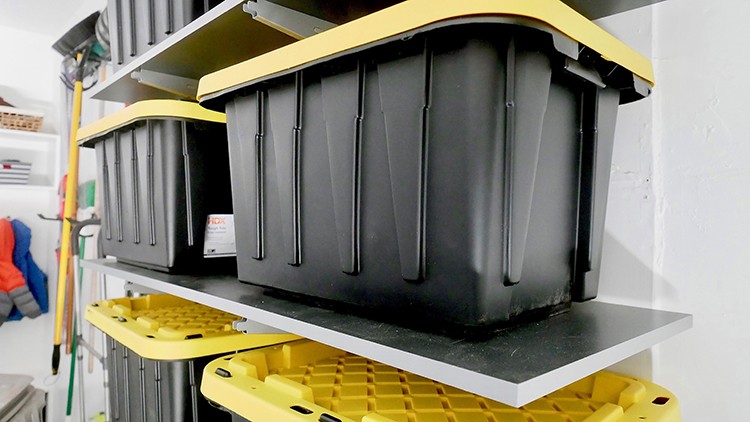 The HDX Tough Totes from Home Depot were the perfect solution for the "I don't need it right now, but I don't want to throw it away" problem. The bins range in many different sizes, but we went with the smaller option and decided to get more of them for a couple of reasons. Number one: smaller bins fit perfectly on the FastTrack shelves. Number two: smaller bins encourage you to make quicker decisions so you don't hoard things. The bins are tough, just like their description reminds you, but even better the lid locks snug onto the bin and has loops to attach locks (or even zip ties) to keep unwanted visitors from getting into your storage. The lid makes for a perfect and sturdy stacking tower. Lastly, I cant stand having five different styles of bins in my garage, so having the same black and yellow bins makes the space look cohesive, like an accent wall. This makes the space look good. Real good.
Chest Freezer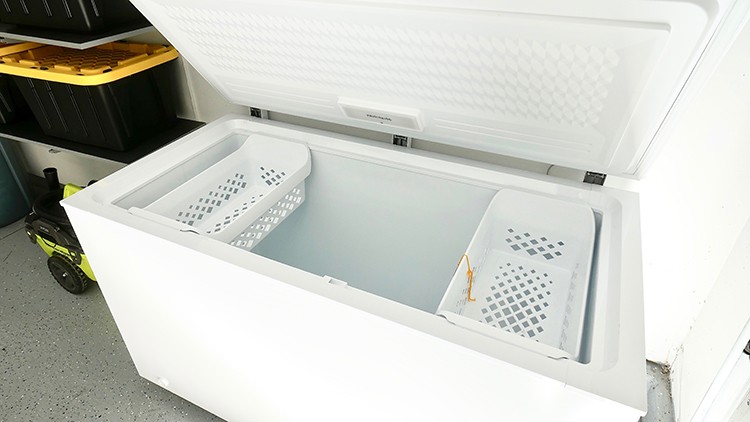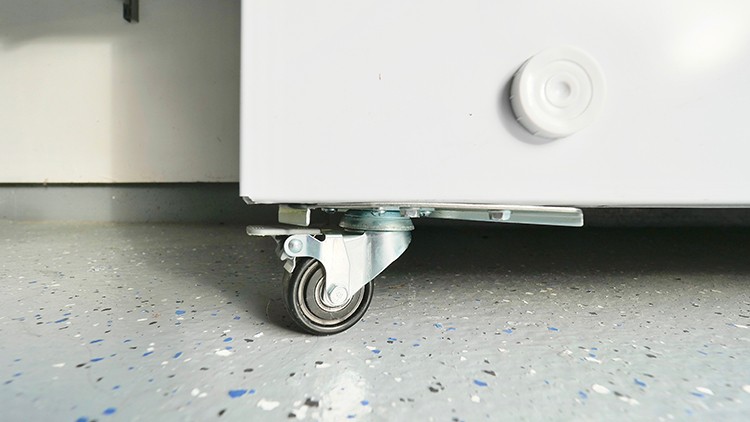 We went with the Frigidaire 14.8 cu.ft. chest freezer to give us more space for when we buy meat in bulk. Our kids are forever hungry and the refrigerator that is in our kitchen is a small side-by-side door refrigerator that fills up really quick with just a few items. The 14.8 cu.ft. was the perfect size. We can now buy 1/2 a cow from the butcher, and even have room for chicken or even pork on the sides. The freezer has a large storage chest space and 2 smaller bins that sit on top of the railing for quick and easy access to things that you need to get in and out fast.
Cleaning Products

We used Clorox ProResults for cleaning the driveway of all the mildew that accumulated over the last couple of months. This kept us from needing to go get a pressure washer. This quick cleaner is safe on metal as well.
We use the Clorox, Fresh Scent and Citrus Blend Disinfecting Wipes to clean almost every surface. From the chest freezer to the mud room section in the garage where the germ-carrying kids get dressed. This super quick solution keeps the areas squeaky clean.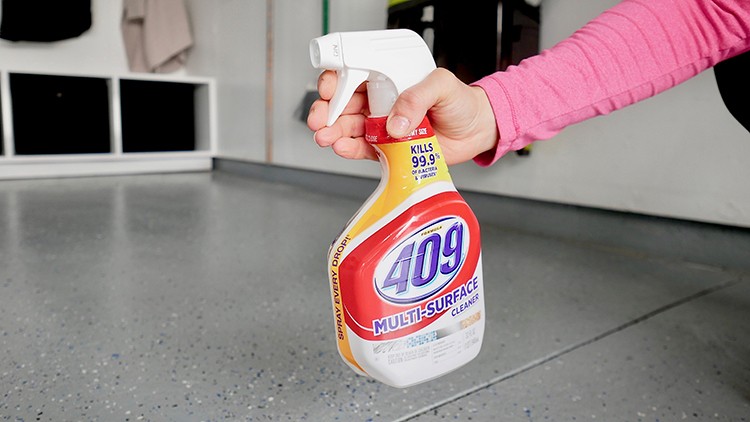 The cabinets and even our counter tops get a good cleaning with the Formula 409. It's fast-acting, streak free and does not contain ammonia or bleach. The lemon scent also makes everything smell fresh and clean.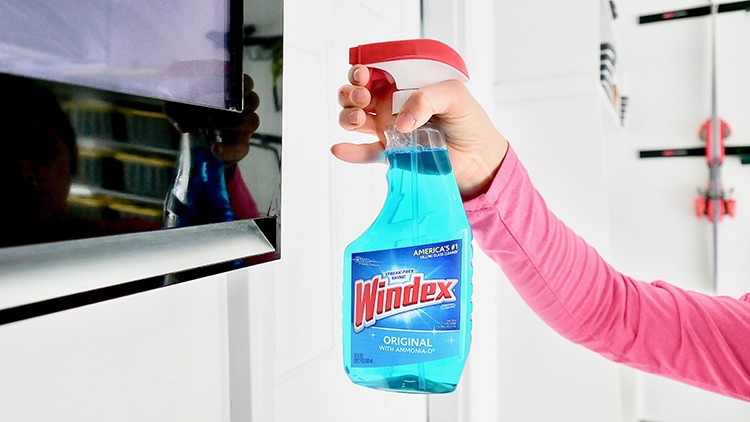 When we want our surface areas to have the perfect shine, this is our go to. Windex takes care of almost all of our surfaces.
The perfect all around cleaner that you can refill. Whether it's small jobs with a mix solution in a spray bottle or a large bucket that you'll be using to mop the epoxy garage floors. The ZEP, 32 oz. All-Purpose Cleaner and Degreaser Concentrated will make up to 10 gallons of cleaning and de-greasing solution.
For all of the cleaning we're actually doing, we don't have designated cloth towels. Mostly because things get really messy and we don't want to deal with what we find on the other side of the towel. This is where the HUGE Bounty, White Paper Towels 2-Ply (8 Huge Rolls) come in handy. They're big, they're tough, and they refuse to quit.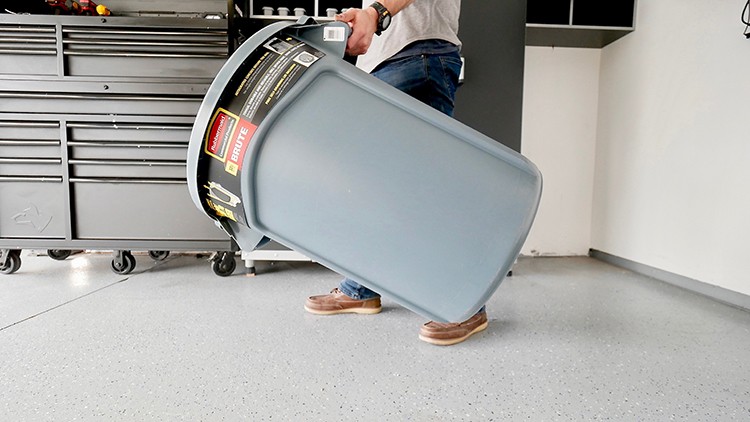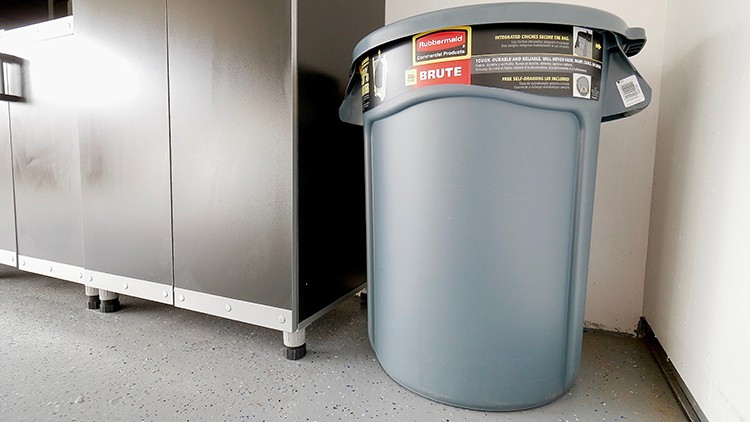 We've had trash cans that have cracked and that we've completely gave up on locking. Therefore having a tough can that will hold up to all of the home conditions, as well as cold and hot garage temps is a must. TheRubbermaid, Brute 32 Gal. Gray Round Vented Trash Can with Lid is reinforced in the base, so it's ready to be dragged along the driveway as soon as spring cleaning is in full effect.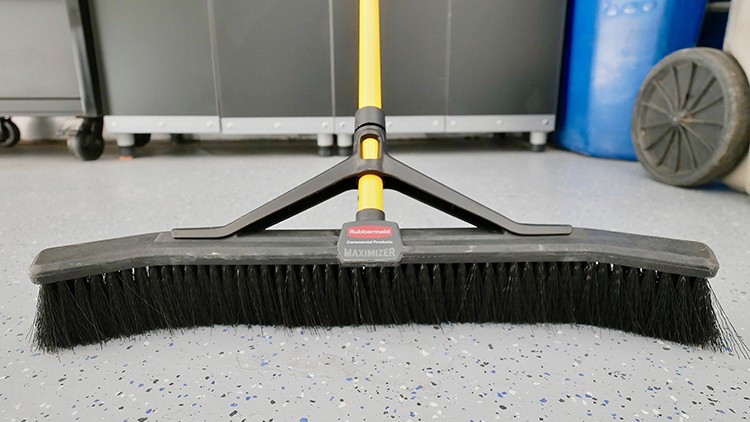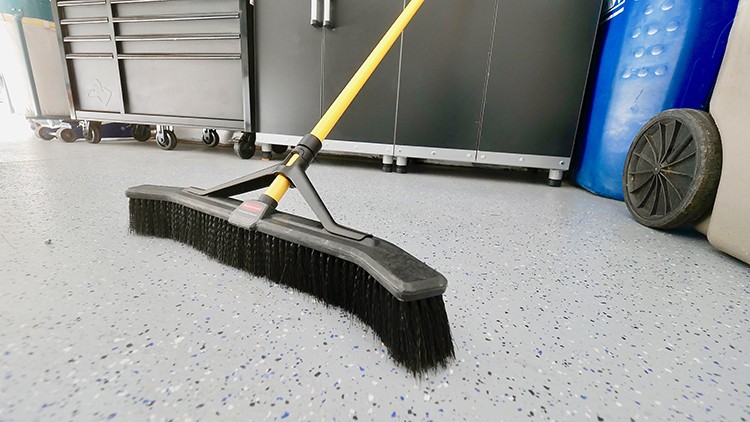 One of the reasons we went with this the Rubbermaid, Maximizer 24 in. Polypropylene Push Broom was its brush design. We have never seen something like this before. The side contours creates an opportunity to capture and push more debris like sawdust, leaves and grass. It cleans up more debris in less sweeps, which was what we really needed.
For the floors in the garage, we went with the Rust-oleum Epoxy Shield. We knew we wanted a modern color gray. The textured, black, white and blue flakes gave the floors a modern feel, while still being extremely durable.
Final Thoughts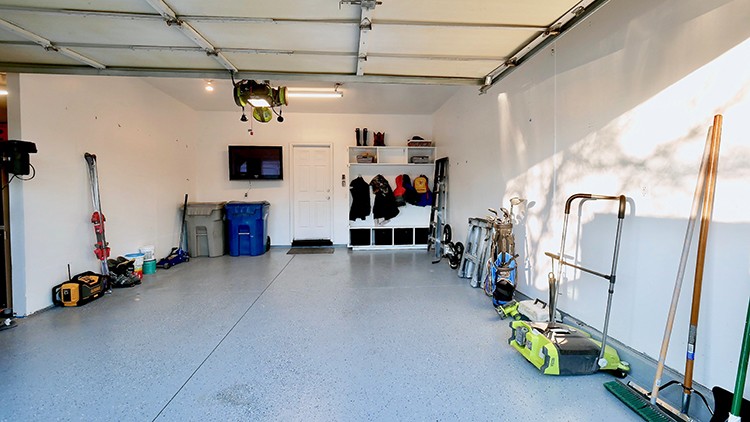 From chaos to organization, The Home Depot had everything we needed to accomplish organize your garage. Thanks Home Depot for being our one stop shop for all of our spring cleaning needs.
Click here to shop the items you'll need to get your all spring cleaning done like a pro at The Home Depot.
The post How to Organize Your Garage Like a Pro appeared first on The Home Depot Blog.