Savannah Kokaliares of Classy Clutter absolutely loves sprucing up her home for the holidays. We invited her to participate in this year's Holiday Style Challenge and sent her the 12-ft. Noble Fir to get started.
Check out how Savannah used supplies from The Home Depot to decorate her 12-ft. Christmas tree with gold tones.
How to Decorate a 12-ft. Christmas Tree
Hi friends! It's Savannah from Classy Clutter! I am so excited to participate in this year's Home Depot Holiday Style Challenge. It's the absolute best excuse for decorating early and for refreshing my holiday decor! Since I'm hosting Christmas at my house this year, I thought it would be really fun to get a new 12-ft. Christmas tree and trimmings to spruce up my space for the holidays!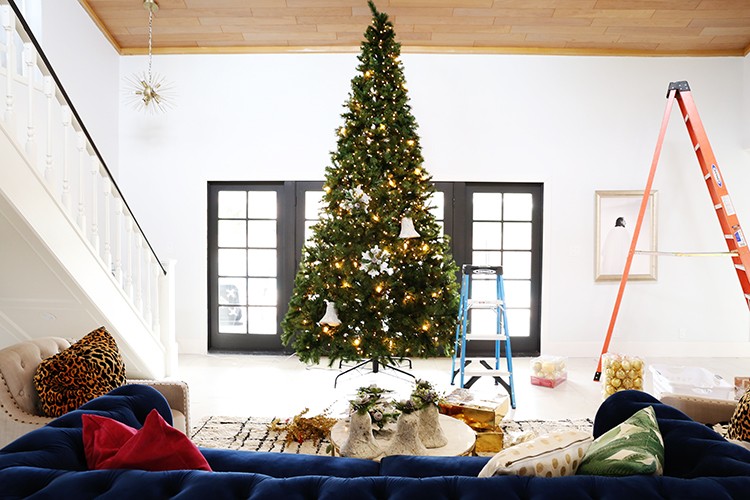 When Home Depot provided me with a 12-ft. Christmas tree for the challenge I knew it was going to be, well, challenging! This is the by far the biggest tree I have ever decorated but I was so happy to tackle it! I have wanted a 12-ft. Christmas tree for years but my old home didn't have the ceiling height to allow it. One thing I loved about my new home was the tall ceilings in our family room, so this was the perfect opportunity for me. I started with the 12-ft. Noble Fir Quick-Set Artificial Christmas Tree with 1450 clear lights.
Originally I wanted to do soft, feminine trimmings on the tree until I found a variety of gorgeous gold trimmings on HomeDepot.com. I thought it would be fun to match the trimmings to the decor in my family room, which has gold metallic accents throughout. I also found some beautiful green ribbon and some natural elements like pinecones to incorporate in my design.
---
Materials
These are some of the trimmings I found to use for my tree. I also picked up some pinecones at my local Home Depot.
Start with large Ornaments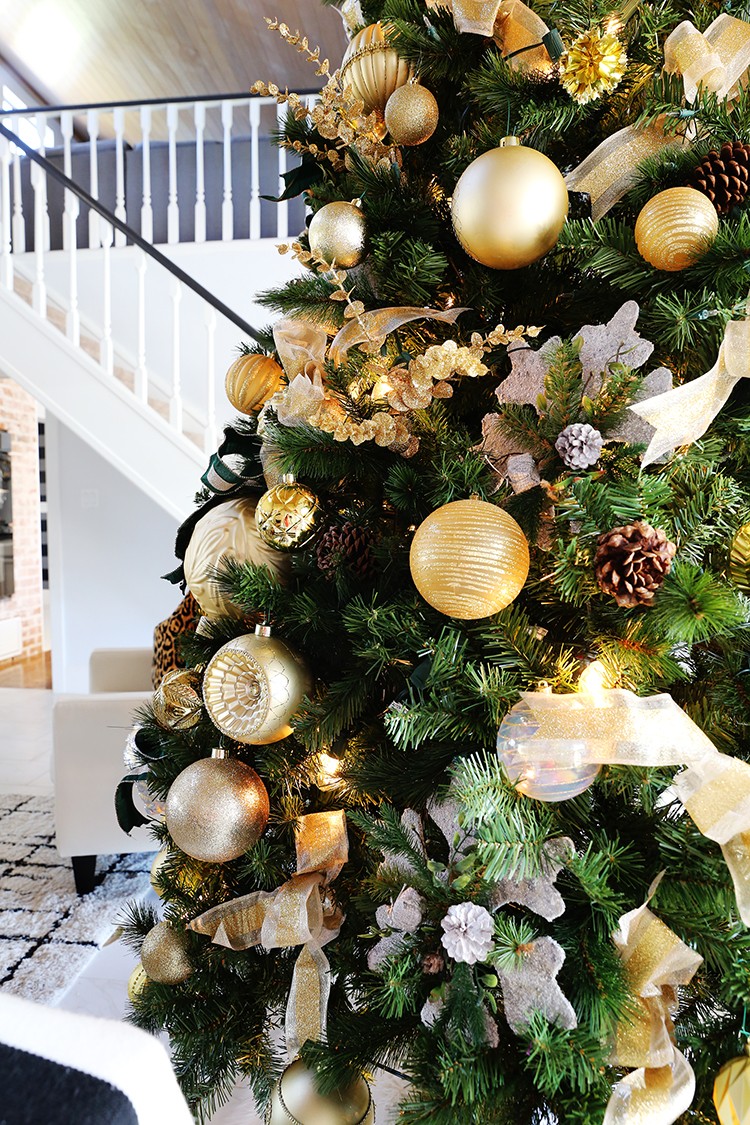 First, I start with my largest ornaments and space them out evenly throughout the tree. Then I add in my smaller ornaments and bulbs.
Add Ribbon Bows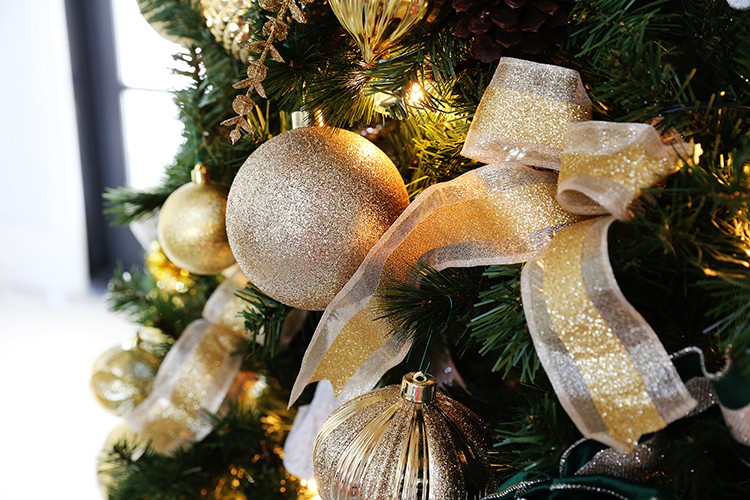 Instead of wrapping the tree in ribbon, I decided to tie little ribbon bows to different boughs all over the tree. I plan to use my left-over ribbon to wrap gifts for my family as it gets closer to Christmas. I love how it turned out!
Final Reveal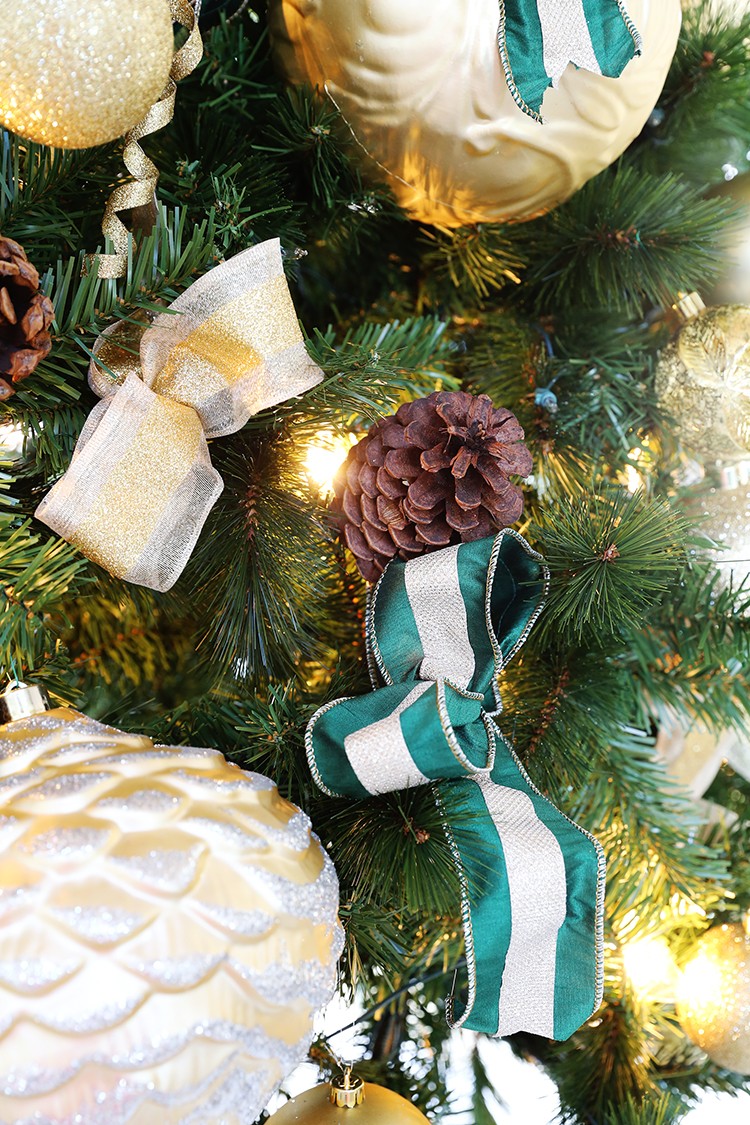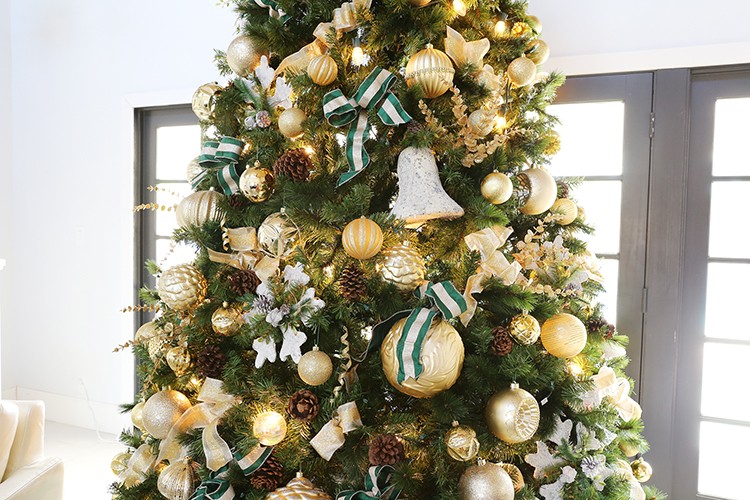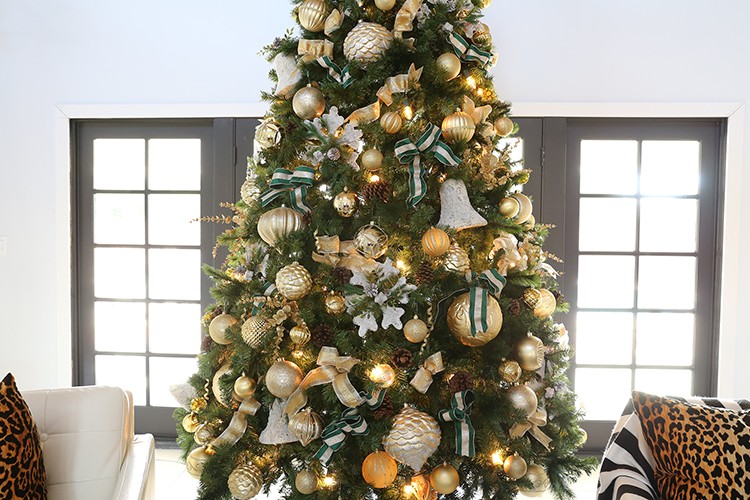 This tree is now the Christmas centerpiece of our home and my whole family loves it! It really set the tone for our holiday season and we couldn't be more excited!
The post How to Style a 12 ft. Christmas Tree appeared first on The Home Depot Blog.