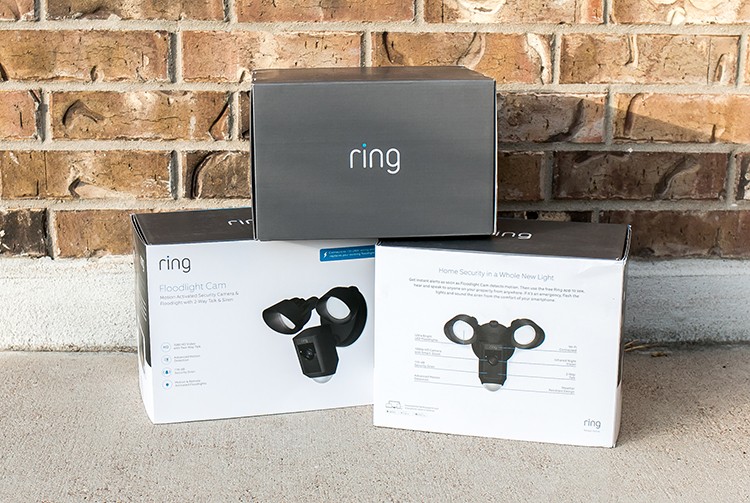 New technology is making it easier than ever to keep your home secure. Jen Woodhouse, who writes the blog House of Wood, wanted some extra peace of mind, so she installed an advanced security camera from Ring.
Here she shows us the advanced capabilities of her Ring security camera and how easy it was to install outside her home.
Ring Floodlight Security Camera
A few weeks ago, my next door neighbor's cars were broken into. My neighbor said she thought she saw one of the two crooks jump our backyard fence. She was right– we found muddy footprints and a lighter in our backyard. That was a little too close for comfort, I'd say. So the next day, my husband Adam and I went shopping for security cameras.
We found the Ring Floodlight Security Camera System on HomeDepot.com and ordered six of them.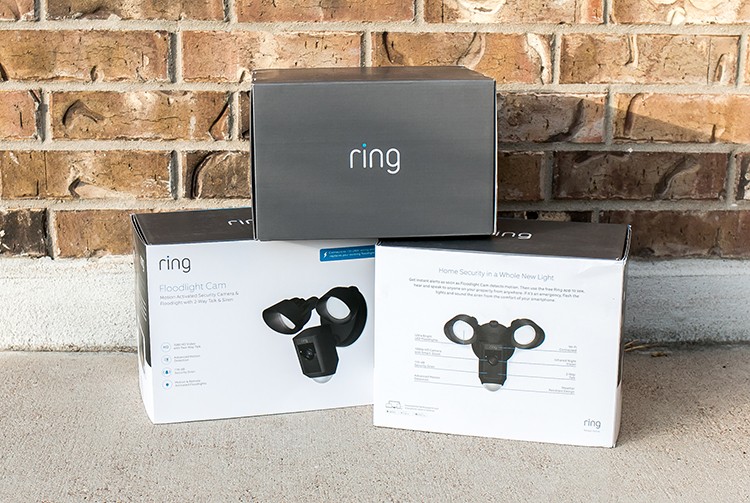 I'm a sucker for good branding and cute packaging. Say hello to my little friend:
You might be familiar with the Ring Wireless Video Doorbell. The security camera system goes hand-in-hand with the video doorbell, but can operate without it.
Installing the Ring Security Camera
If you have existing hard-wired floodlights, you can simply replace them with the Ring Floodlight Cameras. Installation is simple and straightforward: match the wires color to color and mount the camera lights with the hardware included.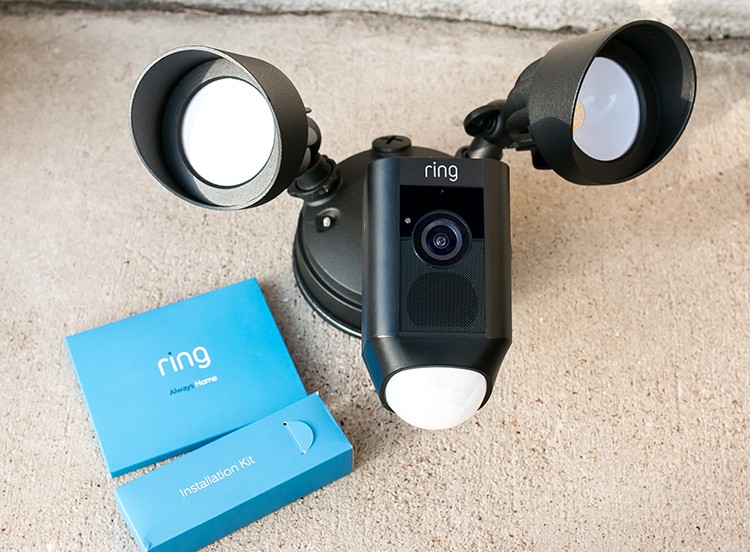 We rent our home (Army life!), and it didn't have existing floodlights, so we hired a licensed electrician to install a dedicated circuit to run power to the floodlight cameras. He ran wires from all four corners of the house into a single junction box up in our attic. These wires then fed down into our circuit breaker panel.
Here's what the mount looks like: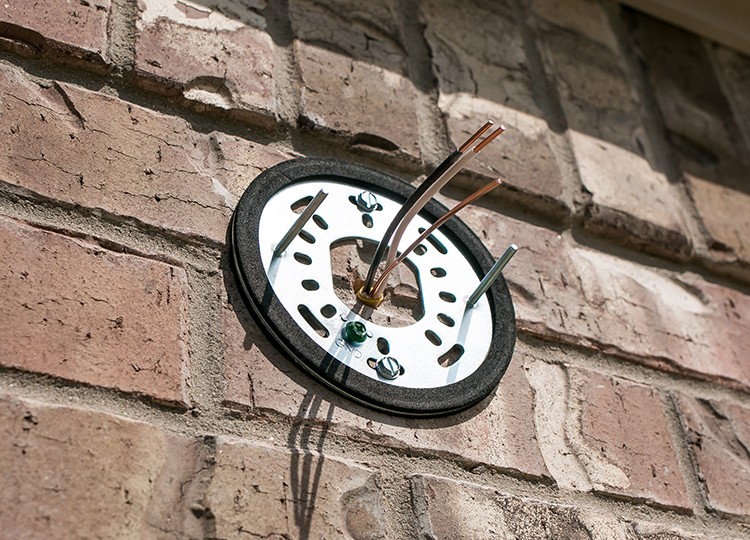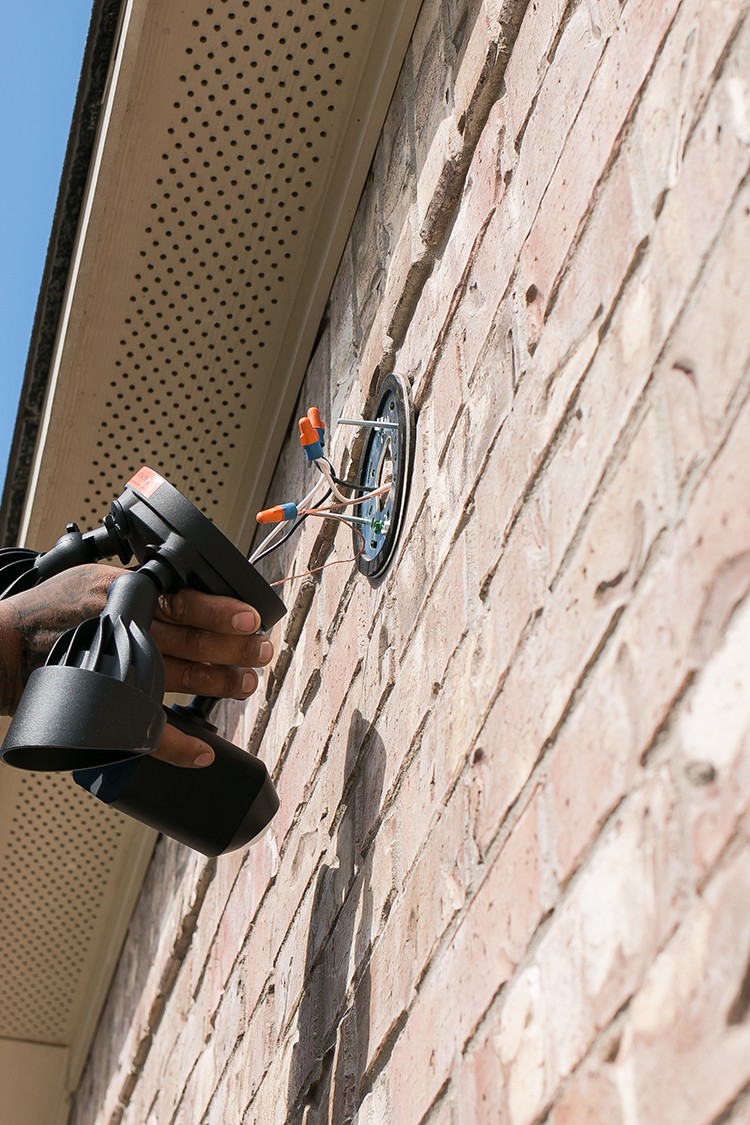 We placed the floodlight security cameras at the exterior corners of the house, as well as one over the garage.
The Mounted Security Camera
The floodlight cameras come in black or white and are weather resistant.
The Security Camera's Advance Capabilities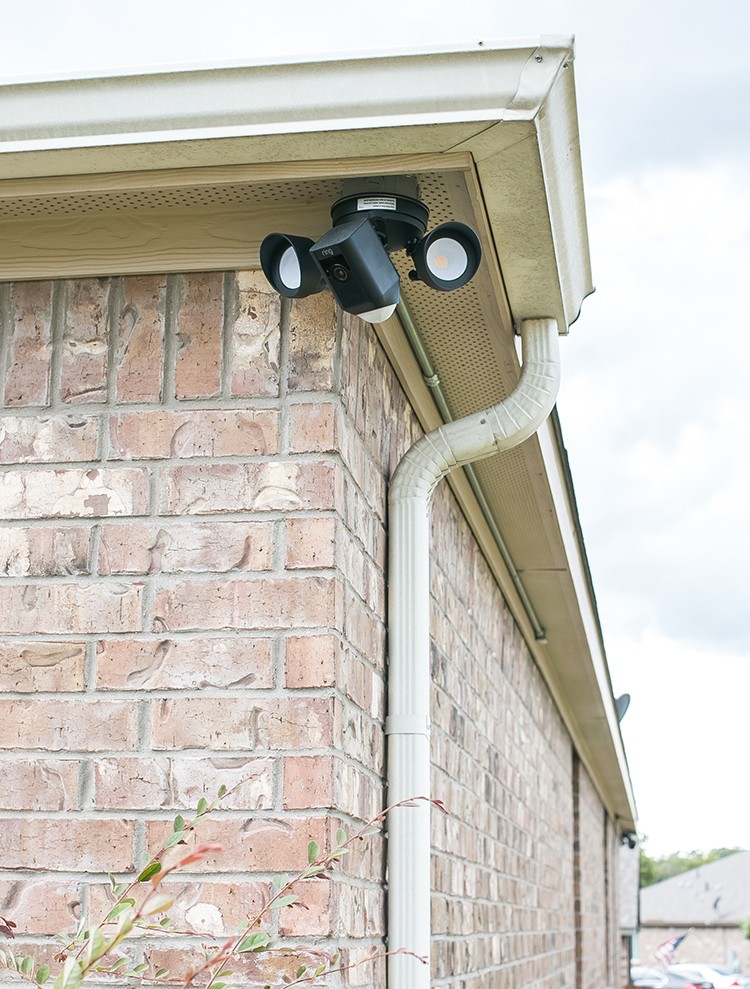 The most impressive feature of these floodlight cameras is the app. I downloaded the Ring App to my smart phone and followed the directions to link the cameras to my Wi-Fi so I can access them wherever I am.
In fact, I was 30 miles away at my salon appointment when I got a notification on my phone that the camera over the garage detected movement. I clicked "Live View" and saw that my husband and kids were loading up in the truck on their way to the pool.
Below is the view from the camera that's mounted above our garage. There's even a cool two-way talk feature. I tapped the green phone icon and put on my best creeper voice and said, "I'm waaaaaatching you." The kids laughed and my 6-year-old said, "Mom, don't be weird."
I kept getting alerts whenever cars drove by the house, so I set up motion zones by drawing the area I wanted the camera to detect. Below you can see that I set motion zones for the left and right sides of the yard and our driveway. Now, I'll only get alerts on my phone whenever there's movement within these zones.
You can also set how sensitive the motion sensors are. It was detecting all activity at first so I was getting phone notifications every time a mosquito or a moth flew by. Because I don't care to know just how many blood-sucking insects come out at night, I set the motion sensitivity to detect people only.
We can even set a schedule for our lights.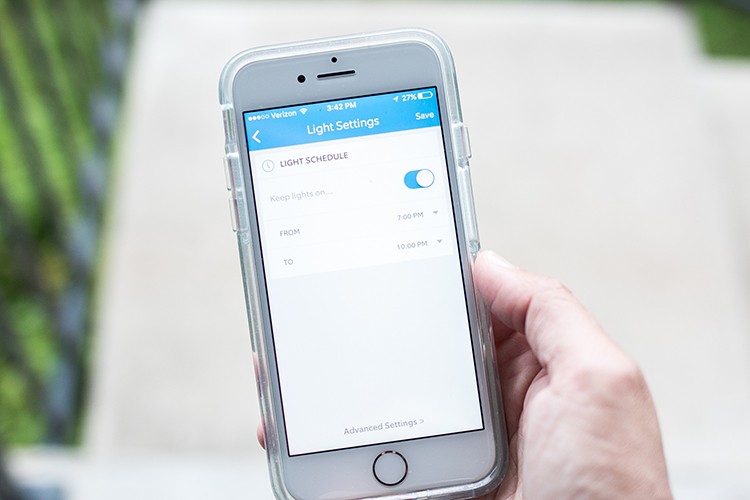 We also got the Ring Chime Pro. It's a simple device that's plug-and-play right out of the box. It links to the existing Wi-Fi and boosts the signal. It also has the capability of giving alerts– it chimes every time any of the cameras detect movement. In case my phone isn't nearby, I can still hear the notifications anywhere in the house. Pretty nifty.
The security cameras have the capability of recording video, so if you'd like to keep your recordings, you can sign up for the Ring subscription where it stores your videos on the cloud.
We absolutely love our new Ring security camera system. It gives us incredible peace of mind knowing that our property is under surveillance.
The post Keep Your House Safe with Ring Floodlight Security Camera appeared first on The Home Depot Blog.