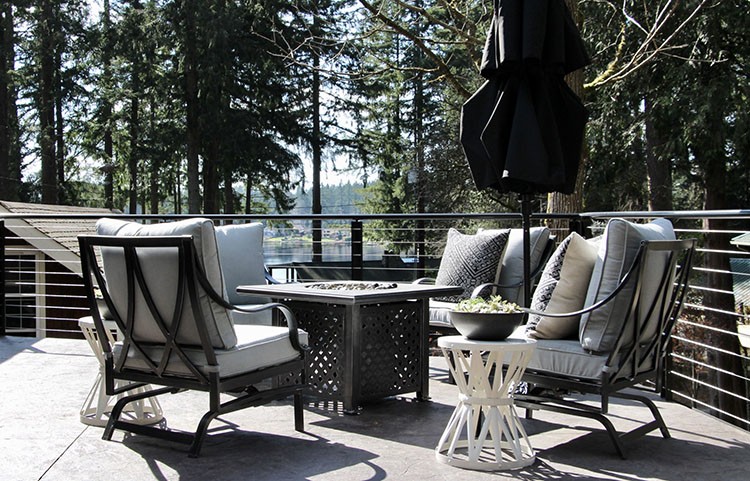 After replacing her old wooden deck, Melaine Thompson of
My Sweet Savannah
was ready to turn her empty patio into an outdoor entertaining space for this year's Patio Style Challenge. Follow along her style journey as she transforms her unused outdoor space into a focal point of her lakefront home.
Lakeview Patio Makeover
This is a really exciting day for me! Our new deck was finished in the fall, but now we've finally put the finishing touches on it and I couldn't be happier with how it turned out! A huge thank you to Home Depot for asking me to be a part of this challenge. It inspired me think outside the box and create a great space for our family and friends.
Lets start at the very beginning. A year ago, we had a wooden deck with a wooden railing, but it was over 10 years old and the wood was rotting and the railings were falling down. Not wanting to replace it with another wooden deck, we weighed our options. What we came up with is a stamped concrete deck with a more modern steel railing.
We love the finished deck. It not only looks good, but it will last us a lifetime.
Fast forward to 3 months ago, after letting the deck sit empty all winter we were challenged with how to fill 1,000 square feet with furniture and still have it be cozy and functional for our family.
Home Depot couldn't have asked me to be a part of their Patio Style Challenge at a better time! The sun is starting to shine, the flowers are blooming, and I am looking forward to enjoying many lazy summer days on this deck. Are you ready for some after photos? Lets get to it! From the driveway you can get a better sense of where the deck sits. It is up high so we have a perfect view of the lake.
In this corner, where the hot tub used to be, we added this super comfy Highland Point Conversation Set. We have loved sitting around the fire at night and have spent a lot of time out there. As warmer weather approaches and we aren't using the fire pit as much, we can shade the area with this great Double Vented Patio Umbrella.
Let me talk for a minute about the Highland Point set, because it deserves a moment of it's own. The chairs are incredibly comfortable. The cushions are thick and made with weather resistant fabric, which is key here in the pacific northwest. My husband also wanted chairs that rocked back slightly and these do just that. The fire pit runs off propane, but it has the ability to run off gas if you prefer to convert it. It's a place to relax, unwind and stare out at the lake.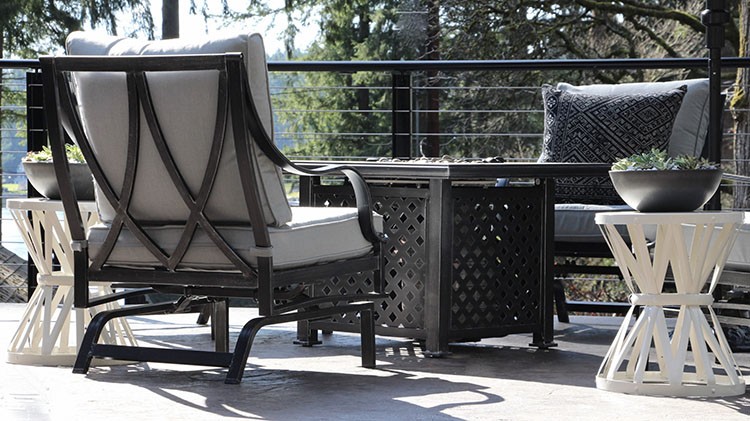 I added two little white Hampton Bay Garden Stools as well. They are lightweight and can easily be moved around.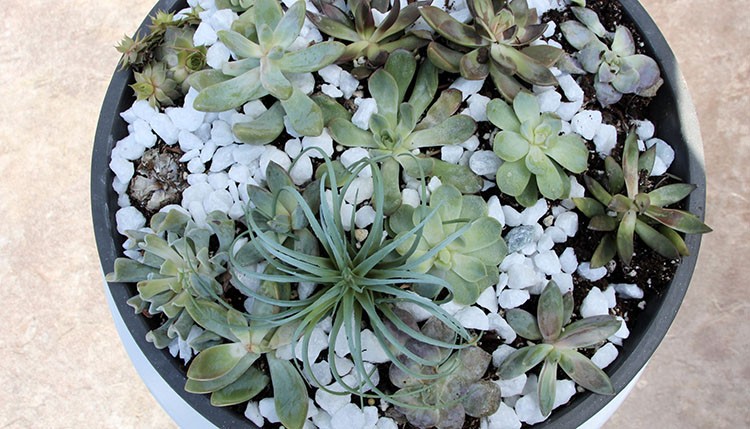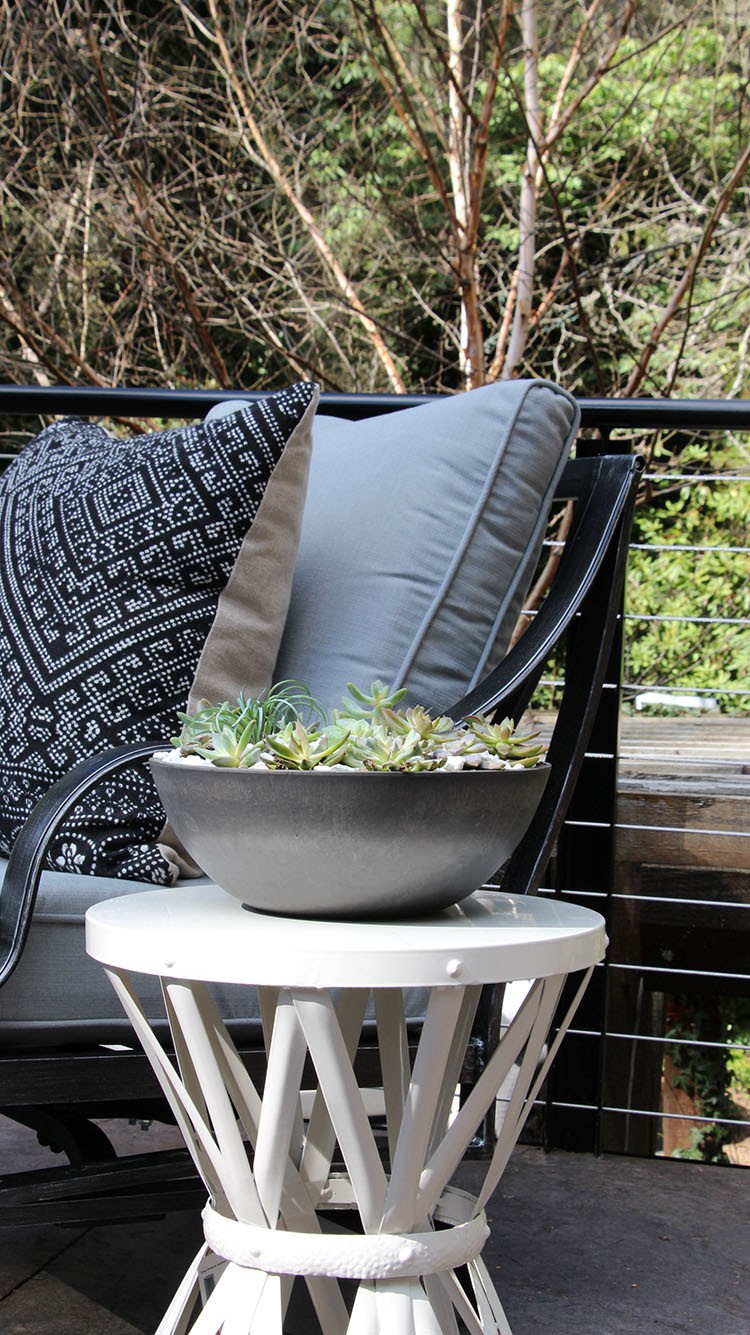 I planted a variety of succulents in these round black Garden Bowls that have a concrete look to them. Adding pillows to the chairs completes the look.
Now lets move on to the other side of the deck.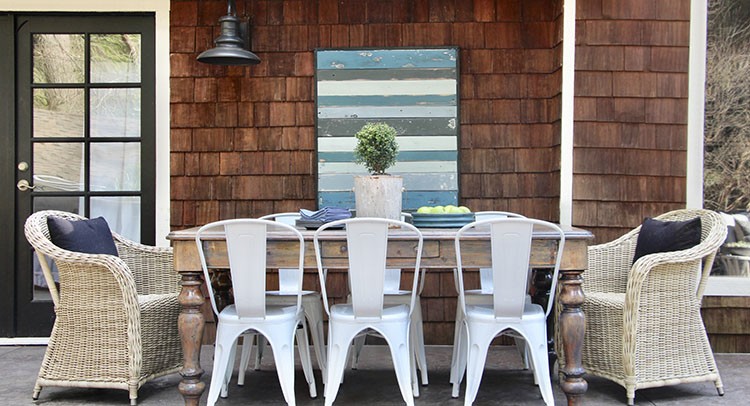 On this side I wanted to create a space where we can enjoy meals together. The deck continues into our outdoor kitchen, so it's very easy to BBQ a meal and carry it right over to the table. I used our old wood dining table and sealed it for the outdoors with Varathane Outdoor Spar Urethane. I surrounded it with these Glossy White Metal Dining Chairs and used wicker chairs on either end that I already had. What is great about the dining chairs is that in the off season they stack and store nicely.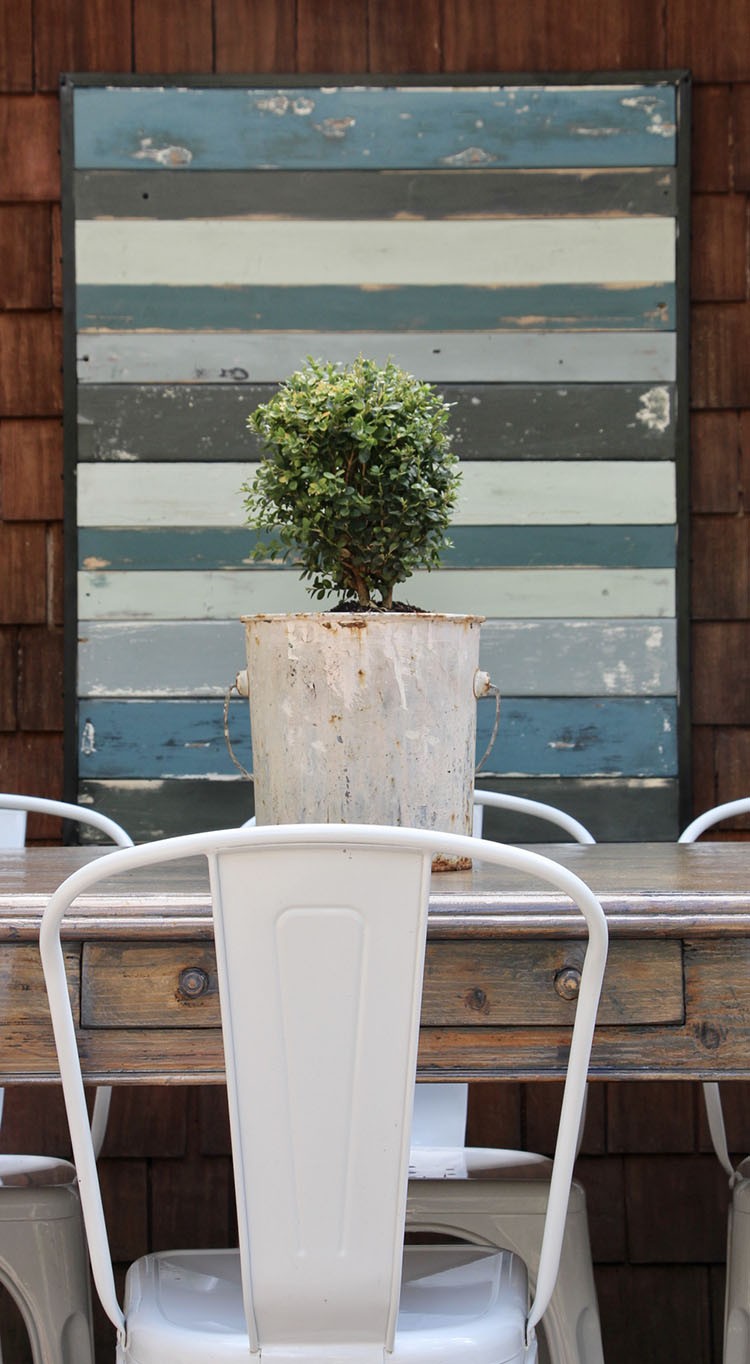 I created this wall art using pieces of pine boards, paint, and a metal piece that was actually used as packing material in the Highland Point set shipping box.  To read about how I made the piece, you can click here.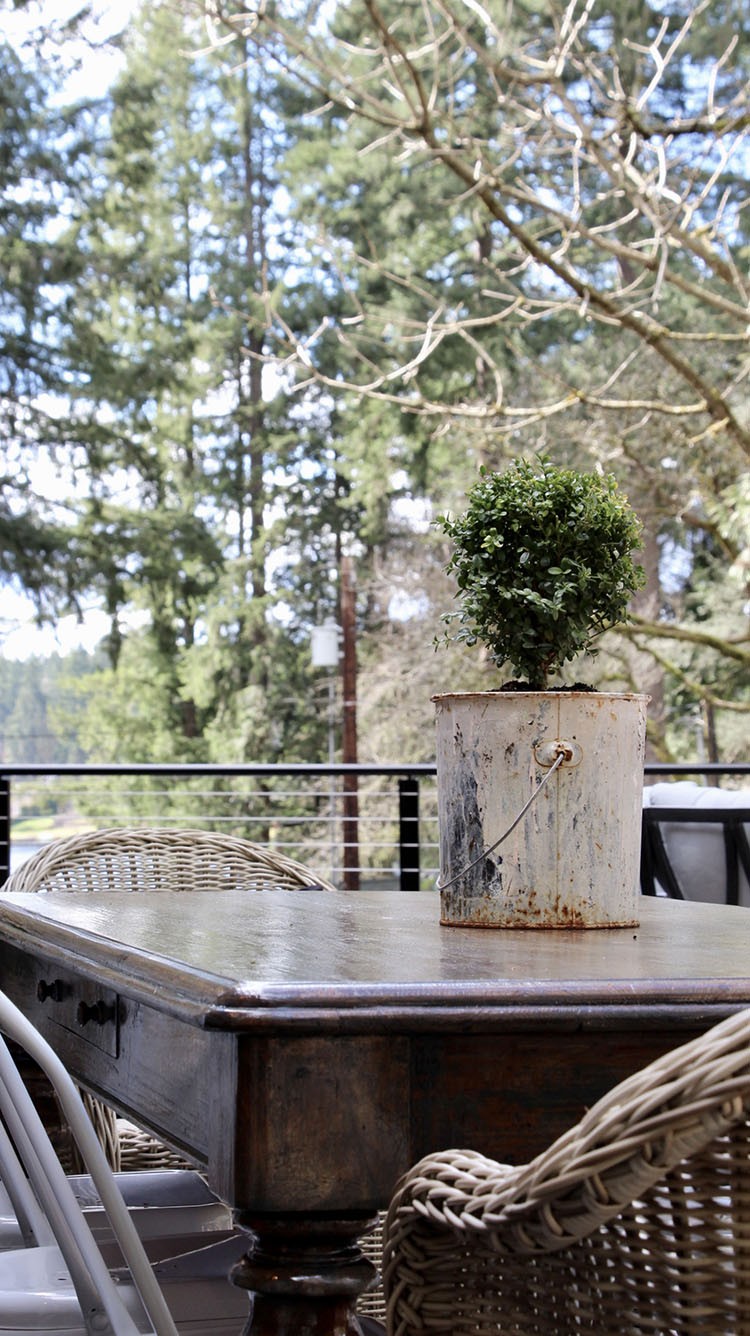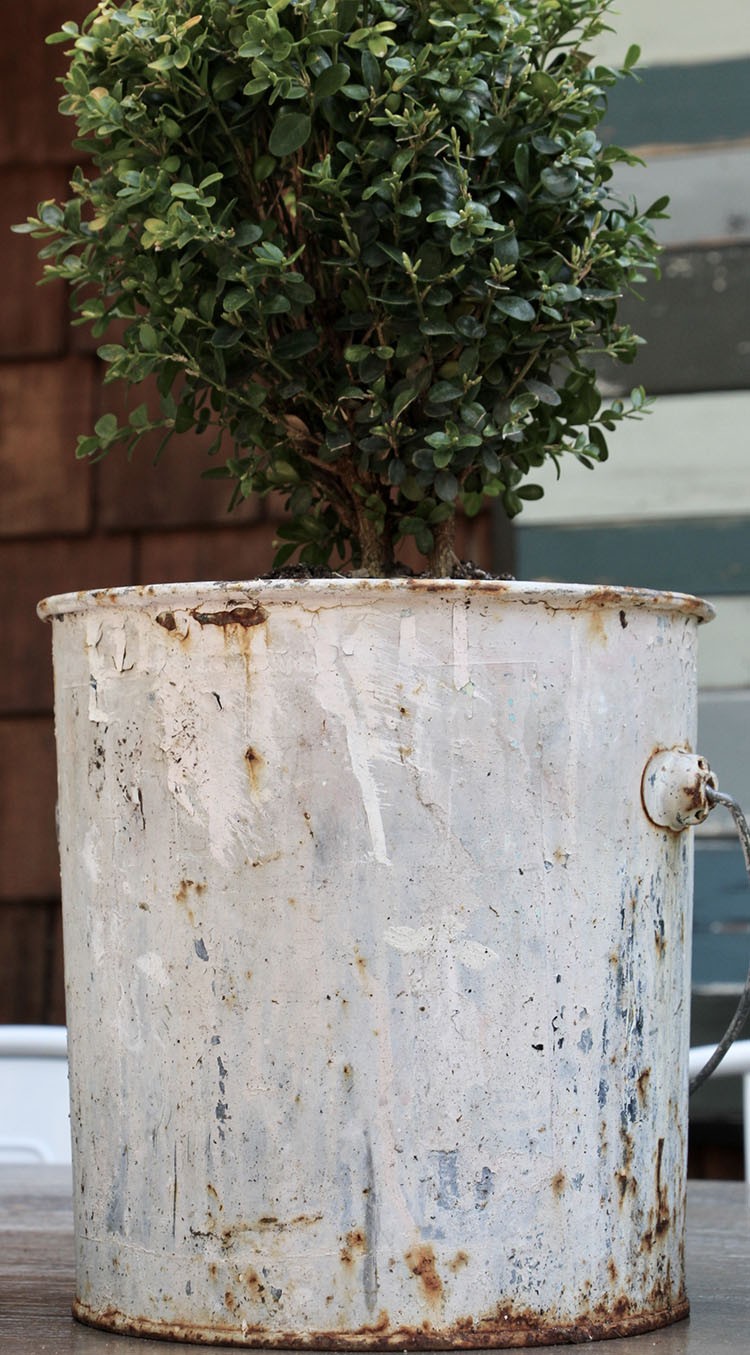 A few more details from this space. A simple boxwood in an old galvanized paint pot is simple yet adds just the right amount of green.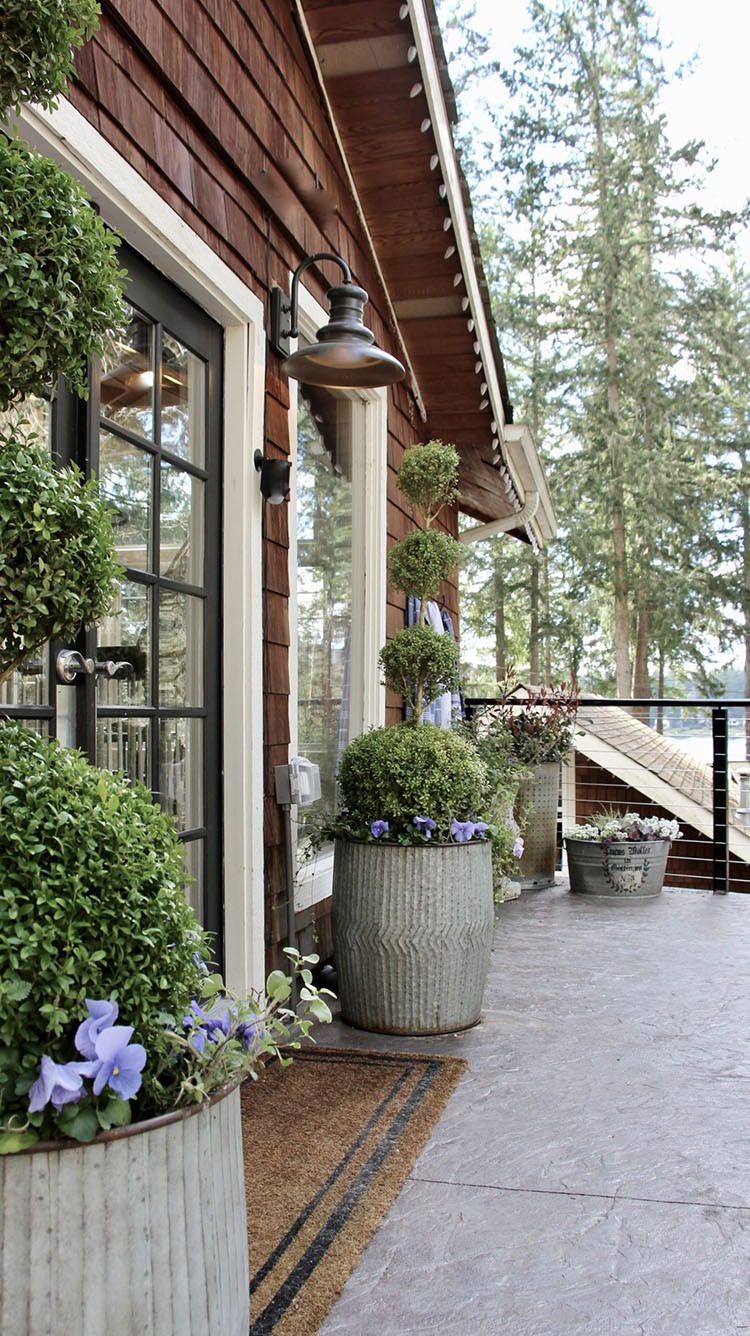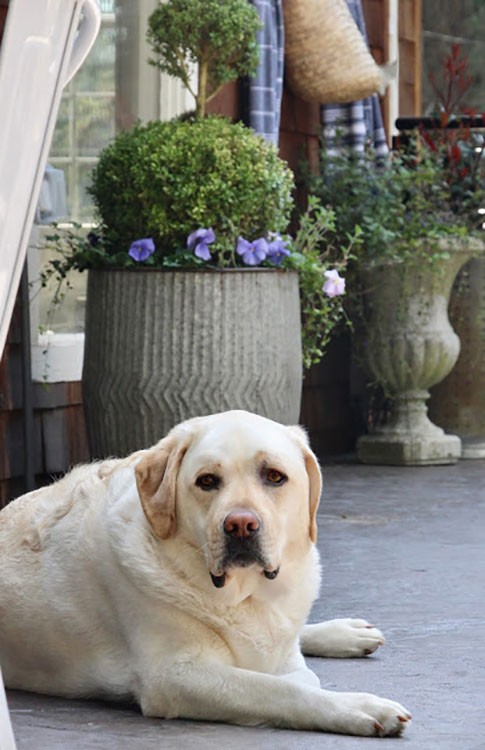 I added a bit of purplish blue pansies to my flower pots for color.
And while they aren't blooming yet, these rhododendrons will add beautiful color to the pots in the foreground.
And one final before and after!
Transform your outdoor space into an outdoor entertaining area with the help of Home Depot. Find more
Patio Furniture
and
Accessories
at the Home Depot.
The post Lakeview Patio Makeover appeared first on The Home Depot Blog.