Rashida Banks of
Rashida Banks blog
was able to take advantage of a few Home Depot products available in store and online to show how to create a luxurious holiday decor space this season.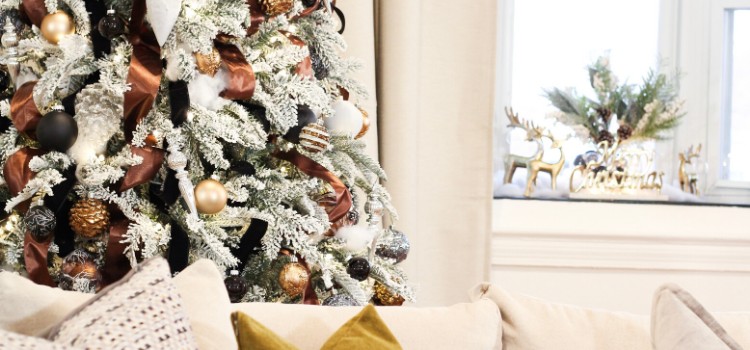 There's something about equal play of mixed metals on a tree that is so luxurious. Blacks, browns, bronze, and polished nickel ornaments give a flocked tree great depth. In today's post we'll talk through the elements of luxurious holiday decor and the many options that The Home Depot has available either on their website or in store.
First, let's start with the tree. The foundation of Christmas decor is a great tree. I love full, tall and flocked trees, which is why I chose this 7.5 ft Home Accents Pre-Lit Tree. The flocked touch adds a nice pop of texture, and looks beautiful straight out of the box. You can even add more "snow" to a tree by pulling apart a snow cover blanket and tucking balls of "snow" around the tree.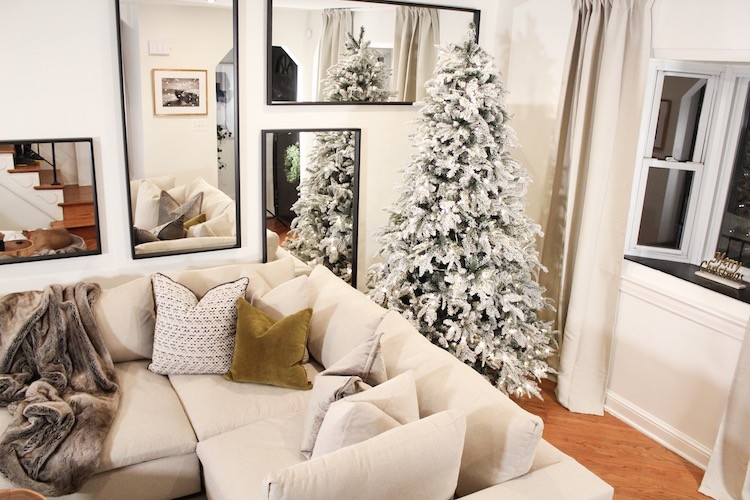 Adding Texture in Decor
An important element of luxurious holiday decor is texture. When searching for ornaments and other decorative items, go for various textures. Think velvet, shiny and matte finishes, glass, glitter, feathers, because all of these play well together in a space. When I was shopping on homedepot.com, I came across these beautiful matte black, and gold ornaments. Although they're quite simple, the varying textured are an easy way to add dimension to the tree.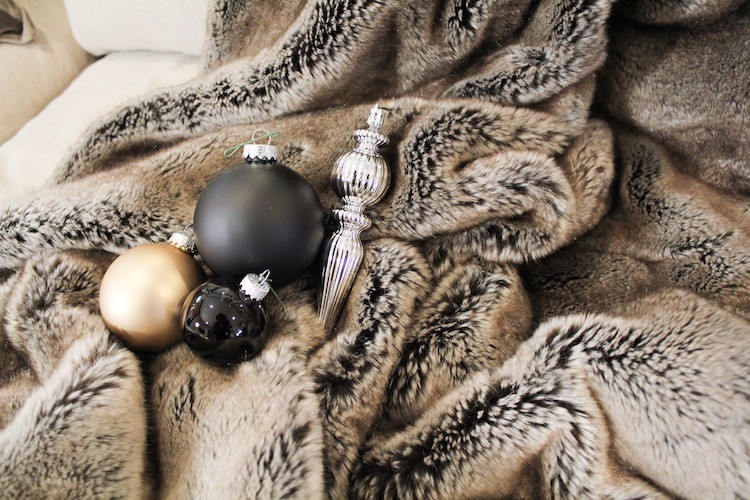 Since I added the matte ornaments, I had to find the equivalent shiny version, but this time in a different size. This brings me to my next tip for luxury holiday decor, which is having various sizes and shapes of ornaments. Go big and small, round and rectangular. I added these silver ornaments to switch up the roundness of all the others. The polished nickel look also makes them stand out. These ornaments are also shatter proof, so no need to worry about them accidentally falling off and breaking.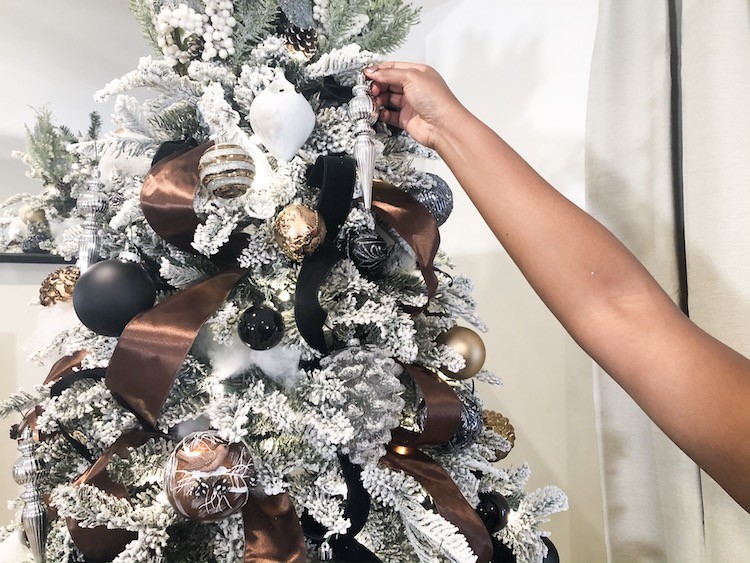 I found an assortment of ornaments different shapes, sizes, colors, and designs while shopping in-store. I love bundles like these because it pretty much designs the tree for you. You don't have to think too hard about combining ornaments, and wondering if they will go well with each other or not. I picked up the big and medium size at my local Home Depot, but you can also order them online as well.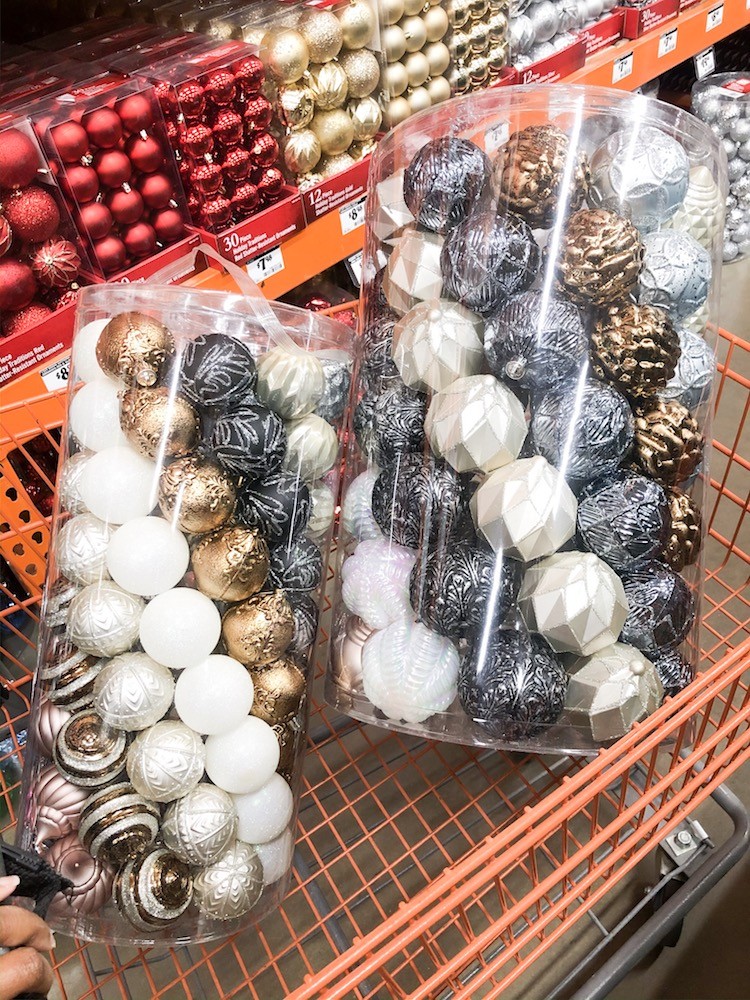 Adding Special Ornaments
And speaking of combining ornaments, I always like adding specialty ornaments to a tree. Check out these 3D Bird in a tree design. This is the ornament that set the mood for the whole holiday design. I also added some glamorous owl ornaments too.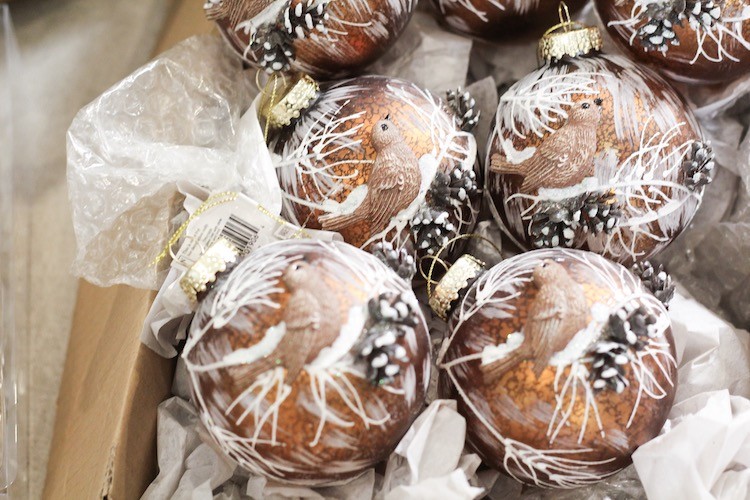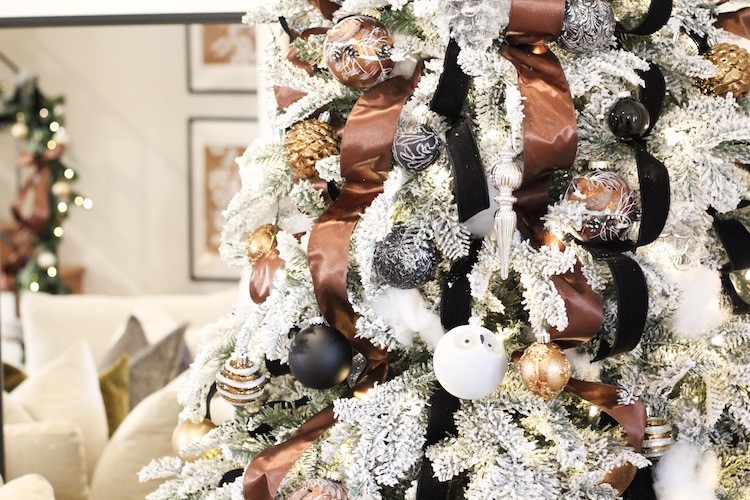 The final touch that really adds luxury to a tree is ribbon. There are so many textures, patterns, and widths to choose from. I recommend starting with wide and adding another that's smaller in width.
Accenting with Garland and Wreaths
Now that the tree is decorated, don't neglect the rest of the house! No matter the size of your staircase, adding garland is the perfect way to carry that luxurious feel throughout your home. Decorating a space with a pre-lit battery operated garland is even more fancy. The Home Depot carries various options in store, or if you're too busy and can't make it in, the same options are online, plus even more!
To jazz up the garland, add some ornaments. I picked up some matching smaller ornaments in store, and I also added some matching ornaments from the tree so that everything flowed. Christmas decor is best executed when decorative items are repeated throughout your house. So, if you put black and gold ornaments on your tree, add those same colors to your garland.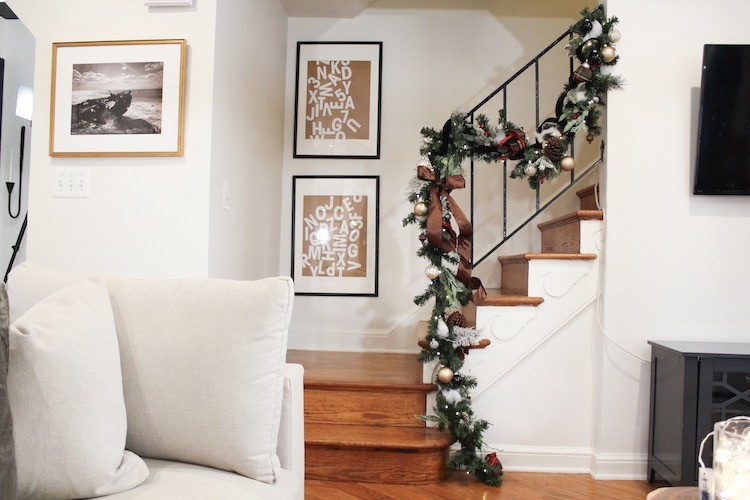 Did you know that wreaths don't only belong on front doors? Add them to your walls! You can add them to a blank part of your wall, or hang it directly on top of a mirror or piece of artwork.
Adding the Final Touches
The last step in creating a luxurious Christmas is to grab all your glass jars, and fill them up with left over (matching) ornaments and some battery operated lights like these.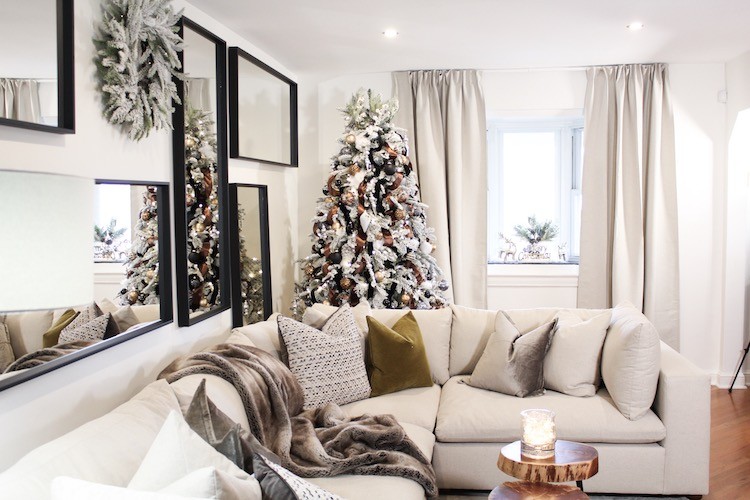 Light your candles, start your fireplace, get some holiday tunes going and enjoy!
The post Luxurious Holiday Decor appeared first on The Home Depot Blog.