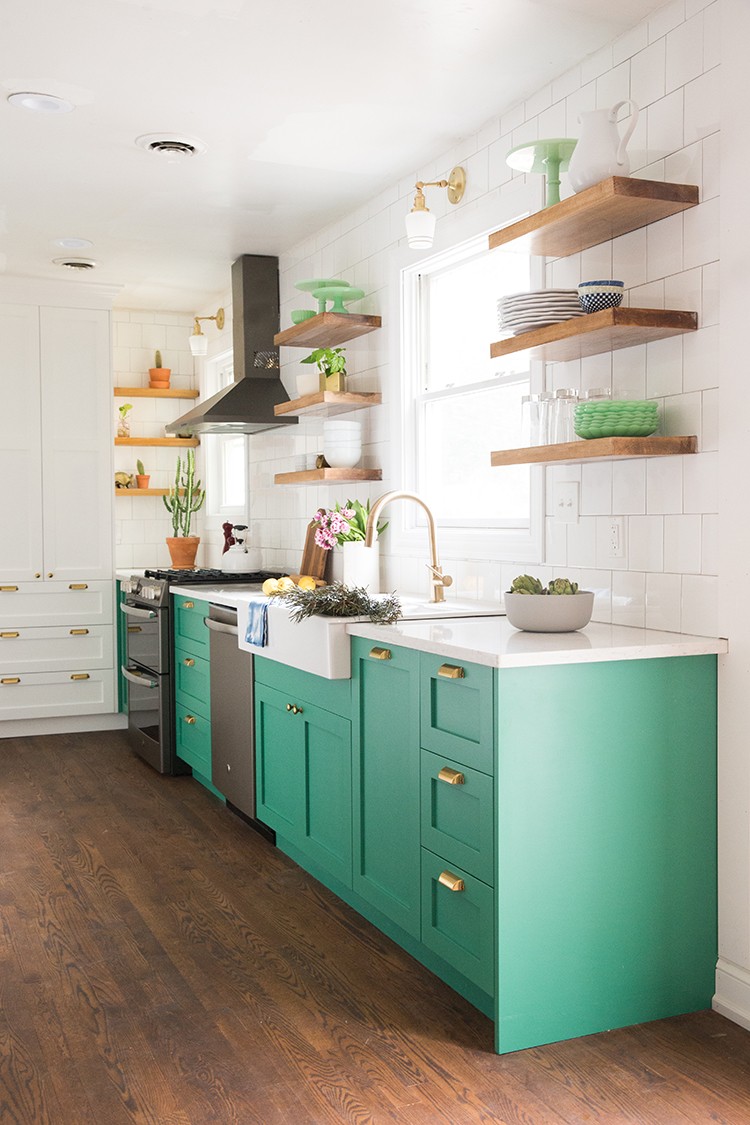 Miranda Anderson from Live Free Creative Co had one goal in mind for her kitchen renovation and that was to make a big impact in her small space. Using GE's new slate stainless steel finish appliances helped her achieve the dimension she was looking for.
Read more about the appliances Miranda selected to make an impact both visually and measure up as a functional and useful tool, below!
Making a Big Impact in a Small Kitchen
When we chose a small, 1940's fixer upper for our family of five, I knew the kitchen appliances would need to be versatile and functional, as well as a complement to the beautiful space. Even before we closed on the house, I had virtually designed a new kitchen that made a big impact in the small space. I loved the idea of using GE Profile kitchen appliances in the gorgeous slate stainless steel finish to add dimension to the kitchen, and after a couple months of renovation, I am so excited to share how the space turned out!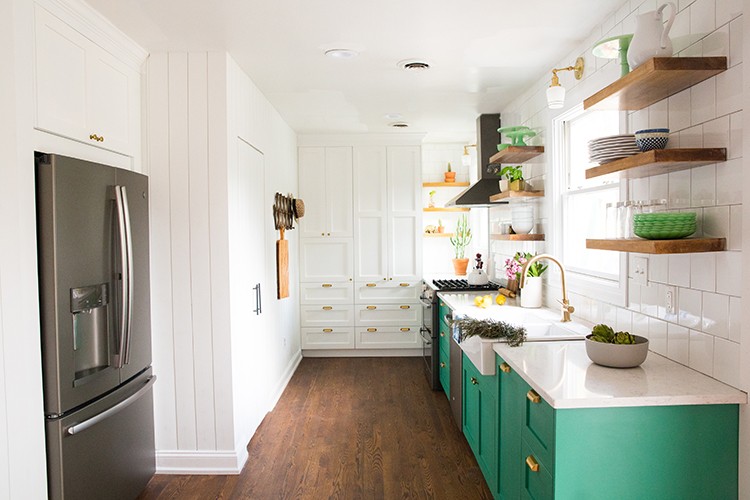 Most of our family life revolves around the kitchen. We wake up and eat scrambled eggs for breakfast together before school. The kids run in and grab themselves an after-school snack from the fridge before heading outside to play. I love making simple, delicious meals for family dinner. We all take turns washing dishes before bed. The kitchen appliances need to be pretty and also be able to handle the constant activity of a young family and our meals.
As I designed the kitchen, I chose appliances that would make an impact visually and measure up as a functional and useful tool. My kitchen includes white and green cabinets, a white backsplash and warm wood floors and open shelves. The slate stainless steel appliances add a deeper dimension and design impact than the more common lighter stainless would by creating some depth in the design. Especially with bright lower cabinets, the darker stainless steel really grounds the design and feels very intentional.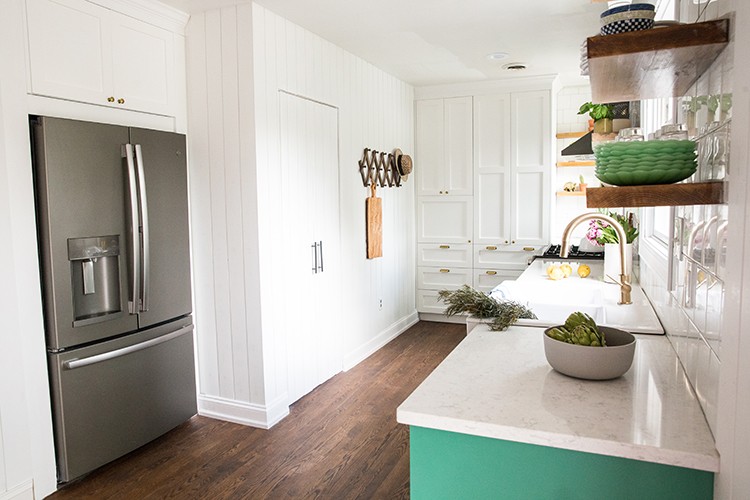 I chose each of the following appliances for some specific reasons and want to share how they fit into the styling and design of the overall space with some tips for how you might consider adding slate stainless steel into your own kitchen!
GE Profile Top Control Smart Dishwasher
GE Profile 6.7 cu. ft. Slide-In Smart Gas Range
GE 30 in. Convertible Chimney Range Hood
GE 36 in. W 27.8 cu. Ft. French Door Refrigerator with Door-in-door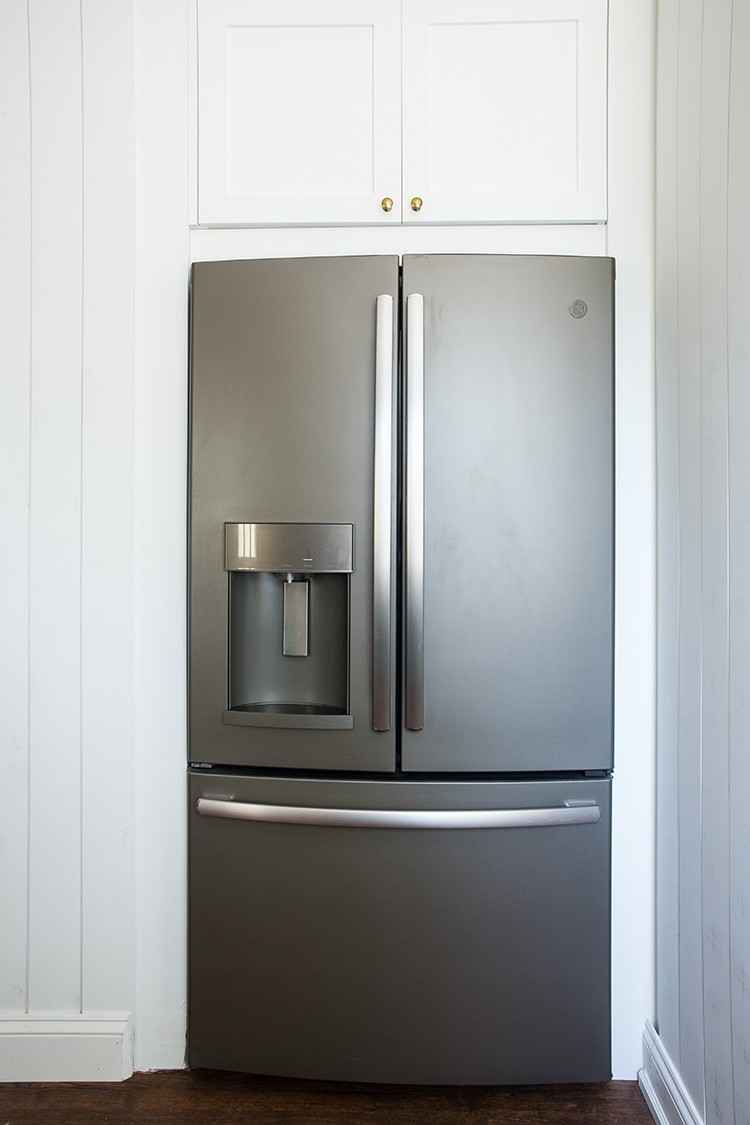 The French Door Refrigerator with door-in-door is big enough to hold all of our groceries and is divided into smart drawers and bins inside the French doors. The door-in-door feature enables us to keep easy-to-grab snacks on hand for the kids so they can open just the front of one door to grab something quickly as they run outside to play. I love that it has a backup ice maker in the freezer so I always have some on hand for last-minute entertaining.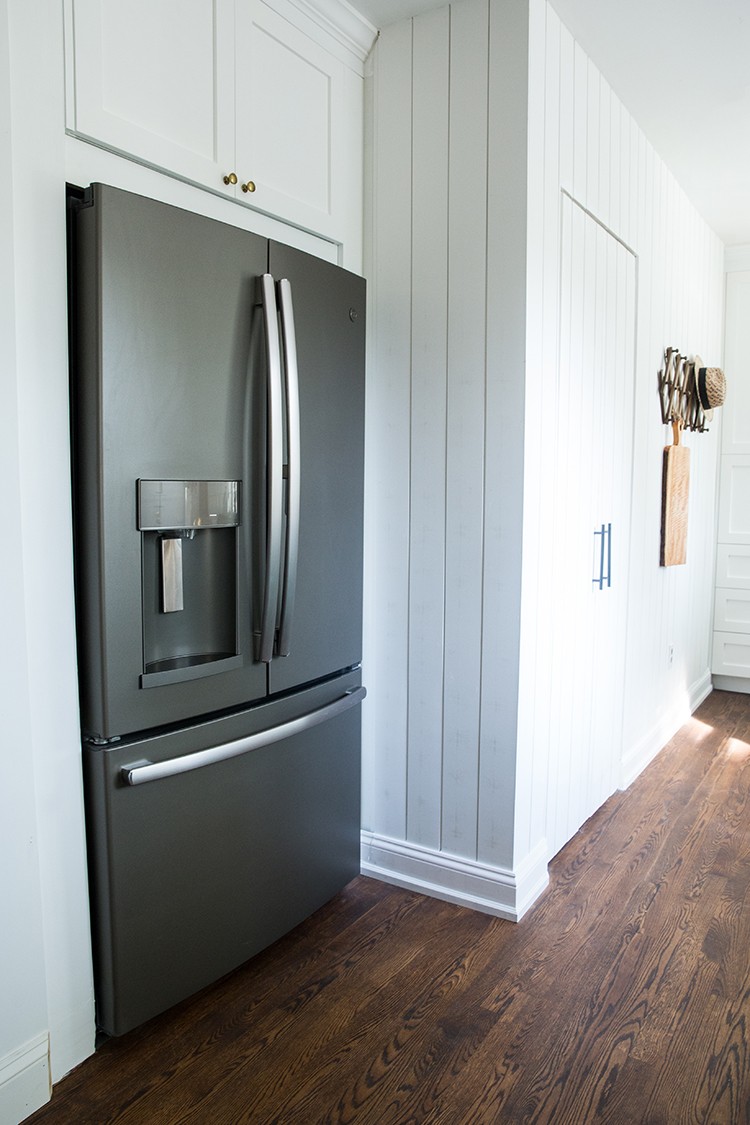 I think the best way to style and design around a refrigerator is to make it fit seamlessly into the kitchen design, so I tucked ours into the close part of the kitchen where we will have easy access. It has cupboards above and beside it, enclosing it as part of the cabinetry. I also decided to add vertical shiplap to the wall beside the refrigerator, echoing the tall design, and giving some fun intentional detail to the space.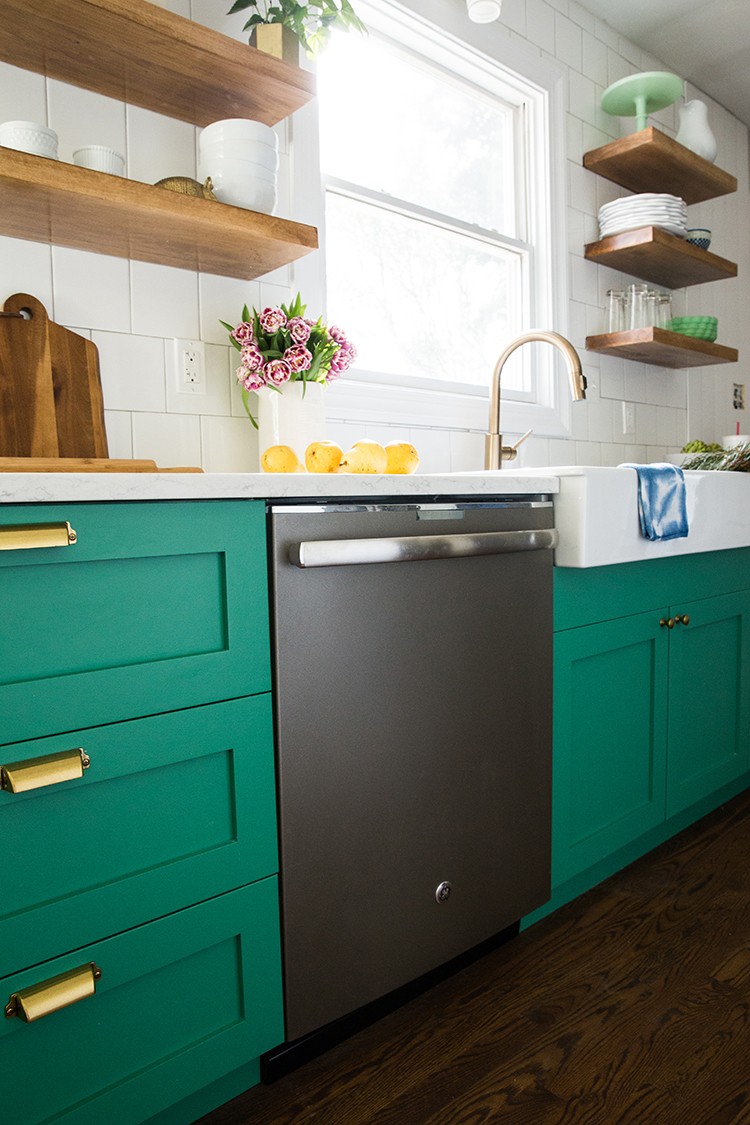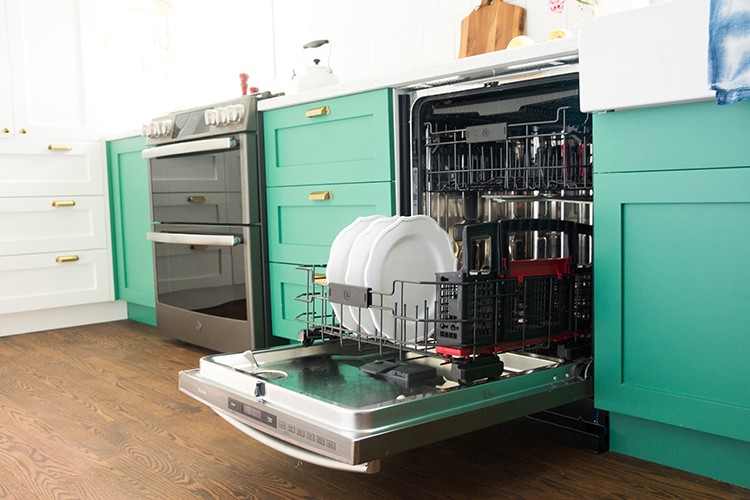 I love that the GE Profile Top Control Smart Dishwasher hides all buttons inside the top. My kids have a tendency to push visible buttons, and I found half-finished dishes multiple times in our last house when the cycle had accidentally been pushed off. In addition to the sleekness and simplicity of the design, the smart controls alert me when the cycle ends so I can stay on top of multiple loads.
The slate stainless steel finish looks amazing with my bright green cabinets. The dark finish is also a pretty contrast to the Martha Stewart Living 1 in. Bedford brass goblet cabinet knobs and 3 in. Bedford brass awning cup pulls I chose for the space.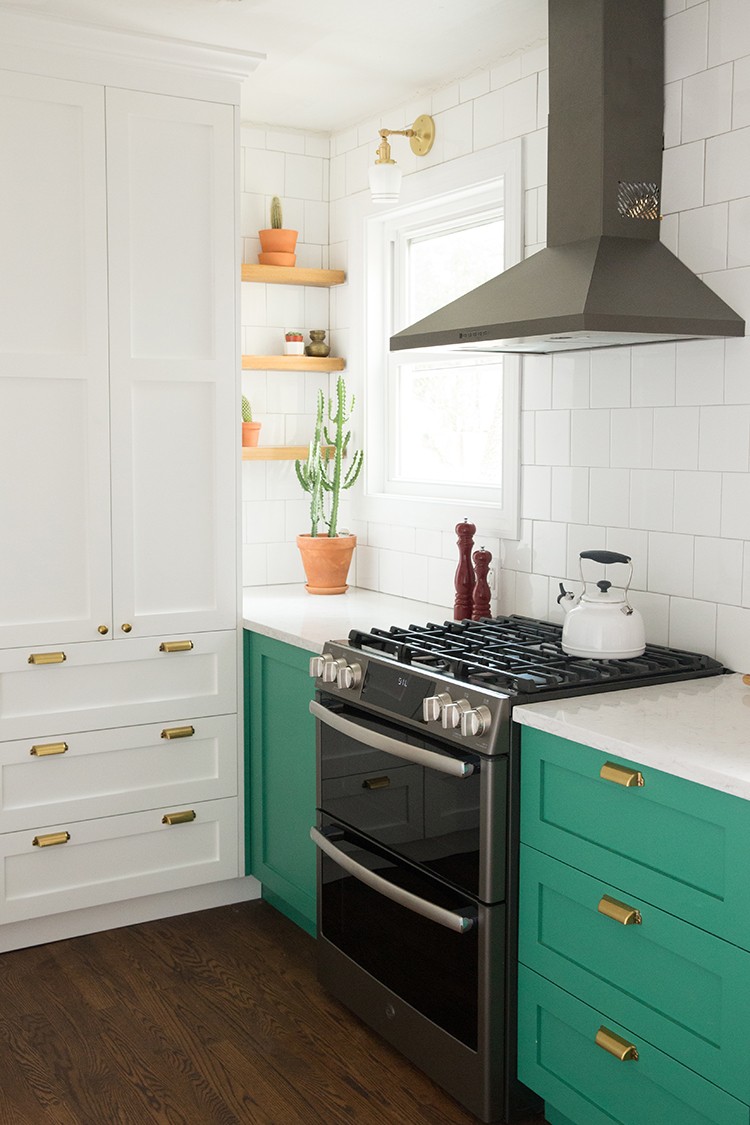 I have dreamed of double ovens for years, but in a small space, having two full-size built-in ovens doesn't make sense. This GE Profile 6.7 cubic ft. Slide-In Smart Gas Range with double ovens is a perfect solution, and the slate stainless steel is so dreamy. Each of the ovens operates individually, with a smaller top oven that heats quickly for weekly family meals. The larger, lower oven is perfect for when I'm entertaining or doing double duty of homemade pizza and cookies (not an unusual occurrence over here!).
The cooktop is gorgeous, with all front controls and a flat back, giving a very professional look. Five gas burners offer as much cooking capacity as possible with an optional center grill that I can add right to the top. I love the way the slate stainless incorporates the black cooktop and glass, darker slate body and light stainless controls. It looks right at home with my bright cabinets, light countertops, and white ceramic tile backsplash.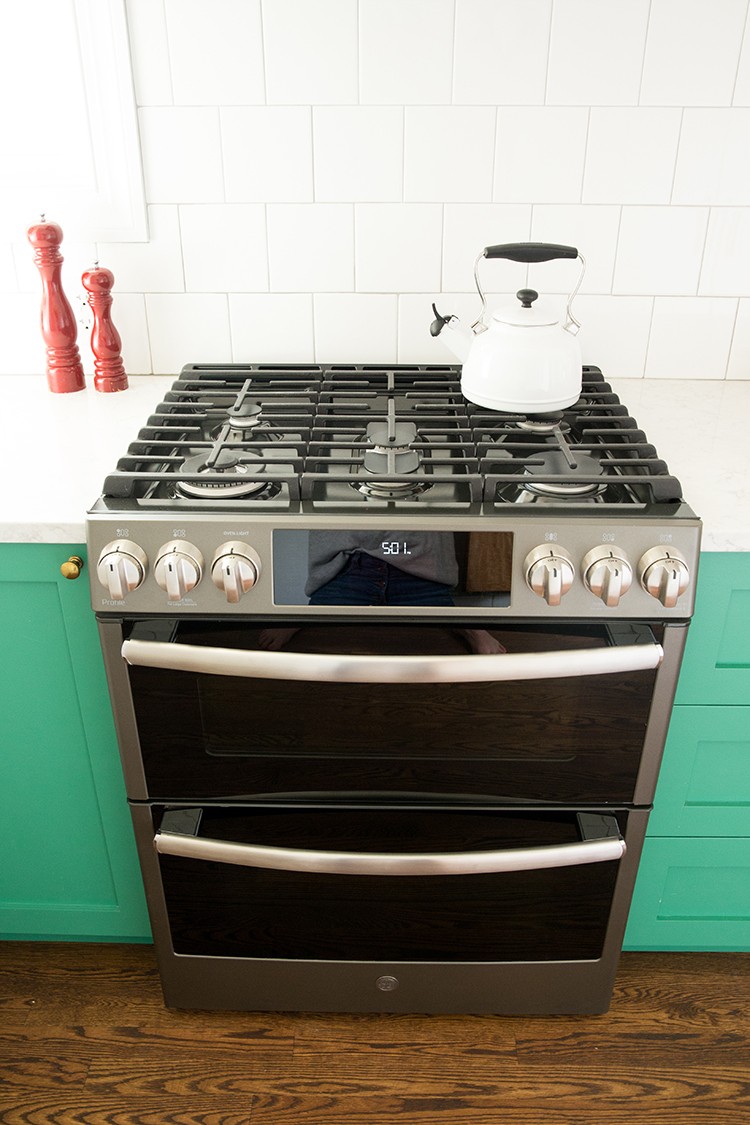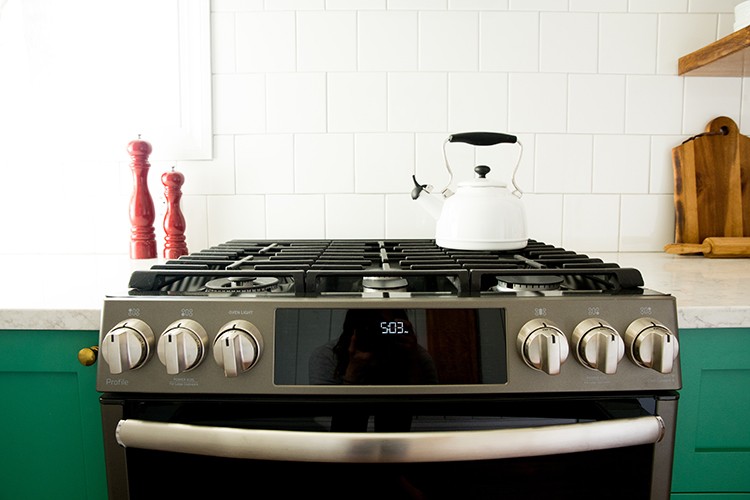 I love styling a range with a teapot, and this white Chantal Vintage Enable-On-Steel version from The Home Depot digital decor selection is perfect. It was also fun to add a couple functional and beautiful kitchen tools to the countertop near the range. These Poppy Red Peugeot grinders complement the other neutrals happening (and I've used them for 10 years!). I also loved the warm wood in this Rachel Ray Cucina Pantryware cutting board and BergHOFF bamboo rolling pin to echo the floating shelves and cozy-up the slate and white.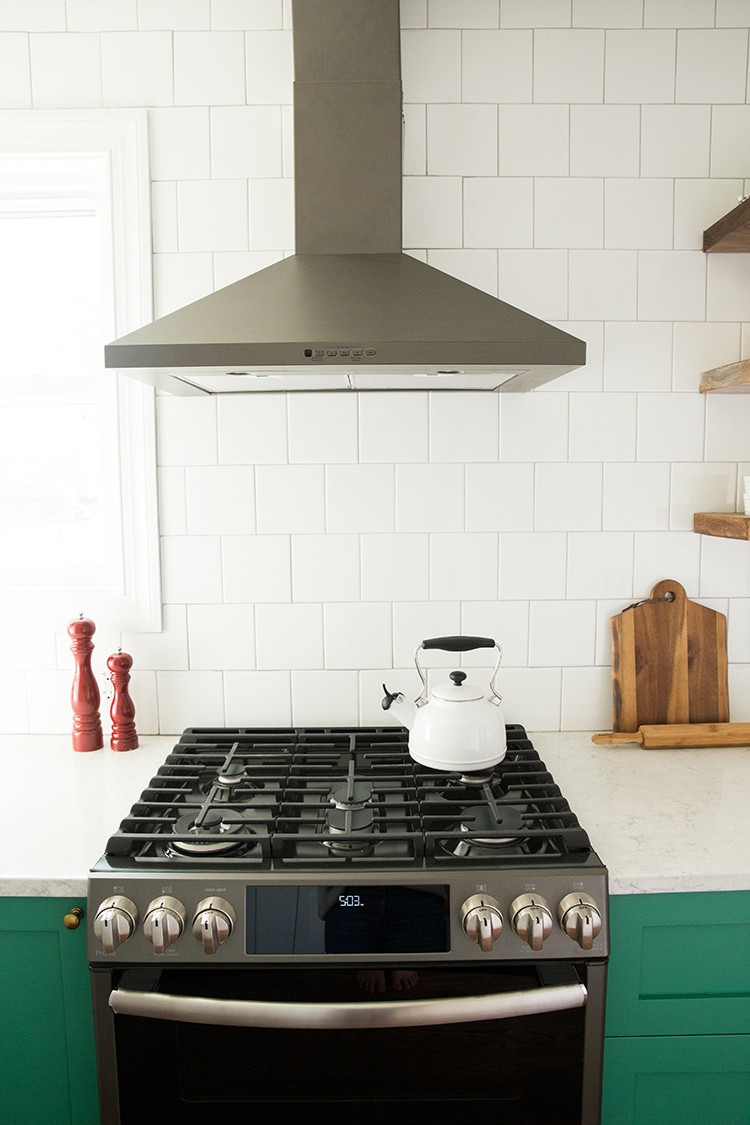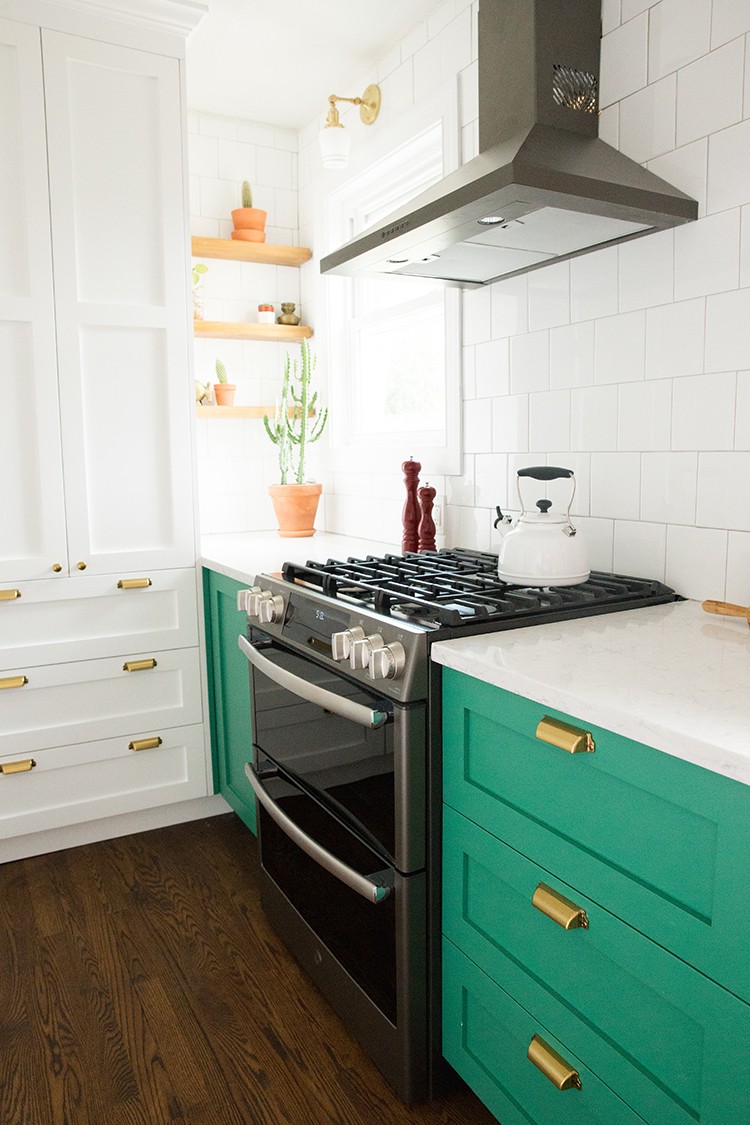 Rounding out the new appliances, this GE 30 in. Convertible Chimney Hood adds to the open feel of this small kitchen. With floating shelves on either side, the extending chimney continues the overall lightness of the upper walls. I chose a warm gray tile grout to complement and highlight the warm gray of the slate hood against the backsplash. The whole setup is so beautiful, and this hood also offers 4 speeds of ventilation and dual halogen light options to cover all of our needs.
I couldn't be happier with the way the whole kitchen design and remodel has come together (and after styling it all for this post I can't wait to move in!). The GE Slate Stainless Steel appliances help make a big impact in this small space, bringing depth, dimension and functionality to the design.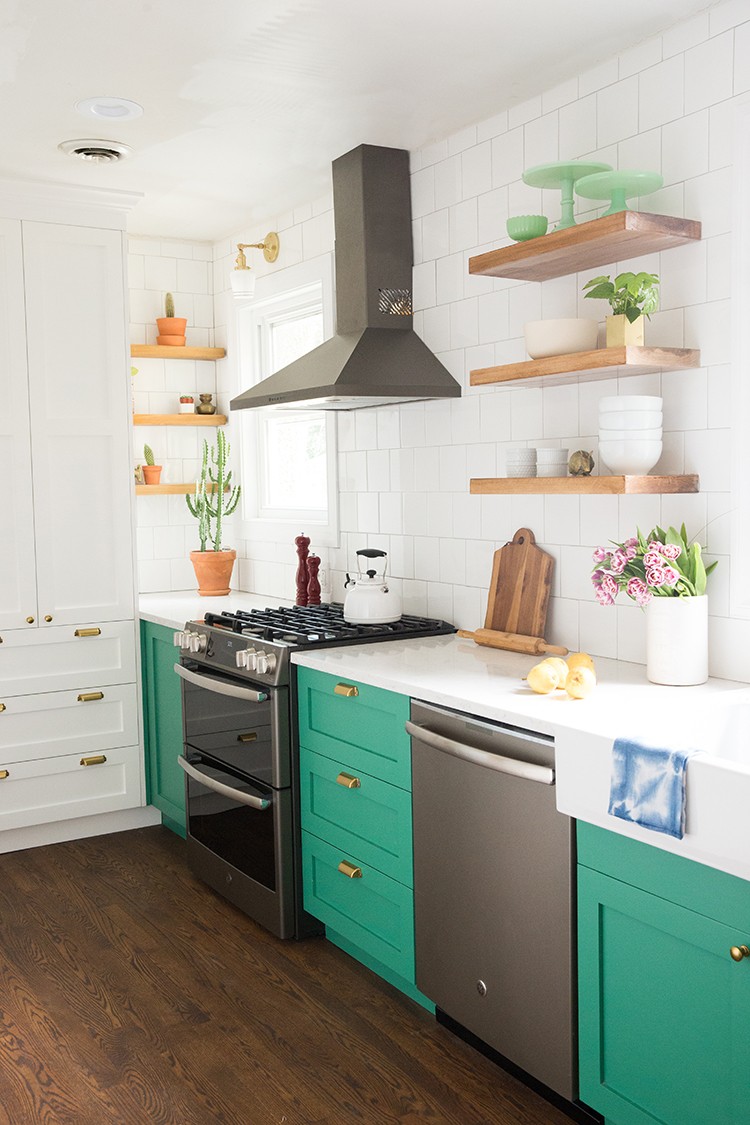 We have a few more weeks of work to finish up the house before we make it our home, and I am already happily anticipating the preparing, cooking and even cleaning that will happen in this beautiful kitchen with my family.
The post Making a Big Impact in a Small Kitchen with GE Kitchen Appliances appeared first on The Home Depot Blog.