Courtney Clymer of Lifestyled Atlanta liked her patio, but it was time for some improvements, especially in the area of patio privacy.
She added a lovely privacy screen, along with a new pergola, and a new patio set, and the space is transformed.
Patio Privacy Makeover with Pergola
A functional and pretty outdoor space is so important to me, especially living in Georgia where we have beautiful weather most months of the year. You'll remember that awhile ago we did a major patio makeover. While we loved the curtains and the lights above, the copper structure started to seem a bit too small and minimal for the size of our patio.
After brainstorming some inspiration ideas, we decided to build a DIY pergola for something more substantial and permanent feeling.
New Patio Furniture
I also really wanted some additional seating options, so I was thrilled when The Home Depot sent us this Hampton Bay Redwood Valley 5-Piece Patio Set with a fire pit in the middle!
I love everything about it; the seats are so comfortable, each person gets their own space, and the fire pit is a great addition. Plus, you can use it as an oversized table when you don't have a fire going. That allows ample space for drinks, appetizers, dishes and more. We have both the red and gray cushions and plan to switch them out seasonally.
The Patio Privacy Wall
We love our neighbors, but everyone can use a little privacy. So, we decided to build a slatted privacy wall on one side of the patio, which we plan to fill with potted herbs and spices. For now it adds a nice little privacy aspect while also giving some additional interest to the pergola.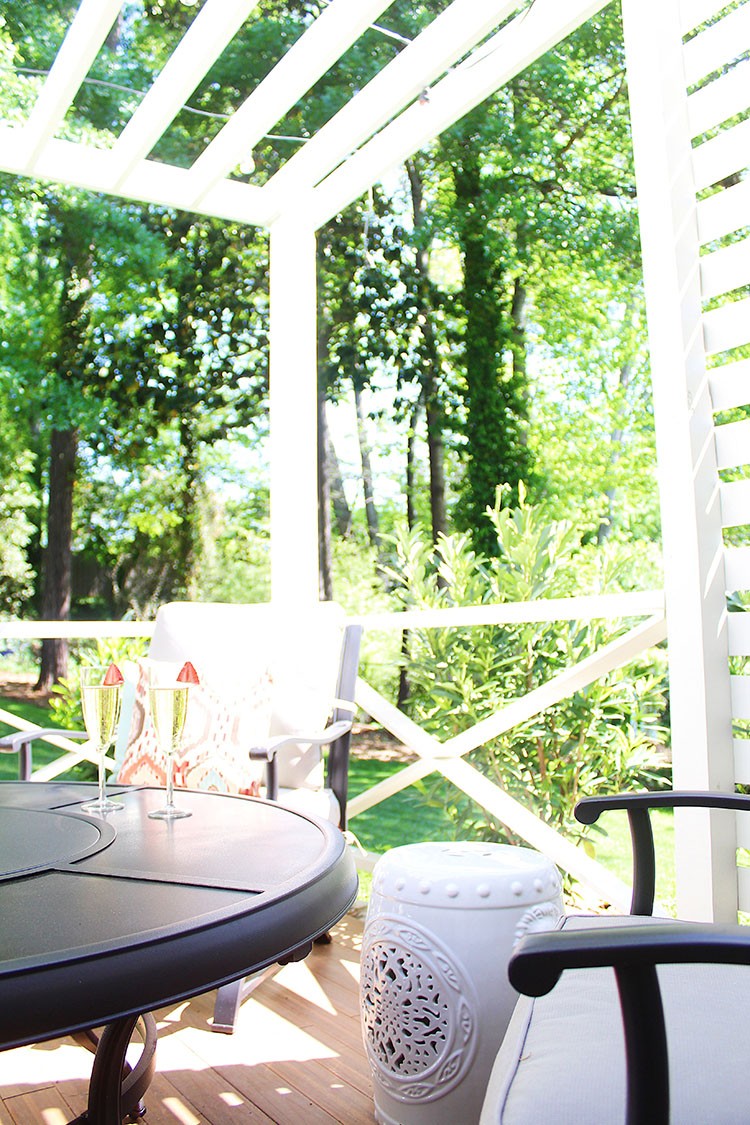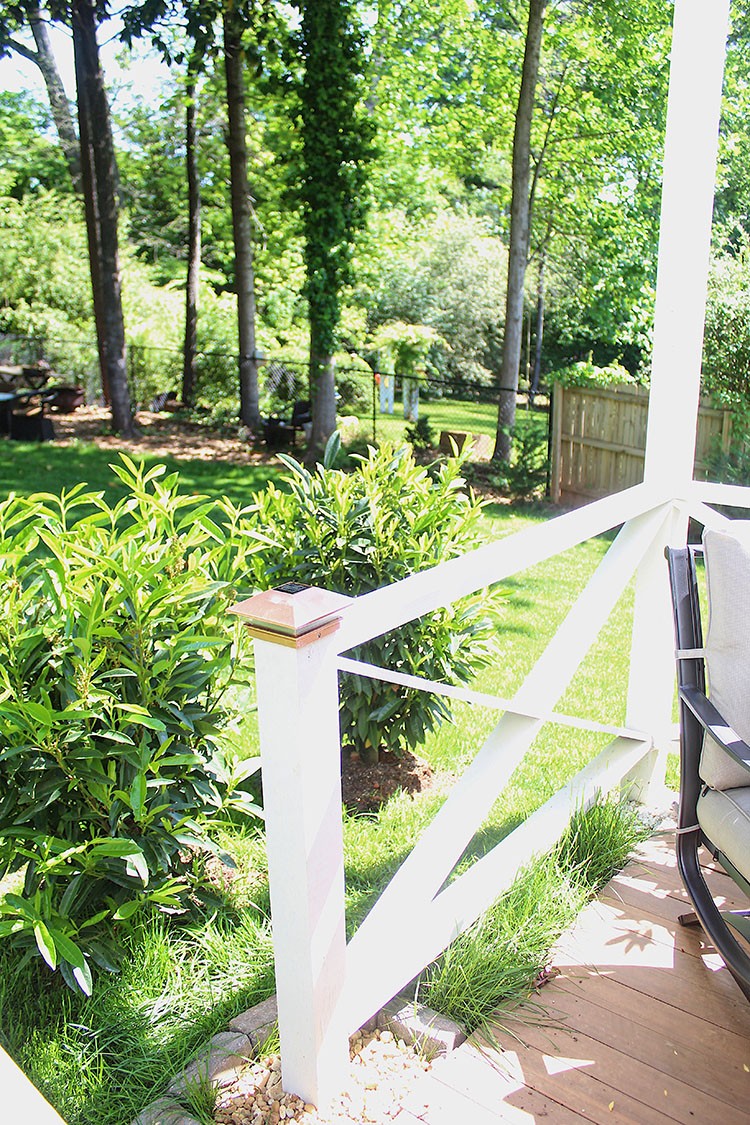 My husband Harrison came up with the barn-style "x" railings, and I absolutely LOVE how they turned out. He always impresses me so much with what he's able to envision and then bring to life, and this patio railing is out of my dreams. Not to mention, you can set a cocktail down on the top of the railing!
The copper post lights are solar and light up each night. They add a great ambiance, and I love how elegant the copper looks against the white.
The Deck Flooring and Planters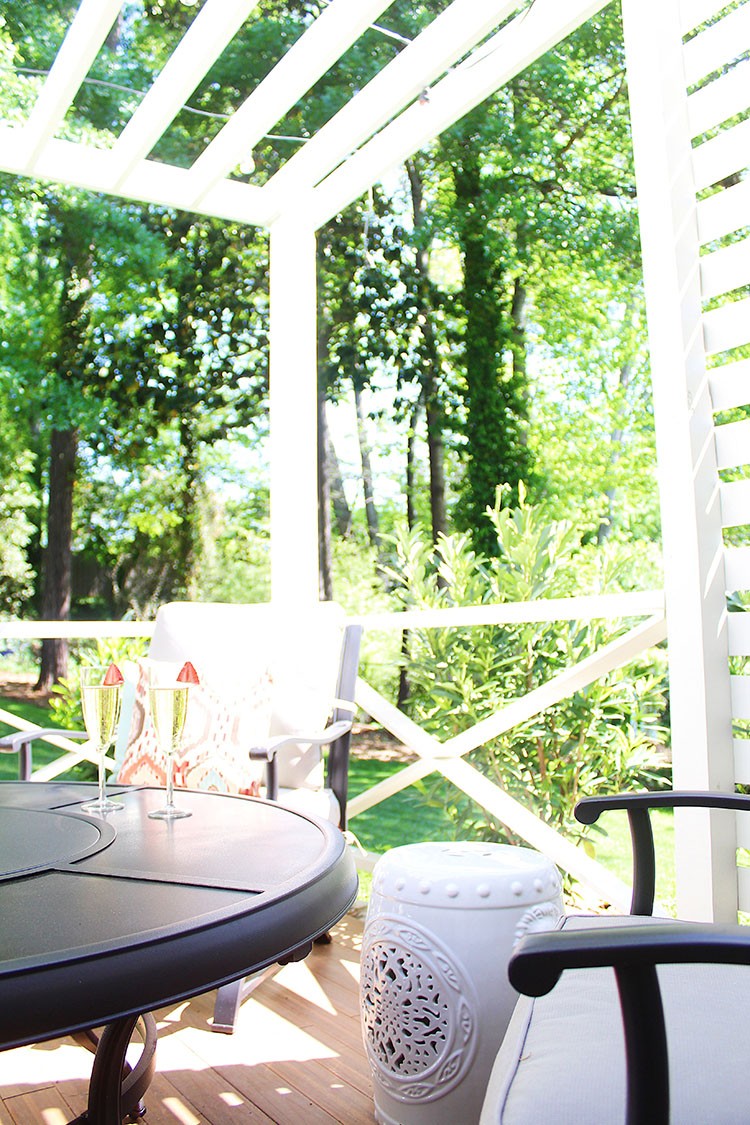 We still have our deck flooring, which has held up so well and we absolutely LOVE.
You can look back at the tutorial HERE.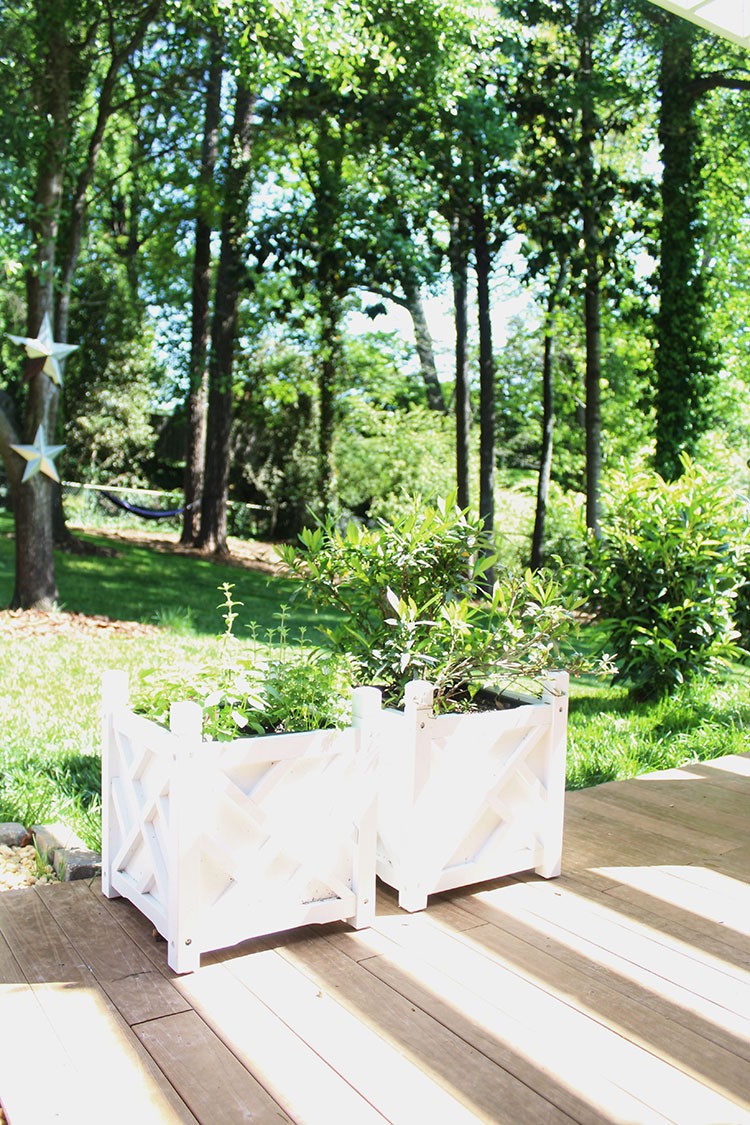 These chippendale planters are so pretty and the perfect size.
Patio Accessories
For the pillows, I combined ikat, stripes and plain blue.
We also swapped out our old lighting for this barn light which I love against the white brick.
Another essential to an outdoor entertaining space? A drink caddy. I love this galvanized metal tub that we've actually converted into a flower pot for the times we're not entertaining and serving drinks out of it.
I am all about a great garden stool and I love the detailing on these garden stools. I have them in between each seat so people can pull them up for extra seating, prop their feet up or set a drink down. We have already had many fun spring mornings and nights out here, and can't wait to continue!
The post Patio Privacy Makeover with Pergola appeared first on The Home Depot Blog.