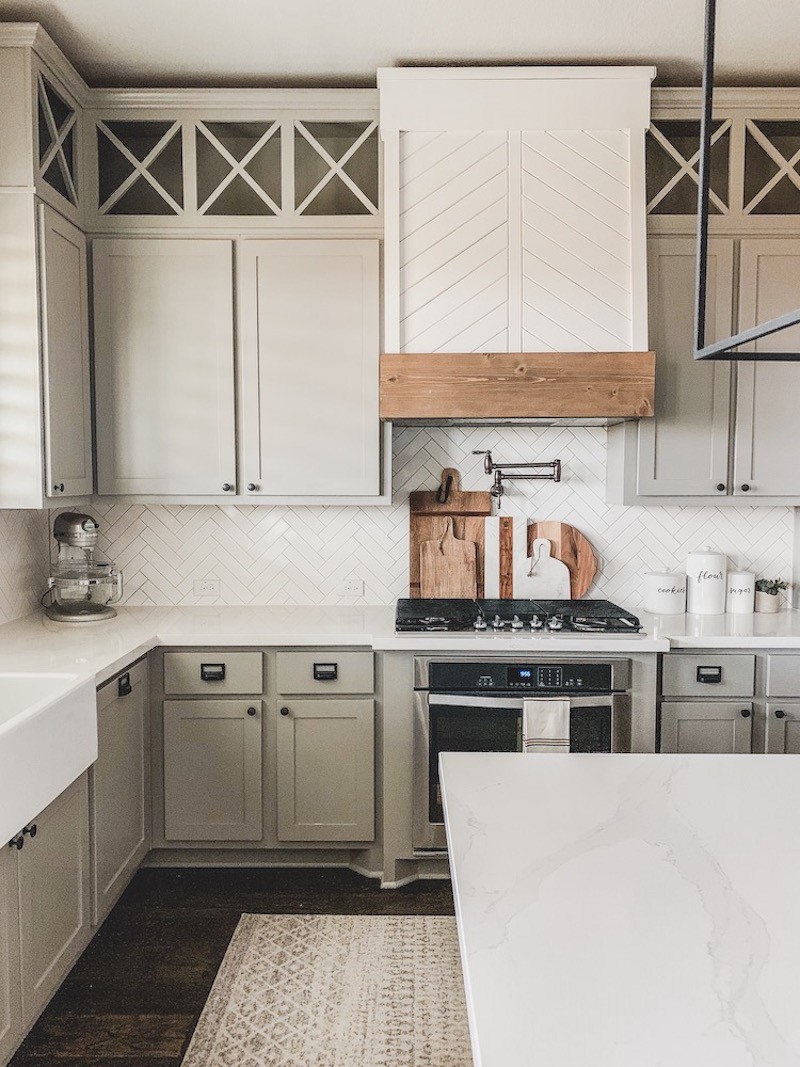 Easy, one-step quartz countertops can completely transform any room in your house. Holly and Brad Lauritzen from
Our Faux Farmhouse
were able to install a set of Silestone quartz countertops to coordinate with their laundry room and ultimately perfect their favorite room in the house. Read on to learn how you can work with The Home Depot to tackle projects in your kitchen.
Quartz Countertops for a Modern Farmhouse
It all started with a little laundry room re-vamp last year. It always seems to happen that way. We had The Home Depot install Calacatta Gold Silestone quartz countertops in two little sections of the laundry room. We absolutely loved it, craving more of it in our home!
The kitchen was the PERFECT place for us to stare at it all day long. The previous granite was fine, but earlier last year we installed a built-in banquette and were never able to find the original granite to top it with. After months of searching we found out that it had been discontinued. In order to make the kitchen flow and not feel choppy with mis-matched counters, we decided that this would be the perfect place for the Silestone quartz countertops we loved so much in the laundry room.

Choosing a Counter That Works For You
Selecting the right counter for our family and lifestyle was important to us. In our journey to find matching countertops last year, we did a ton of research on all types of counters. We loved the look of Carrara Marble but didn't feel as though our young family could handle the maintenance and care that true marble requires. It is a beautiful material, but we knew we'd be unable to keep up with the demands. However, that didn't mean we had to forfeit the beauty of that natural stone.
Silestone Quartz is a man-made material with a non-porous surface that offers superior performance against staining, scratching, and scorching. It is maintenance free, with no sealing or special cleaners required. And because it's non-porous it offers a unique combination of antimicrobial, NSF, and Greenguard certifications. All of these specifications sounded perfect for our family! A low maintenance surface that bacteria and viruses couldn't live on sounded extremely appealing to us!

What to Expect After Selecting Your Quartz Countertops
Shortly after you place your order for the quartz countertop, a Home Depot representative contacts you to schedule a "template appointment." At this appointment, a skilled technician takes exact measurements and draws templates for your space. He also goes over all of the preparatory instructions for install day. He'll also be able to give you a timeframe for how long fabrication will take (generally three to six weeks). Once fabrication is complete you will be contacted to make an appointment for install. Depending on how big your space is, you'll want to plan to be home the better portion of the day.

Install Day 
The night before install day we cleaned out all of the lower cabinets and drawers as instructed. Most times you will find debris from counter removal, tear out and install of the new material.
Planning to Keep Your Existing Backsplash?

One of the first things we did when the installer arrived that day was reminded him that we would be keeping our existing backsplash, so to be gentle during rip out. They cannot guarantee that the backsplash won't be damaged, but we have found that in both times working with The Home Depot on countertop install the installers are always as gentle as possible, resulting in less repairs for us after they leave!
Out with the Old, In with the NEW!
One of our favorite parts about selecting counters through The Home Depot is that they often times have sales running for their kitchen counter surfaces. One that is currently running in our area (Austin, TX) is a free-edge upgrade. This means that you can purchase a 2-cm slab and have them upgrade the edge (for free!) to appear 4-cm thick. This is a great way to save money but still have the look of a thicker slab! (Check your local Home Depot for their current promotions.)
We love working with The Home Depot for installations because we always know they will do a great job. They handle everything with care, cleaning as they go and constantly seeking your opinion to ensure you're a part of the process and pleased with how it's going.
New Countertops That are Built to Last
We couldn't be happier with our decision on the low-maintenance Calacatta Gold Silestone quartz countertops from The Home Depot backed by a 25-year warranty. The light gray veining allows for the perfect pop against the clean white surface. It adds just enough warmth and character without moving too far out of that "timeless" category.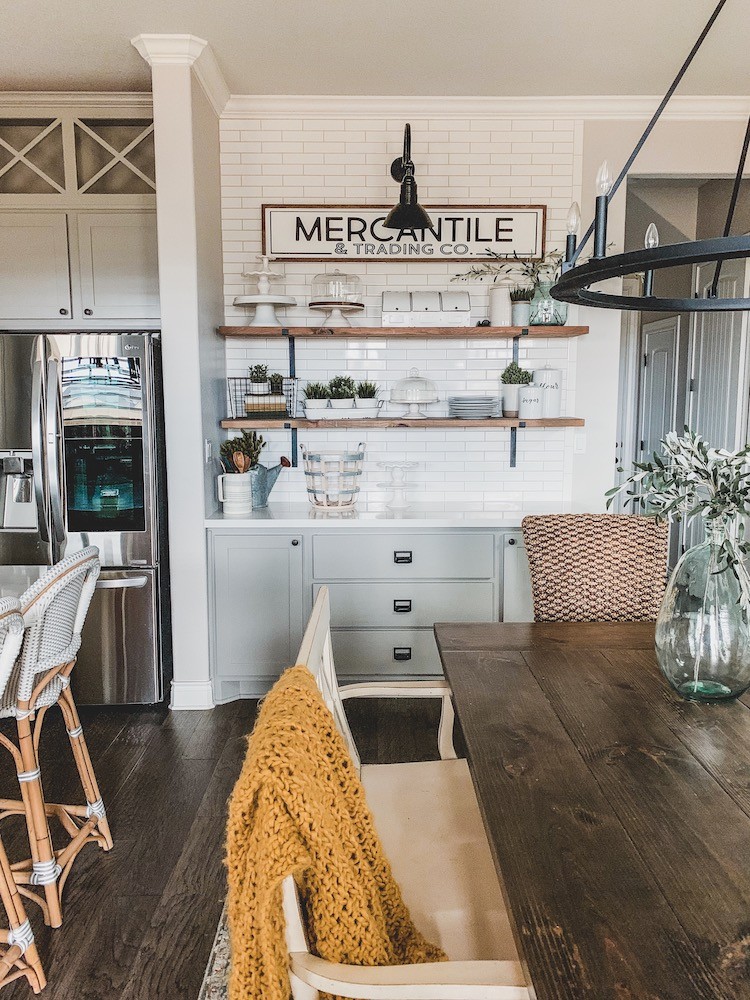 Our little banquette (who was the troublemaker all last year) suddenly became the hero for nudging us to go with full quartz in the kitchen.
First the laundry room, then the kitchen… what's next? I suspect that over time we will slowly be converting the entire house over to our new favorite material.
Holly and Brad are hubby and wife DIYers transforming a suburban "spec" home into their faux farmhouse on a budget. They conquer one room at a time and bring their readers along for the ride. Just because it's an inventory home doesn't mean it can't have oodles of character, and Brad and Holly will show you how! From herringbone feature walls, to decorative cabinet boxes and wood working galore, these two tackle just about anything.
The post Quartz Countertops for a Modern Farmhouse appeared first on The Home Depot Blog.