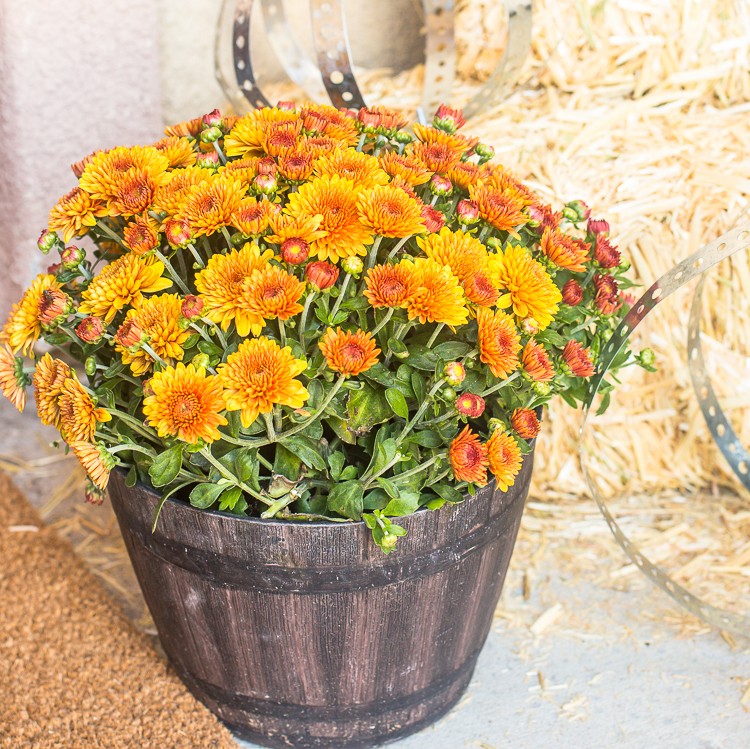 Maryann Caballero of Domestically Speaking can't wait for the temperature to drop in her Southern California neighborhood because that means she gets to decorate for the fall season. As a part of this years Halloween and Harvest Style Challenge series, Maryann decorated her front porch with Harvest decor.
Read on to find out how you can combine rustic and industrial fall porch decorations to transform your front door and boost your curb appeal.
Rustic Industrial Fall Porch Decorations
Fall is my favorite time of year. After enjoying the beach and the hot temps we get in Southern California, I am always ready for chilly nights and cooler days to return. Our front porch is usually the first area that I start to decorate. Once we pass Labor Day, my neighbors get to enjoy (okay, endure) my fall decor while it is still 90+ degrees. Hey, if kiddos are in school, the fall decorations are coming out. So let me share my rustic industrial fall porch decorations with you.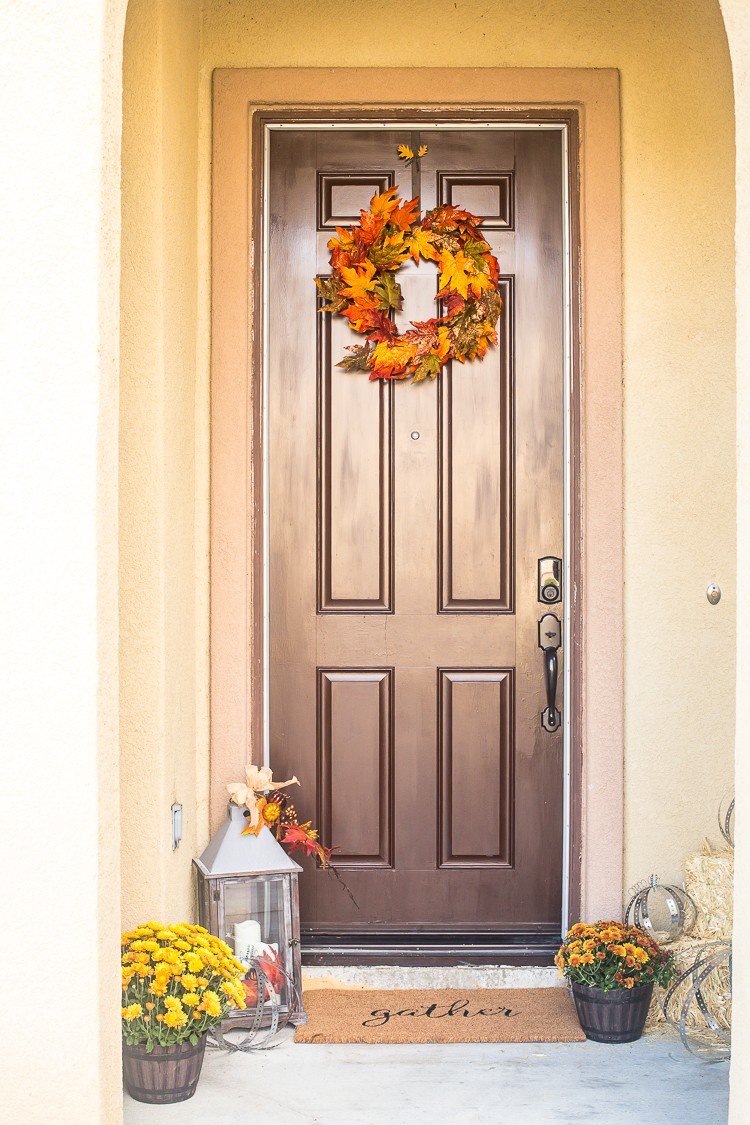 We have a small porch, but enough space to create a welcoming fall area.
---
Fall Wreath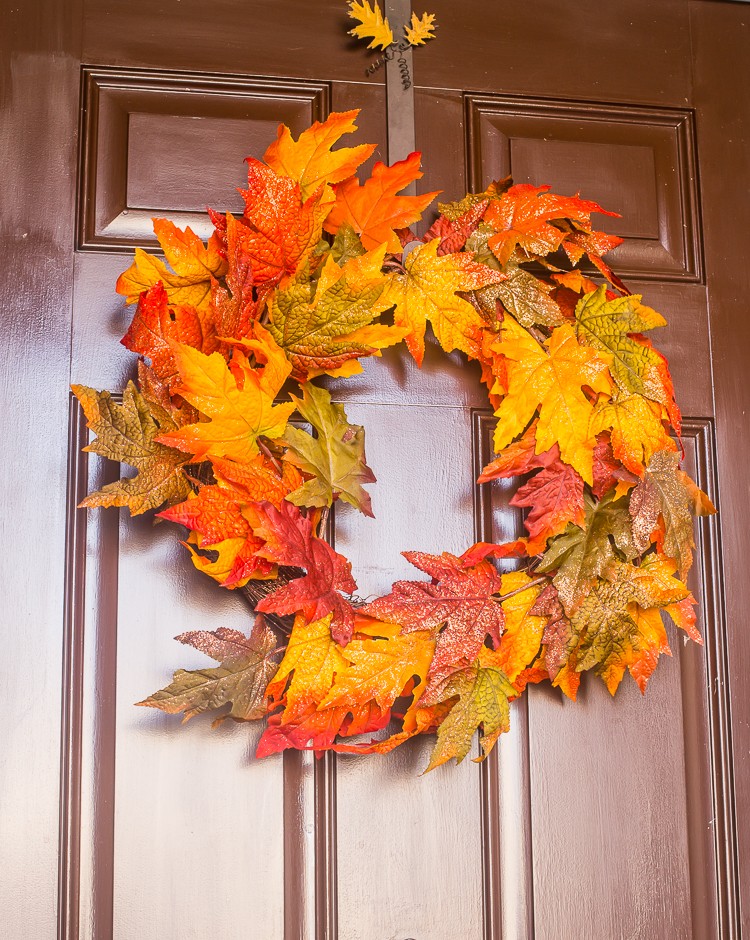 The first fall goodie that went up was this gorgeous Fall Foliage Wreath. The fall colors are spot on and I love the shimmery sparkle of the leaves.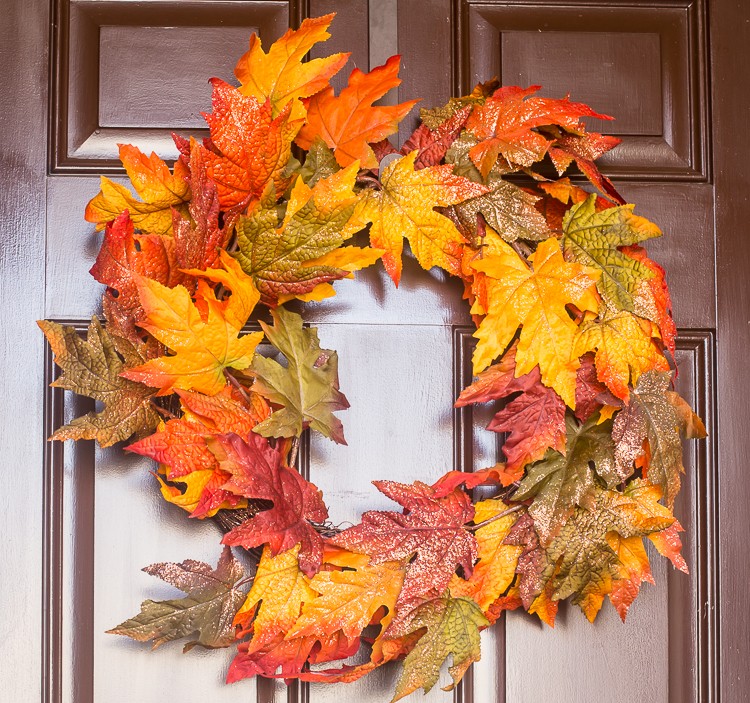 There is just something about red and orange leaves that leave me giddy!
---
Front Door Fall Decor
When brainstorming my porch I knew I wanted hay, mums, some metal pumpkins, a giant lantern and a cute DIY doormat.
You can find these perfect sized bales of hay at The Home Depot. I grabbed two so I could stack them and create some levels for putting the pumpkins on. Hay is a great way to instantly create a fall look.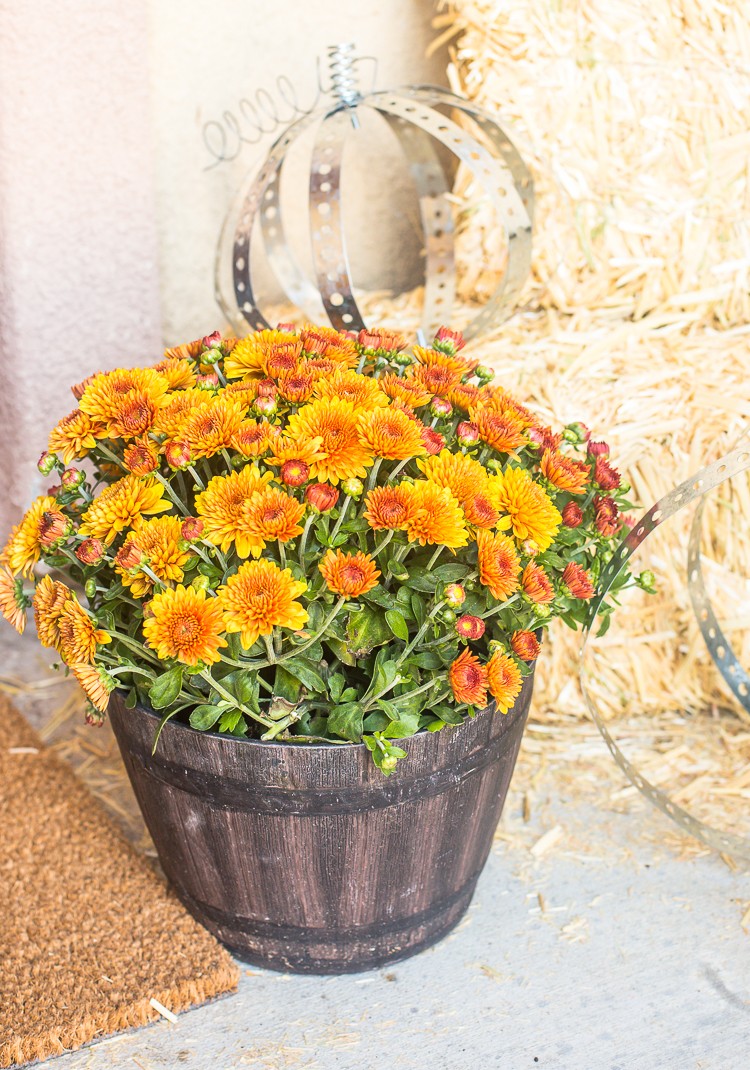 This year, I noticed The Home Depot had these gorgeous mums in containers that look like wooden barrels. Perfect for the rustic element I wanted. They are plastic, but really look like wood.
They had a variety of colors in the mums, but I went with red and yellow tones to match the leaf colors in the wreath.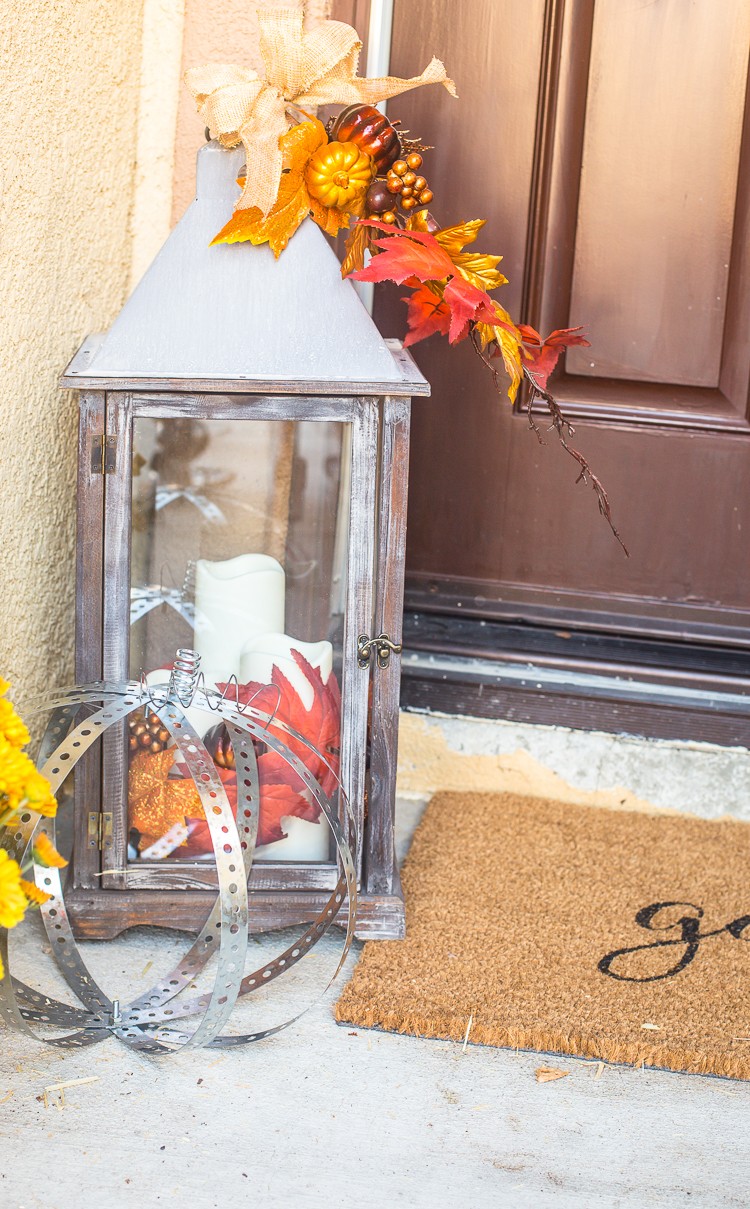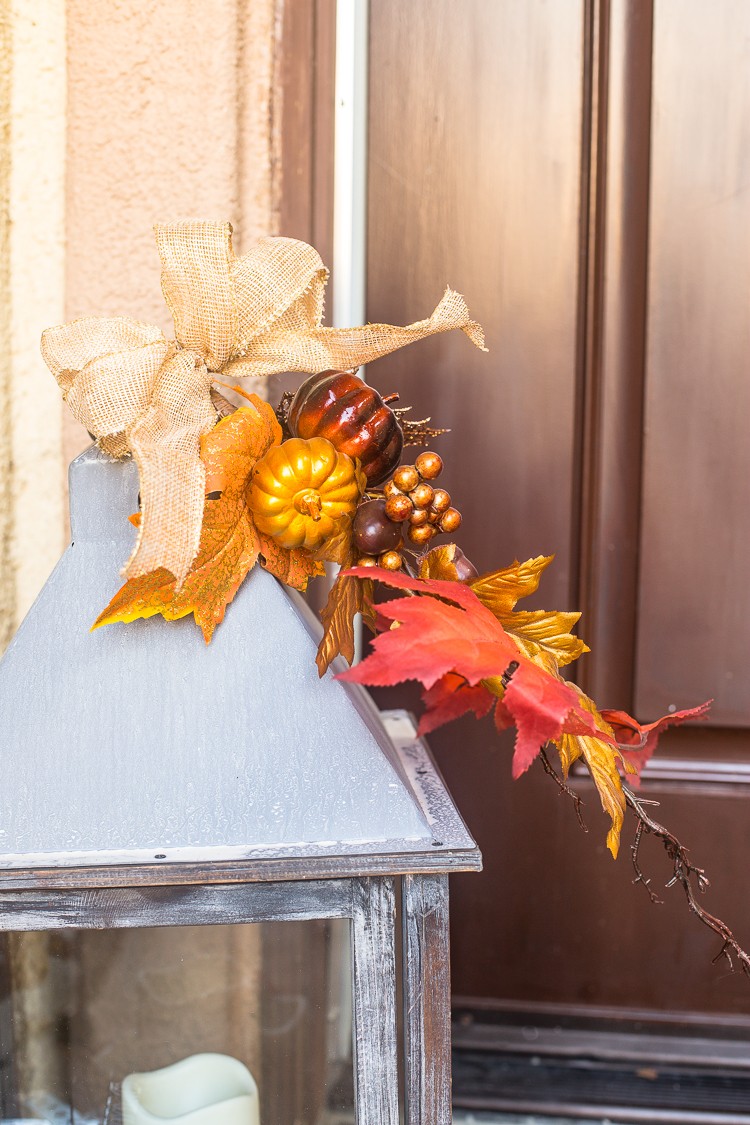 I placed the giant lantern on the left side of the doorway to balance out the bales of hay on the right side. This Weathered Wood and Metal Lantern is awesome and huge. The candles are battery powered so it's just gorgeous at night!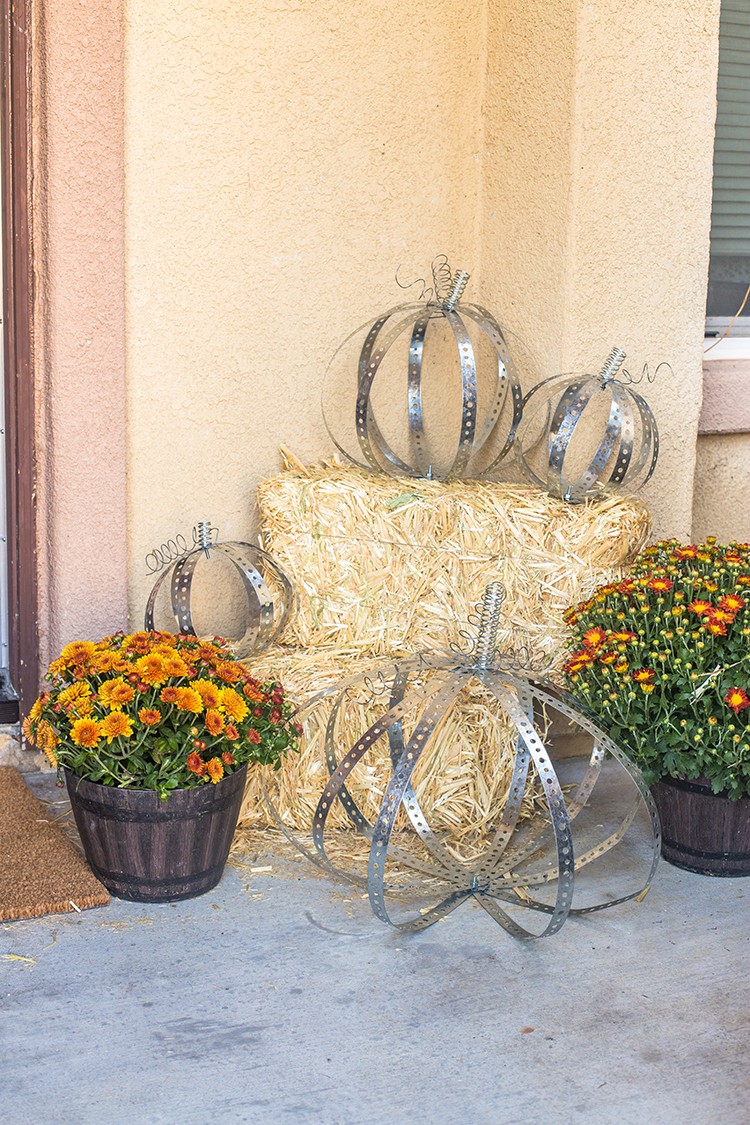 Then it was time to add my DIY industrial, metal pumpkins. I made a variety of sizes and placed them around at varies heights. Creating levels helps to create a cohesive look. It keeps your eyes happy as you take it all in!
---
DIY Gather Door Mat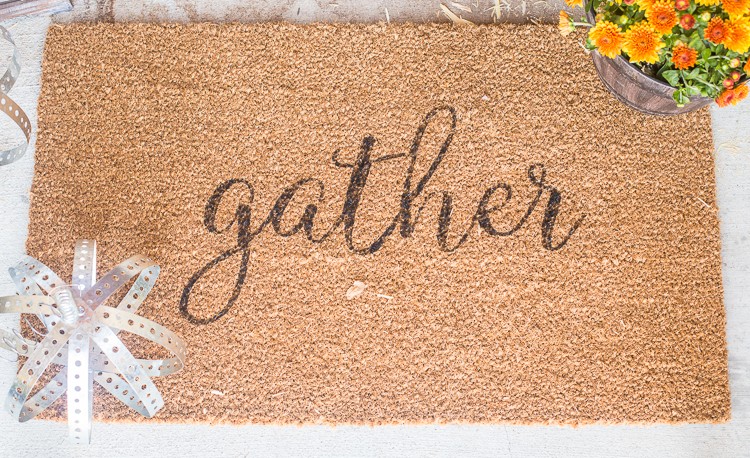 Now for the final touch, my Gather doormat. Here's what you need to make your own custom DIY Doormat.
---
Materials
Coir

and Vinyl Door Mat

Freezer paper

X-acto

knife

Acrylic

patio paint

Foam

paint brush
---
Step 1
This was a fun DIY project. Now I don't have a fancy cutting machine, so let me show you how to create your own doormat without one.
My secret weapon – freezer paper! Yep, you can find it most grocery stores near the aluminum foil. I started by creating the size of the wording in a word document program on my computer. After measuring your doormat decide how big you want your wording to be and create a custom size document. Once you pick the font and size, you want to print in "poster" mode. This will print the lettering over multiple pages so you get it the size you want. Take your papers and tape them together to create your word. Now it's time for some fun!
---
Step 2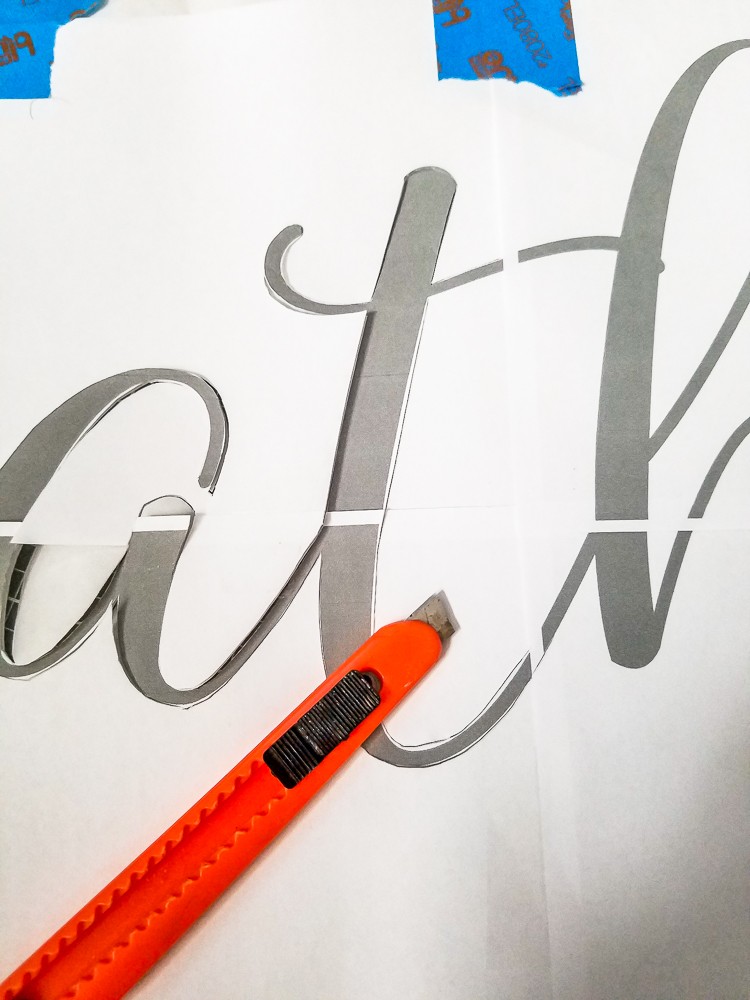 Cut a piece of freezer paper that is longer than your wording. Now if you look at the freezer paper you will see one side is shiny and the other side is a matte finish. Place the freezer paper shiny side down on a surface you can cut on. Then using painter's tape, tape the wording on top of the freezer paper.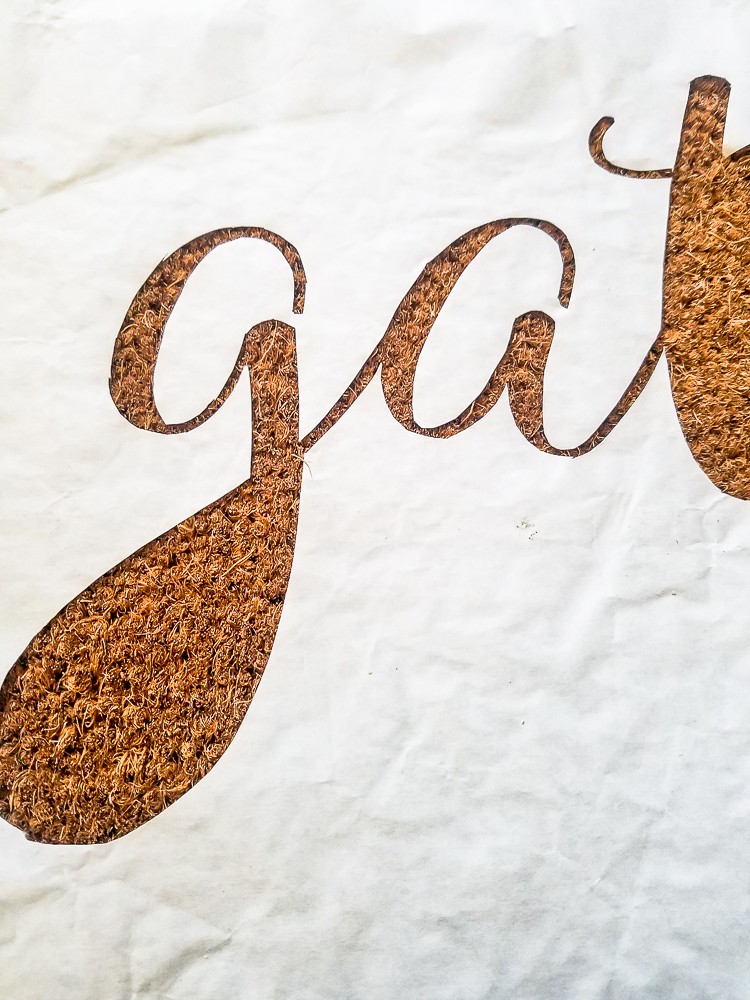 Now you will need an x-acto blade to cut out the lettering. You are basically creating a template with your freezer paper. Slowly and carefully cut out the lettering. Remember you need to keep the center of your letters, like in your "a", etc.
---
Step 3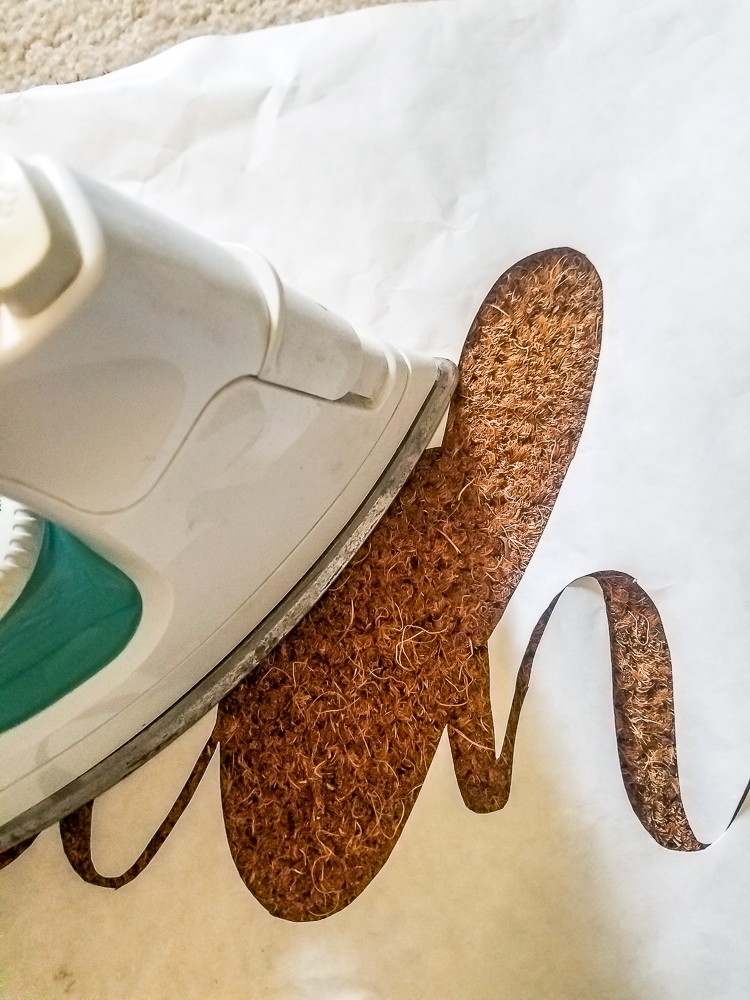 Once you have your "Gather" cut out you are going to lay your freezer paper (with the gather cut out of it) on top of your doormat with that shiny side still faced down. Center it where you want and then use painter's tape to secure it.
Then you will take a dry, high heat iron and gently press on top of the freezer paper and it will stick to the doormat. Don't drag the iron across. You want to press the iron for about 3 to 5 seconds in an area, lift and move to another area then press that area for 3 to 5 seconds. Continue until you have the template secure. Remember to add those center letter area cut-outs with that shiny side side and iron those on.
---
Step 4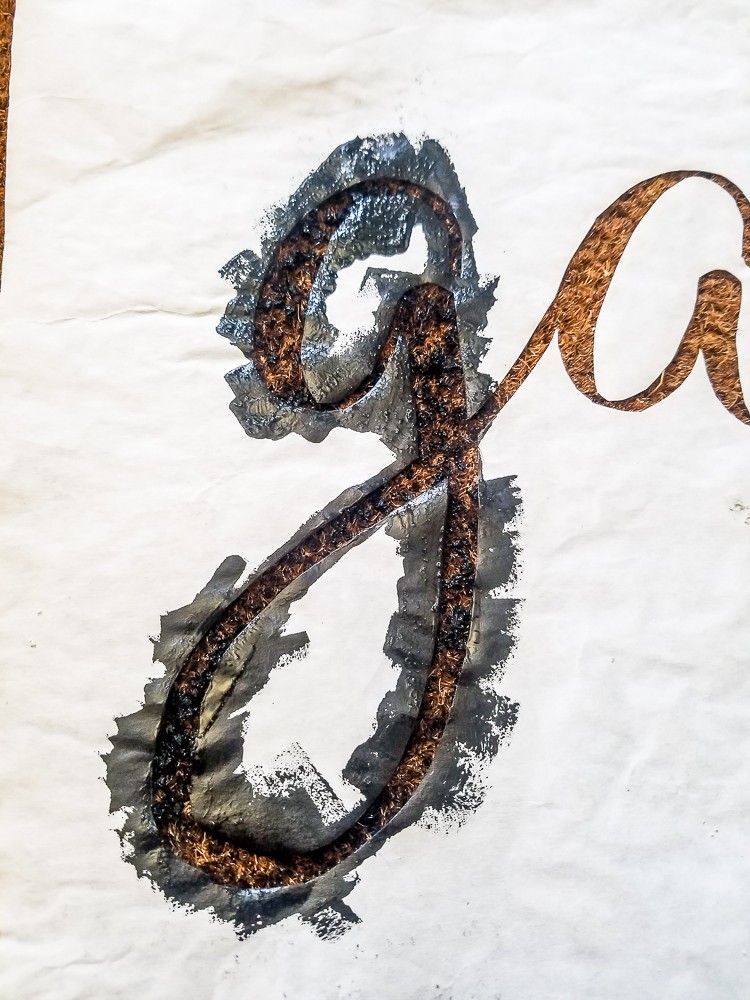 Then I used an acrylic patio craft paint (you can find it in some Home Depot stores or online) to paint the lettering. With a foam brush dab the paint onto the open area of the template. Make sure you only have a little paint on the brush and you want to pounce – up and down motion – with the brush… don't swipe or you can lift those ironed down edges.
Once you've completed the painting let it dry about 30 minutes and then slowly lift and pull off the freezer paper to reveal your gorgeous new custom doormat! How fun was that?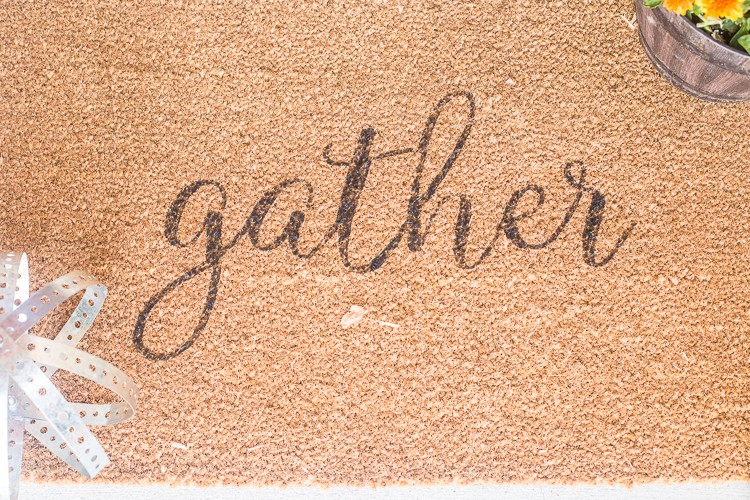 This DIY Gather Doormat was the perfect finishing touch to my rustic and industrial fall porch decorations.
The post Rustic Industrial Fall Porch appeared first on The Home Depot Blog.