If you're fortunate enough to have a she shed in your backyard, maybe it's time for a little she shed update? (And if you don't have a she shed, yet, it's time to make that happen!)
Katrina Sullivan, of Chic Little House, has one of the best she sheds ever created, but she wanted a new look for it. After some fresh paint, some new plants and new wooden step, her she shed was better than ever.
She Shed Update
A couple of summers ago I teamed up with The Home Depot, and TUFF Shed to transform a shed into a she shed for my backyard. My vision was to have my very own backyard studio for blogging and all my creative pursuits.
My husband and I put in a lot of long days working the backyard she shed project. We dug a trench for the electrical, insulated the shed, had our friend hang drywall for us, installed vinyl flooring trim and painted. You can read more about my shed project here.
I love my she shed. Having my own dedicated creative work space has been so rewarding and particularly since small I'm a home dweller where space is at a premium. After having it for a couple of years, though, it was time to spruce it up a little with a special she shed update. Call it curb appeal for the backyard.
---
Before the She Shed Update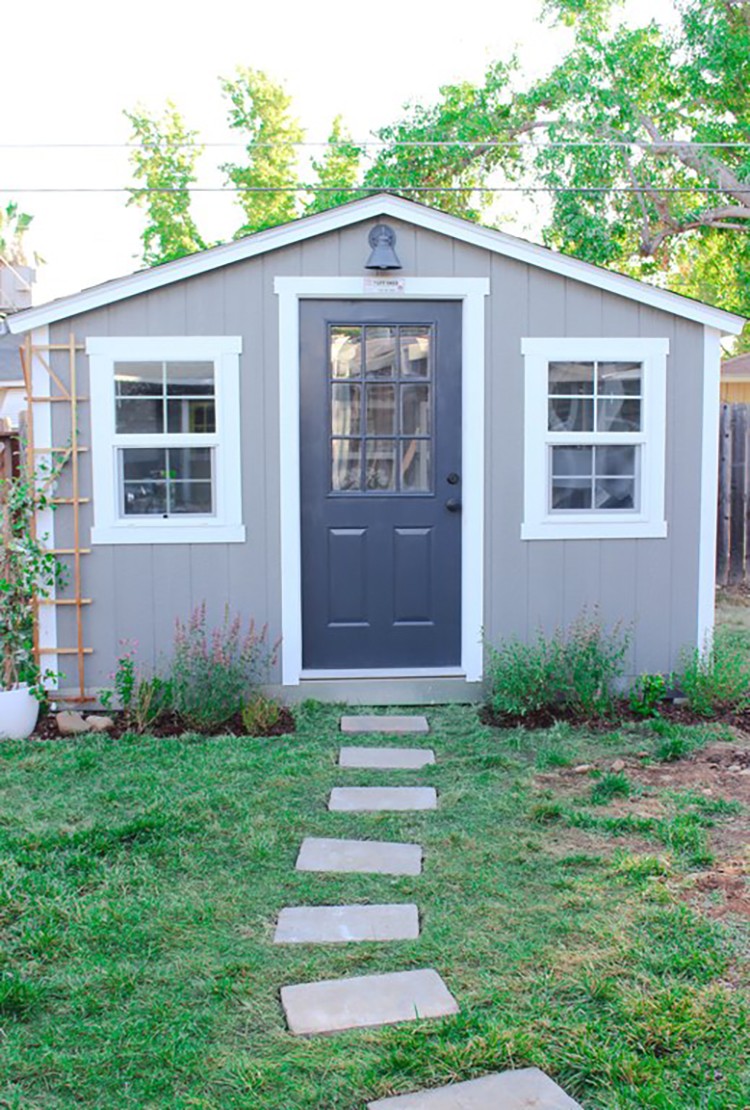 ---
After the She Shed Update
My plan was to my give my she shed more of a garden cottage look.
I'm so excited to share the before and after today along with the projects I tackled.
---
Paint and Hardware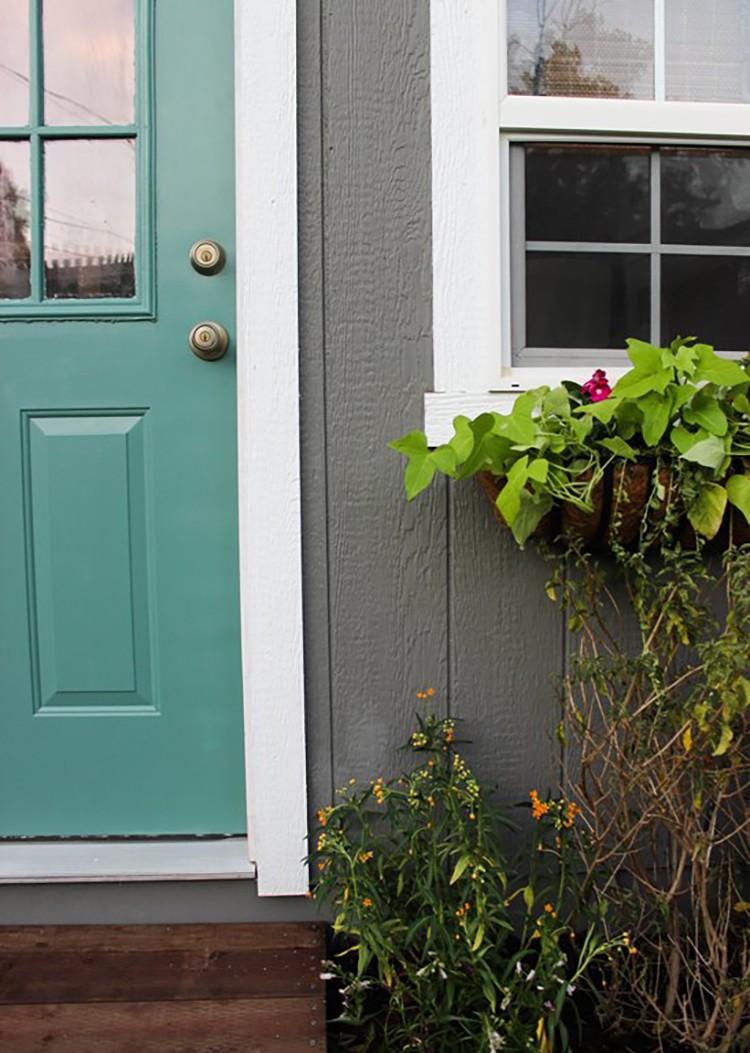 First on my list for the she shed update was re-painting the door. While I love the gray color of the door, I was ready for something different.
When I first started looking at paint colors for my door, I landed on a shade of mint. I painted my cottage door mint, but quickly realized the color wasn't for me. I tested three more swatches all in the blue-green color family and decided on Northern Green Woods by Glidden. Read more about my door color process here.
I'm in love with the new door color it looks incredible with my white trim and dark grey siding. It's such a lovely color! I painted the door on the cottage using a combination of small sponge roller and paint brush. The paint finish came out so beautiful and smooth.
I love the idea of mixing metals and decided to replace the door hardware with Kwickset Antique Gold Hardware; Installing the new door hardware was surprisingly easy! I adore how well antique gold hardware compliments the new door color. Life is too short for a boring door color; don't be afraid to paint your front door a pretty color!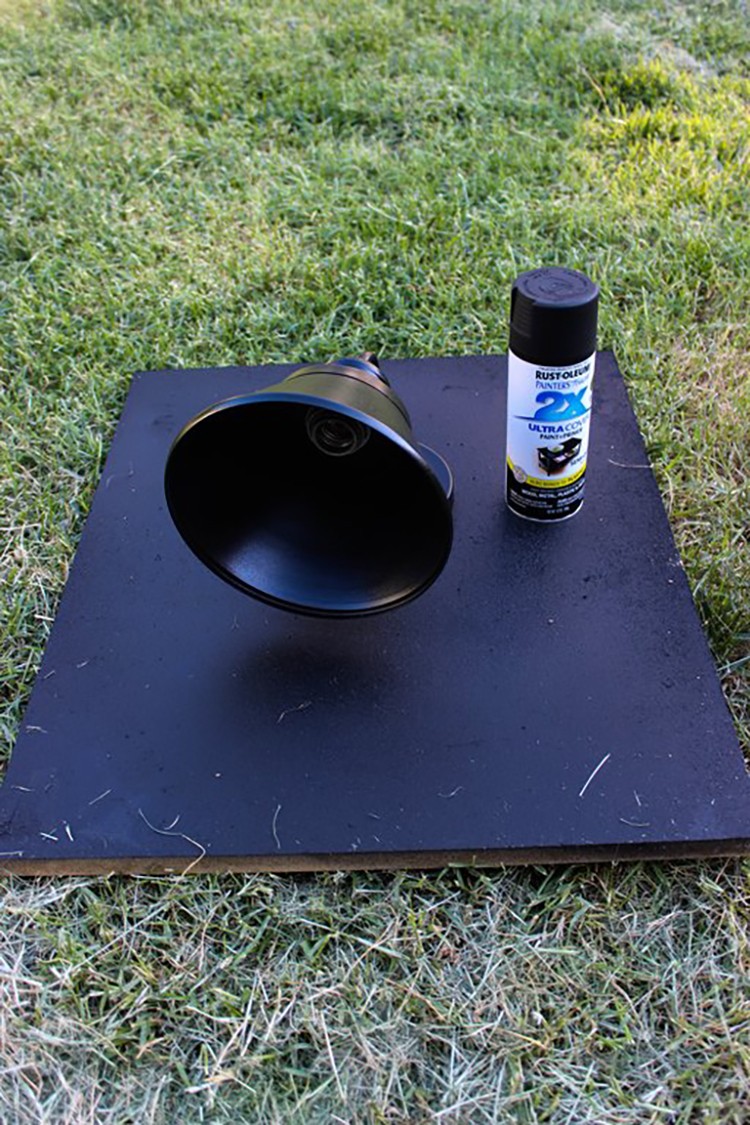 After installing the new door hardware, I decided to remove the light fixture above the door and update it by spray painting it black. As I mentioned, I love mixed metals and love how the black light fixture looks paired with antique gold door hardware.
Outdoor fixtures can get faded by the sun, but spray-painting them is an excellent way to give them a new life and update the look. The light fixture turned out so good!
---
Plants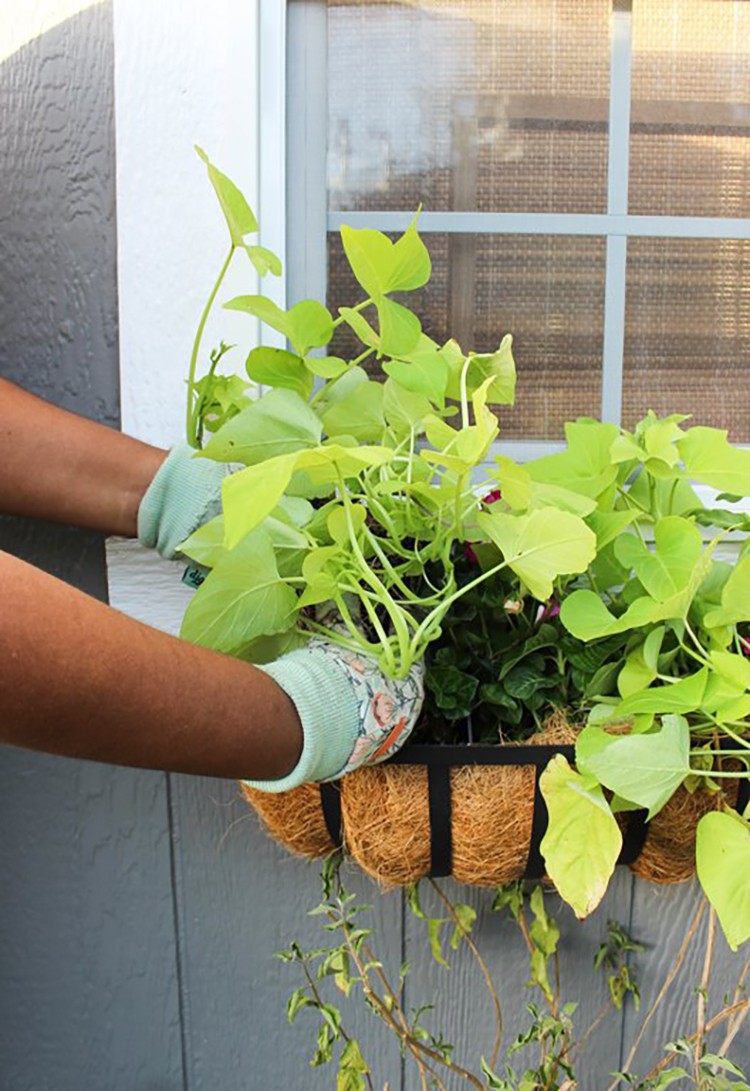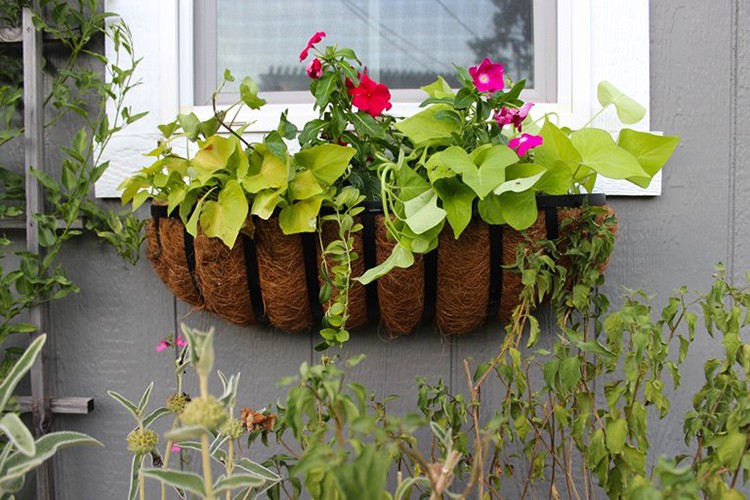 I like how window planters add so much charm and color on exteriors. After spotting the Flat Wire Horse Trough Planters with coconut liners at my local Home Depot store, I knew they would be a perfect for my she shed update.
I installed the window planters under the window trim. I selected a mixture of colorful plants for the planters; potato vines for a pop of lemony color, English ivy vines, and vinca flowers. Before planting the flowers, I did a test run with them making sure I liked the pattern layout of the plants. On the ends and center, I planted potato vines, then vinca flowers and English ivy vines.
I love all the color and interest the window planters add to the exterior of the cottage.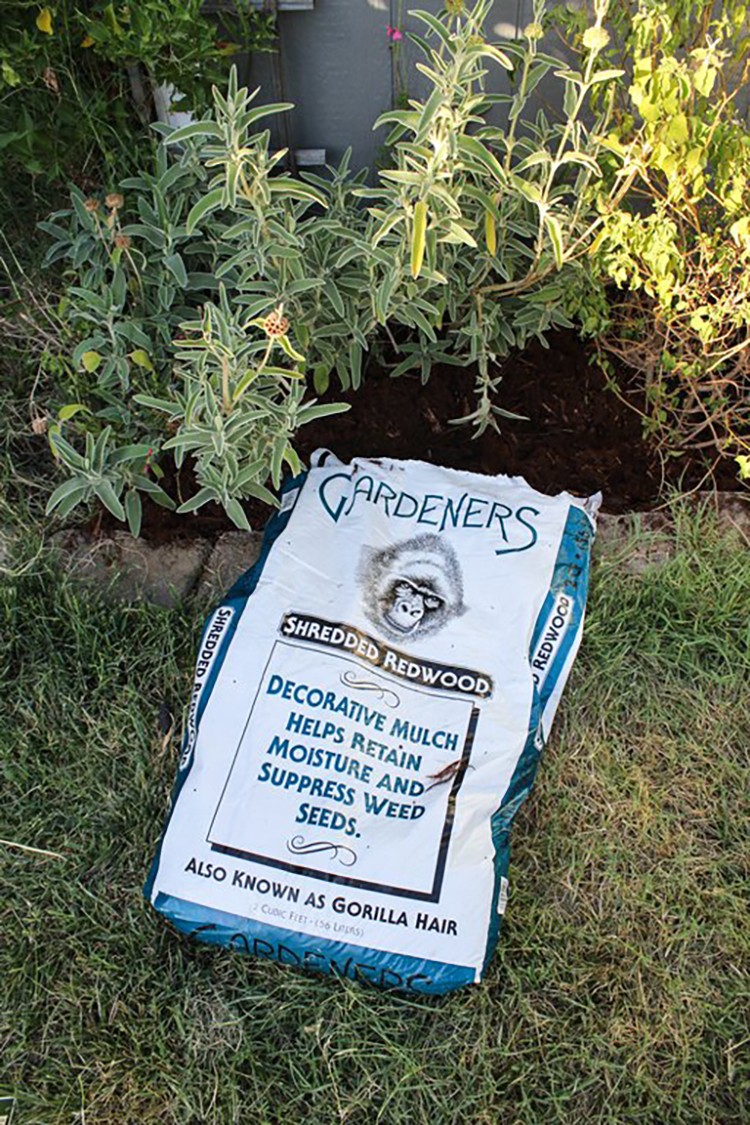 Next, I selected a few new plants for the garden beds in front the she shed. I planted two potato vines, which have the prettiest tiny purple flowers, butterfly weed bushes that are drought tolerant along with bread tongue flowers.
Hands down my favorite mulch to use in my garden beds is cedar mulch. Cedar mulch helps keep moisture in the soil and helps suppress weeds from growing, and it smells good.
---
Wooden Step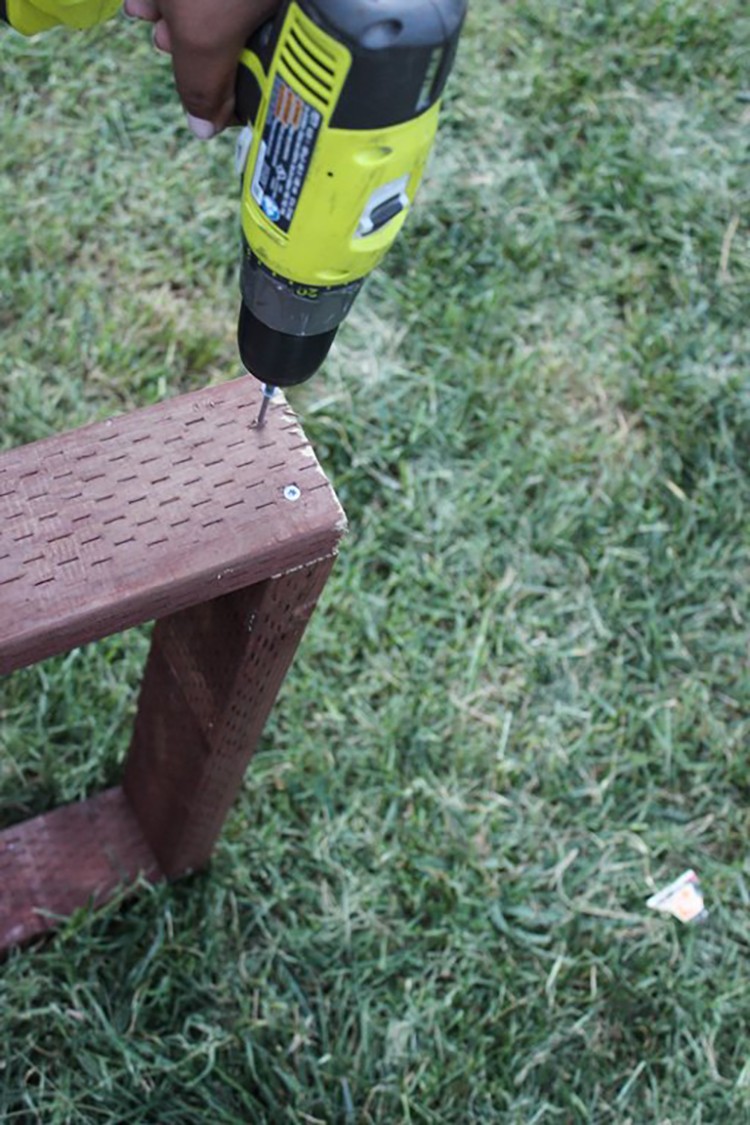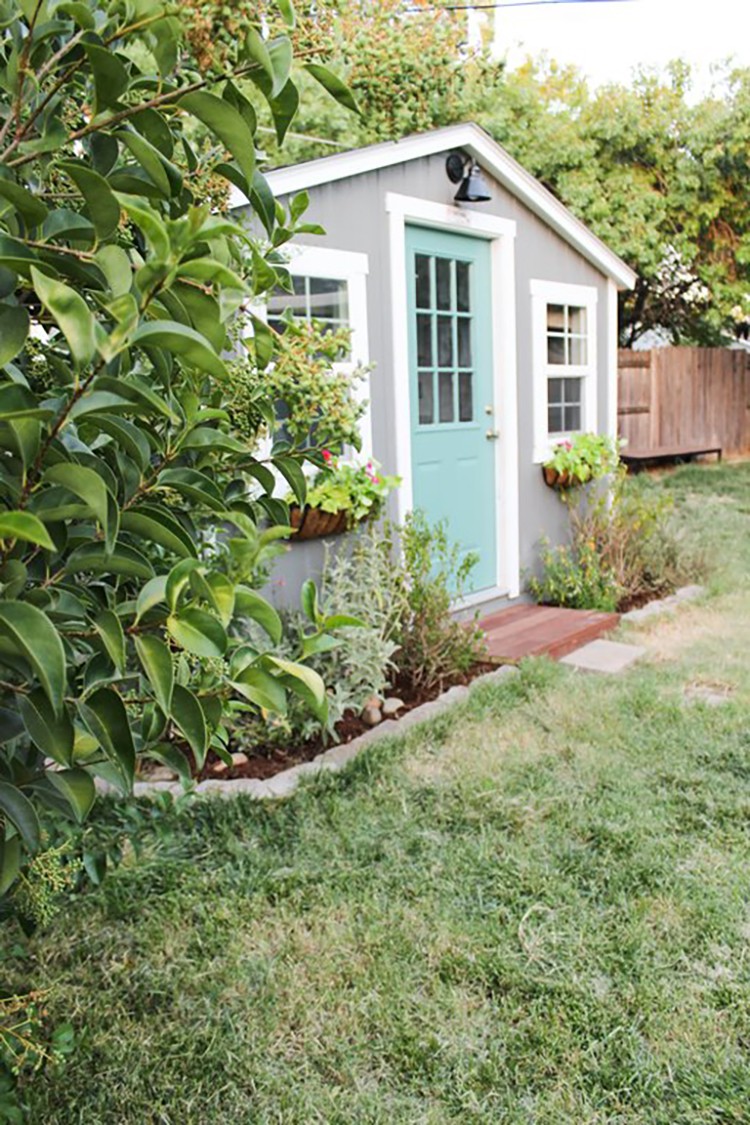 Lastly, my husband and I built a wood step for the she shed door.
We used pressure treated wood since the wood is going to be exposed to the elements. We made the base of the step with a 2 x 3, connecting the boards with deck screws. For the top boards with used 2 x 4 wood boards.
The simple wood step is nice and deep allowing me room to place pots on the step.
---
She Shed Update Final Reveal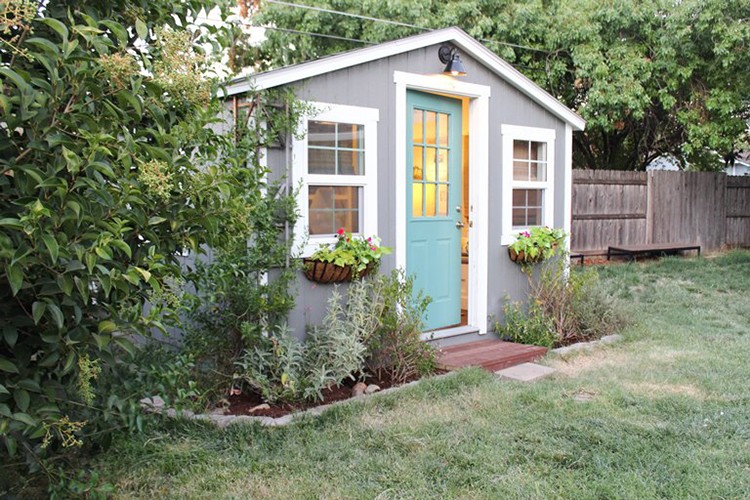 I love all the exterior updates I tackled on the she shed. It now reminds of a little backyard cottage.
When you're ready to set up a she shed in your backyard, browse The Home Depot's selection of wooden sheds or the latest in Lifestyle living at
LivablePods.com.
The post She Shed Update for Even Better Backyard "Curb Appeal" appeared first on The Home Depot Blog.