A small bathroom renovation is still a big job to complete! Read more below on how Christine Hart of
Christine Marie
remodeled her unfinished bath into a mid-century masterpiece with a little help from The Home Depot.
I am thrilled to be partnering on my bathroom renovation with a store that my Dad and I love to go to for all of our projects, The Home Depot! We love going to The Home Depot because they have a great selection in store and online for all of our project needs. Their online selection has a broad range of products to choose from, which I definitely took advantage of! (P.S. they have a great indoor houseplant section, too!) We got everything we needed from tools to supplies to start and finish our bathroom renovation project thanks to The Home Depot!
I'm an avid DIYer and now I can add renovater to my resume! 😉  It's been so much fun getting my hands dirty and learning more about the renovation process. One of my hobbies that I really enjoy is designing and creating something that is customized to your personal aesthetic.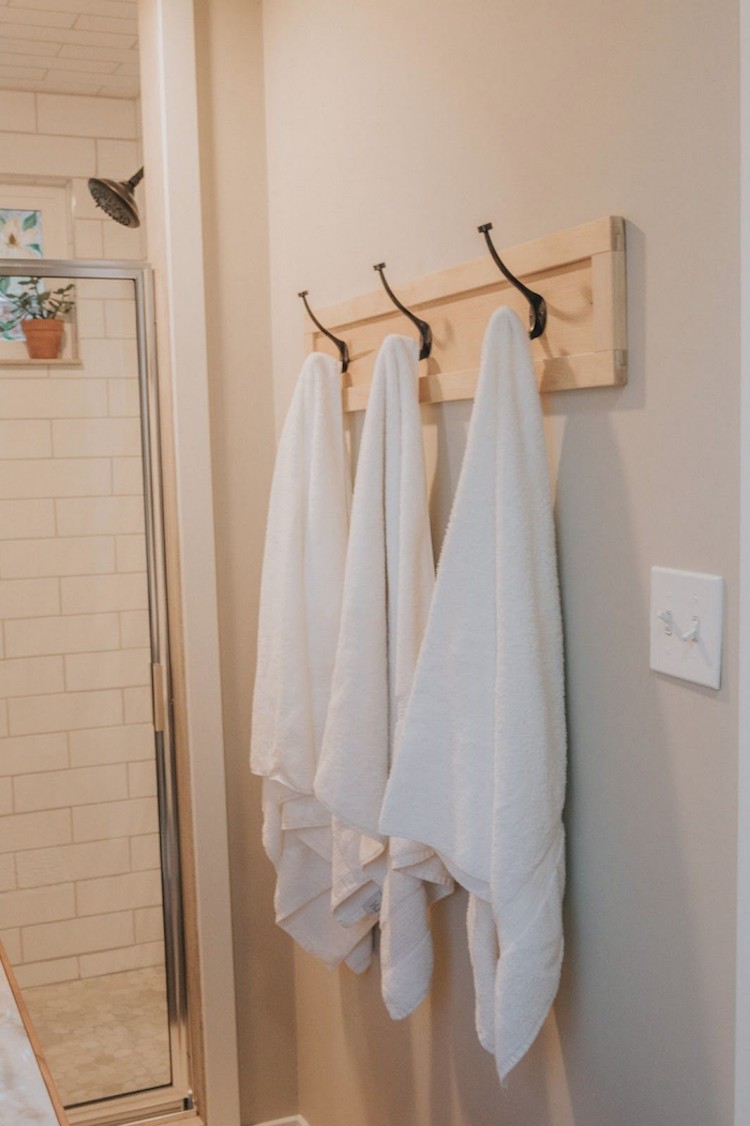 The Aesthetic and Vision
I love my mid-century, french-inspired studio apartment that has been so fun to decorate and transform into the perfect space for me. I really wanted my place to reflect my personality and for it to be warm and inviting. The last touch was renovating the unfinished bathroom to tie the whole place together. To incorporate the mid-century aesthetic I chose pieces like the modern vanity light, bronze hardware and white subway tile.
Before the Renovation
The bathroom was smaller and an unfinished project. It did not have enough adequate space. We decided to add a small addition and create a larger shower, which includes a new window for more natural light. The new window was one of my favorite accents! My Mom hand painted the window with Magnolia flowers to add a little bit of color and privacy to the room. Since we extended the shower by a few feet, we were able to incorporate a larger vanity.
The Biggest Transformations
The shower is one of the biggest transformations! The large white subway tile and pebble stone flooring brightens and adds a modern touch. My Dad taught me how to set the tile and I placed each one on and learned the value of patience during this process, haha! Adding bronze details throughout the bathroom and incorporated bronze faucets in the shower. I chose a clear shower door so that you can see the beautiful white subway tile.  I love having the built-in shower nook and shelves for shampoos and soap. This final result of this shower makes me so happy!
After a creative design process on what the vanity should look like, the function, size, style, we finally came up with this beautiful pine and birch bathroom vanity that my Dad handcrafted from supplies from The Home Depot! I think it's absolutely perfect! After 8 tries we finally nailed down a stain that complemented the details of the sink. The vessel sink bowl and faucet ad a modern touch as well. Since the bathroom is smaller I did not want a huge vanity to overcrowd it and that is where the custom vanity came to be about!
We added small touches of industrial and mid century to create the overall vibe of the bathroom. From the porcelain tile flooring to the industrial piping floating shelves. Each detail was carefully thought out. For the shelves we used piping from the plumbing section and pine wood we had left over from the vanity. Being able to customize this bathroom into my own personal space has been an amazing experience.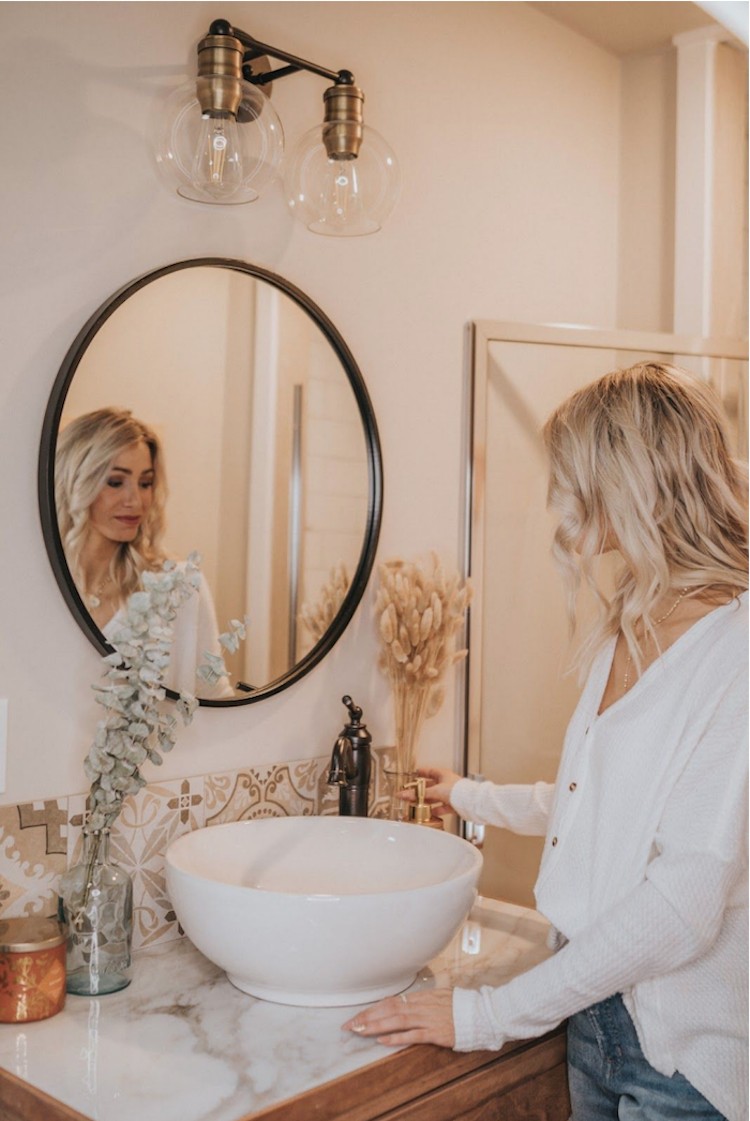 A Rewarding Experience
Remodeling this bathroom has become much more than just a side job for my Dad and I. It's become a great bonding experience that I will always remember. My Dad had a couple incidences when we almost lost him and it spun my world around. He's been such a great mentor throughout this whole project. I could not have accomplished this bathroom renovation without him and he's been there every step of the way through this whole process. My Dad is a great role model of hard work and dedication and I am so thankful to have him in my life every day!
I hope you all enjoyed seeing the mid century industrial bathroom before and after! We put in a lot of long hours, dedication and hard work into finalizing this project, and I feel that it shows through each photo! Very grateful for my Dad and The Home Depot for making my little dream bathroom come to life! I hope to inspire you all on your next renovation project and tag me if we've inspired the creative renovator in you!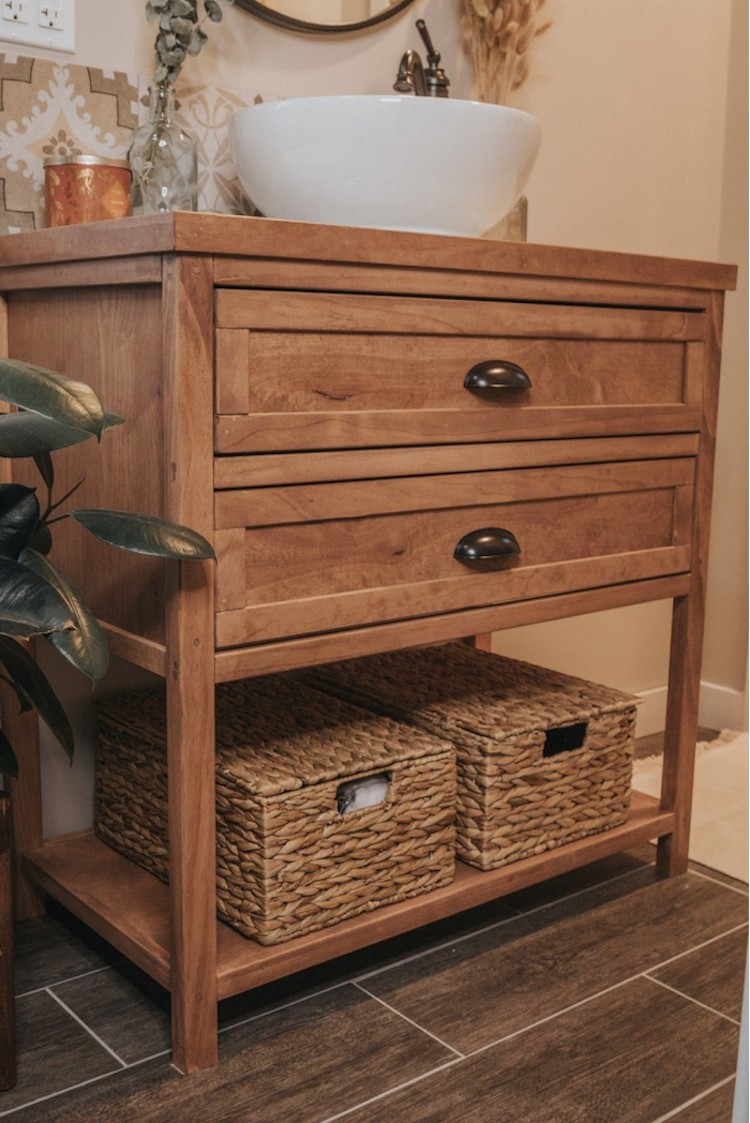 The post Small Mid-Century Bathroom Renovation appeared first on The Home Depot Blog.