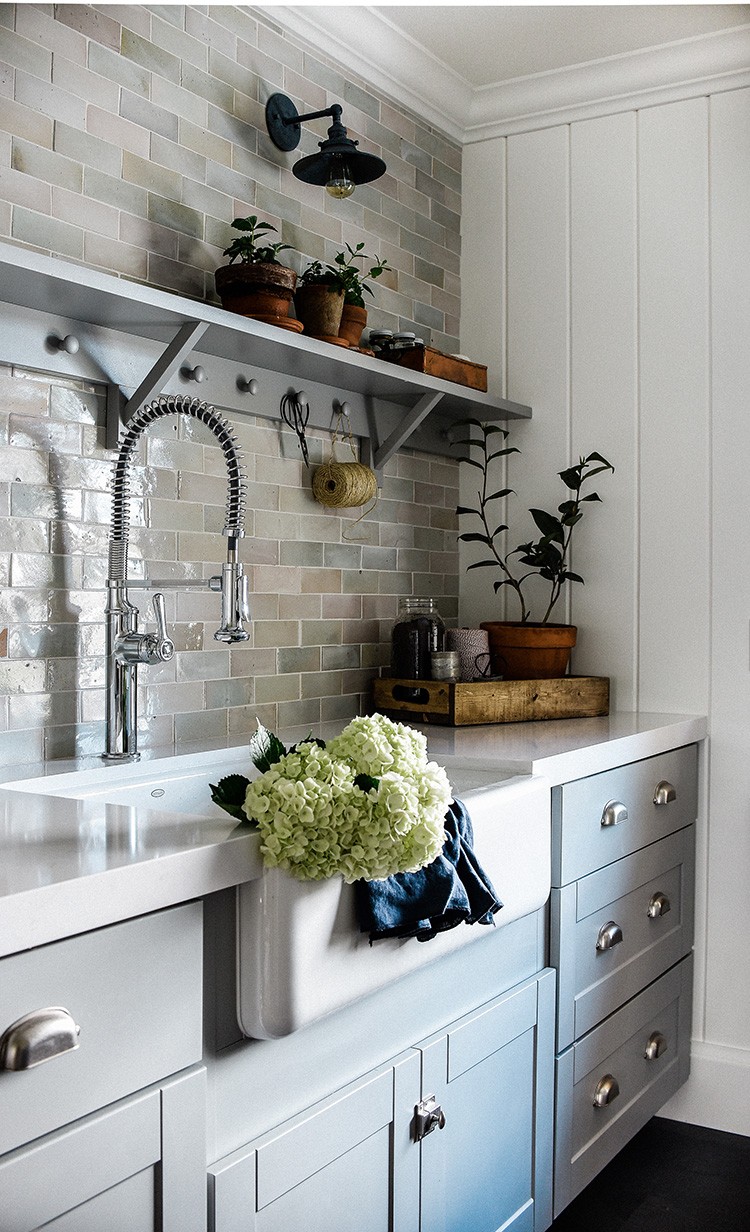 Chloe Mackintosh from Boxwood Avenue renovated her 1964 home's laundry room just in time for spring! Read more about how Chloe transformed her laundry room into a beautiful, functional space below!
Spring Cleaning: A Laundry Room Transformation
Our home was built in 1964, and even though we have remodeled much of the house, our laundry room had never been touched. The original linoleum and orange colored wood door was a terrible juxtaposition to the rest of our house. I'm not sure many people enjoy doing laundry, but having a dreary laundry room did not help the fact that laundry is my least favorite chore. The small room in the back of our house sat tucked away, swept under the renovation rug so to speak.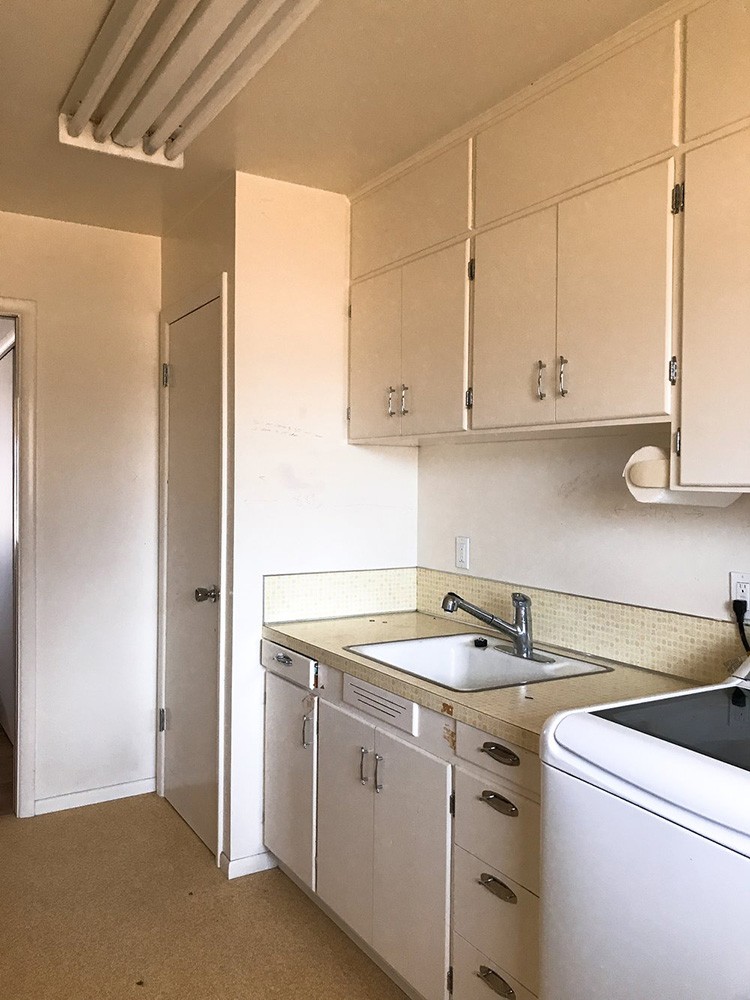 This year we decided to tackle the laundry room in partnership with The Home Depot. This renovation came just in time for spring cleaning, giving me the perfect place to store and organize all of our cleaning supplies! I am so incredibly grateful for this transformation. It has made a larger impact in our home than I ever could have imagined. The laundry room was a space we didn't use much. Now, having a functional (and beautiful) room allows me to keep up with the rest of the house with ease.
Whether you have a large home or a small home, using every square foot to its fullest capacity is something I think we all strive to do! We are now able to store all of our cleaning supplies (I love Clorox clean-up spray and, of course, our Swiffer!), spare linens, and other necessities in the room, plus I have turned the sunlit countertop into a small potting area for my seedlings to begin to grow.
This wasn't a space we really planned on remodeling, but doing so has made our home that much more functional. Here are all of the details!
Since we moved into our house, I have envisioned a door in place of the window in our laundry room. We have a small apple orchard on that side of the house, and having a door here made so much more sense than a window. It would allow me to access the trees (and my goats' pen) so much easier. Plus, I knew it would be an easy swap because the window size was standard door width.
You can see from the photos that a door here just makes sense, can't you? If you have a space in your home where you'd like to add a door – know that it isn't a major process! Likely, there is already a header in place, and a hole in the wall leading to the exterior, making it a fairly easy improvement.
We started by removing the closet space, existing cabinets, and a small drip-dry closet. The drip-dry closet was a huge amount of wasted space, and the existing closet was constantly cluttered. This is the second time I've opted to remove a closet in a home. And each time, I love the result. Closets can become wasted square footage very easily. The space can often be utilized in a better way by adding cabinets or built-in shelving. By removing the closet in our laundry room, we were able to add an additional wall of cabinetry, doubling the storage in the room!
Once the existing cabinets were out, we removed the linoleum floor, and were left with a fairly large room for me to create my dream laundry room!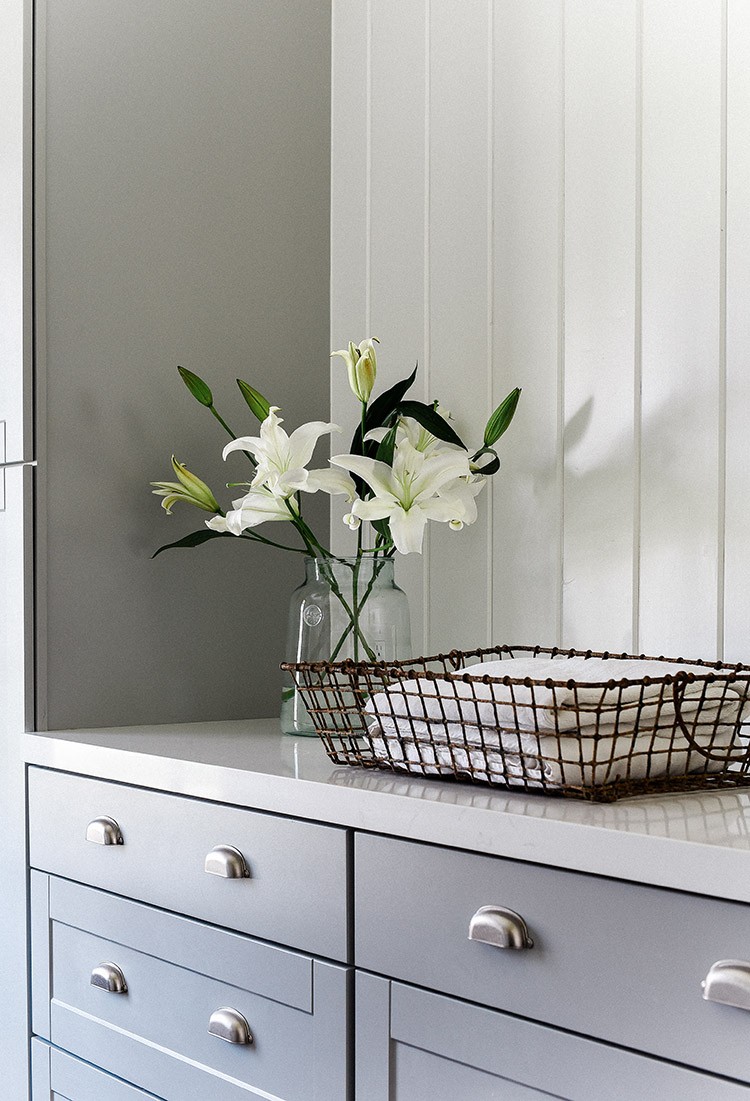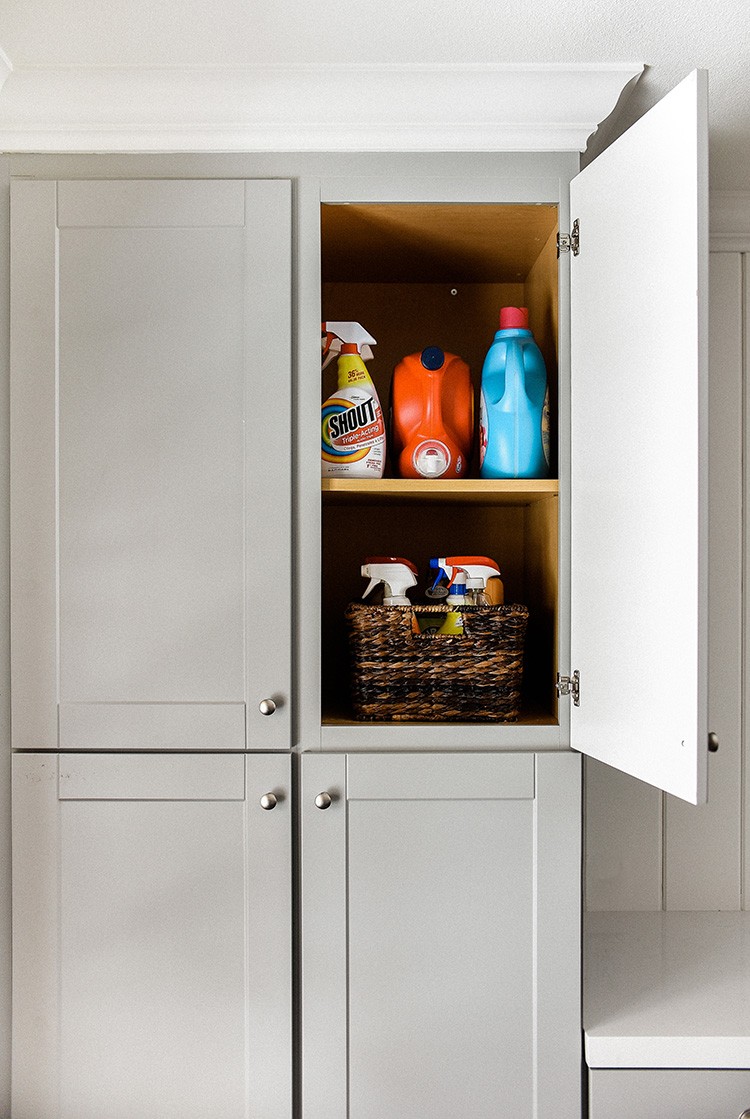 Home Depot's quick-ship cabinets are ready-built and were the perfect fit for this project. The shaker style matches that in our kitchen and the color is spectacular. I almost went with the white color, but opted for gray, and am so very glad I did. The cabinet color combined with the Martha Stewart Bedford Nickel cabinet hardware is the perfect variation of gray tones! The color is just right in every way. It would work well in any style home. I couldn't be happier with it!
We added an apron front sink from Kohler, which is something we also have in our kitchen. It is such a classic style, and so incredibly dreamy. I initially thought I might like a bridge faucet in the laundry room, but we ended up going with a semi-professional faucet from Kohler, which is exclusive to The Home Depot. When I first opened the box I was so surprised by the quality for the price. This faucet seems like it should have cost thousands of dollars! It is very industrial, yet designed beautifully. When form and function combine, it is a very magical thing.
While we have concrete countertops in our kitchen, I wanted something easy to care for in the laundry room so we went with Statuario from Silestone. I couldn't be happier with the countertops, which have the faintest veins running throughout a creamy white base. The countertop resembles a beautiful Carrara marble without the extra care involved. It is perfect for kitchens and laundry rooms that get a lot of use, especially by children!
In lieu of our dated linoleum flooring, we added simple large slate tile. This tile is one of my favorites. I love using it in laundry rooms. It is so classic and inexpensive. Plus, it is generally in-stock at most Home Depot stores making it an easy weekend project. We added an enhancing sealant to darken the tile, which I feel, gives it a more luxurious look.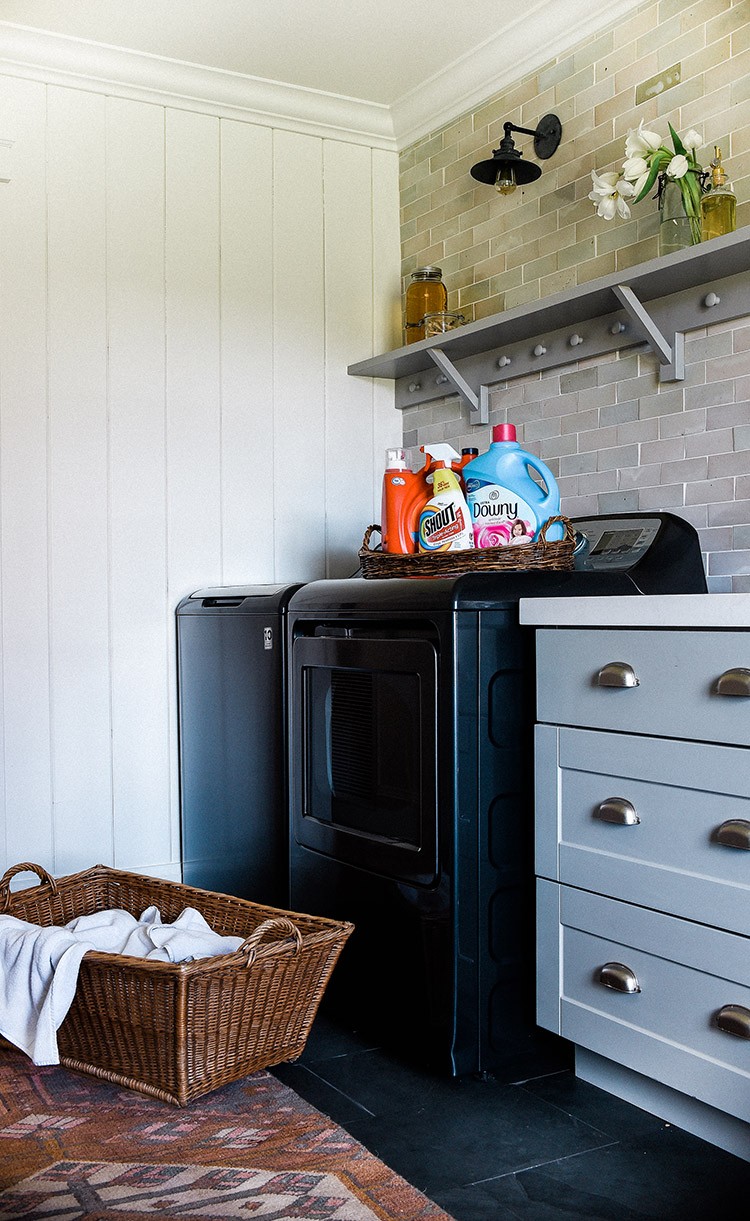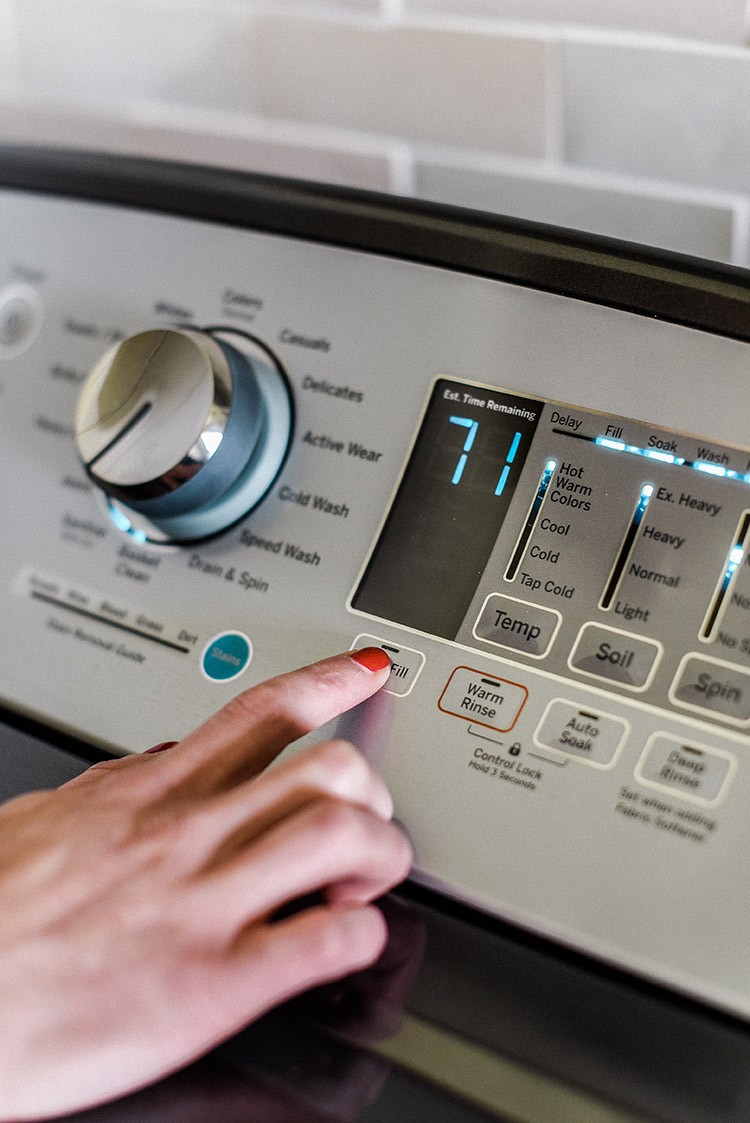 I can't forget to mention the beautiful GE washer and dryer that are now my most loved appliances. We purchased our old washer and dryer while in college, and to say they were 'broke-in' is an understatement. Living on a cattle ranch means our clothes are constantly extremely dirty, so a very good washing machine is imperative! I love the programmable stain removing settings and customizable water level settings on the washer. Our clothes have truly never been so clean!
Like our washer and dryer, our old Dyson was purchased in college. It was very well loved, but I think the time had come for an upgrade. Our old Dyson was the mini version, and although it was mini, it was mighty! Dyson vacuums are wonderful, and we are very loyal customers! Our house is constantly dusty and dirty from muddy cowboy boots and dirty jackets being brought into the house. Our vacuum is something I use nearly daily. We love our new Dyson Animal 2 for everything from vacuuming the floors to the couches. It is amazing what powerful suction this vacuum has, and I love that it was created specifically for pet hair! I am not sure if it normal to be *this* excited over a vacuum, but this Dyson is worthy of the excitement!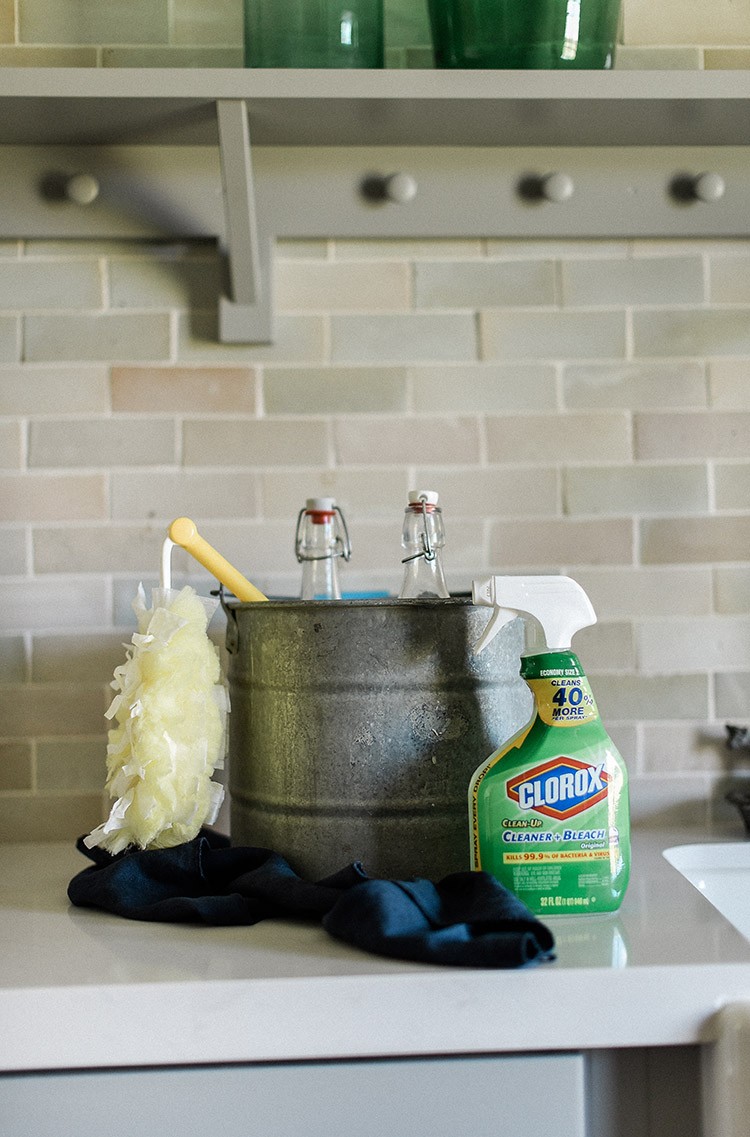 The cherry on top of the project is all of the wonderful cleaning supplies I can now house in the laundry room. We have abundant storage in the cabinet drawers, and the tall cabinets in the corner perfectly fit a vacuum, broom, and other tall cleaning supplies! I love having a devoted space for these items. My best organizational tip is to make sure everything you own has a dedicated space in your home. By practicing this, you won't ever have to question where you put something. And your entire family will know where to put an item back once they are finished using it.
Our laundry room is now a treasured space in our house – I am tempted to pull up a stool and use it as my office for a bit because it is so calming and tranquil! The new door gives us access to our backyard, and the amount of storage is incredible! The built-in cabinets are so much more functional than a closet, and the beautiful slate tile is the perfect contrast to the white walls. Having a well-designed and organized laundry room not only helps me stay on top of our laundry but also helps me tackle day-to-day cleaning throughout our house.
I documented the entire remodel process on my blog, so if you're looking for a detail that I didn't touch on in this blog post, visit me at Boxwood Avenue! I am so grateful for this new space in our home; having a beautiful place to do our laundry and house our cleaning supplies has made my life easier and chores much more fun! The Home Depot has everything you need to tackle your spring cleaning to-do list from appliances to cleaning supplies; they've got you covered. Now, let's get cleaning!
The post Spring Cleaning: A Laundry Room Transformation appeared first on The Home Depot Blog.