Get the most use out of your patio by creating an area that can be enjoyed both day and night. See how Uyen Carlson of Crew & Lu styled her patio to create the perfect outdoor entertaining space and a family-friendly patio.
The Perfect Outdoor Living Space: A Family-Friendly Patio
Design is such an important element to making a house into a home. Our home represents love, individuality, lived in moments, and memories that will forever be instilled in our kids. That is our family culture and we wanted to ensure that our outdoor space reflects the same warmth as inside our home. Why not create an entertaining hub for our friends and family and why not have everything right here on our property? A place to entertain and a family-friendly patio is perfection in my mind.
Pairing Functionality & Style
The Home Depot had everything I needed to customize and transform my outdoor space. Being a children's clothing designer; looks, quality, and function is important, and THD allowed me to bring my vision to life. I loved having the variety of colors to choose from. There were so many combinations available and it made it really easy to make my personal style feel  incorporated to each design.
Outdoor Dining
One of my favorite areas of our patio is the outdoor dining area. We are so busy that it's extremely important to me to have meals as a family to take that time to slow down and catch up. We chose the Camden dining set and love how sturdy and stylish the set is. It's beautifully constructed and I love the option to switch up the cushions to create different moods for each season or occasion. The pergola, also from Home Depot, serves as a focal point which adds such a fun vibe to the space and makes the dining experience even more special.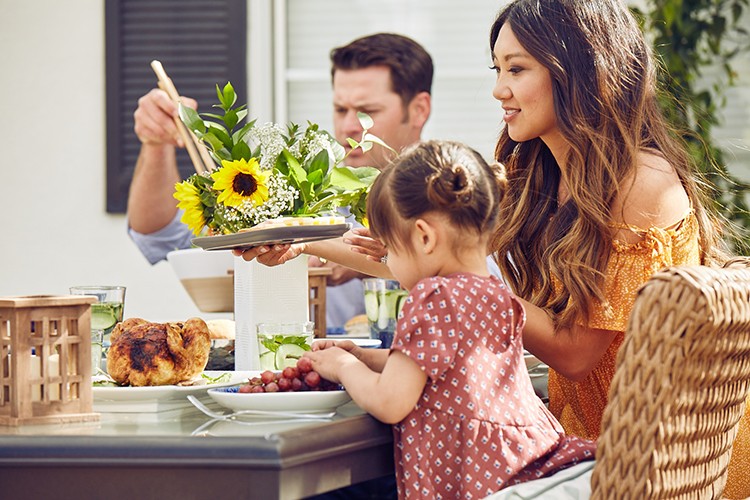 Family-Friendly Patio Sets for All Spaces
The Home Depot also has many patio sets for all spaces. Since I wanted to encompass function in each particular area I designed, I kept in mind the possibility of moving around different pieces to accomplish many looks. To me, it's important that pieces be versatile and can be styled many ways. Whether you need a space to relax or a space to gain inspiration, The Home Depot provides endless possibilities. Having this spot in the corner of our front patio is the perfect way to get some me time in.
We love cuddling around our fire pit and making s'mores. It's nice to know that these patio sets have cushion guards standing up to tough stains. Letting us enjoy these moments without worrying about spills.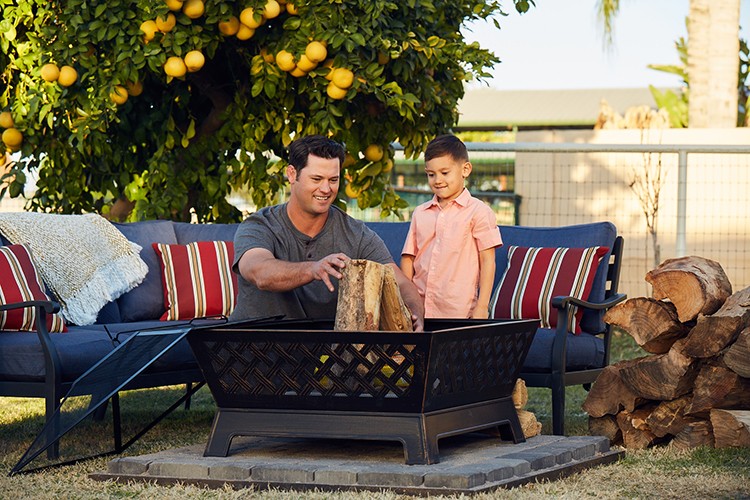 My kids favorite thing to do is outdoor movie nights. They had so much fun lounging on the Riley chaises. Nothing is more magical than twinkling lights and giggles under the stars. Adding some pillows and rugs helps makes the space a unique and provides a cozy experience.
Bringing it all Together
Seeing our outdoor space come together has been such a great process to go through. We see the value of investing in these pieces and know we are creating an opportunity to bond with our family. I loved tackling this patio makeover and even more so, creating our family culture that will be everlasting now and forever. We are a Home Depot family.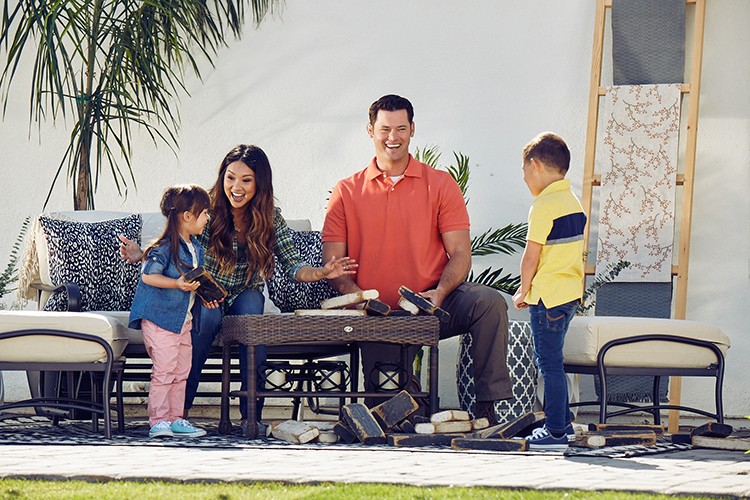 Find more family-friendly patio ideas on The Home Depot Blog.
The post The Perfect Outdoor Living Space appeared first on The Home Depot Blog.