When building a house, everyone wants to make sure that all parts are perfect. JeriKay Moujoodi of
Farmhouse Love Interiors
was able to put the finishing touches on her dream home by creating the perfect summer patio. Just in time for outdoor entertaining.
In 2017 we built our forever home in sweet home Alabama. We knew being new construction there were a lot of things we wanted to do as far as adding a few custom touches and also making the ultimate dream outdoor space. We have a very large area to work with and before I just had random tables everywhere that just didn't look great. I wanted to make a space that is comfy, cozy and functions great with our family.  With the amount of events I host at my house we want something that just screams "perfect oasis patio"! I am so thrilled that The Home Depot picked me to participate in the 2019 Patio Style Challenge!
The Home Depot is our go-to for all things DIY. We have been shopping at The Home Depot for many years along with buying supplies for our businesses. The Home Depot makes it super easy and simple to pick out an amazing selection with outdoor furniture plus gorgeous accessories.
Patio Furniture
I chose the gorgeous Laguna Point 5-Piece Brown All-Weather Wicker Outdoor Sectional Set for my main focal point. Since our exterior is white wash brick, I wanted something to contrast with the light brick and a dark sofa sectional.  I chose the color Peacock as my cushion color for a pop of contrast. Although the patio is covered, we get a lot of rain in Alabama. I went with something a little darker on the cushion color but also fun and bright! I chose the wicker sectional because I know it would be great quality and super sturdy to accommodate adults and kids. The sectional came with a glass top open and close coffee table.  This is perfect to store your outside candles and your childrens' toys.
Along with the sectional, I chose two Hampton Bay Laguna point Square Wicker Outdoor Accent table with Captured Glass top to match my sectional. These are perfect as well because they have so much storage and are very durable and sturdy. They have glass on top which makes them even more perfect to put things on.
Accessories for the Patio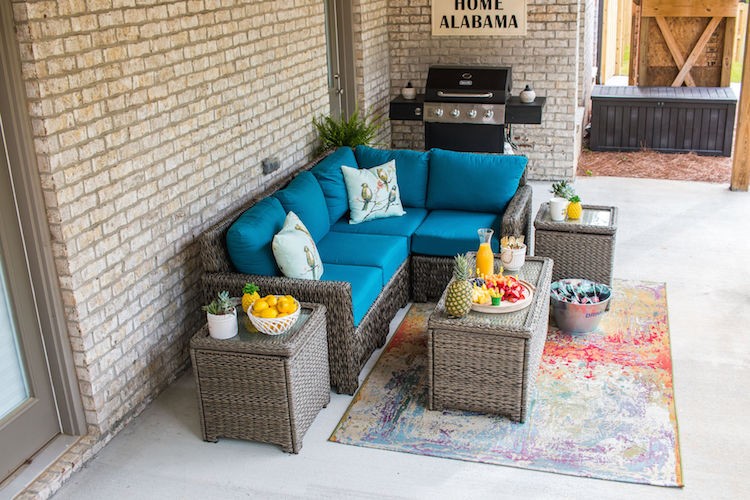 I paired the peacock color with an outdoor rug that is absolutely beautiful. Then, I went with a Crumpled Multi color 5'X3' X 8' area rug. I wanted something that would tie nicely with the peacock color on the couch. The rug ties the whole patio set great together!
I also picked out two adorable pillows and I went with the Hampton Bay Beachglass Bird Throw pillows. I think the pillows add an extra element of coziness.
Lastly, I needed some greenery on the back patio so I went with these succulents, which by the way, are very sustainable if you don't have a green thumb. They require little TLC and I only have to water them once a week! I also went with a big green fern which is great because those don't need a lot of water as well. I also didn't forget my citronella candles as well! Not only do they smell great, they keep those mosquitoes away too!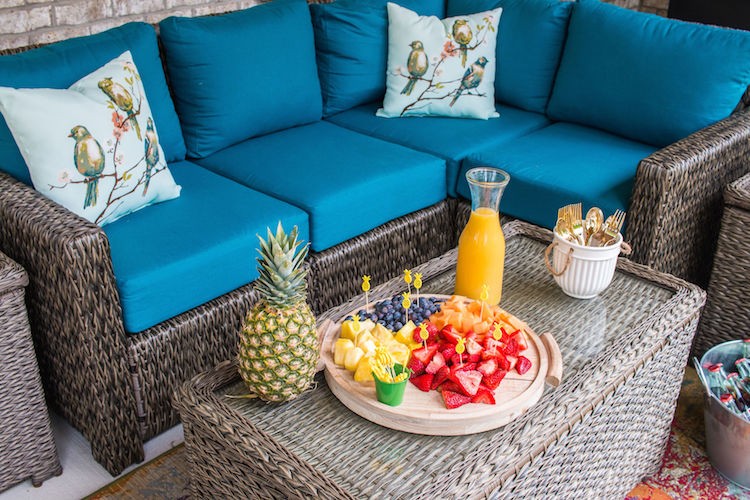 I am thrilled that summer is just about to get started and the amount of time we will get to use this gorgeous furniture! I had the best time picking everything out, styling everything & even staging it for the photos.  I'm so excited for this summer because I know we will use the outdoor furniture a lot and I can't thank The Home Depot enough for choosing me for this Patio Style Challenge! We will get many years of use out of this perfect outdoor patio furniture!
The post The Perfect Outdoor Summer Patio appeared first on The Home Depot Blog.