(BPT) – Summer picnics and trips to the beach are great seasonal activities, but nothing beats coming back to the cool comforts of home during the hottest days of the year. With innovative smart home technology, you can make your home cool, enjoyable and convenient. Here are some quick tips and tricks for living your best summer life at home.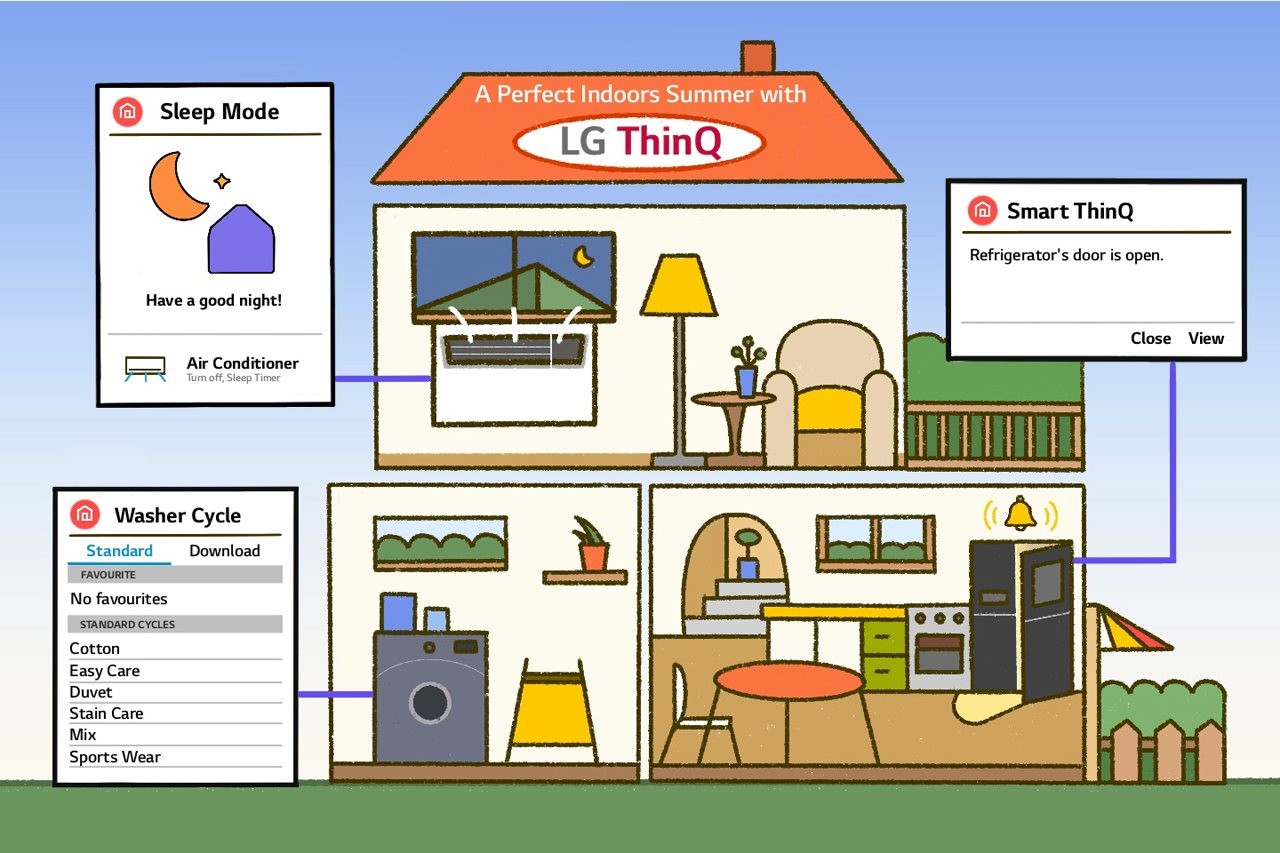 Turn your bedroom into the ultimate summer escape
Your bedroom should be the ultimate space for relaxation and rest, and there is no better way to do that than ensuring your space is cool and comfortable. One solution is to invest in an Energy Star-certified window air conditioner to save you during those hot, humid summer days. While keeping your air conditioner running through the day is perfect for when you are spending time at home, it doesn't bode well for your energy bills when you are away. With the LG ThinQ app, you can remotely start, stop and change the temperature and speed of your AC so it works with your day — whether you're stepping out to run errands, on vacation or arriving back home. Staying cool during the night is just as vital to help prevent those restless, hot nights tossing and turning. With "Sleep Mode", this air conditioner quietly operates on a set timer, keeping noise to a minimum so you can enjoy cool, quiet air all night long.
Save time and stress in the laundry room
Summertime can often mean more laundry as families spend more time outside in the sun, making laundry day more tedious. With the right tools you can spend less time washing and more time enjoying the summer season. Today there are a variety of innovative washers and dryers that take the guesswork out of laundry day. Washers with AI DD technology from LG, for instance, help save time and effort by automatically determining the best cycle after measuring your fabric's weight and softness. What's more, the LG ThinQ app provides a wide range of downloadable washing courses for every garment — from light cotton sundresses to polyester swimsuits.
Prep your kitchen for summer entertaining
Keeping all your stored ingredients and produce fresh is imperative during the summer, and is now easier to do with smart home technology that lets you monitor energy and send you alerts when it is being wasted, like leaving the refrigerator door open. The LG ThinQ app comes with a smart "ThinQ Care" feature, which sends a notification right to your phone whenever the door of your fridge is left open.
Nothing helps you beat the heat like a cold, frozen popsicle. Enjoying an icy treat straight out of the fridge is made faster and easier with the help of the Express Freeze feature, which increases your refrigerator's ice-making and freezing functions. You can even turn it on remotely through your smartphone so you have fresh ice waiting for you when you return home.
There are many factors that go into preparing for the perfect summer BBQ cookout. One of the most challenging is deciding what to serve for everyone. With the ThinQ Recipe feature provided through the LG ThinQ app, you can choose from over 10,000 recipes curated to your very own diet plans — whether you're vegetarian or pescatarian — all courtesy of the brand's kitchen partner, SideChef. Plus, you can add all the recipe ingredients to your personalized grocery list with a single tap.
A sunny summer "staycation" afternoon spent at home should come with endless naps, eating ice cream in front of the TV, and reading a good book in cool, comfortable air, all made possible with smart home appliances.