As you might guess, Erika Batista of Lola Blue Style loves blue. It's no wonder, then, that her patio makeover is a blue patio makeover. She mixes different shades of blue and various prints to create a stylish look that also stays within budget.
Take a look at her beautiful blue patio, and stick around for her valuable tips for decorating on a budget.
Blue Patio Makeover
Our patio dining set broke with one of the thunderstorms we had early this year, which helped set this blue patio makeover in motion. My glass table completely shattered, so we headed to The Home Depot to find a new one.
We went with the Belcourt 7-piece Dining Set. I love the swivel end chairs and how comfortable it is for our family. It is weather resistant, easy to clean and maintain and it was super easy to assemble.
I love mixing colors and prints, and that's what I did with my patio style. We also wanted to decorate our outdoor space while sticking to a budget.
As you might have seen throughout my Home Decor tours, I am all about styling my house on a budget. I find that if you have a clear vision of what you want and what your style is, then the rest is easy as cake!
The Main Elements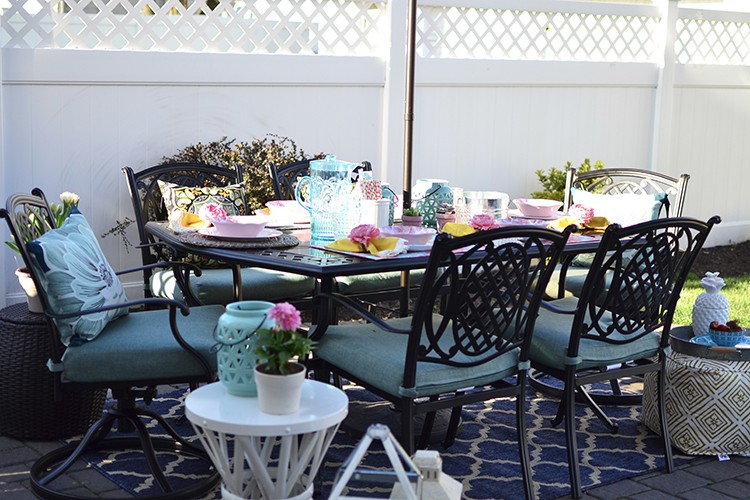 To add some warmth and coziness to our backyard, I added the Trellis Reversible Area Rug in Cape Cod Blue to contrast the turquoise cushion seats on the Belcourt dining set. And to balance that, out we added the Hampton Bay 7½ ft. patio umbrella in Sky.
I love blues of all shades, especially when I can contrast blues with pinks and completely opposite colors of the spectrum. That is exactly what I accomplished with my blue patio makeover. I mixed prints and colors and I truly LOVE the way my backyard turned out.
Decorating on a Budget
One of the reasons why I love to shop at The Home Depot is because I appreciate the variety of style choices and price points it offers. There are all styles and sizes of outdoor furniture, no matter the size of your backyard.
If you are looking to spruce up your outdoor space on a budget, I recommend you start off with a mood board, go on Pinterest and get inspired.
Be realistic with what is most important to you and what is the best fit for your space. Make a list of your must haves too, you may be able to spend a little more on a patio dining set and budget a little less for the accessories for example.
Most importantly, set a budget and stick to it. Believe me, it IS possible to have a beautiful home on a budget. If you are like me and can't splurge, your aim should be to get creative! You can make any space feel like a million bucks if you add the right details to it.
Five Tips
Here are five little tips that work for me when it comes to decorating my home, indoors and outdoors.

1. Mix prints and textures.
As long as they are cohesive in some way, I believe mixing prints and textures, as I did here, truly make any room (indoor or outdoor) feel more luxurious.
2. Add a rug!
An outdoor area rug can make all the difference on a patio. There is something about having that cozy piece that can make a space come together.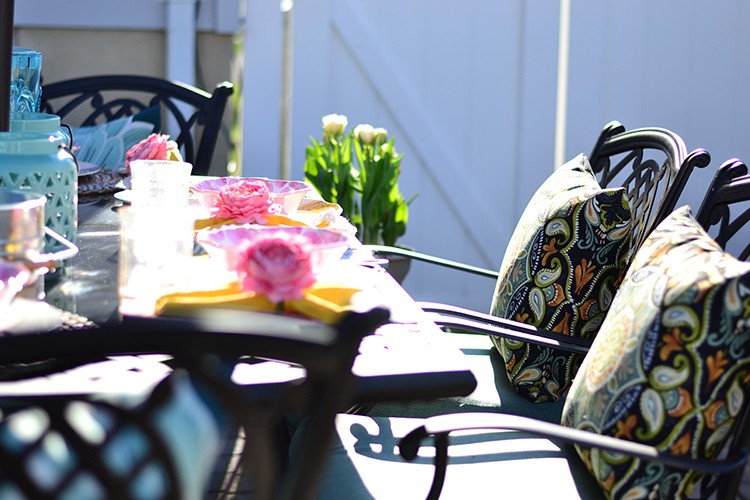 3. Add throw pillows!
I got these medallion throw pillows pictured above. I decided to mix prints, but keep the color tones, and it turned out. The patio set was already beautiful, but the printed and colorful pillow truly make it stand out and feel more comfortable.
4. Add fun little accents.
Take a look at these Hampton Bay Ceramic Lanterns. You can use these for candles and extra lighting at night.
And extra storage that doubles as a side table is always a must have. Check out this All Weather Wicker Pouf Patio Ottoman. I can store my throw pillows in here or even my kids' toys!
5. And if you did so well with sticking to your budget that you can spend a little something on a bonus item… go for the fire pit!
We got this 34 in. Deep Bowl Fire Pit in Oil Rubbed Bronze, and we are obsessed with it.
Hope you enjoyed my outdoor decor tips. Happy spring!
The post Trendy Blue Patio Makeover appeared first on The Home Depot Blog.