Turning Your Basement Into The Perfect Workspace
Spring is that glorious time of year when you feel a need to clean the massive mess produced throughout the winter when motivation was the only thing lower than the temperature. Unfortunately, I do not own a garage at this time, but I do have a basement that serves a similar purpose, minus the car parking. I call it my "workshop". In all honesty, it is actually our wood-shop, laundry room, gym, gardening shed, storage space, etc. The basement gets pretty crazy around here and times with piles of tools on stacks of junk. That being said, I thought I would let the folks at The Home Depot help me try to salvage a seemingly lost cause. We succeeded!
The Vision
Right off the bat, I decided that one corner of my basement will hereby be dedicated to helping me stay organized throughout the year, in hopes that it will save me time in the future. A clean space is an efficient space and the key to organizing is purging the room of anything you no longer need. That was my theory during my aggressive basement cleansing frenzy. I completely cleared a corner of all our embarrassing junk and I was left with a blank canvas to start my self-declared intervention. When deciding how to go about this, starting big and ending small seemed like the most logical approach so I took a trip to my local Home Depot to review my options.
Cabinetry 
Having shelves to store things on is great, but having cabinets to store things in is even better. Keeping my smaller miscellaneous items hidden and dust-free was a must. Upon review of all the different options, I decided the Gladiator Premier Series 13-Piece Garage Cabinet and Wall Storage System in Silver Tread was the right solution for me. Of all the garage systems I have seen, Gladiator stands out among the rest for several reasons. They are heavy steel, well-built, well-designed, and preassembled. There is no doubt in my mind that these cabinets could last several lifetimes and their black textured exterior with diamond-plated doors/drawers create a tough combination that hides oil and makes it really hard to scuff. The cabinets have ample storage space for my needs and the hefty rolling cabinets are great for mobility. 
Perhaps the main selling point for me was Gladiator's solid GearTrack system. When I heard that the upper cabinets could mount to a track and I could slide them wherever I wanted down the wall, my mind was blown.  In addition to this perk, the GearTrack allows for insane versatility. The brand sells countless specialty hooks, mounts, and shelves to customize to an individual's needs. In addition to the basic package, I also went with their padded swivel stool to hang out on, additional GearTracks for storage, base boards that are tough enough to last, a wired shelf for storing various items, a steel shelf to utilize as I work, and finally a big 66x30x18 rolling cabinet to make sure I have ample shelf space in the future. I am now a huge fan of Gladiator products.
Additional Storage
With a little room leftover on the left side of the wall, I decided to take a vertical approach. I paired Husky's Latch and Stack Totes (two 5 gal. and two 15 gal.) with the Heavyweight Diamond Plate Shelf Support System. The totes are probably the first totes I have ever got my hands on that didn't feel like the latches would break within a year. They are rugged and look pretty rad. Getting the totes off the ground to make room for additional items underneath seemed like a great idea so the shelf support system was a great way to open up space without cluttering the area.
The Fridge
Every garage or basement that one spends crazy amounts of time in should have a refrigerator. That way you never have to leave! I wanted to keep it small for my restricted space, but not so small that I would deem it useless.  The 4.4 cu ft. Magic Chef Mini Refrigerator caught my eye immediately. It is pretty large for a mini-fridge and the retro, candy apple red color looks so classy. This thing is spacious and purely awesome.
Keeping it Clean
All this stuff is so pretty; getting it dirty might possibly feel like a crime. To help combat that scenario and keep the rest of the house clean too, I bought some additional items that will aid us.  Our old trashcan had a broken wheel and was the hard plastic kind which are prone to cracking. I am a trim carpenter by day and I noticed the only cans that seem to handle the harsh punishment of a job site are the Rubbermaid Brute trash cans. They are softer than the norm and can take just about anything you throw in, at, and on them. The 32 gal. ended up being the perfect size for my little corner and it came with a vent feature that makes it easier to remove the trash bag.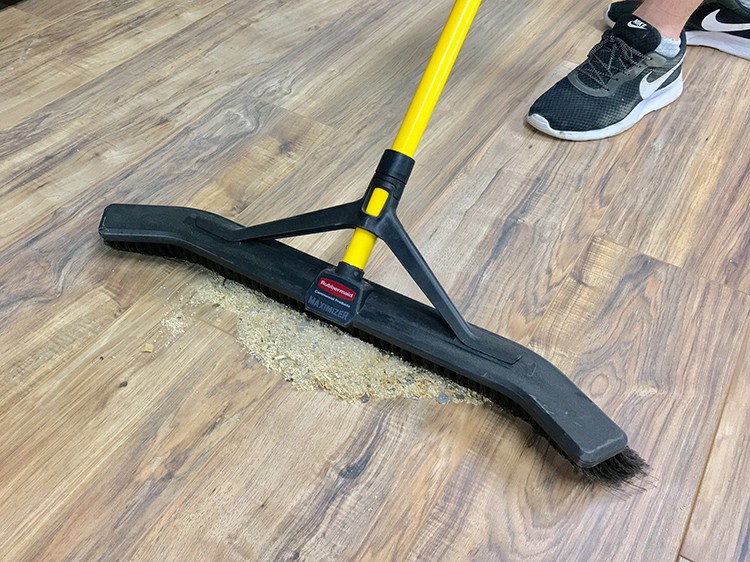 The broom I owned was probably twice as old as I am so upgrading it was a high priority. The Rubbermaid Maximizer push broom blew my mind. Why no one has thought of designing a broom like this is beyond me.  Finally, there is a broom that catches the pile of sawdust, leaves, etc. on the sides and prevents the user from having to make multiple passes. The clever design keeps everything towards the middle, right where it should be.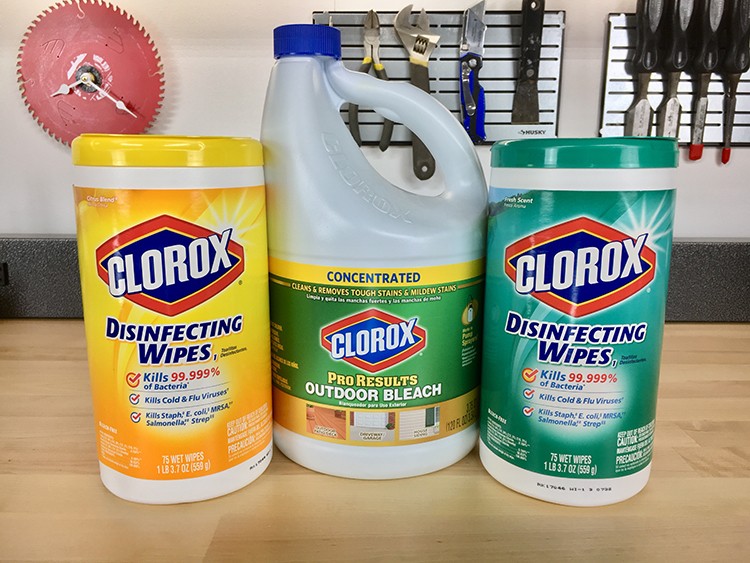 Lastly, I did not forget all the essential cleaning products.
The choices I made to clean and organize my basement work perfectly for me and my space. How would you design your ideal basement or garage space? If I could do it again, I am not sure I would change a thing. Once again, The Home Depot has helped me out of a tough situation thanks to their wide selection of products. As a DIYer and homeowner, I have to say I am very pleased.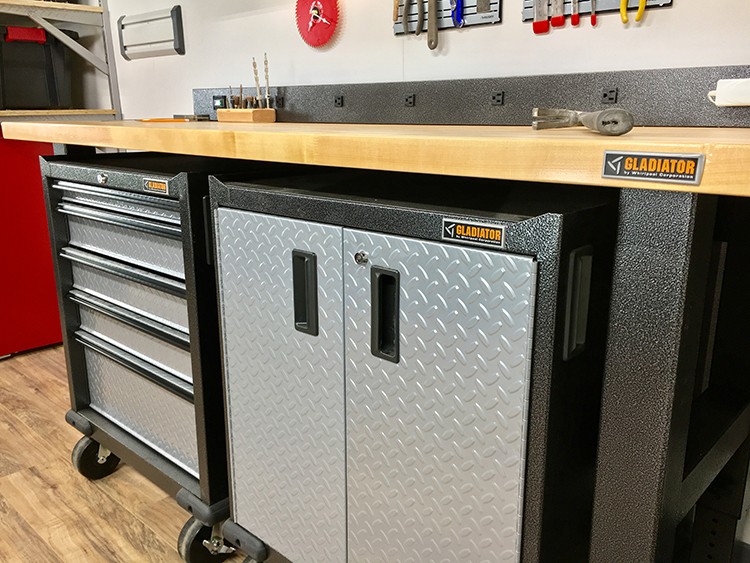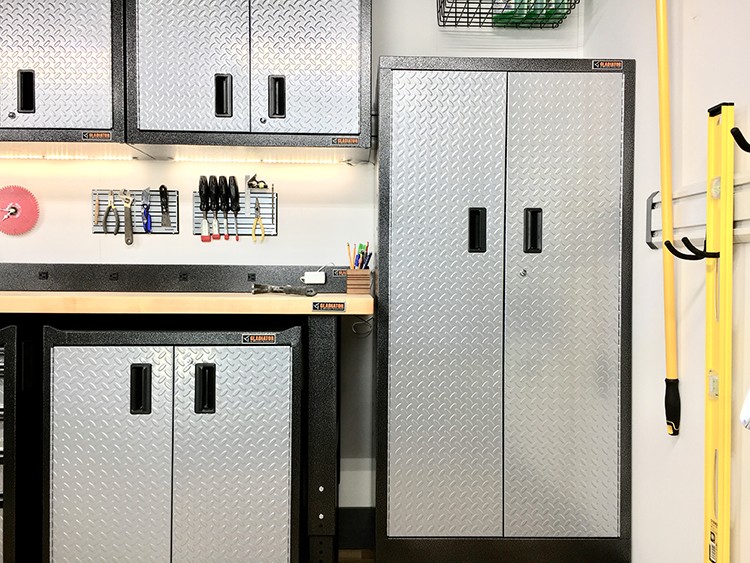 Click here to shop the items you'll need to turn your basement into the perfect workspace. Find more Storage and Organization ideas at The Home Depot Blog.
The post Turning Your Basement Into The Perfect Workspace appeared first on The Home Depot Blog.