Laura Tusken of
Inspiration for Moms
finally completed her dream kitchen with the help of The Home Depot. By replacing her twenty year-old appliances, Laura's kitchen is finally ready to host family and friends this holiday season.
Updating the Kitchen for Holiday Gatherings
The holiday season of entertaining friends and family will soon be here. When family comes together, the kitchen is where everyone wants to congregate. When we moved into this home three years ago, I did not like this kitchen. It was small, outdated and seriously lacked any beauty. I spent hours staring at the house listing online trying to envision ways I could update the space. To somehow turn an ugly kitchen into my dream kitchen. Today, that vision is finally a reality.
In collaboration with the Home Depot, we have updated and completed our kitchen remodel with gorgeous new appliances. Our new kitchen is now my favorite room in the home and the perfect place to host delicious meals.
Our kitchen has changed a ton over the past few years with little-by-little updates. The last thing to complete our kitchen's new look was to replace our twenty year old microwave and range. Both had shown signs of wearing out. For example, the first week we moved in our oven flashed a ball of blue lightening. I don't think ovens are suppose to do that! A simple repair fixed that problem but the thought of it breaking again was always on our minds. And with the holidays soon arriving, I didn't want a house full of guests with no way to feed them. Thanks to The Home Depot, we now have two beautiful new Samsung appliances that can cook up a feast!
The Microwave
When researching for a new microwave, I wanted a stainless steel finish, great capacity and a sleek modern style. When I saw the Samsung 30 inch 2.1 cu. ft. Over-the-Range Microwave, I knew it was perfect. It has many preset heating options, a glass control panel, exceptional sensor cook technology and its capacity is a great size for our family. Seriously, we can load four plates at a time!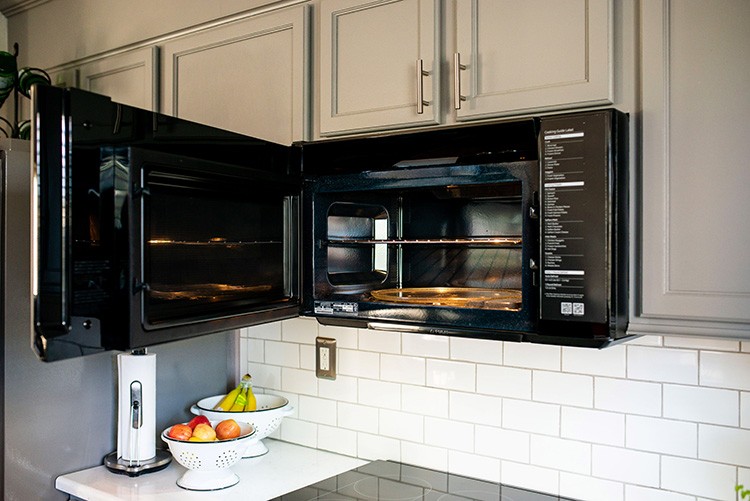 The one feature that I adore more than anything is the recessed handle.  I love that it has no handle breaking the microwaves clean, seamless look.
The Range
Our kitchen is probably a bit smaller than average size. So I never thought I would have a kitchen with a double oven.  I started researching the options for a range online at The Home Depot and discovered the Samsung Flex Duo 5.8 cu. ft. slide-in range.  It's a double oven all packed into one oven. Yes, you read that right!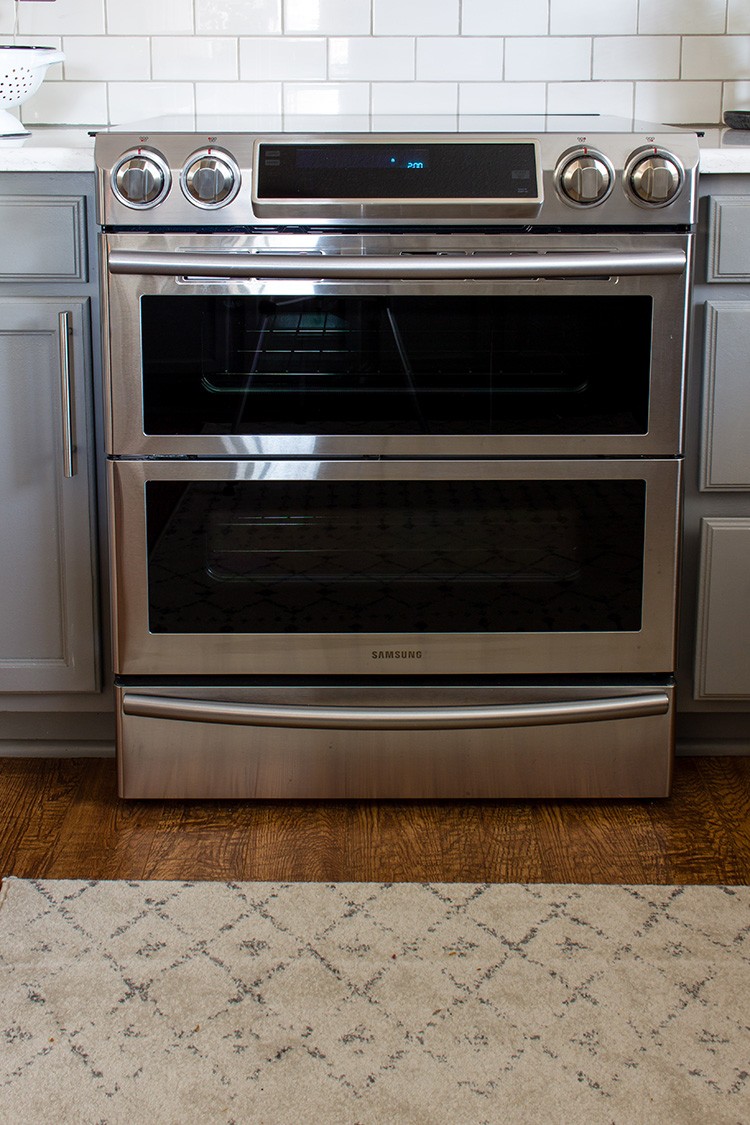 The removable oven Smart Divider allows two independent temperature zones. I can cook multiple dishes simultaneously without disturbing the heat or mixing flavors from the other oven. Place a turkey in the upper oven to roast and bake a pumpkin pie in the lower oven at the same time. It's amazing! Need the whole oven one temperature? Remove the divider. The capacity is huge, too — with three oven racks.
I love how the hinged door allows me to access just the top oven or I can open to the full oven. It's the perfect range for our kitchen and I can't wait to use it to cook a buffet of food this holiday season.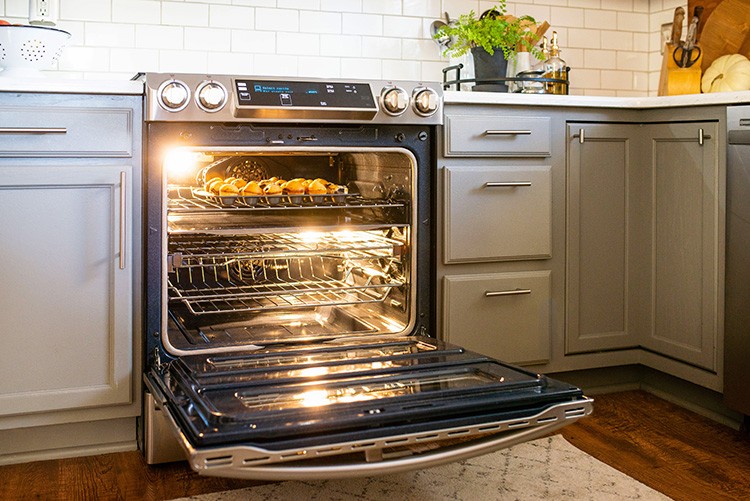 The oven has five elements with a bridge element to accommodate larger pans or griddles. Maybe now that I have such an amazing range, I can get the older one to do more cooking. If he doesn't want to join me, I can give you a hint to who does!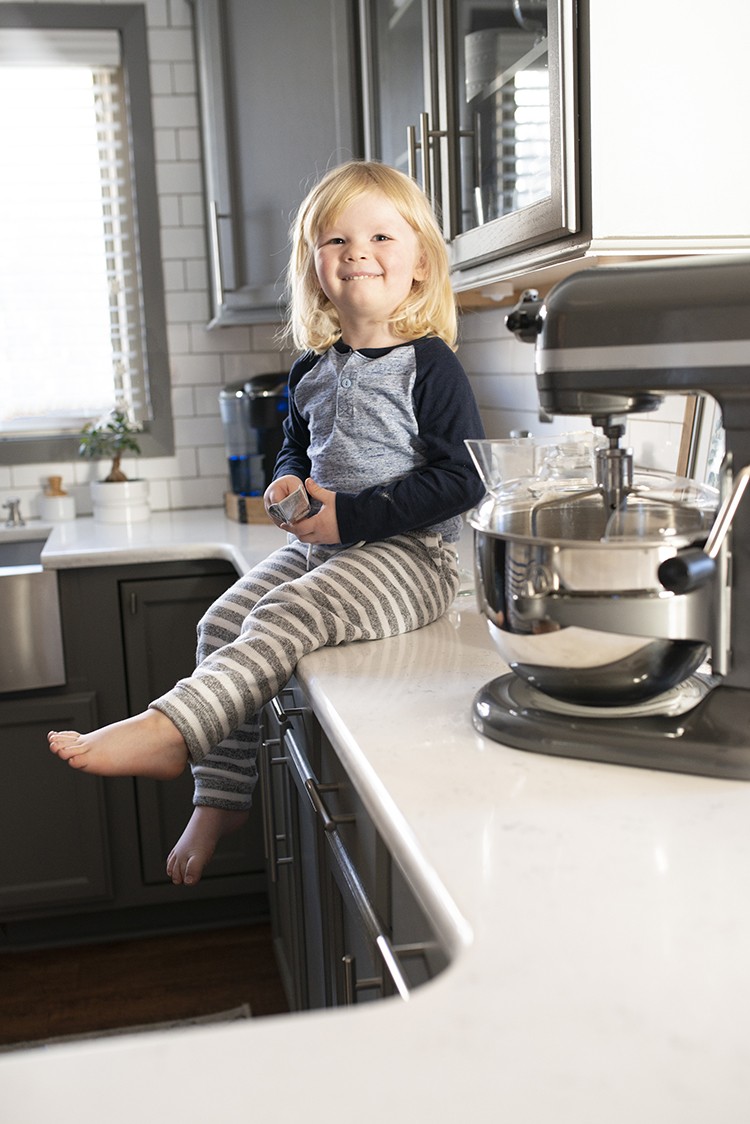 I'm so happy to have finally finished our kitchen remodel. Now we can fully enjoy the beauty of this space. I've never been more excited for the holidays to arrive so I can start hosting family and friends!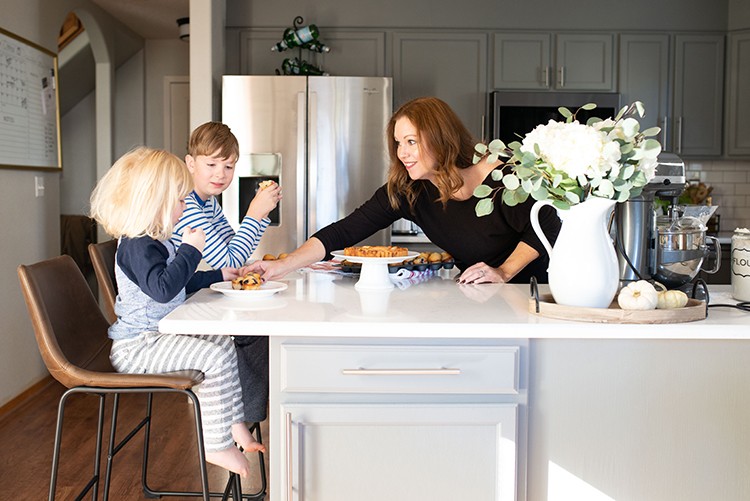 To get your kitchen ready for the holiday season, shop more appliances at
The Home Depot
.
The post Updating the Kitchen for Holiday Gatherings appeared first on The Home Depot Blog.