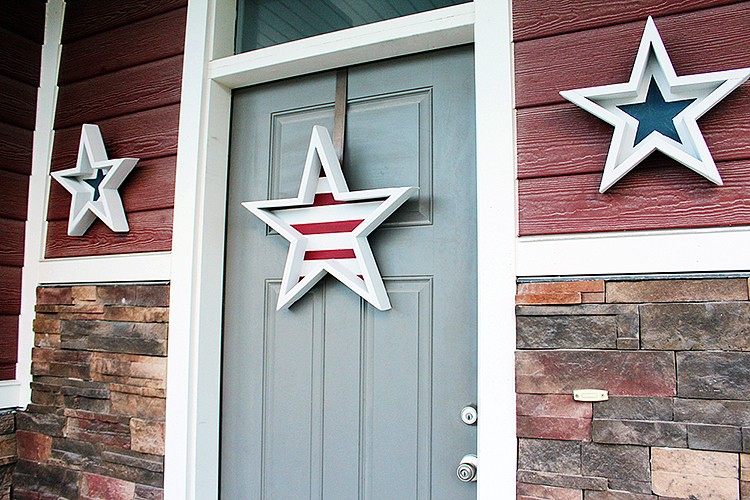 These Fourth of July wooden star decorations are a great way to dress up your front door, backyard deck or fireplace mantel.
Alexi Politis of Seeking Alexi, takes you through the project, step by step, and offers a few tips to make the wooden star project go smoothly.
I made three wooden star decorations for my porch– one for my door, and two for either side of my door. They look great with the flag, flowers, pillows and doormat that are all red, white or blue. (Those items can be found at The Home Depot, by the way.)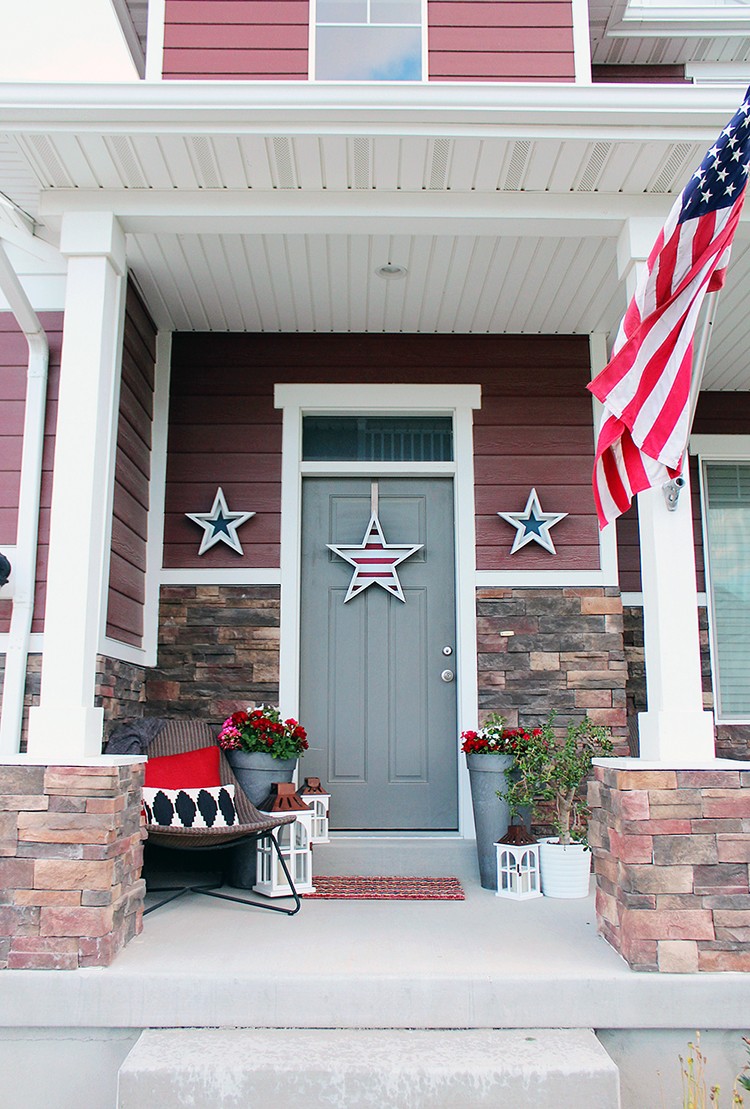 T
his project is a little technical, I won't lie. I messed up a 

few times on it by cutting wood at the wrong angles or incorrect lengths.
But I made the mistakes so you don't have to! You have a LOT of step-by-step instructions below with photos. If you follow these steps carefully, then you will walk away with a gorgeous, technical and impressive wood star that you 

made by yourself!
Fourth of July Wooden Star Decorations
Tools
Sliding miter saw

Nail gun with included nails

Stapler with included staples

Jig saw

 with clean wood blade

Orbital sander

Ruler

(2) Rigger clamps
You can rent some of these tools from The Home Depot.
Materials
(1) 1 x 3 x 8 select pine board (this length will make one 15¾-inch star, this is also the 

length you need for a 22-inch star)

Scrap wood, one at roughly 1 x 12 x 2, one at roughly 1 x 2 x 6 and one at 1 x 3 x 4

Wood glue

Wood filler
Making the Jig
First thing's first, you need to make a "jig" to get your miter saw to 54 degrees. To do so, take a clean scrap board around 1 x 12 in.– mine was about 2-feet wide– and cut it in half at a 30-degree angle.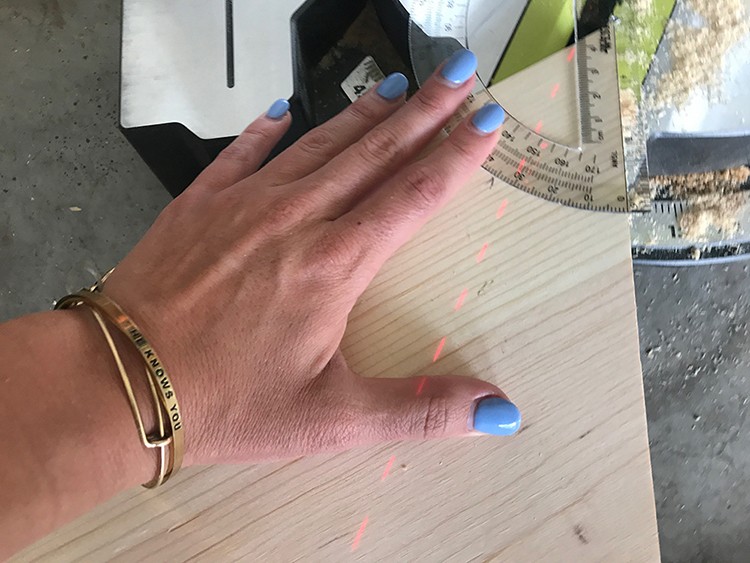 Then, with a good ol' protractor, mark a long straight line at 36 degrees as shown above.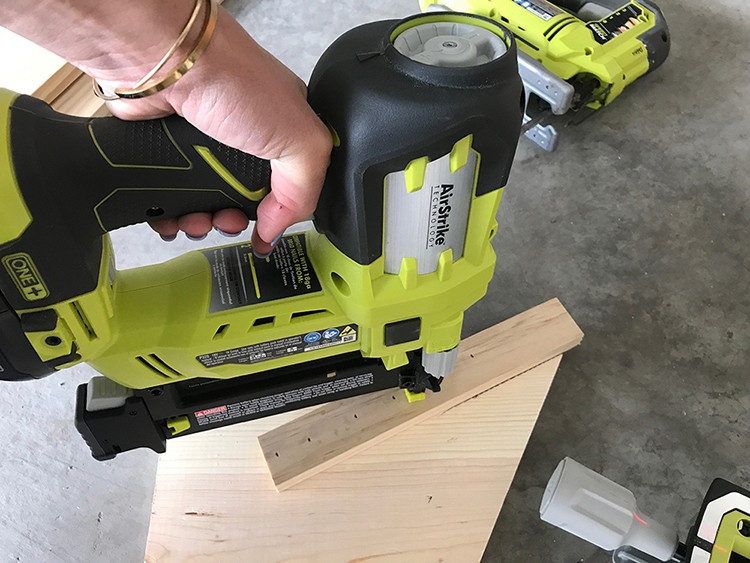 Attach a 1 x 2 to this angle using a nail gun, it should overlap on the corner. Move your saw back 

to 0 degrees, then cut off the excess 1 x 2.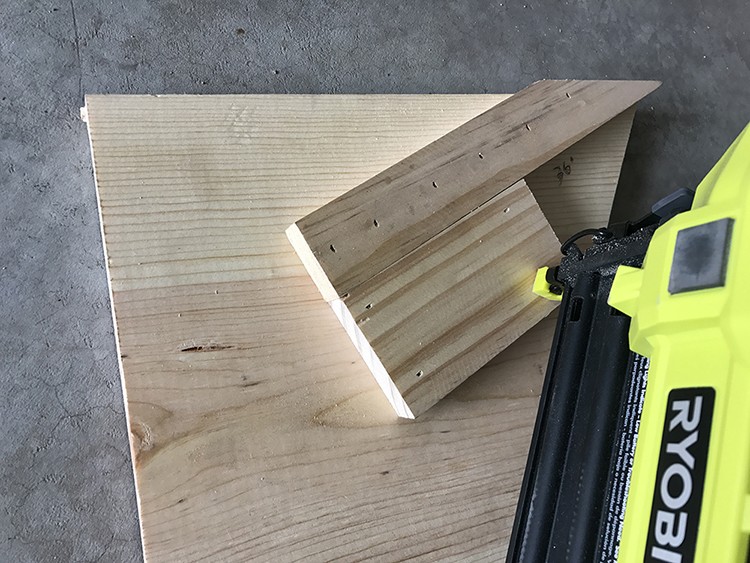 Add a short 1 x 3 without going over any edges. This will ensure the boards you're cutting won't 

run into the back edge of your saw when cutting. 
Making the Wooden Star
Now that you have a jig, it
's time to cut all the pieces for your star! This is the tricky part where I messed up a few times. It's not complicated; there are just a lot of moving parts 

as you cut all of your pieces. 
Just remember to measure three times, then check the angle

twice, and cut once. 
Stick with these step-by-steps and you will do awesome!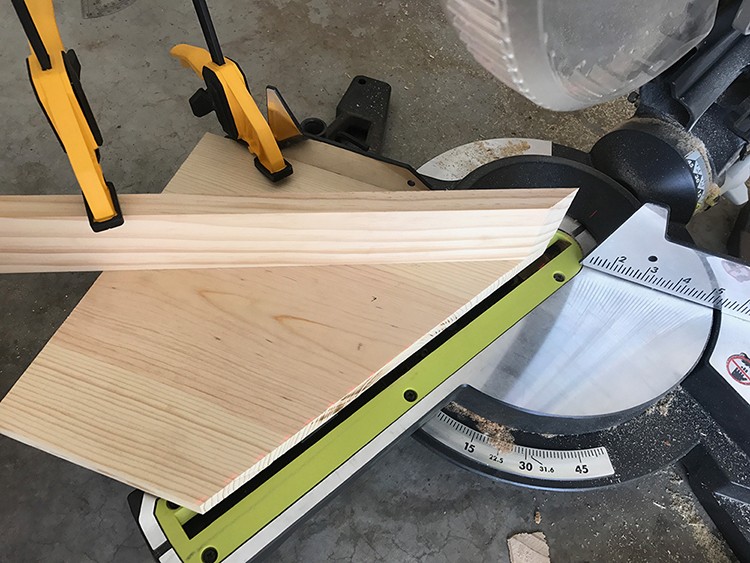 Set your miter saw to 30 degrees, then securely clamp your new jig to your miter saw. Cut off 

the end of your long 1 x 3 as shown above so you can start with the correct angle.
Tip: These instructions don't require you to ever flip your wood. That means the steepness of the actual angle will change, but the angles will always originate from the upper right corner and down to the bottom left.
The instructions below will create a finished star that is 15¾-in. wide. I created two at this size 
then one big s
tar at 22-in. wide.
The 22
–
in. star requires pieces that are 8½-in. wide and 6¾-in. 

wide. Read through the instructions for the 15¾-

inch star. If you're making a 22

-inch star, 
replace the below instructions saying 6 in. with 8½ in., and the below instructions of 4¼ in. with 

6¾ in.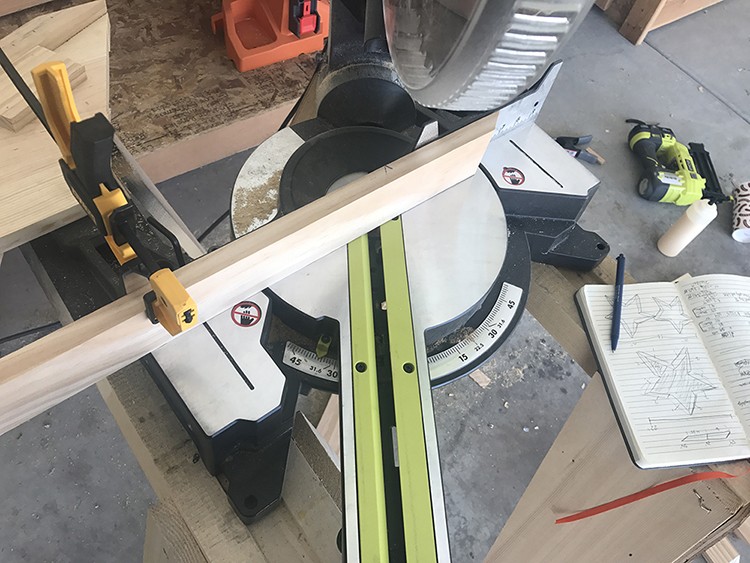 Next, move your miter saw to 36 degrees. Measure from the top right corner of the wood over 6 
in., secure your wood, then cut.
Tip: Only mark one short strip of wood at a time. You cannot mark all of your lengths then cut all at once, because you must account for the width of the blade.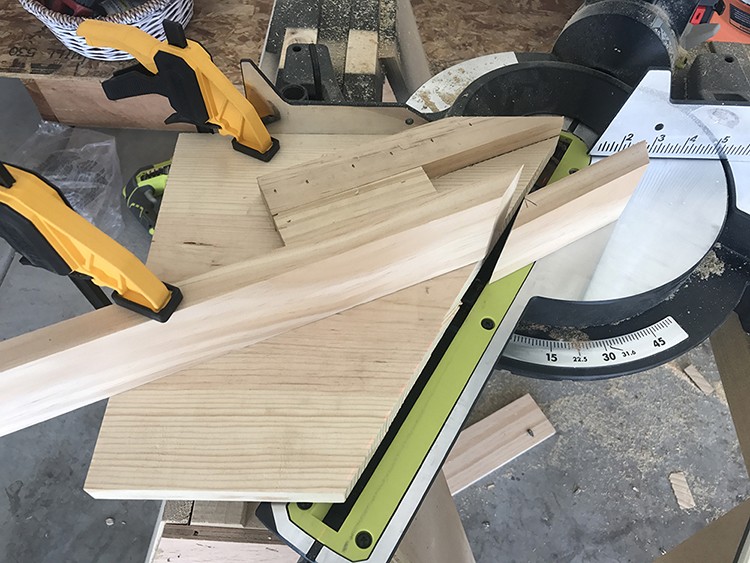 Move your miter saw angle back to 30 degrees and attach your jig like you did before.
Mark at 
4¼ in. from the upper right corner like you did before. Then cut. 
Tip: Don't cut away any of your jig. Pull your blade down without turning the saw on a few times to be sure it will clear the jig when you actually cut.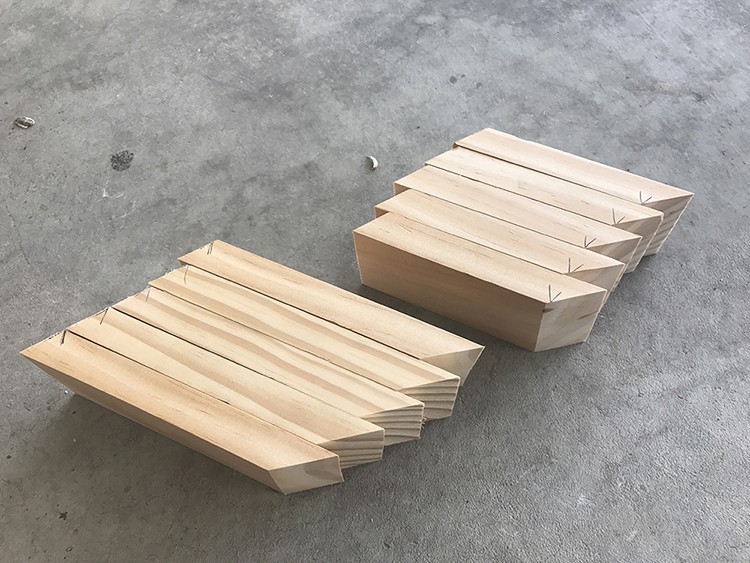 Now you have one of each length that you need!
Repeat this until you have five of each length.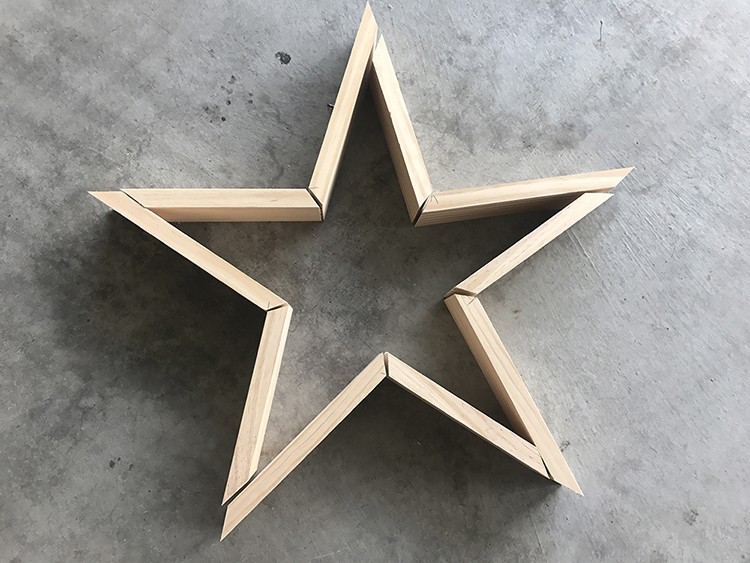 As a dry test, lay out your pieces as you see above.
Your star is going to turn out great!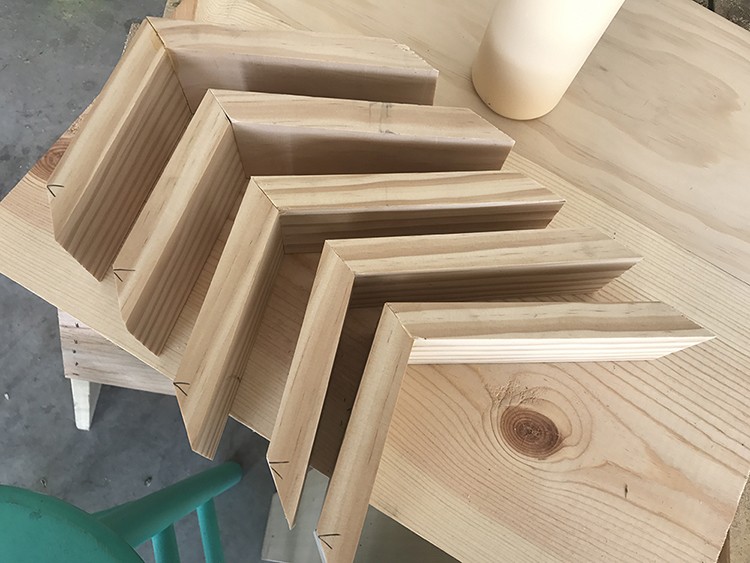 Take the inside angles and glue them together. You'll be gluing one 6
-inch piece at the 36-

degree angles to the 4¼-inch piece at the 36-degree angle as pictured above.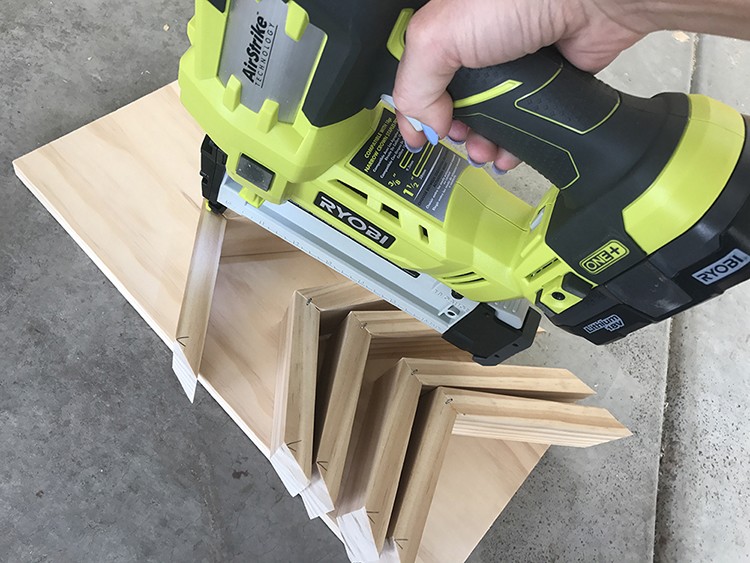 When it's dry enough to handle, attach one staple between the two pieces.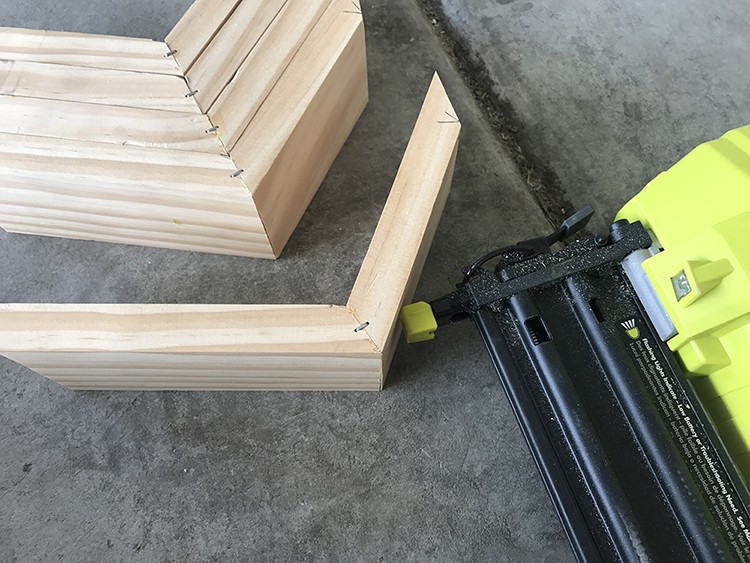 Then nail gun your pieces as shown. I laid my nail gun on the ground and held the wood on the 
ground for some stability.
Tip: Be careful using your nail gun, sometimes the nails will shoot out of your wood unexpectedly and can puncture your fingers. (This may or may not have happened to me from experience on a different project. Luckily it was extremely minor, but I learned my lesson the hard way. Ouch!)
To prevent this hold your wood beyond any possible reach

 from the nails.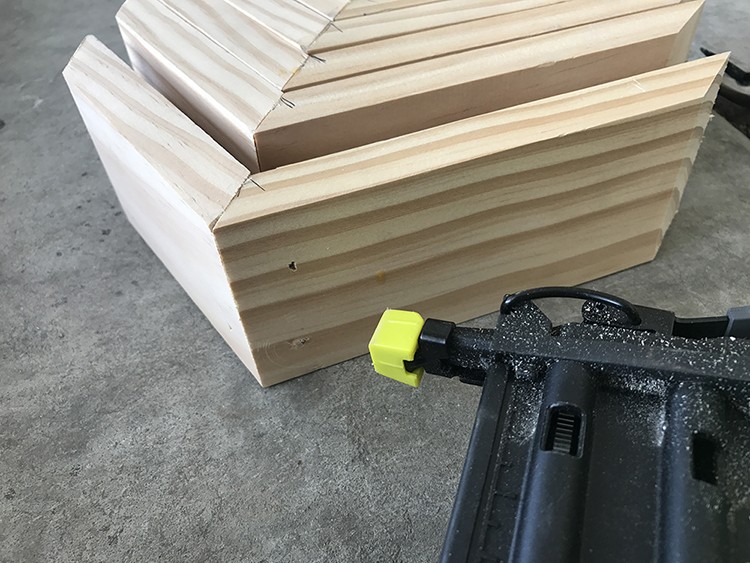 Flip your wood over, and nail a second time so your angles are secure.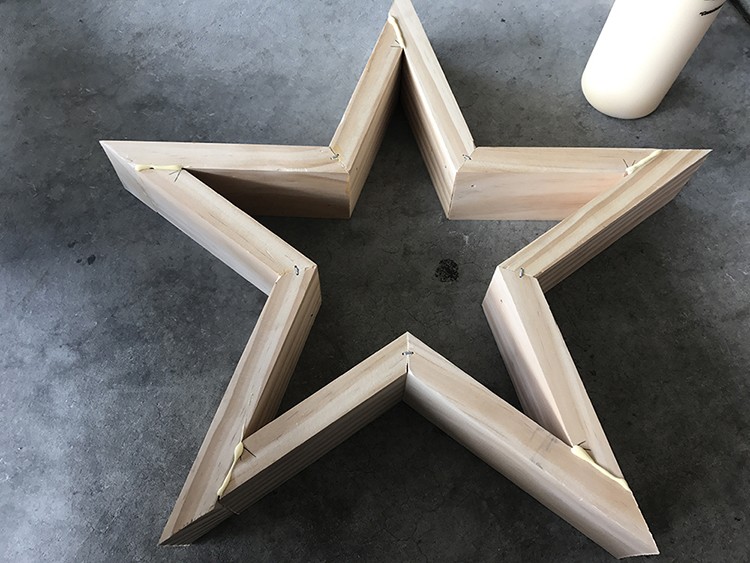 Lay your wooden star out, and glue the remaining angles as best you can. (This step is not pictured, but 
glue your pieces everywhere they touch the neighboring wood.) Once all the angles are 
positioned perfectly, add a little more glue as pictured on the top, then wipe off the access.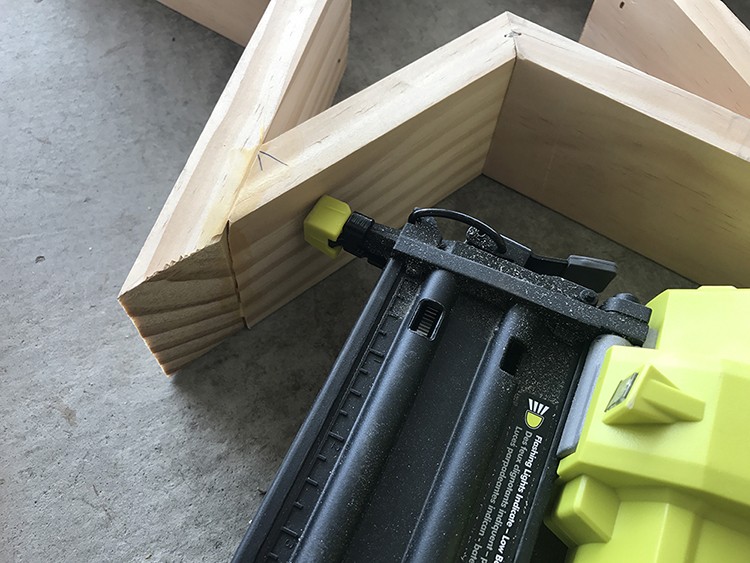 When the glue is dry, add two nails with your nail gun like you previously did. Before you nail them, be sure
that your nails will not poke through the outside of the star or show on the inside of the 
angle.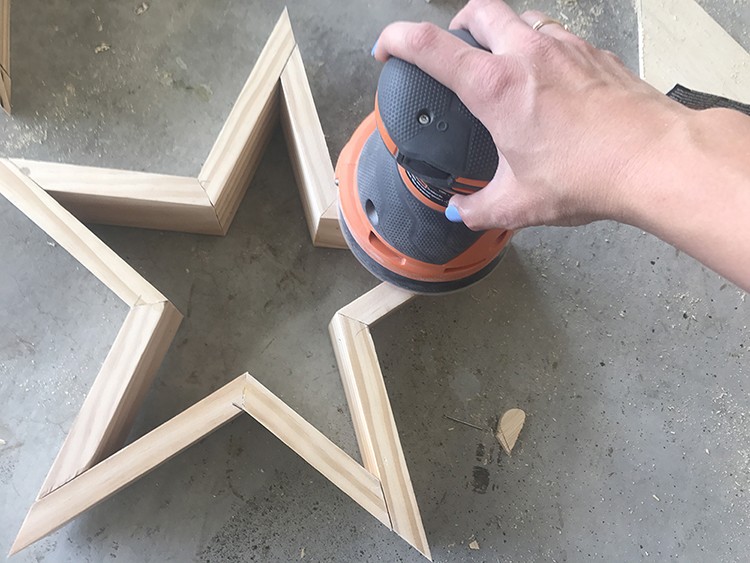 Sand your star everywhere to smooth out all the edges and the rougher connections.
Use wood filler, if needed, to fill in some gaps. Then lightly sand the excess when dry.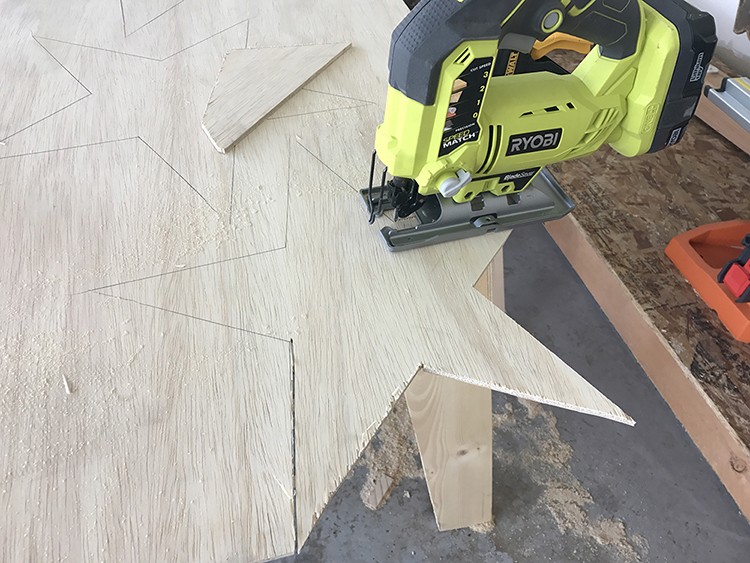 Trace your stars, good side up, on thin ¼-in. sanded plywood, then use a jig saw to cut it out.
Cut 
inside
of the line you drew so your background won't show from behind.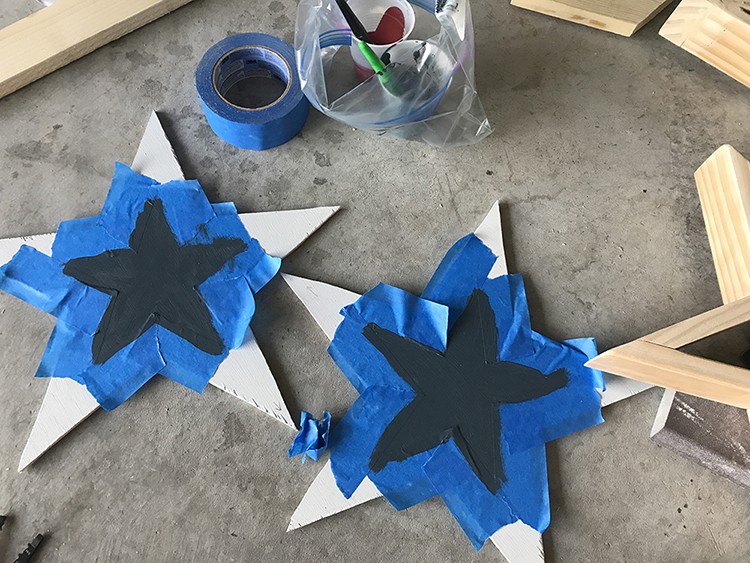 Paint your project as desired!
Tip: You could also stain, instead. Just be sure you've sanded away all the glue, since glue doesn't stain.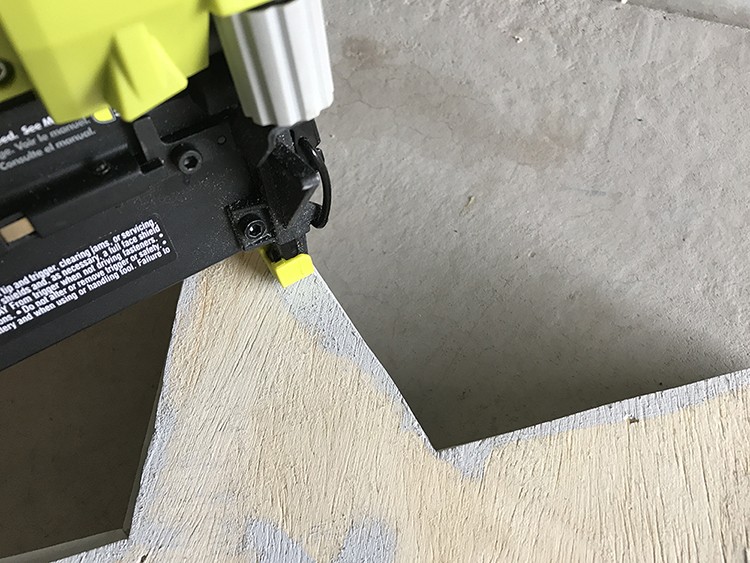 When the paint is all dry, attach the back piece using your nail gun.
Then attach some hooks wire to hang your star! Repeat all the steps until you're finished with
your other stars if you're making more.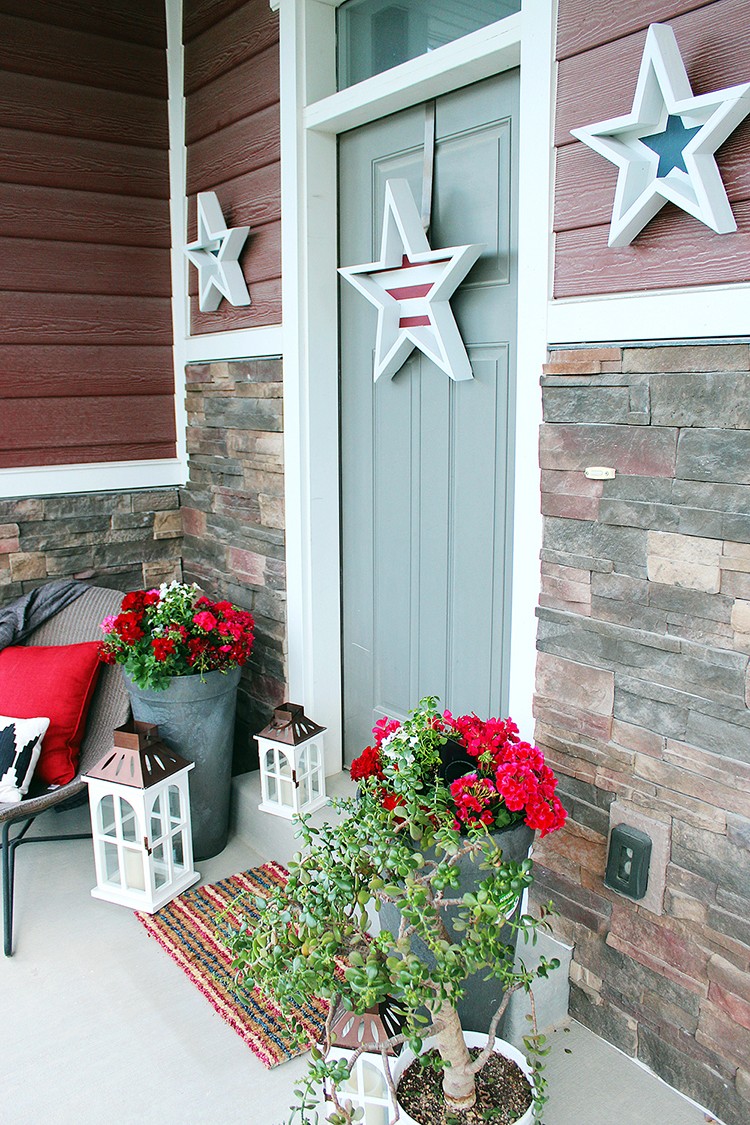 Shop The Home Depot's lumber section for the materials you'll need for this wooden star project. l
Follow our Easy DIY Projects board on Pinterest for more DIY projects. Also, check out more DIY projects here on The Home Depot Blog.
The post Wooden Star Decoration for the Fourth of July appeared first on The Home Depot Blog.