This beautiful front porch was styled by Gloribell Lebron of I Don't Know How She Does It for this year's Holiday Style Challenge here on The Home Depot Blog. By adding fresh plants and other festive touches, Gloribell transformed her small space with these small porch decorating ideas.
Discover four easy ways you can give your small porch a Christmas makeover this holiday season!
4 Easy Small Porch Decorating Ideas for Christmas
Christmas is that special time of the year where our home gets ready to greet friends and family members. I like to make a welcoming statement by updating the décor of our front porch. Our Miami house was built in 1938 and provides a very modest receiving area for guests, but nonetheless, adding some elements that speak to the season is a must! I had to come up with some inspiring small porch decorating ideas to make the most of our space this season.
Add Greenery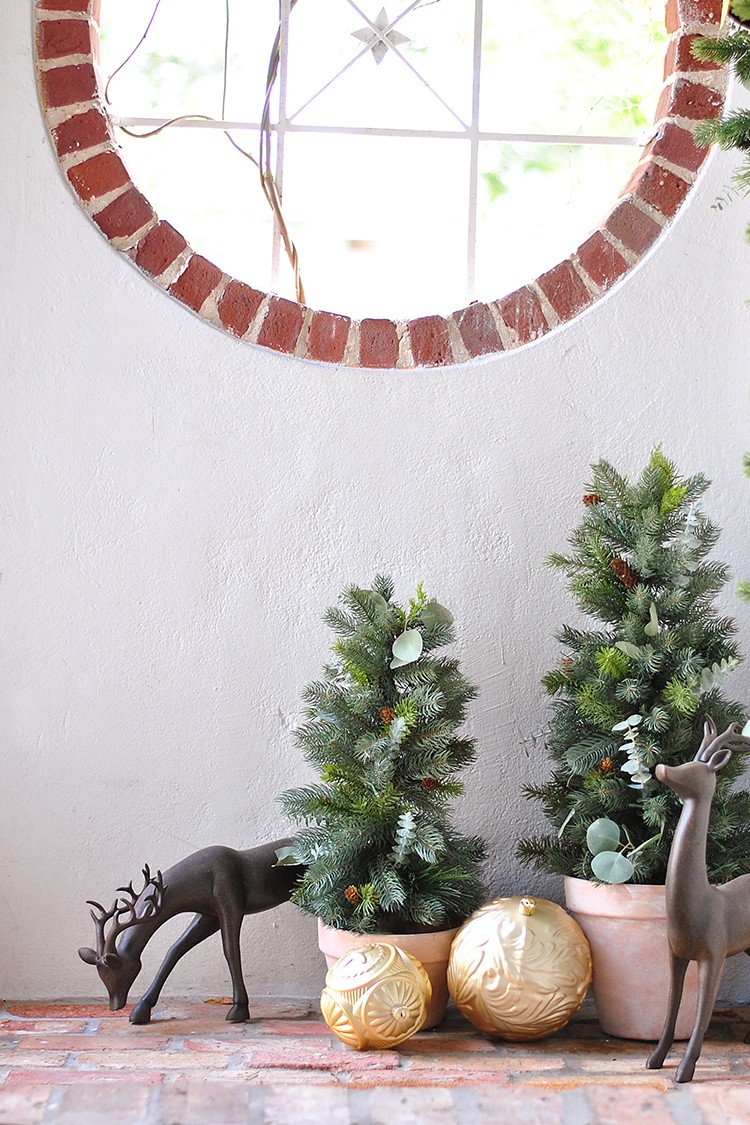 I don't believe in sacrificing the ambiance of a space because of a limited square footage. My biggest tip when decorating small porches it to add key elements for a special charm and to make the most of the area.
I started by adding two small PVC Bayberry Cedar trees (24 in. and 30 in.) inside pre-aged terracotta pots. The thing that I love the most about these trees (besides being pre-lit) it their Feel-Real branch tip technology. This technology makes them look almost like the real thing.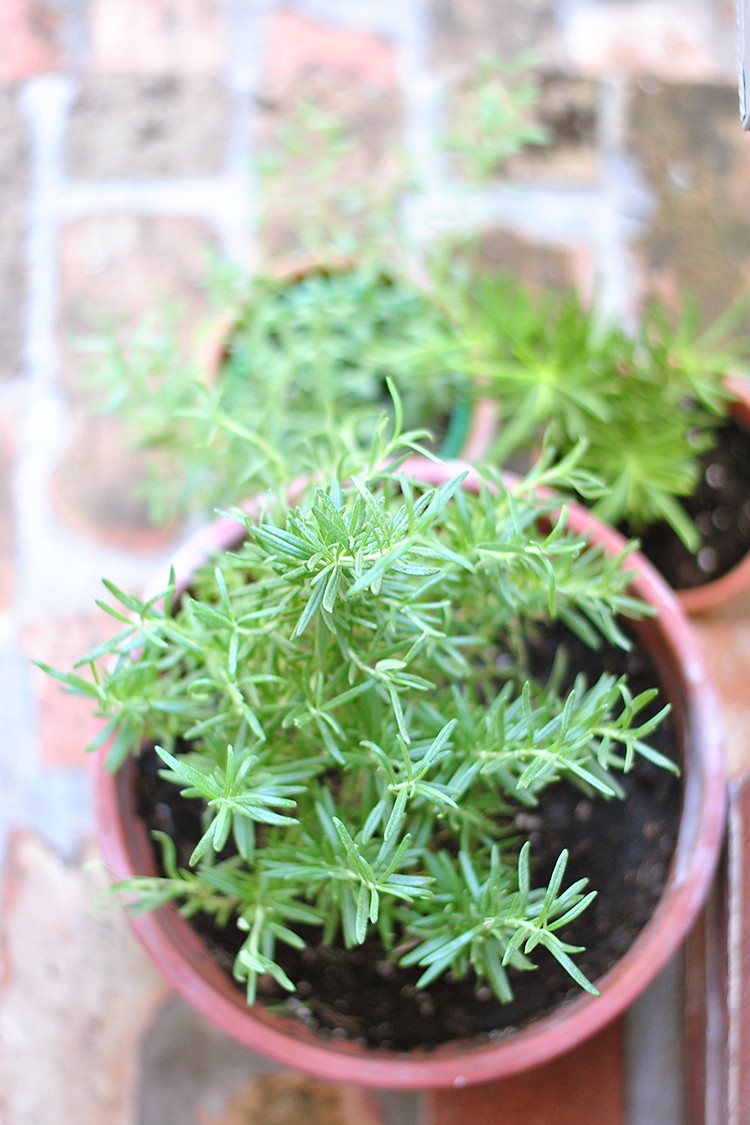 In other terracotta pots, I placed some plants that were similar to the Bayberry Cedar trees. Because of the cedar leaves, I chose lavender, rosemary and a succulent to decorate my porch. You might be wondering "why these plants?" Well, after Christmas has passed, they can be reused on my patio either as edible plants or simply to decorate my outdoor area. I'm always thinking about repurposing my decor!
Incorporate a Wreath & Garland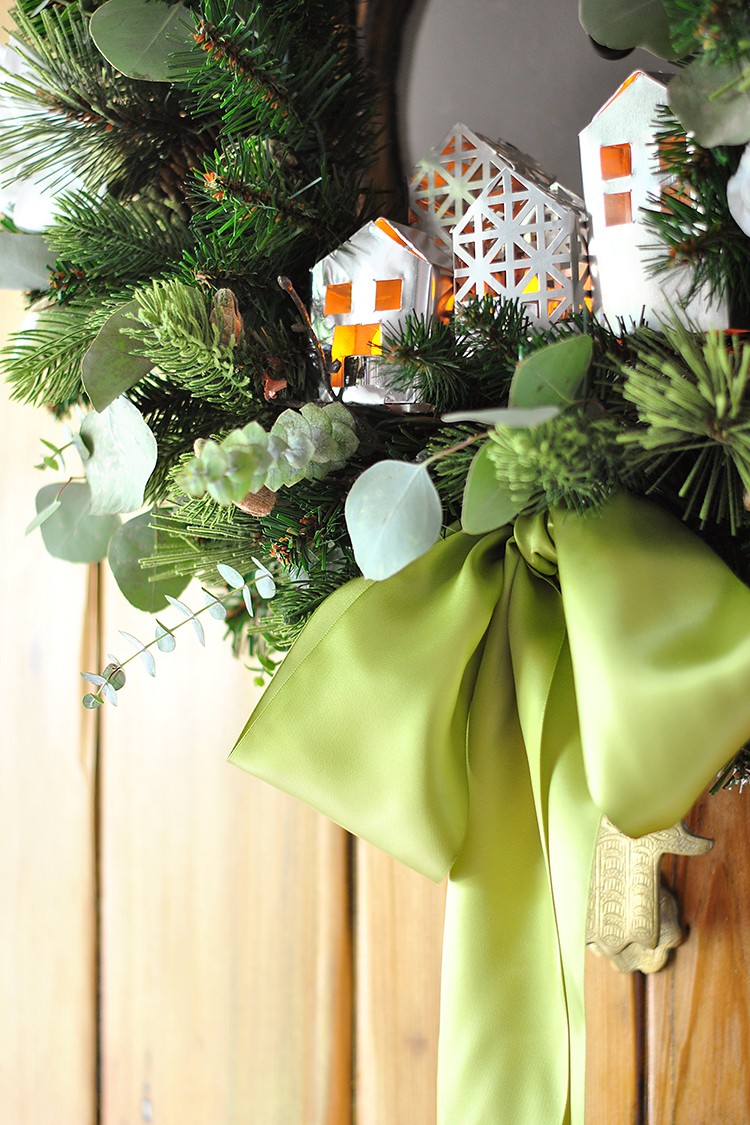 From this beautiful 18-in. Antlers adjustable wreath hanger, I placed my 24 in. Carolina pine artificial wreath (with clear lights). The simplicity of this wreath makes it look elegant and refined. I added a beautiful ribbon, some eucalyptus branches, silk flowers and some aluminum houses (see the DIY here) with some battery-operated tea light candles.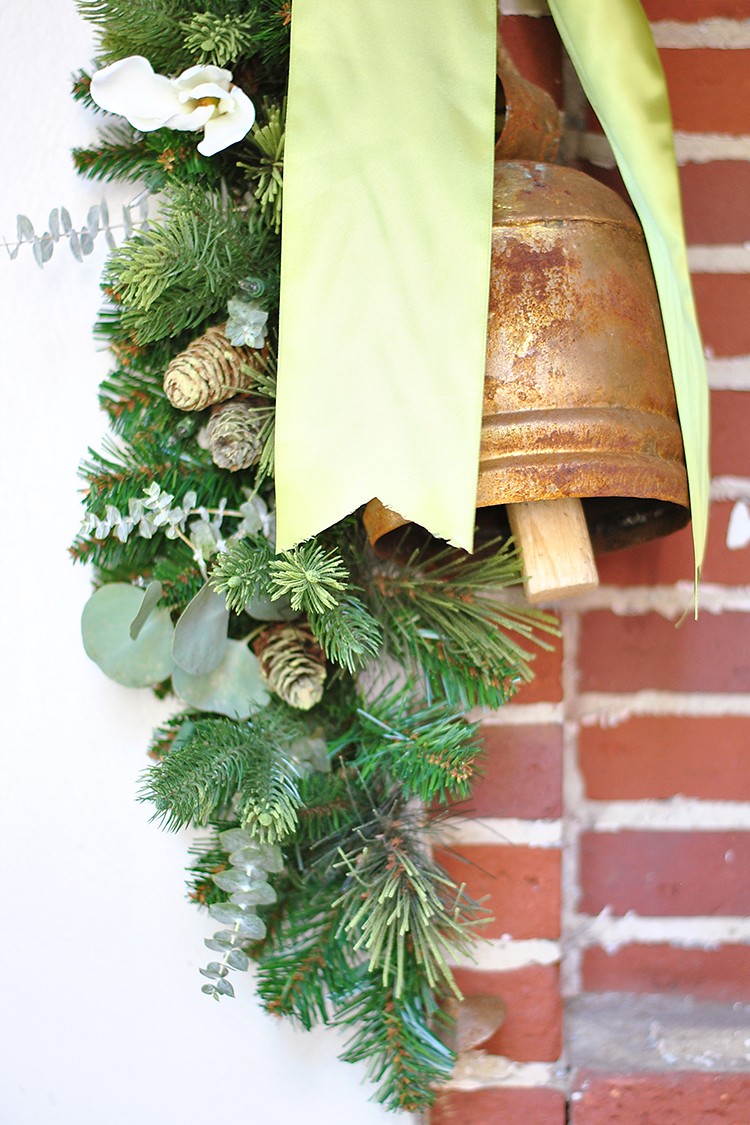 I also added the 9-ft. Carolina Pine Garland (also with Clear Lights) to the focal wall of this porch so that it matched the wreath on the door.
Utilize Lanterns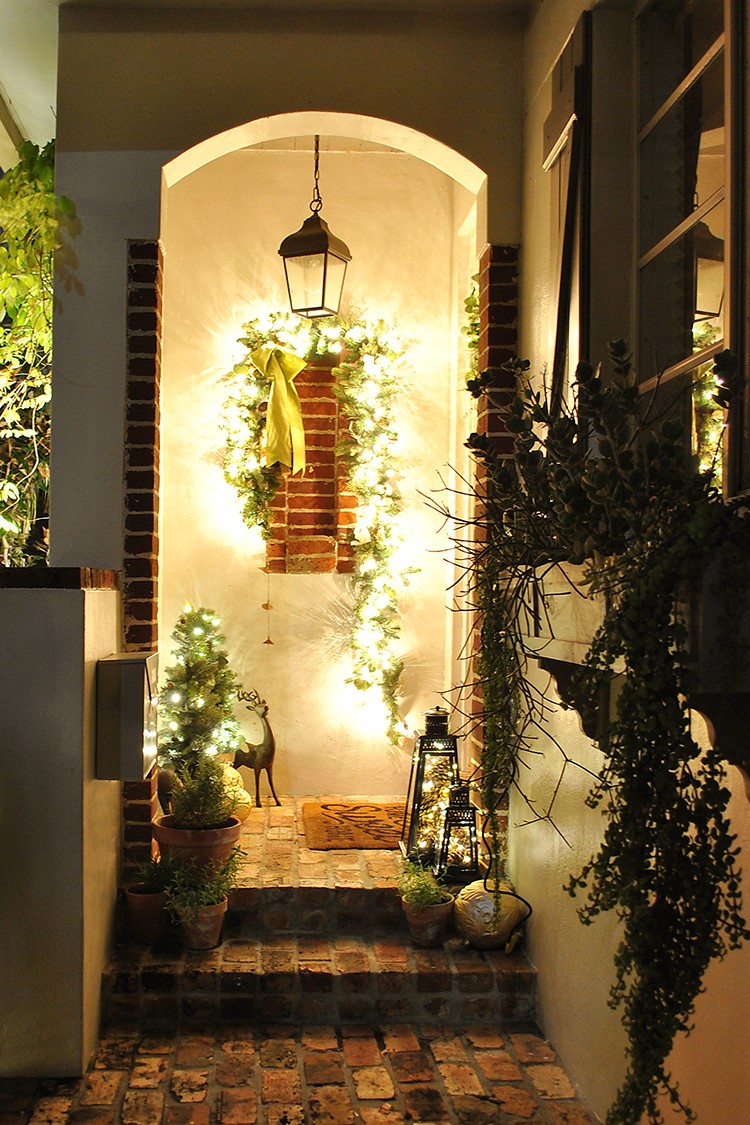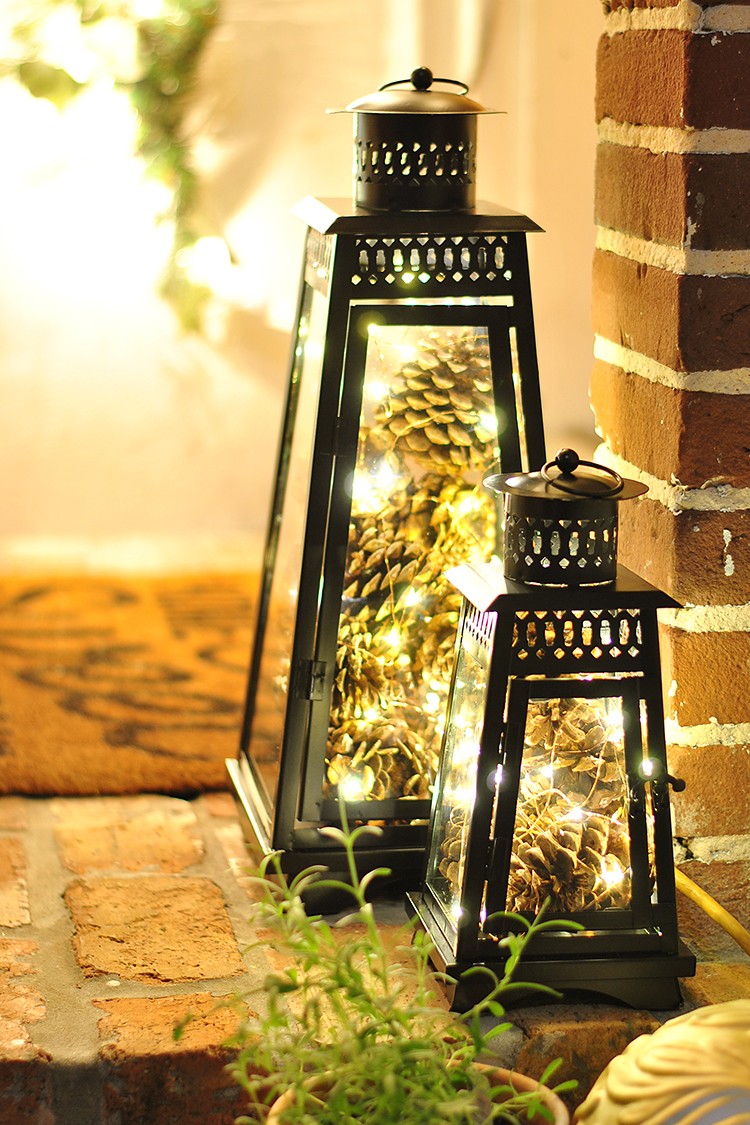 This amazing set of Moonrays Outdoor Metal Contemporary Lanterns were used to enhance the steps of our small porch. I filled them with pinecones and some LED lights inside. Also, some 8 in. and 6 in. shatter-resistant ornaments were placed on the floor to fill in any gaps left.
Snowflakes Light Projector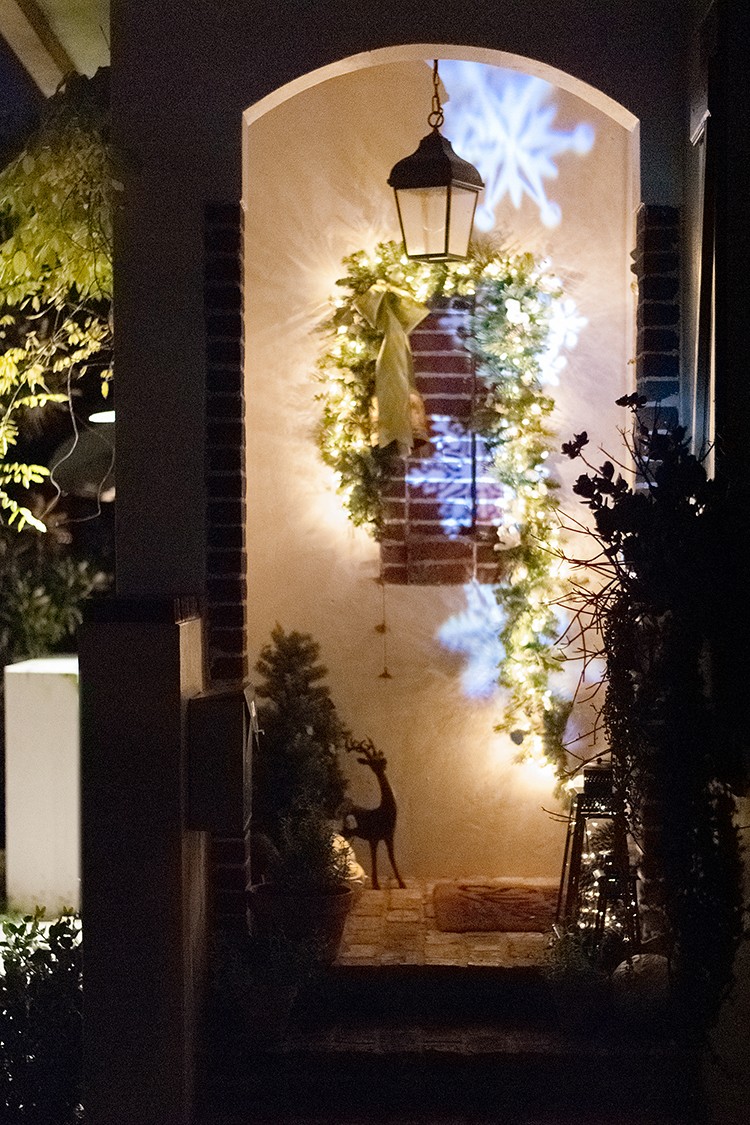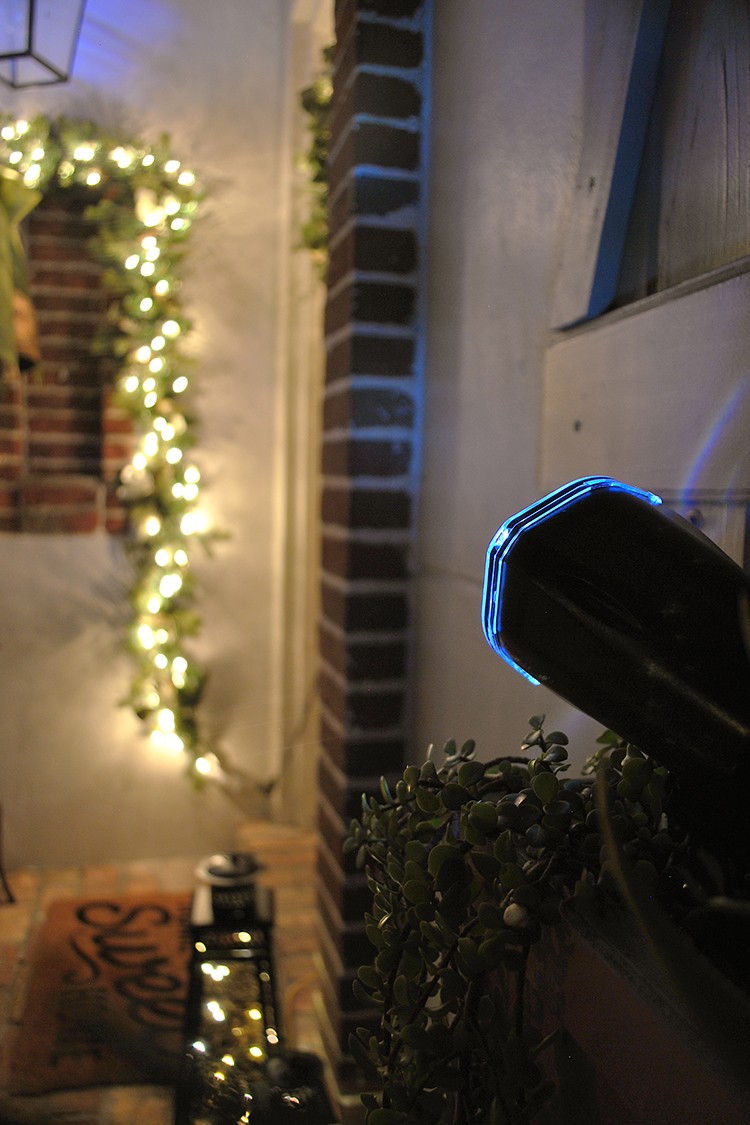 To wrap this area and to make it even more beautiful at night, I added the White Snowflake Projection Spotlight. This creates a wonderful illusion of a winter wonderland that I know both my daughters and guests will love!
Final Reveal
As you can see, I decorated this area taking into consideration its size and function, but also its style. Keeping the greenery simple and using terracotta pots served to emphasize the period of this house and the vintage bricks on the floor.
Remember that sometimes less is more and simple is always beautiful. Have an amazing holiday!
The post 4 Easy Ways to Decorate A Small Porch for Christmas appeared first on The Home Depot Blog.