Doing laundry is pretty much a fact of life for most people. But we have some laundry tips that will make washing your clothes much more convenient and easy.
Laundry Tips
1. Use a Hamper to Sort Your Laundry
Instead of spending valuable time sorting your lights, darks, and delicates from a giant pile of dirty clothes just before you start doing the laundry, have it already sorted ahead of time. Switch to a laundry-sorting hamper. That way, whenever you toss your dirty clothes in the bin, you're also doing your future self a big favor.
Shown: Seville Classics 3-Bag Laundry Sorter.
2. Create a Laundry Calendar
Improve your laundry routine by creating a laundry calendar for your family. With the right calendar system, you can do a little bit of laundry at a time instead of trying to conquer a giant pile over the weekend.
Your laundry calendar can be as simple as hanging a memo board chalkboard on the laundry room wall indicating to all that, for instance, Monday is "whites day," Wednesday is "darks day," Thursday is "delicates day," and so on. With the sorting hampers mentioned above, family members shouldn't have too much trouble helping make this laundry schedule happen.
3. Prep Your Laundry
This might seem obvious, but we all have skipped this step at one time or another. It's definitely worth the extra few seconds to untangle sheets, button pants, and straighten sleeves before tossing them into the wash.
This will keep your clothes cleaner, maintain their shape and save you time on drying and ironing.
4. Become Laundry Literate

Those weird little symbols are on your clothing tags for a reason. Doing your laundry right the first time prevents rewashing and costly laundry mishaps. Follow our handy chart to keep your clothing looking its best.
5. Wash Your Washer
Over time, residue from detergent and fabric softener can build up in your washing machine, causing grime build-up and even mold. Yuck. If your appliance doesn't have a self-clean feature, run a hot water cycle with two cups of bleach or vinegar, and one cup of baking soda.
6. Give Your Laundry Room a Makeover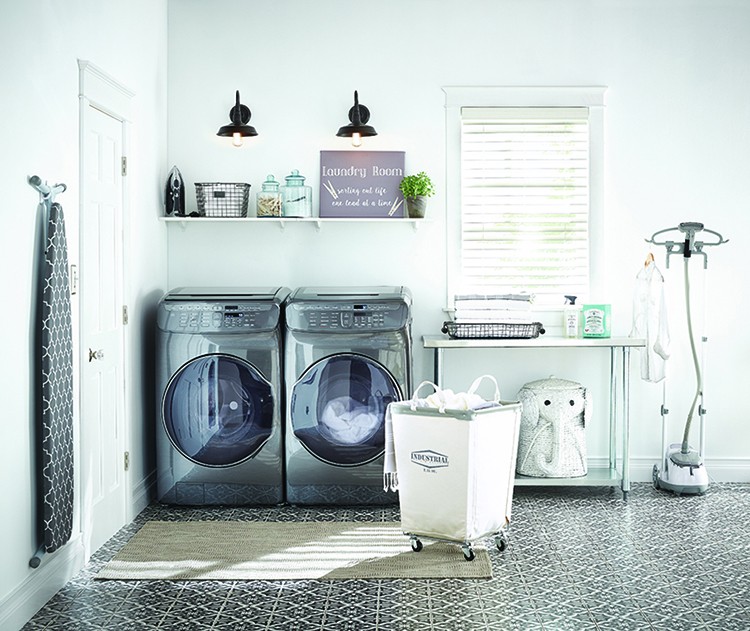 Organizing your laundry room might not be on the top of your to-do list, but keeping everything you need right at hand will help you breeze through your chores. Adding a simple shelving unit to hold your iron and laundry supplies can make a huge difference.
Set up a "stain station" with a fabric stain remover to pre-treat your clothes.
Install a retractable clothesline or drying rack to make full use of your space.
Clear a small corner of your laundry room for a garment steamer, too. A steamer can smooth our wrinkles quickly and is a little easier on clothes than an iron.
7. Upgrade Your Washer and Dryer
The time will come when you want to– or even have to– replace your washer and dryer. Consider upgrading your appliances with some of the new time-saving features that didn't exist five years ago. Large-capacity washers, super-fast wash cycles, and wrinkle-releasing steam settings. There are even washers you can monitor through your smartphone!
The investment in these advanced features can make doing your laundry a lot faster and easier.
Shown above: Whirlpool Cabrio 5.3 cu. ft. High-Efficiency Top Load Washer with Steam in Chrome Shadow.
The post 7 Laundry Tips Guaranteed to Make Your Life Easier appeared first on The Home Depot Blog.