Skeletons decorations are must haves for your porch this Halloween. See how Aniko Levai of Place of My Taste got a little creative with skeleton decorations for the perfect mix of scary and chic for her front porch.
This is Aniko's contribution to our Halloween Style Challenge series here on The Home Depot Blog. Every year we invite some of the best design and DIY bloggers on the internet to create Halloween- and fall-ready decor or projects using items from The Home Depot.
Take a look at how easy it is to create Aniko's Beware sign, a trick-or-treat candy box, mounted skulls, and other festive touches for the home.
My boys are typical boys and love scary stuff. They are six and eight years old and have been begging me for years to make the house spooky for Halloween. Here we are, their wish had come true. When I received two large posable skeleton decorations from The Home Depot to create something fun and scary for their Halloween Style Challenge, my kids were excited as they can be. The kiddos love Halloween, and this year our house will be the "cool" looking spooky house in the hood.
I started brainstorming ideas immediately when I opened my large boxes. I knew that I wanted to decorate my front porch. As our regular tradition, we like to go trick or treating with the boys on our street, and I typically leave a large bowl of Halloween treats on the steps for other trick or treaters.
For this year's decor, I envisioned a spooky front porch with a large beware sign that one of the scary skeleton decoration holds onto. I would have his friend, the other skeleton, holding a giant box of candy sitting on the steps for trick or treaters.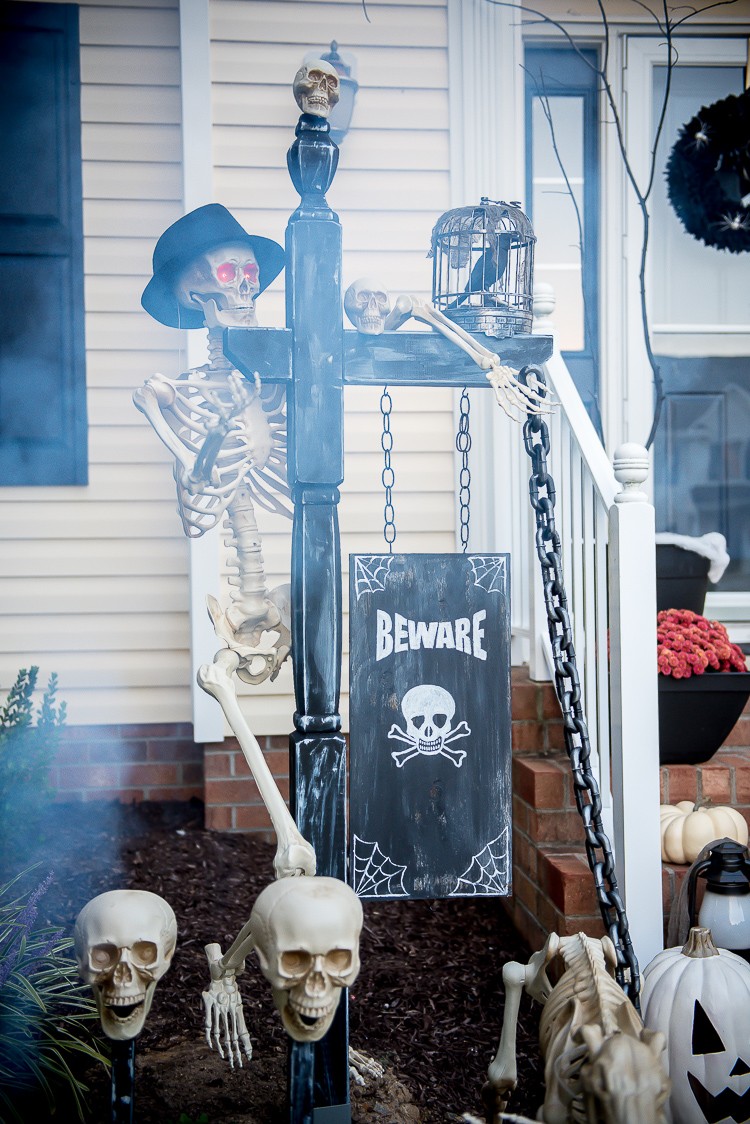 DIY Spooky Halloween Sign
I will show you a few easy DIY projects to create this scene for your Halloween front porch. Let's start with the large beware sign.
Materials
Mailbox post
Post anchor
1/4 Plywood
7/8 Cup hooks
Step 1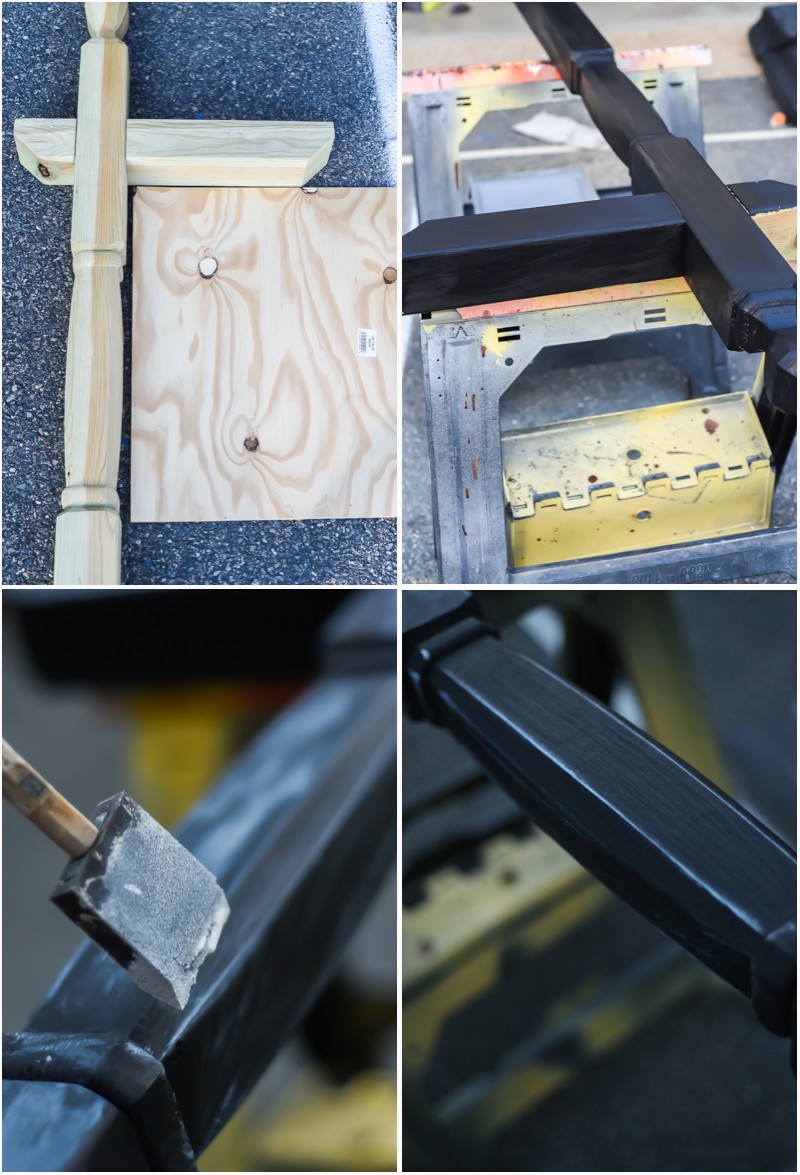 I painted the mailbox pole first with a matte black paint and let it dry. I cut the plywood for the sign in half with a table saw while the post dried. After the black paint was completely dry, I touched the pole up with a sponge brush adding just a touch of white paint to create a white wash look on the pole.
Step 2
I created the same look on the plywood pieces as well.
Step 3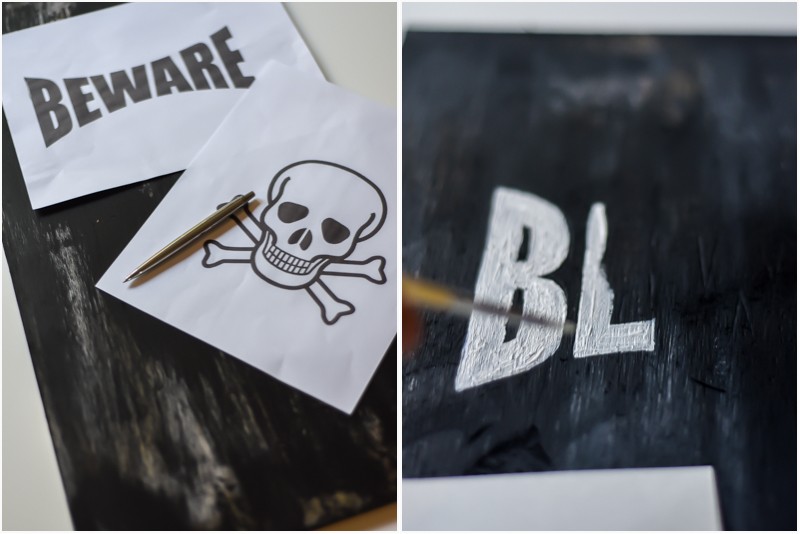 I printed the words "beware," "trick or treat," and a skull on regular paper, traced them onto the wood and painted the words with white paint. You can download templates from this folder.
I've never traced words onto wood and to my surprise, it was easier than I thought. When you trace the words, be sure to push the pen hard enough so it will leave a mark on the wood.
Step 4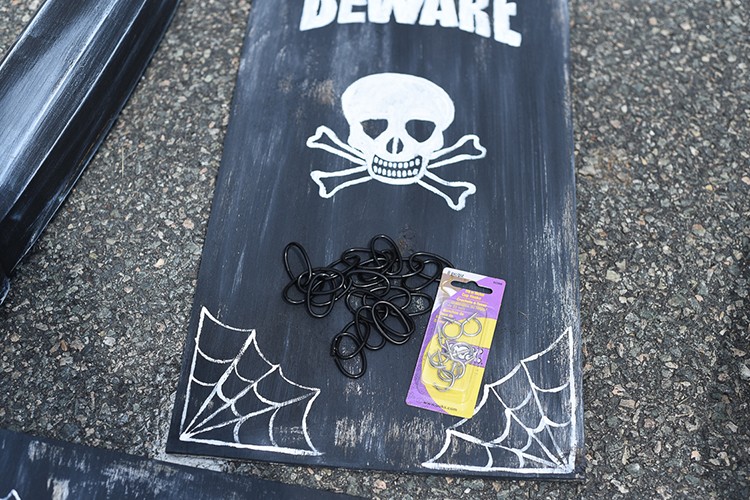 I  then hung the sign I created onto the pole using the small hooks and black chain. To match everything to perfection, I spray painted the nickel hooks with black paint.
Step 5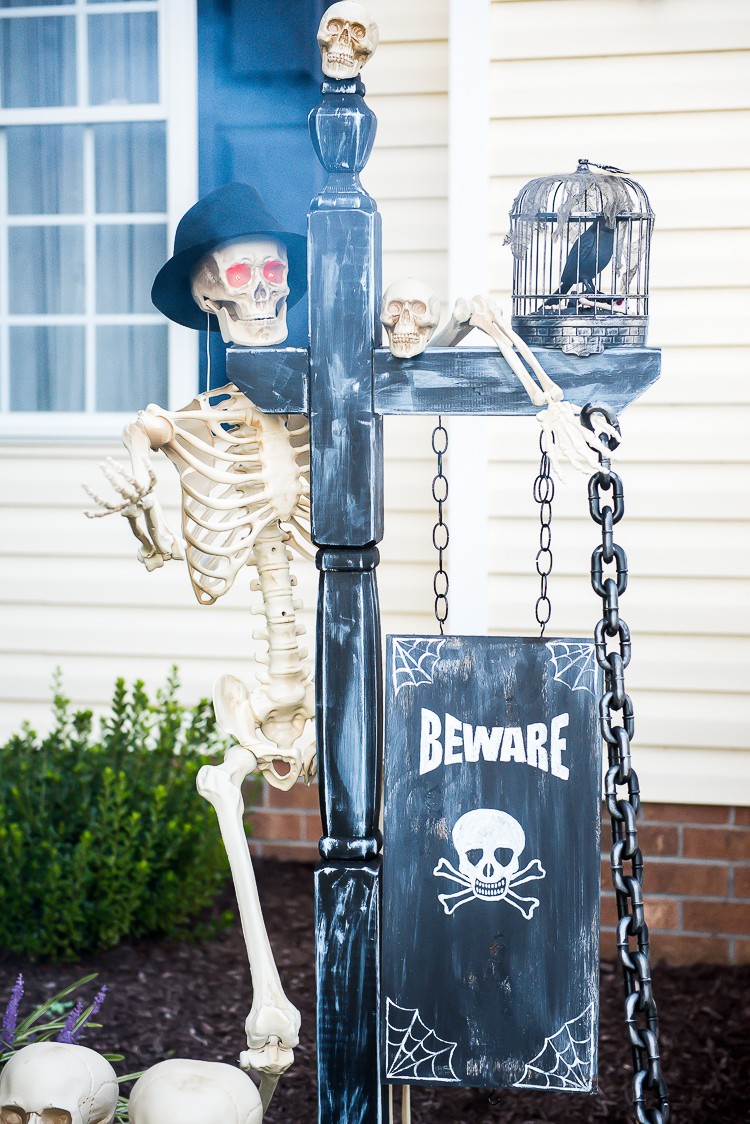 I used a mail post anchor to secure the post in the ground.
Creepy Skull Decorations
I also made up some skull mounted poles using the realistic looking skulls and stakes.
I  screwed the heads onto painted grade stakes and pushed them into the ground around the large beware sign I made.
Animated Greyhound Skeleton Decoration
I found this animated skeleton greyhound that has really lifelike sounds and illuminated eyes and I bet it will creep out our trick or treaters when it will start growling and barking.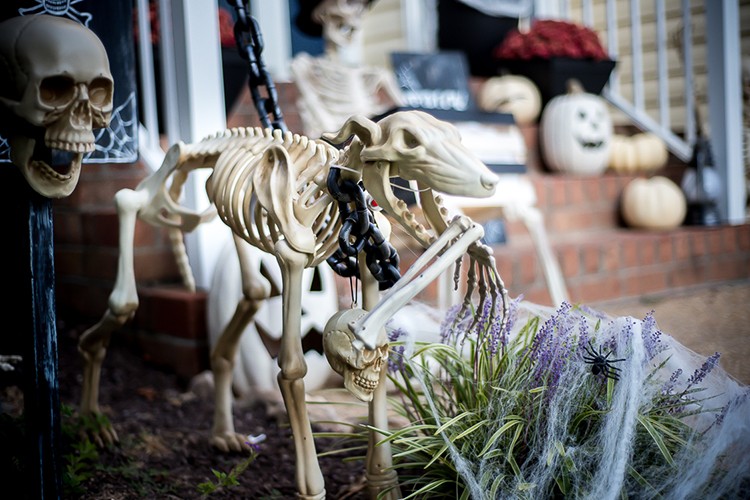 I used the blow-molded chain as a leash for the greyhound.
Matching Jack-o-Lanterns
To make my porch look cohesive but still creepy, I spray painted some of the Jack-O-Lanterns white as I chose not to decorate with the color orange this year.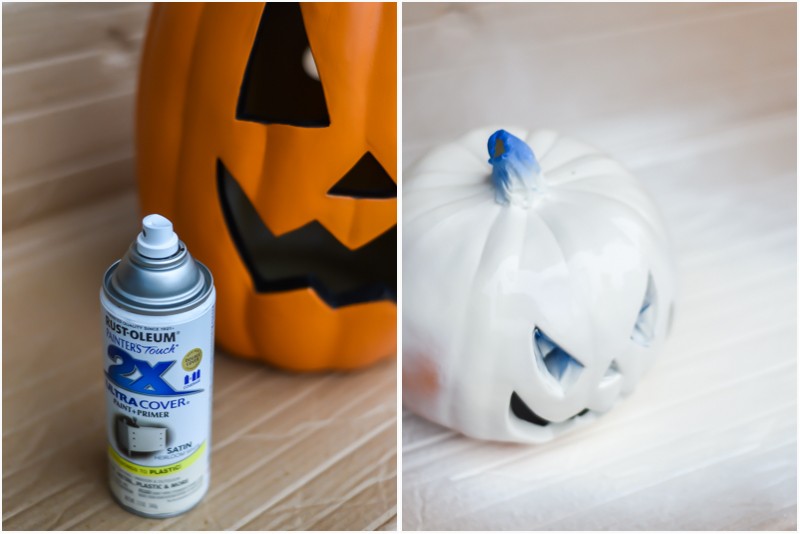 I spray painted three different size lanterns and placed them onto my stairs.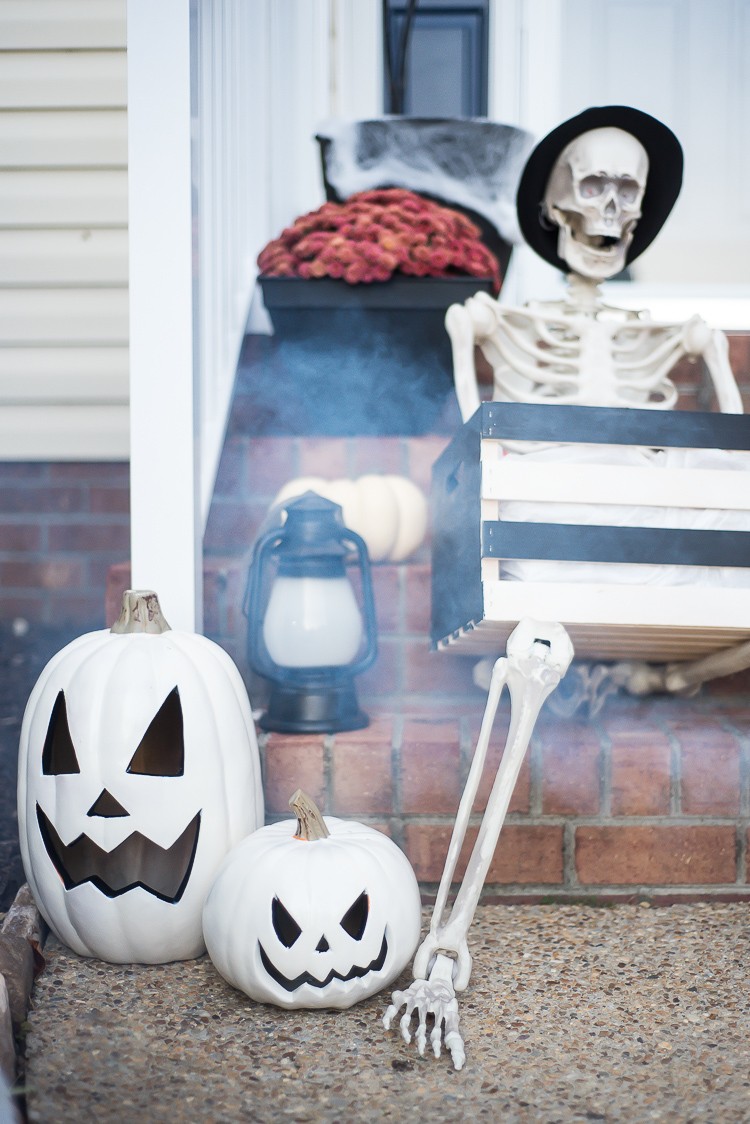 Halloween Trick-or-Treat Candy Box
Oh, and can you spot that scary guy holding all that candy? I purchased a large wooden crate from The Home Depot, painted it black and white and there you have a fun looking trick or treat box.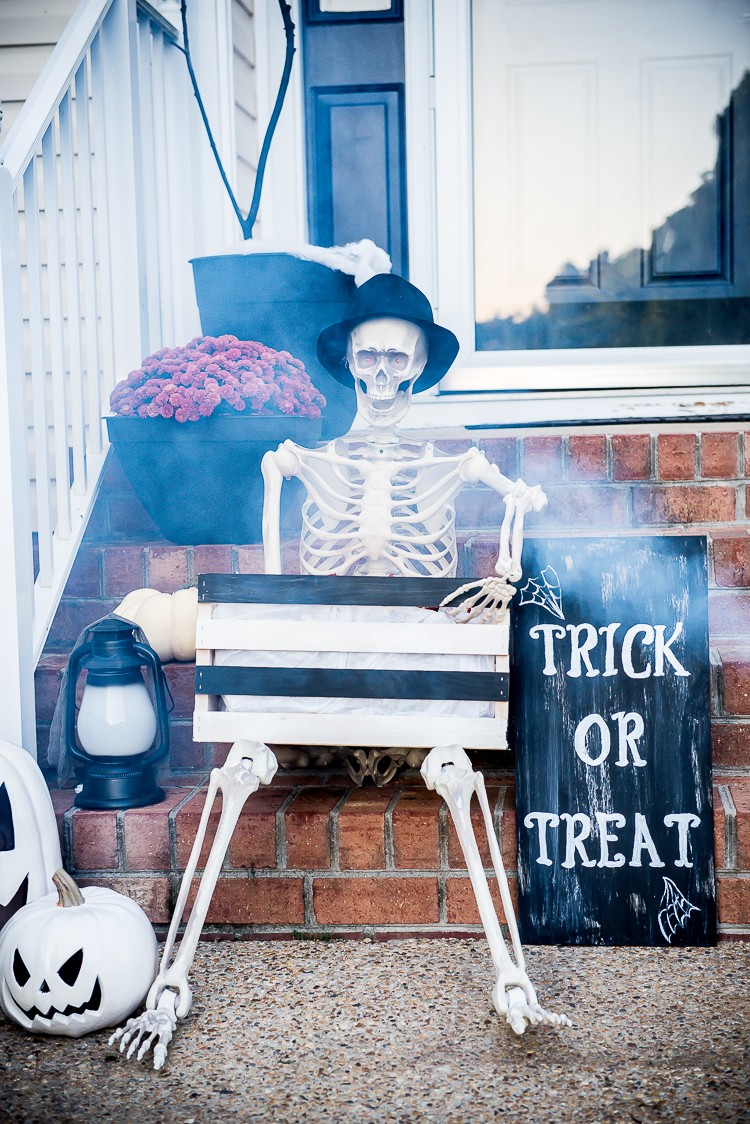 Spooky Halloween Front Porch Decorations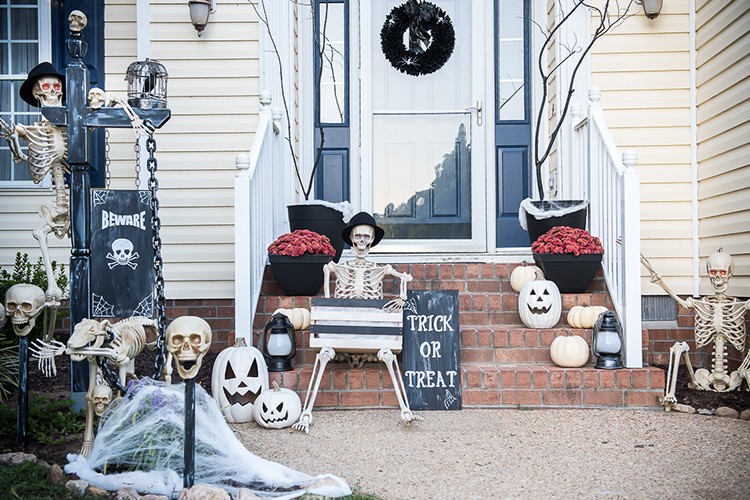 I created a spooky front porch with lots of small DIY projects, and my kiddos are super excited about it. I hope you find something you like and you will recreate some of these easy projects for Halloween.
For extra decorations, I used a large branch from the back yard (spray painted with black paint) placed in a large black planter; some red mums also put in black planters, a talking Raven in a cage and a Halloween wreath from The Home Depot. And this time around I finally purchased a fog machine, and it's been pretty amazing.

The post DIY Trick or Treat Skeleton Porch appeared first on The Home Depot Blog.