As a lucky winner of the 2019 Orange Tank Competition, Brittany made her dream project to transform her backyard into the perfect family hangout a reality.
Earlier this year, I had the opportunity to attend a home blogging conference where I pitched a backyard makeover to The Home Depot. I was so excited to win the competition, and now I get to share the final reveal with you today.
Before The Remodel
When we purchased our home two years ago it had some great features, but it lacked backyard space for our kids to play.  There was only a small, sloping yard, lots of pine trees (not exactly the fun kind you can climb) and a patio deck that was in rough shape.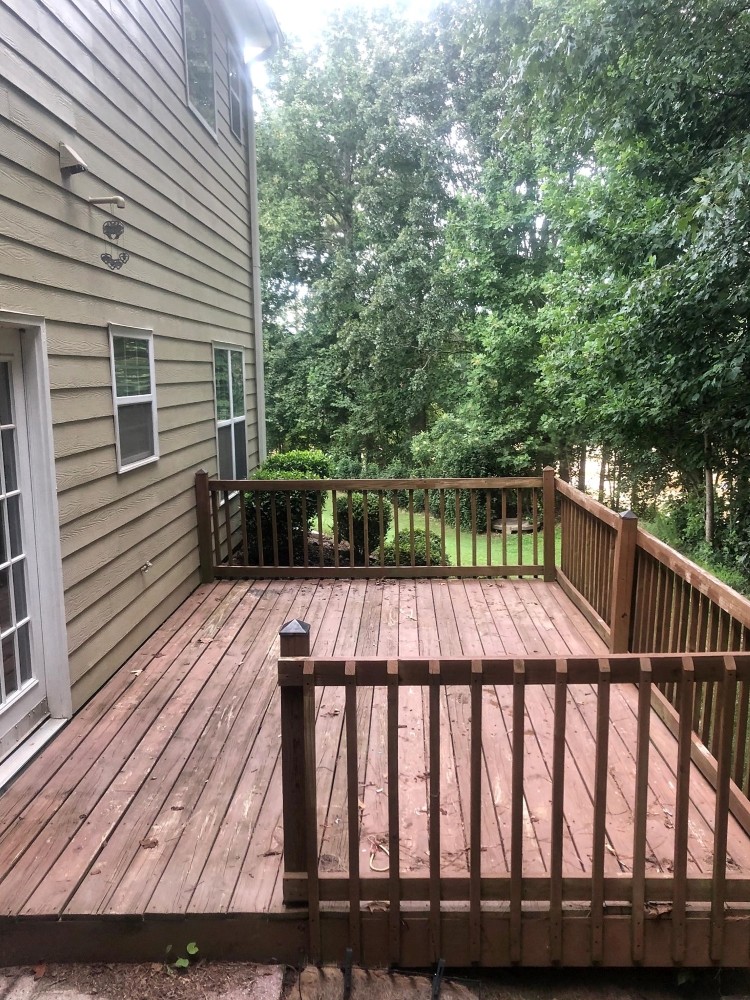 The deck had multiple areas of mildew, and the old stain was coming off in certain areas. The deck posts were warped and split due to dry rot and damage over the years.
Transforming The Deck
Since it wasn't in the budget to replace the deck boards and railings, I used a pressure washer to deep clean and remove the old stain. We did, however, replace the 4" x 4" deck posts. Once everything was dry, I applied Behr's Waterproofing Solid Deck Stain & Sealer in the color Slate.
When we replaced the posts, we decided to extend them up so we could hang string lights from them and enjoy being out here at night, too. New post caps were a must to prevent damage from the elements.
When it came to patio furniture, my husband and I decided to build an outdoor sofa. We have built many things over the years, but outdoor seating was a first for us. We purchased the cushions first so we were able to create a custom fit, and we used pressure treated lumber and our kreg jig to assemble the sofa.
Transforming the Yard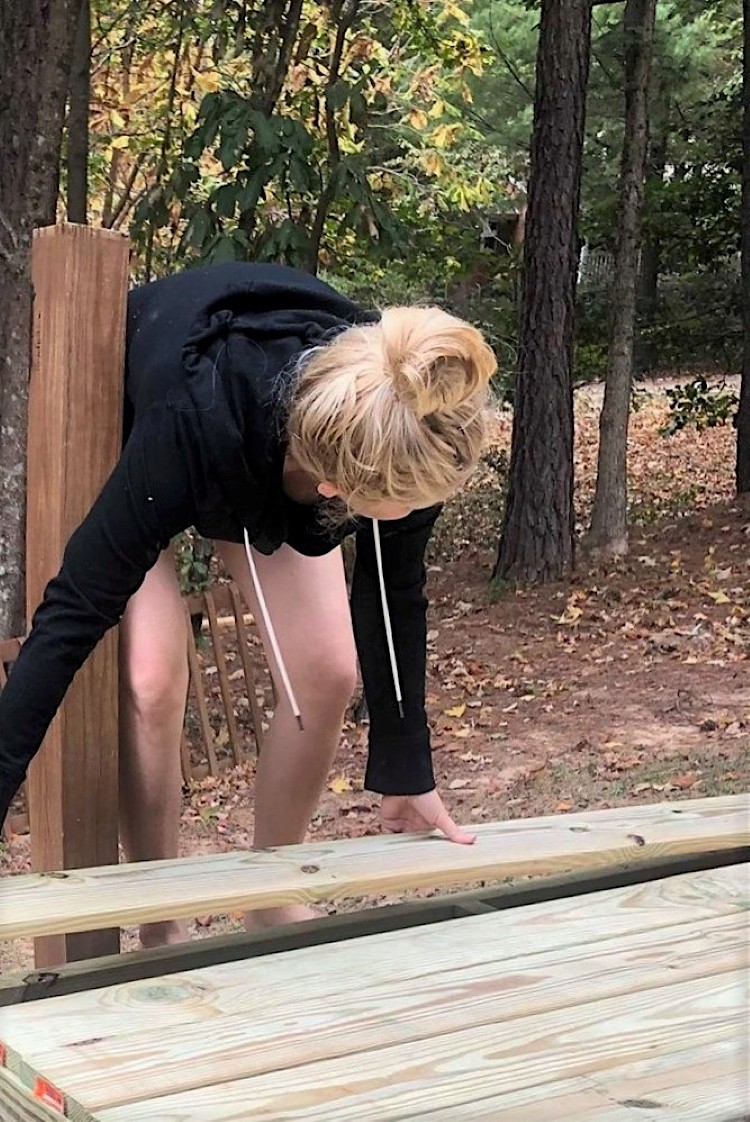 The biggest challenge with the backyard is that the entire lawn slopes so in order to put a playhouse outside, we needed to clear some trees and build a small deck for a level area. We used 2-in. x 6-in. and 1-in. x 6-in. lumber to build it.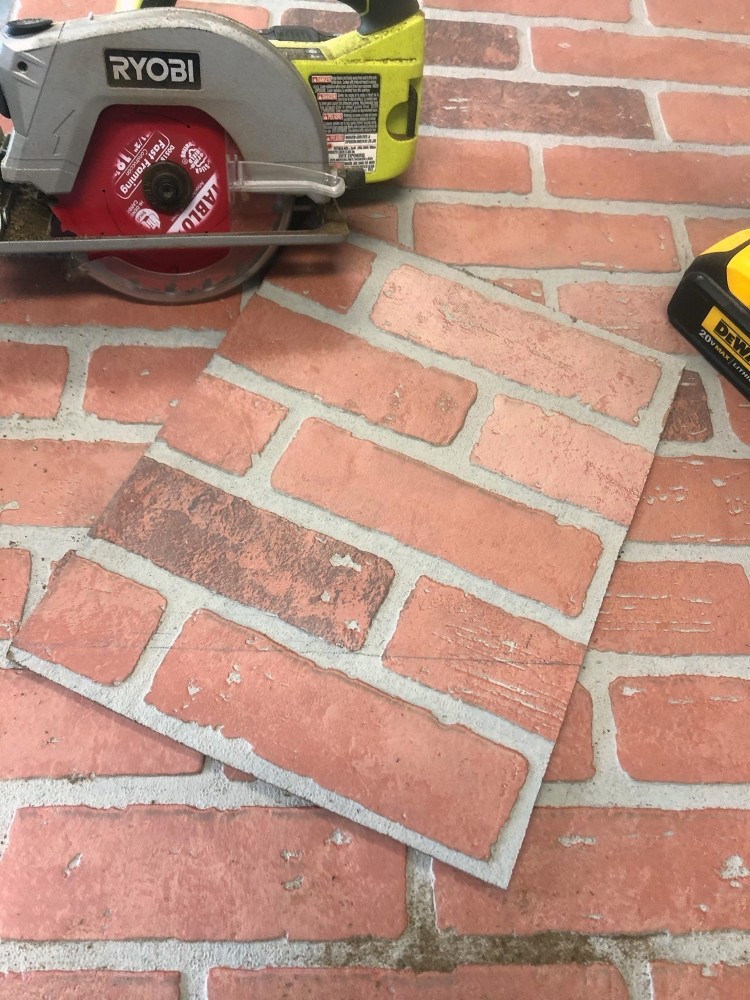 We already had the playhouse, but I gave it a custom paint job using Rustoleum spray paint. I also added interactive features like a wireless doorbell, an exterior light and even a faux chimney using the Kingston brick panel.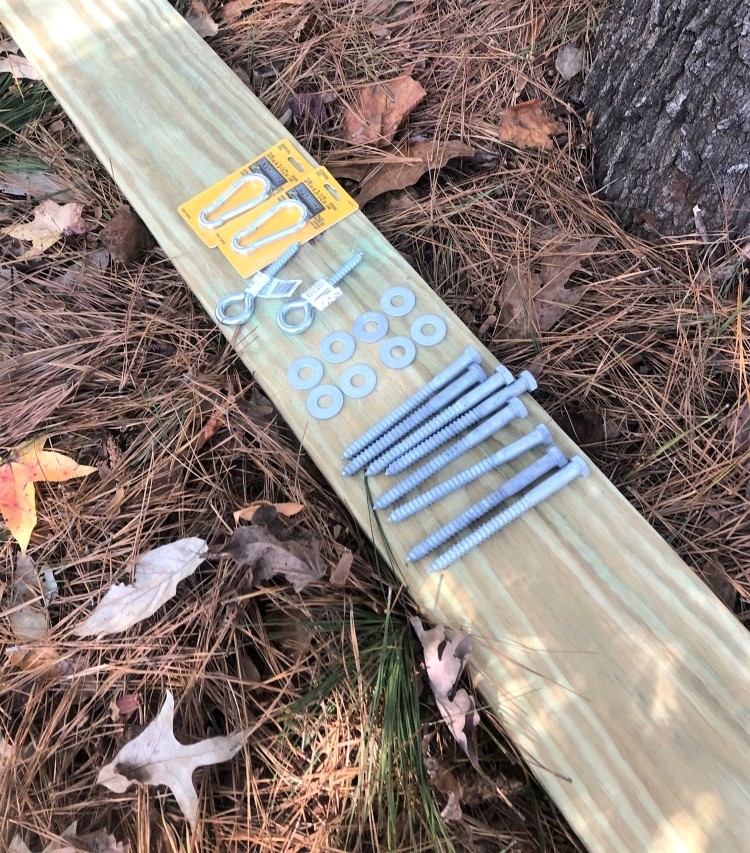 I wanted somewhere the kids could get their wiggles out. Since there isn't really anywhere we could put a swingset, we used what we had – lots of trees! With nature on our side, we cleared some of the debris and attached a few pieces of 2 in. x 8 in. lumber directly to the trees using lag bolts. Then we hung two beautiful woven hammock chairs and a trapeze bar using carabiners and chain links.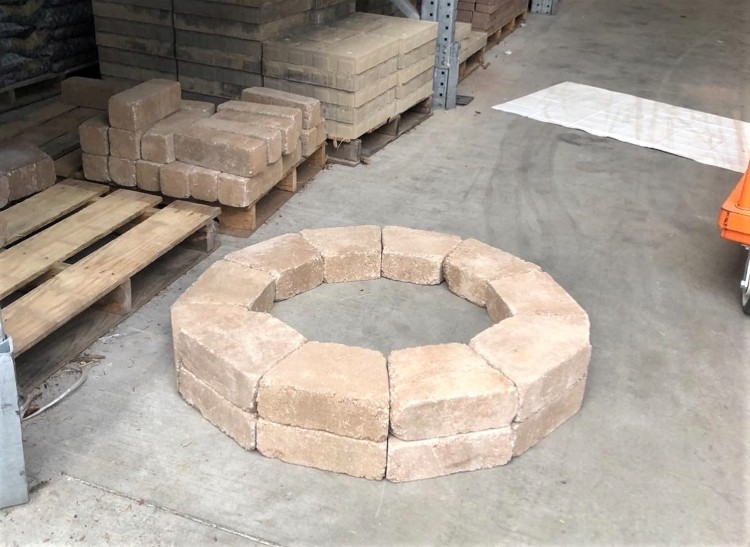 As the final addition to the backyard, I assembled pavers into a fire pit ring for family hangouts. I added five Adirondack chairs around the fire pit, one for each of us. But I think we'll need to add a few more chairs because our friends are going to want to come hang in our new backyard.
The Final Reveal
Are you ready to see the transformation? Here is our brand new family friendly backyard!
The deck is now the perfect place to unwind after a long day.
And there's space for our three daughters to roam free.
It's one thing to be curled up with a book, but it's even better when it's outdoors. The beautiful ceramic patio stools are perfect to hold small items or plants.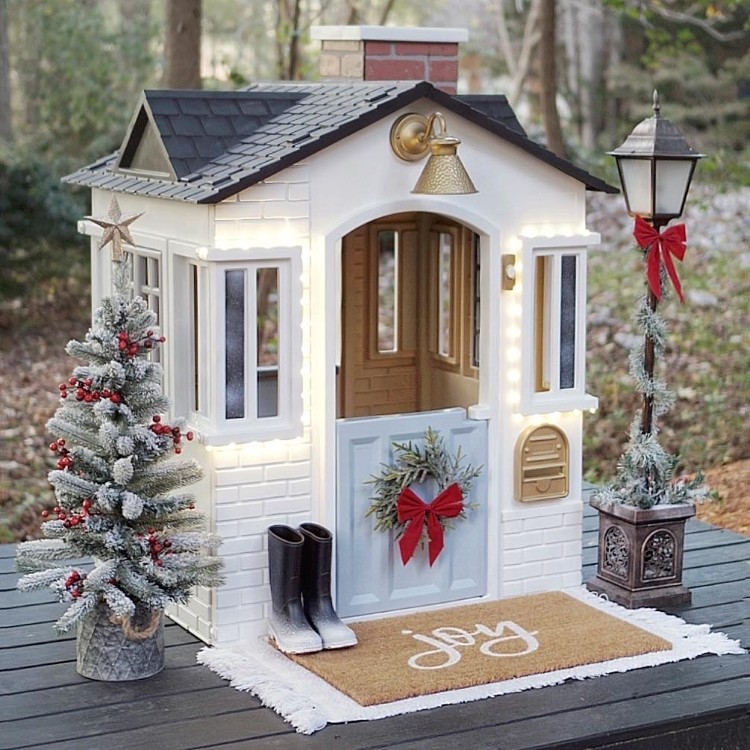 The playhouse came to life using paint and supplies from The Home Depot. The doorbell and exterior light are my favorites!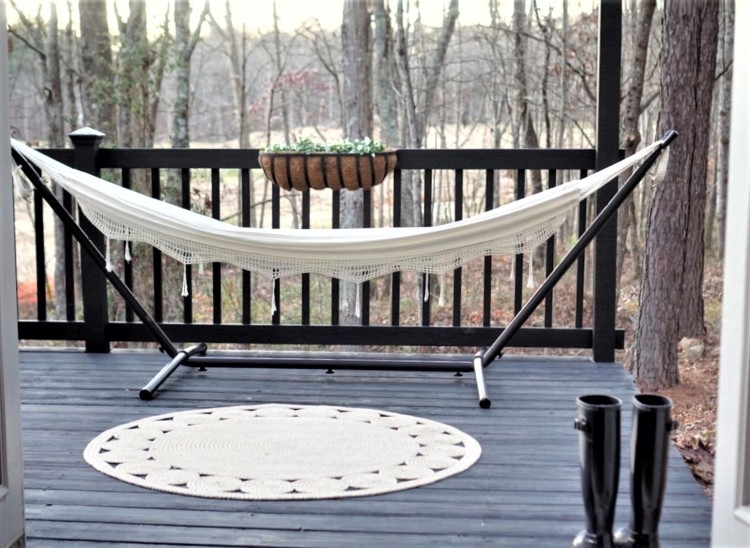 Everyone wants a turn in this hammock. The tassel fringe is so pretty and the freestanding base means it can go anywhere.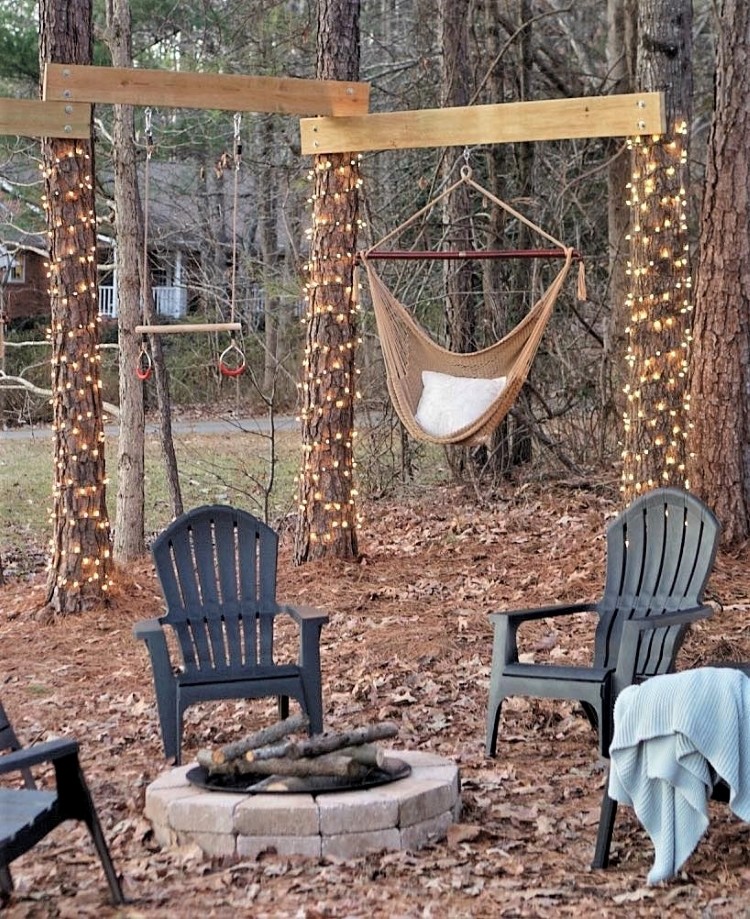 String lights wrapped around the tree trunks give a nice glow as the sun sets.
One kid can relax in the hammock swing while the other is twirling on the trapeze bar.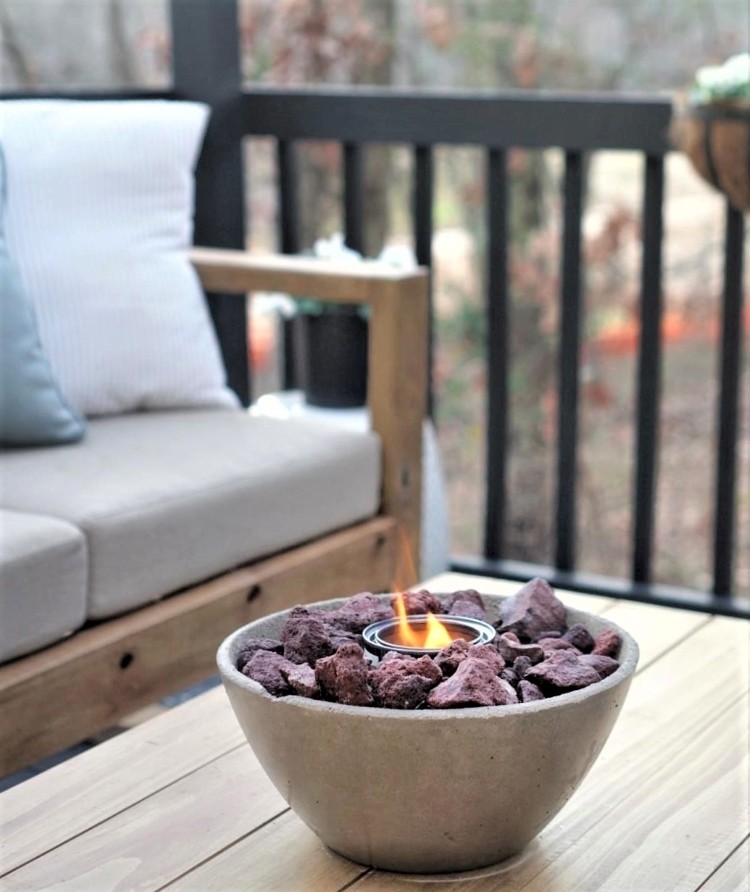 The fire bowl was made using concrete, gel fuel & lava rocks and sits on top of our handmade coffee table.
We've already enjoyed many nights out here together. I hope this inspires you to think outside the box when working with a space that challenges you. I'd like to give one more big thank you to The Home Depot for helping us create our family friendly backyard.
The post Family Friendly Backyard Makeover appeared first on The Home Depot Blog.