This family room makeover has a mid-century modern vibe that's comfortable, welcoming and totally kid-friendly.
The styling is by Alex Evjen, who writes the AVE Style blog. She explains how she focused on varying the shapes and textures of the various decor pieces to make her new family room visually appealing.
A Spacious Family Room Makeover
Life with a newborn baby and a three-year-old is busy. When we moved into our new home shortly before our son was born, decorating our family room was last on my to-do list. Two years later, we are fully unpacked, with every room in the house organized with the exception of our family room. It was time for a family room makeover. I wanted to transform our most used space into a comfortable, calming, and kid-friendly environment with the help of The Home Depot.
The Family Room Before the Makeover
After the Family Room Makeover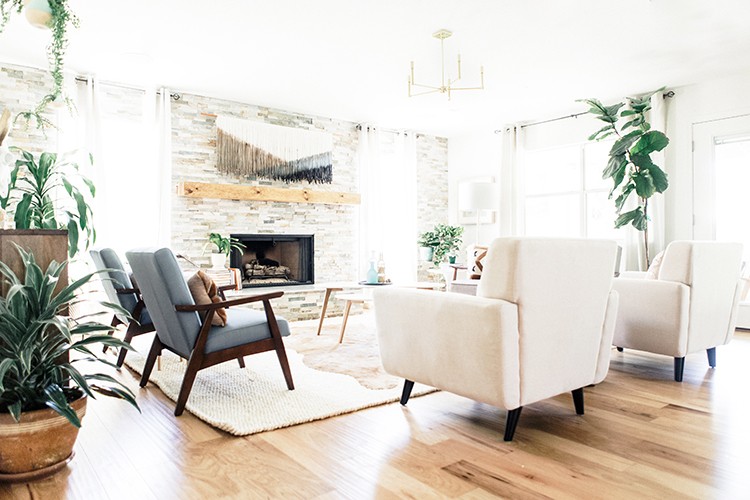 When I started searching on Home Depot's online decor section, there were so many beautiful sofas, tables, chairs and home accents to choose from, I didn't know where to start. So, I went back to the goal of the space– the feeling I wanted to achieve for my family– and decided that a neutral palette with cozy, natural textures would be exactly what I needed for this room.
The Area Rug
I selected our area rugs first because they laid a foundation to build upon.
With my son being allergic to wool, I assumed my choices would be limited. I was pleasantly surprised to see The Home Depot had plenty of synthetic options, as well as alternative textiles like jute. I found a bleached jute area rug, which achieved the natural and neutral goal for the space. This rug is soft to the touch compared to other jute rugs.
To ensure the space felt cozy, I layered cowhide rug on top. The organic shape helps break up the squares and rectangles the furniture creates.
The Living Room Seating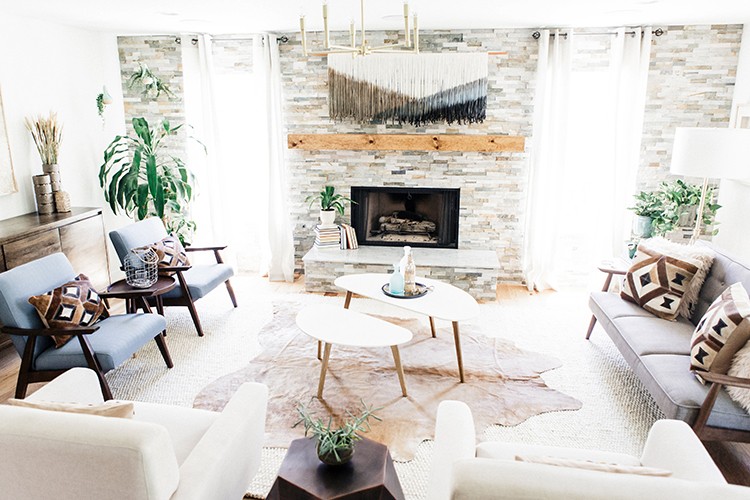 Seating for a family room is really important because you want it to be comfortable and durable.
I found a gray mid-century style, polyester sofa that was perfect for our kids. The fabric feels soft and is very durable and easy to clean. To soften the clean lines of the sofa, I added large, animal hide accent pillows.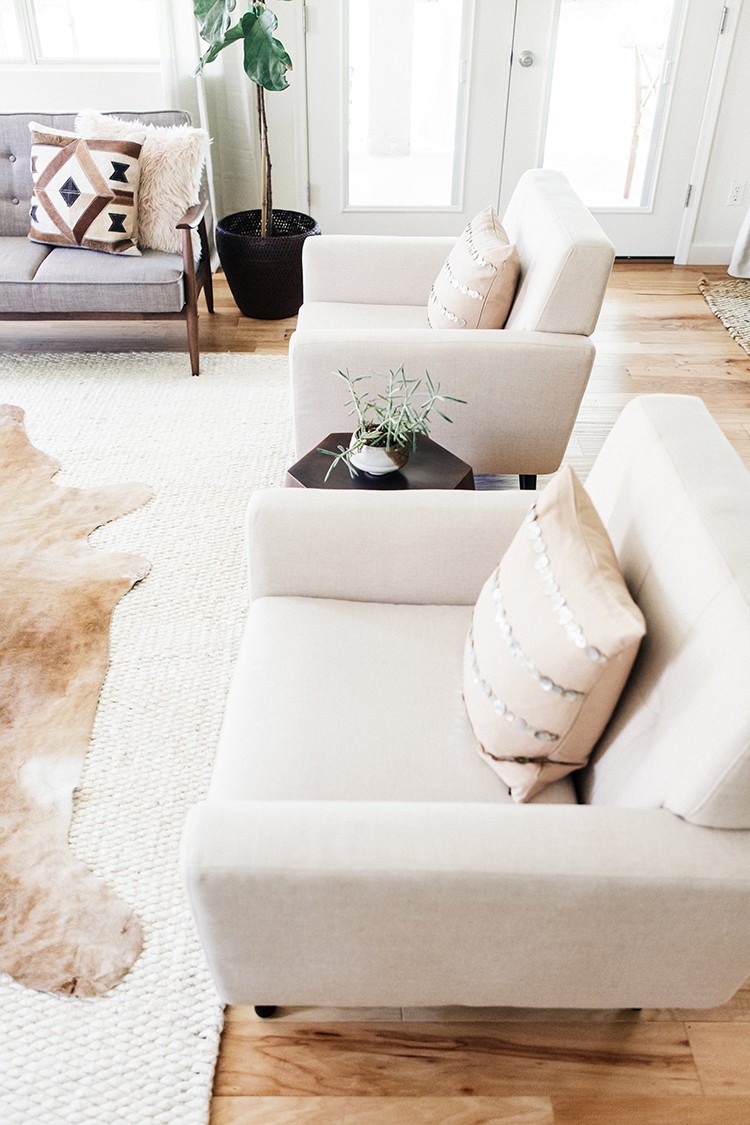 I also found two natural linen club chairs that have mid-century lines and offer a ton of comfort. They have become his and hers chairs, and they are large enough to fit one of our kids beside us for snuggle time. I added additional seating with steel blue, mid-century style accent chairs. The fabric is easy to clean and the color was the exact blue I was thinking of. It's soft, but not pastel or supersaturated.
Storage was important for our family room because we needed a place to put games, toys and books. This wood sideboard blew me away when I saw it online, and it was even prettier in person. It's well made, and the perfect height and size for the space.
The Lighting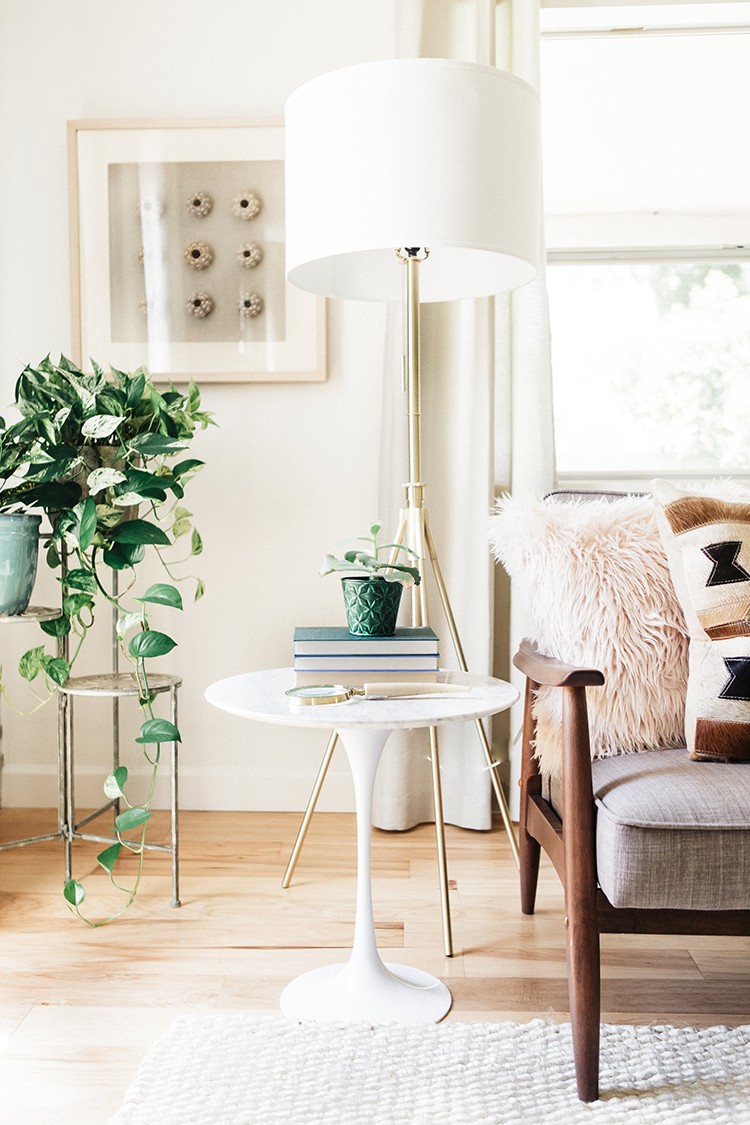 Lighting is probably my favorite thing to select for a space. It's very important to have side and overhead lighting options for a room. Side lighting is best for reading and most flattering on people.
I found an adjustable, brass mid-century style light that is perfect for reading. To carry the brass theme further, I selected a similar style brass chandelier with six lights that fully illuminates the room during parties. I even found a marble and brass table lamp to include on our credenza so that all sides of the room have light.
The Tables
Coffee and side tables are a functional necessity for family rooms. You need a place to set your drink or laptop down, so I made sure each seating element had a table within reach.
I varied the shapes and styles of them. From a bronze geometric table to a marble tulip table, they are all modern in style. I love our nesting coffee table the most because it's easy to clean and light enough to move around. Sometimes we set it to the side for my son to play with blocks and Legos, and other times my daughter uses the small table for her coloring projects. I highly recommend these tables for kids. The asymmetric shape also breaks up the rectangles in the room.
The Accent Pieces
Last but not least, I selected accents to make the room feel homey. I fell in love with these three dimensional art pieces created with seashells. They brought texture to the room in the most unexpected, beautiful way. I had never seen anything like it before.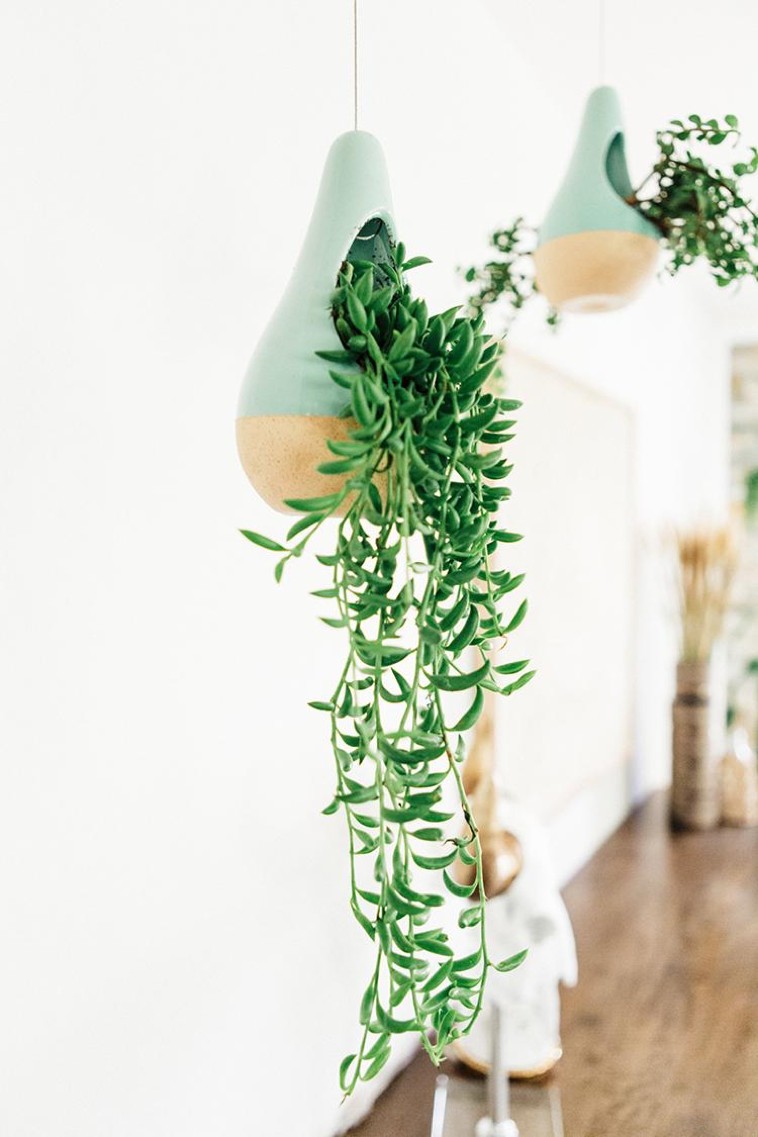 I also included a ton of plants because they offer an organic quality that furniture just cannot achieve. The Home Depot makes it easy to get all of your plants at their store, and they had a beautiful online selection of planters like these ceramic, modern hanging planters.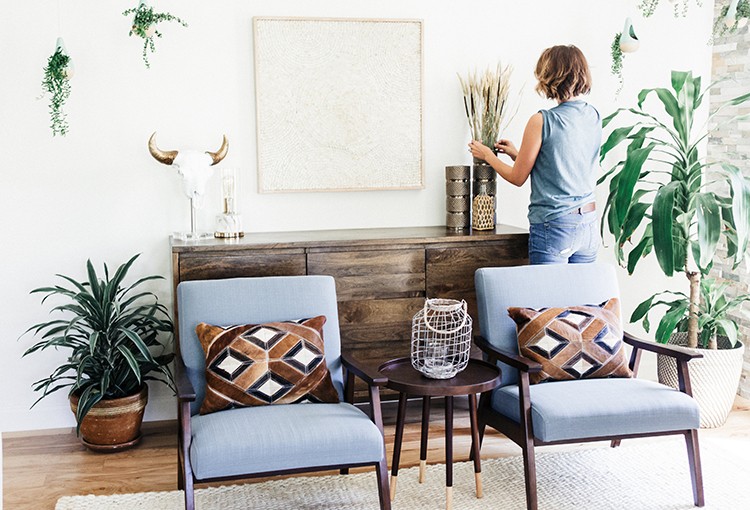 This spaces has come together better than I could ever have imagined, and The Home Depot made it so easy with offering everything I needed online. That sure saved this busy mom of two a ton of trips to the store. We achieved our calm, modern and comfortable family room down to the smallest detail, and this space has become our favorite room in the whole house.
You can see more of my family room makeover on avestyles.com.
The post Family Room Makeover with a Mid-Century Modern Vibe appeared first on The Home Depot Blog.