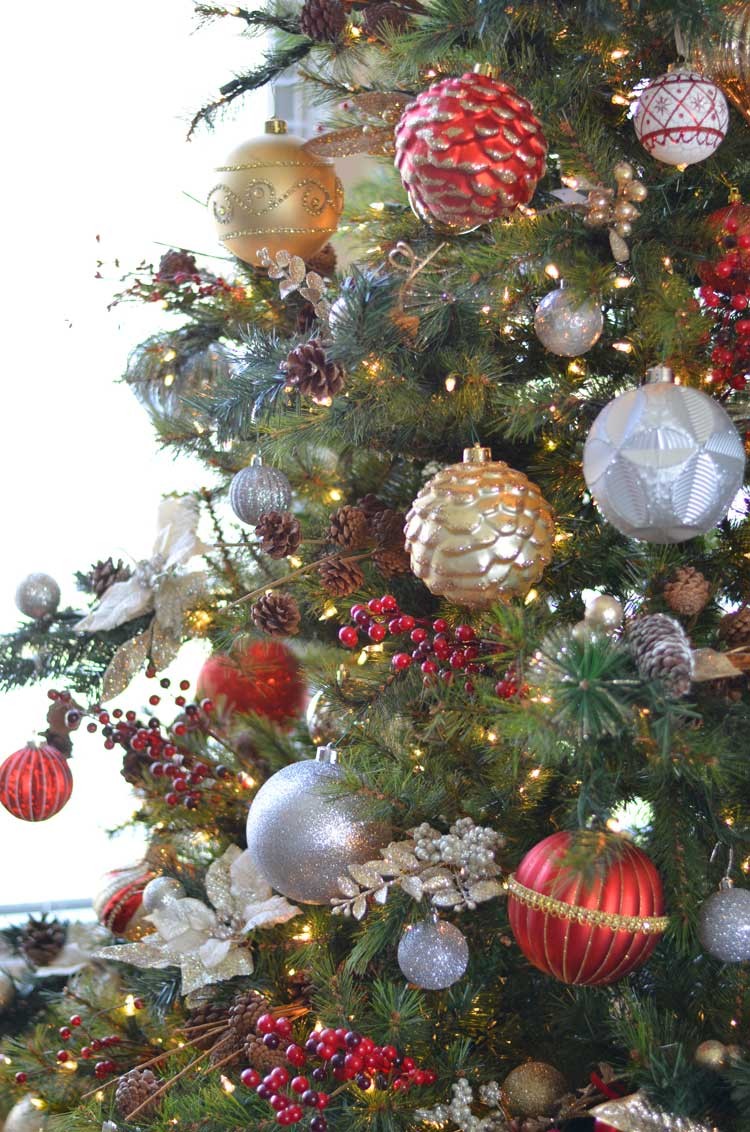 Festive Christmas Makeover with Laurel & Wolf
I've collected Christmas holiday decorations slowly over the years. The pieces that I have purchased are items that I like, but are not necessarily cohesive with each other. The Christmas tree kind of looked like a haphazard of this and that. Oh, and I had no idea what to do with the mantel and entertainment center. I was excited to hear that The Home Depot partnered with Laurel & Wolf, an online design service, and that I could use their services to finally get a beautiful Christmas makeover for my living room!
Holiday Design Package
Laurel & Wolf has different service packages, and one package specifically for holiday decorating. It is perfect for someone like me who doesn't like browsing store after store for décor. The designer narrows down your style and handpicks coordinating décor for your space and provides links for you to buy it online. How nice is that!
Using the design service is easy and fun. During the initial signup, you specify your budget, the room that you want to decorate and provide at least six photos of the space, and provide links to inspirational rooms that you like. It's all fun after that! Laurel & Wolf then assigns a designer to your room. The designer will send an initial concept board for you to look at and give feedback on. The more feedback the better, then the designer can narrow down your style. You can thumbs up or thumbs down and leave comments on any of the products or overall styles.
My concept board started off quite broad with a variety of styles. I let my designer know what I liked and didn't like about the inspiration photos and she worked her magic and came back with ideas according to my likes.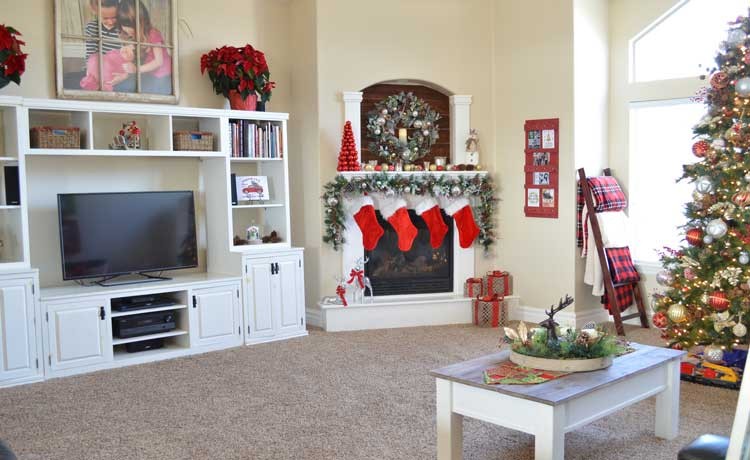 My designer, Nadia, pinpointed my style, even if I didn't know what my style was! I really love the natural elements of red berries and pine cones with silver and gold accents. She found some beautiful holiday decorations available online at Home Depot, that fit right into that theme.
Christmas Tree
Materials
I love oversized ornaments on Christmas trees and Home Depot has some beautiful choices in red, gold and silver. We added small ornaments and sprays (red berries, pinecones, gold leaf's) to add variation and interest to the Christmas tree.
It turned out pretty and all the glitter helps it glow at night.
Mantel
Materials
For the mantle, my designer found the most beautiful wreath and garland, but they were missing the red theme color. I added some red berry sprays to tie it into the tree colors. The classic red stockings really make the red accents pop.
Entertainment Center
Materials
The neighboring entertainment center received a quick makeover by adding two luscious real poinsettias to the top and some fun figurines, that my kids love, to the shelves.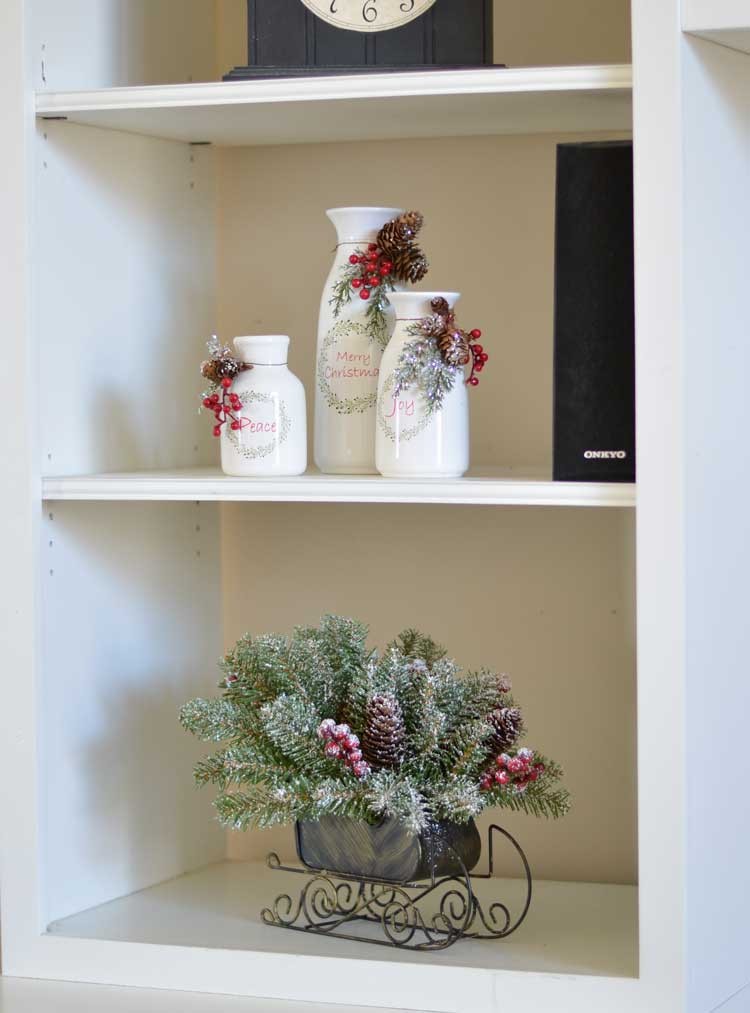 The holiday milk bottles are so pretty and festive.
The kids can't get enough of this darling snowman.
Coffee Table
Materials
For the coffee table, my designer found this neat round wood tray and I filled it with sprays of pines, extra gold sprays from the tree, a few candles and a reindeer that sits proudly in the center.
The couch is adorned with three cute and festive pillows.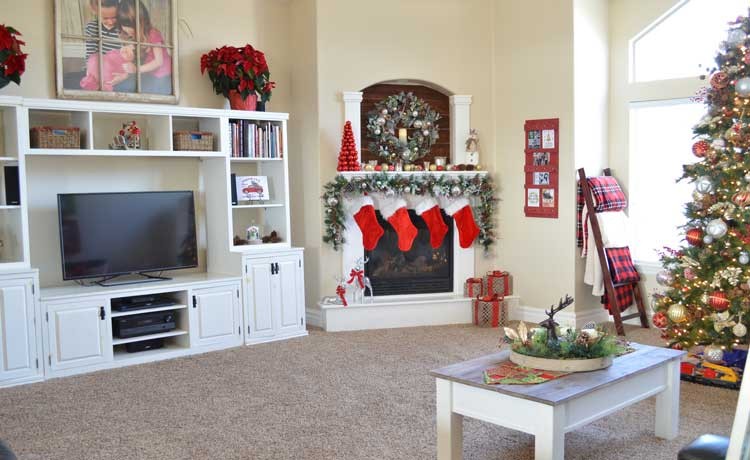 I love how my living room turned out with the help of Laurel & Wolf and all the beautiful holiday decorations from Home Depot. Attempting to decorate a space always stresses me out, with the endless discussion in my head of whether this or that will go and look good. Laurel & Wolf made the design and decorating process so easy by providing a list of what to buy, how many, and linking to the products. I can't wait to use the service again to tackle the next room!
The post Festive Christmas Makeover with Laurel & Wolf appeared first on The Home Depot Blog.