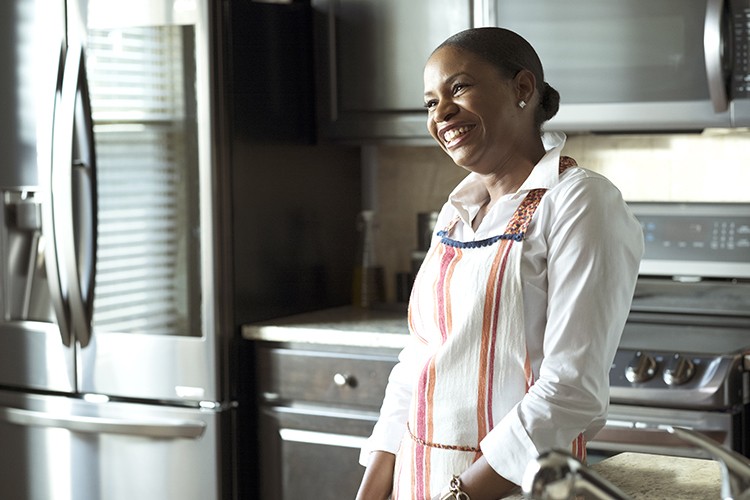 The holiday season is meant for family, friends and food. Monica from Awed by Monica, found the best appliances to host her guests at The Home Depot.
Finding the Best Appliances for the Holidays
I absolutely love the holiday season. Family, friends and food make it extremely special for me. Being able to spend time with my husband, children, siblings and friends, make this time of year joyous. Growing up, I watched my mom cook up a feast. The house was always filled with friends and family, making this time of year extra special for me and my siblings. Now that I have my own family, I incorporated some of the traditions I experienced growing up and have made them my own. Cooking, and entertaining, has, and will always will be a big part of my holidays.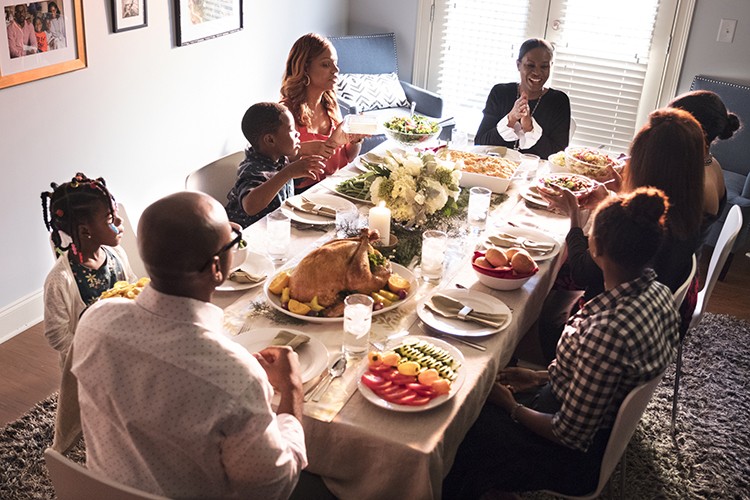 With the help of The Home Depot and the amazing appliances I acquired, I was able to create the perfect holiday feast for my family and friends. To create the perfect gathering, I knew I needed appliances that would make preparing for a holiday gathering a breeze. Hence, I set off on a mission to switch out all my appliances to acquire updated models that were efficient and effective.
I have to say I was a little lost when I arrived at The Home Depot store in Buckhead; however, the staff made picking out the right appliances simple and easy. I expressed to the associates I met that I need efficiency when preparing the food in my kitchen, and space to store the food. Everything from preparation to clean-up needed to be a breeze and I needed my kitchen to work for me. So the hunt began.
Finding the Best Refrigerator
We first set off to find a fridge that would afford me as much storage as possible but also make it easy to use for me, and my kids. After scrolling through the aisles of tons of amazing fridge options, we went with the LG 3-Door French Door Refrigerator with InstaView Door-in-Door in Black Stainless Steel, Counter Depth refrigerator.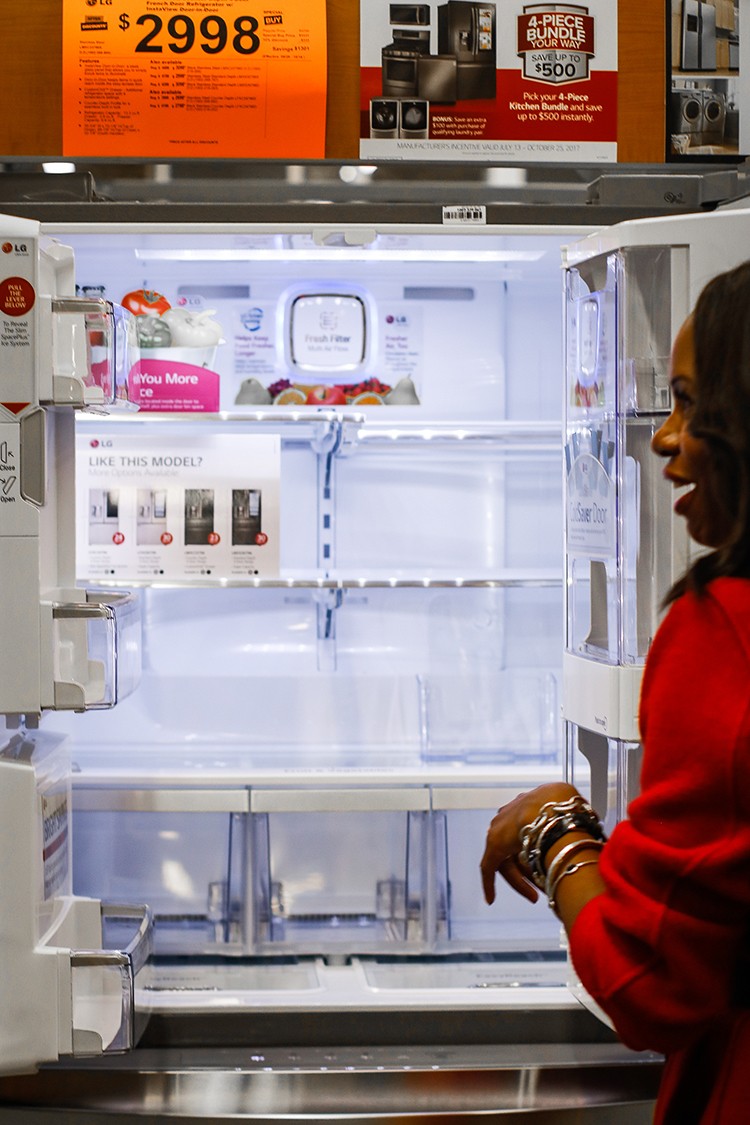 This amazing fridge—the largest in it's class, super spacious, and equipped, with LG's Smart Cooling System—allows the food to stay fresh longer. This fridge totally had everything I could wish for; multiple drawers, seven adjustable door bins, and a three-tier organization freezer system, perfect for filling up the fridge with food and getting organized.
Finding the Best Stove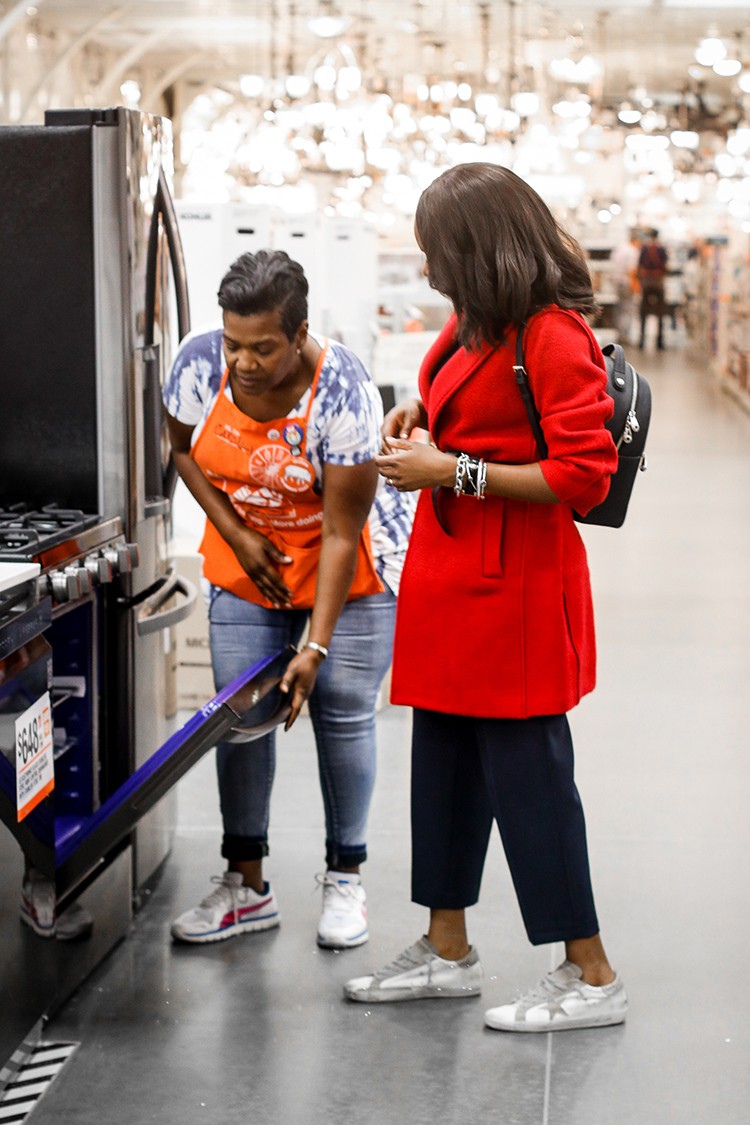 After scoring the perfect refrigerator, the search continued for the perfect stove. I wanted something that was electric, time efficient, and easy to clean. In past years, I found that I didn't have enough time to complete cooking all the dishes before guest started to arrive, hence I knew it would be hard or near impossible to find a stove top that would allow me to cook the turkey, and other meals on time.
To my surprise my helpful friends at The Home Depot found a stove that was perfect. The LG Electronics 7.3 cu. ft. Double Oven Electric Range with ProBake Convection Oven in Black Stainless Steel met all my needs and some. The double oven meant that I could cook my turkey, and jollof rice (traditional Nigerian rice dish) at the same time, saving me tons of time. ProBake feature meant restaurant grade even baking, and EasyClean delivered superior cleaning in 10 minutes. Not only did this oven meet all my needs, it has the most stylish blue oven interior!
Finding the Best Dishwasher
I was so impressed with my LG refrigerator and stove, that I got an LG dishwasher and microwave. The Top Control Tall Tub Dishwasher with 3rd Rack in Black Stainless Steel with Stainless Steel Tub is literally amazing! This dishwasher has 3 racks allowing me to save time by adding more dishes to the wash. It also allows me to do half washes saving energy. It's QuadWash with multi-motion spray meant no more pre-washes saving even more time!
Finding the Best Microwave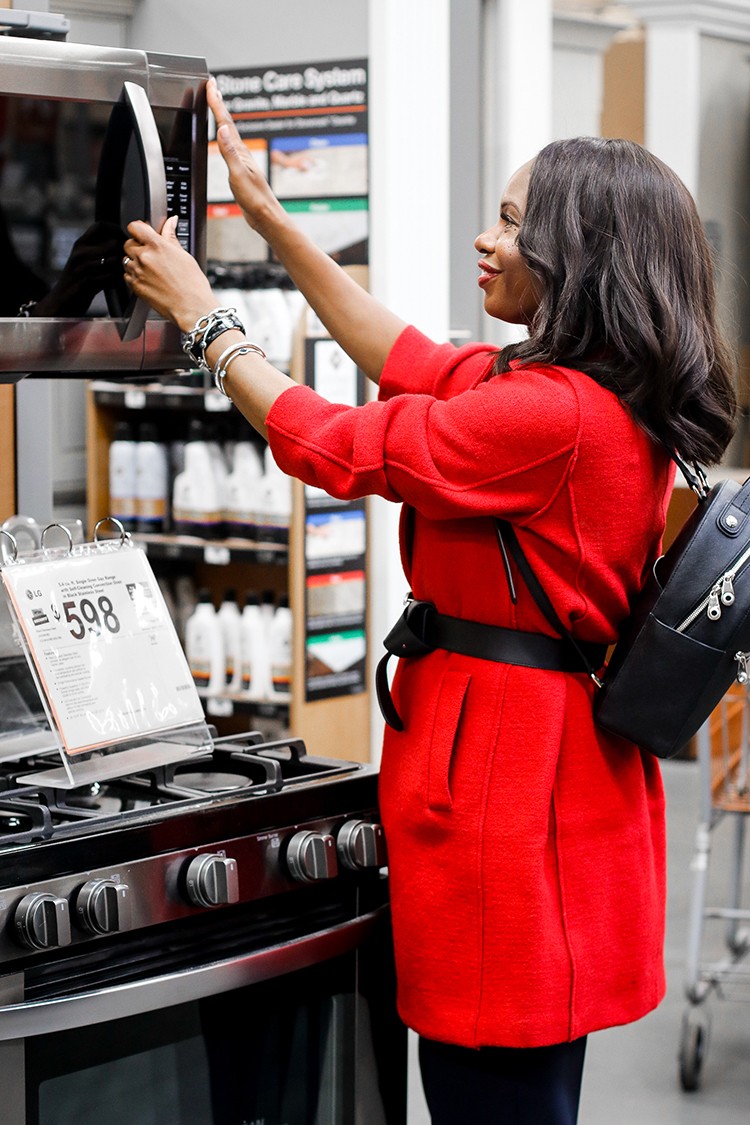 The LG Electronics 2.0 cu. ft. Over the Range Microwave in Black Stainless Steel with Sensor Cook paired perfectly with all the black stainless-steel appliances I picked. The sensor cooking determines when food is cooked and automatically turns off the microwave to prevent over- or under-cooked meals. This microwave also has a Bi-level cooking rack, which helps you cook more than one item at a time.
Finding the Best Washer and Dryer
In addition to getting appliances for the kitchen, I also got an LG washer and dryer. The high-Efficiency Front Load Washer with Steam and TurboWash in Black Stainless Steel makes washing the table covers simple and easy.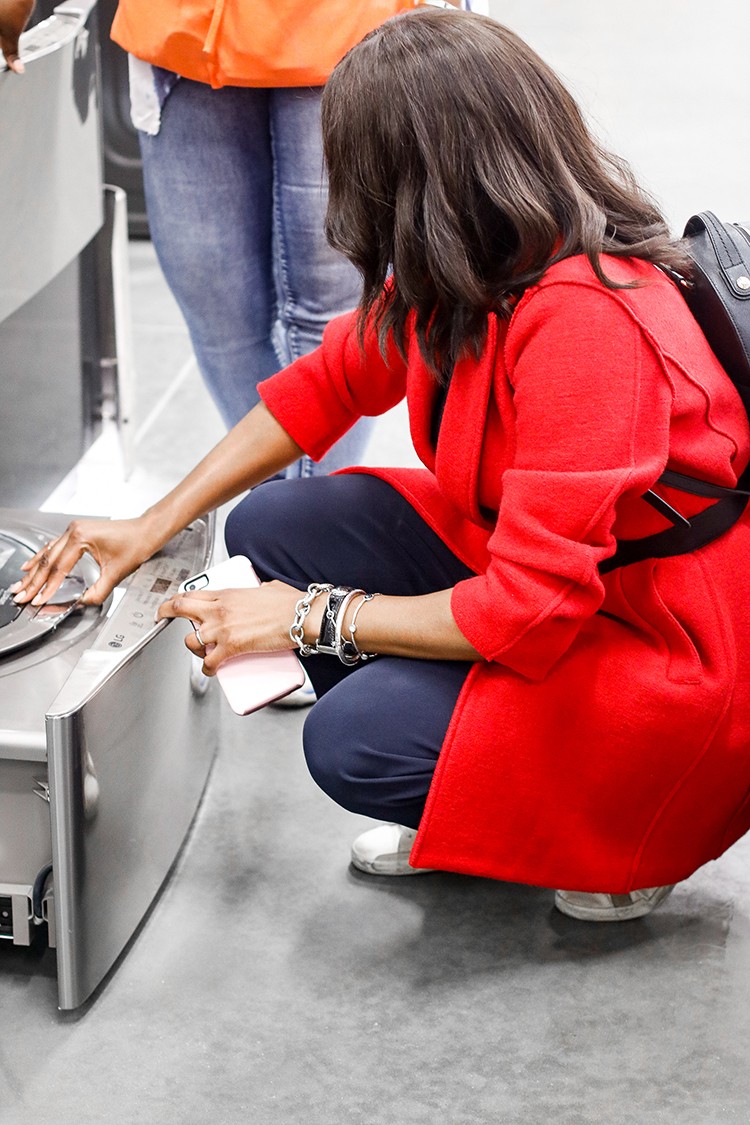 Energy Star SideKick Pedestal Washer in Black Stainless Steel covers the small loads, hence I no longer have to wash electricity and money on washing smaller loads. The Electric Dryer with Steam in Black Stainless Steel is silent and is a dream when it comes to drying. All I can say now is that laundry day is a breeze. I'm over the moon with these times and cost-effective products. My shopping experience was truly amazing. Now thanks to The Home Depot, this holiday and every holiday after will be breeze.
The post Finding the Perfect Appliances for the Holidays appeared first on The Home Depot Blog.