Nicole White, of Live Laugh Decorate, has dreamed of redoing her son's bathroom. With her interior design background, though, the initial changes she made never truly fit her style.
It turned out simple bathroom upgrades had the effect she wanted. Nicole shows us her simple kid's bathroom updates that made a big difference.
Easy Kid's Bathroom Updates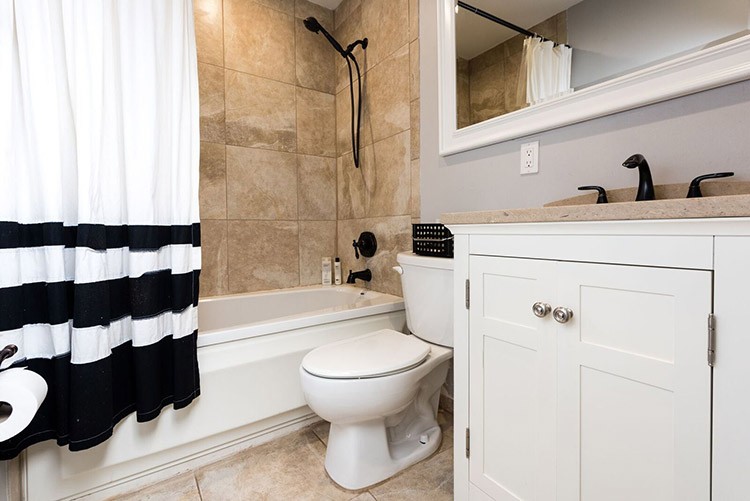 My son Xavier's bathroom has been the only space in our home to not experience a full-on renovation wrecking ball. The previous owner had updated the tile and added a hot tub. The only thing we did when we moved in was to add a new bathroom vanity and mirror.
Even with those changes, it was never truly my design aesthetic so I'd long been plotting on ways to spruce it up a bit to make it a more fun space for Xavier.
So, when The Home Depot asked me to participate in a quick project to do some kid's bathroom updates, it was music to my ears. While I'm known for major renovation gut jobs, this was a great opportunity show how simple changes can have a big impact.
---
New Hardware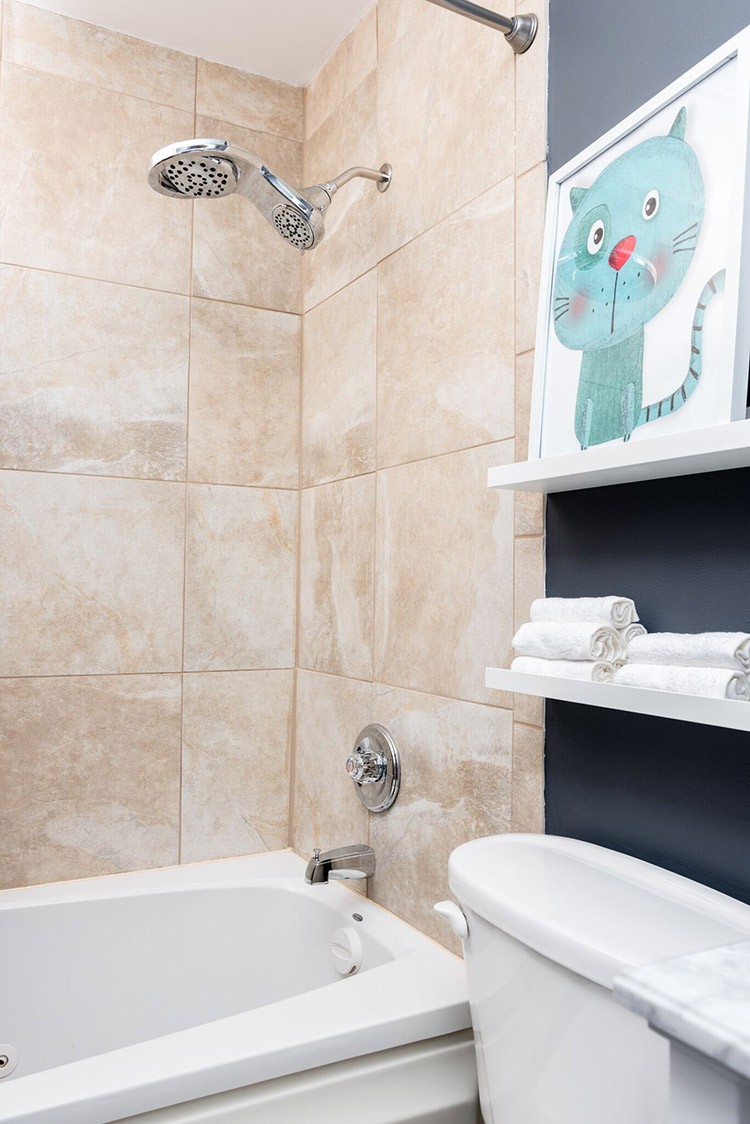 The key to a weekend bathroom update is to keep things as simple as possible. Changing all faucets, including updating to a new shower head, will add immediate impact.
The New Showerhead
For my project, I chose this Delta line of faucets for the showerhead in chrome. 
The two-in-one shower faucet was a quick five-minute installation. It's a major hit with Xavier. He loves the rain head feature.
Switching the Bathroom Faucet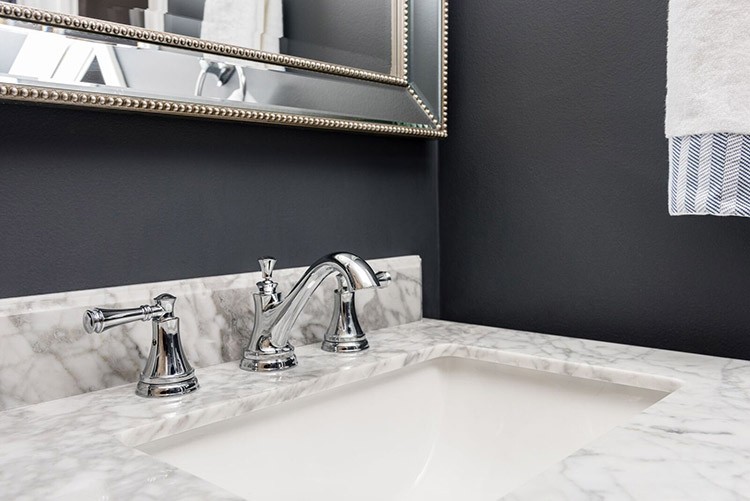 When switching vanity faucets, the key is knowing your faucet spread, i.e. how far apart the holes are– usually 4 inches or 8 inches.
My vanity needed an 8-inch replacement faucet. I chose the Delta Silverton Widespread 2-handle Faucet in chrome.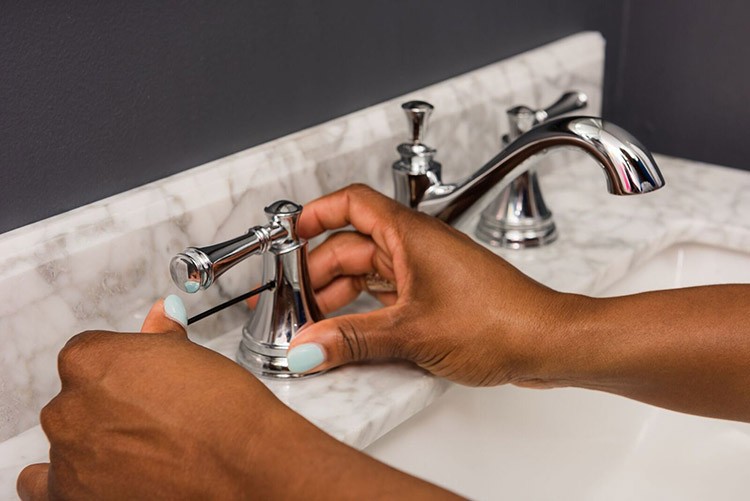 This simple detail will save you some major headaches: Be certain to use the Allen key that comes with the packaging as they are size specific to your faucet.
New Towel Bars and Other Bathroom Hardware
I chose the Futura collection in chrome for new decorative bathroom hardware, including this double robe hook, towel bar, towel ring and toilet paper holder.
Be sure all holes are in the same location for an even easier change, i.e. replace a 24-inch towel bar with a new 24-inch towel bar.
This will save time and avoid the need to patch and sand holes, especially if you're not planning to paint the bathroom.
---
Statement Pieces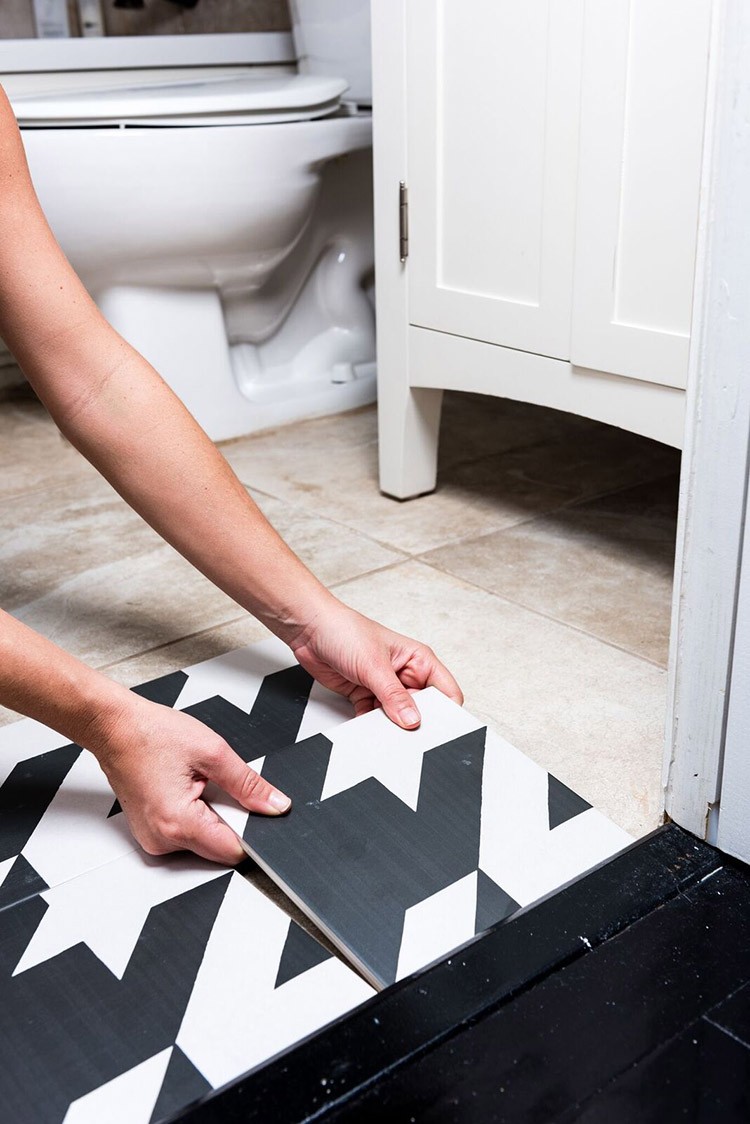 For my project, I also updated the floor tiles by tiling over the existing tiles, which meant no demolition-related dust. I wanted a fun and dramatic floor for this kid's bathroom since I had no plans to gut and change the wall tiles. This Caprice Tweed Tile in black and white is bold and visually appealing.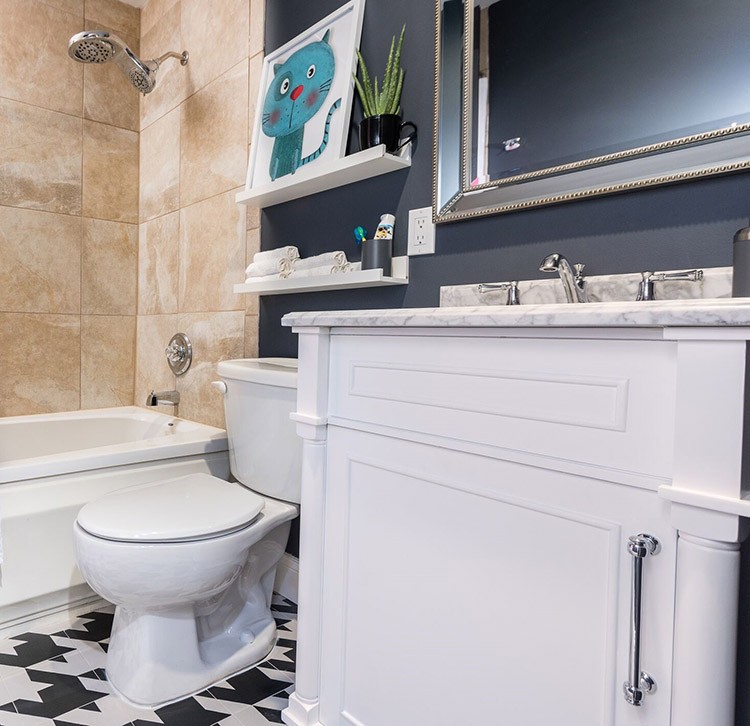 I also added a new bathroom vanity as the doors to the original vanity were badly damaged. Again, maintaining the same size vanity meant no plumbing hassles as we simple reconnected with the existing plumbing.
One of the biggest changes was also done at zero cost: painting the walls in BEHR's New Navy. I had a half can left over from painting our guest bedroom.
Styling the Bathroom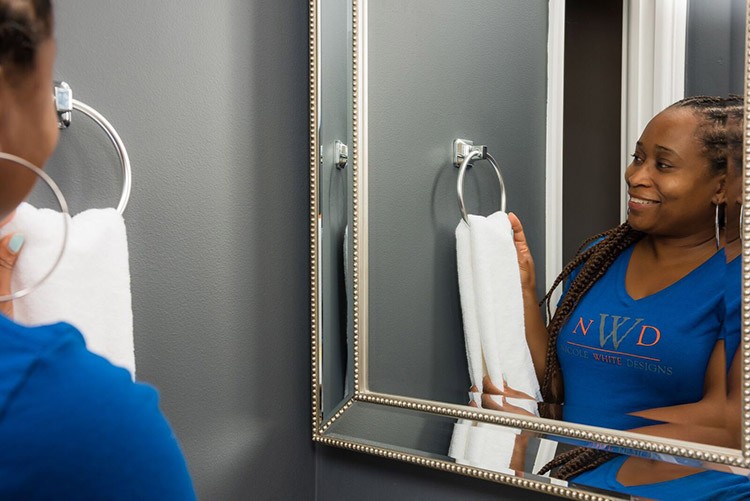 While this bathroom is designed and styled with a 5 year-old in mind, it's also used by family and friends who visit often, so I added a new and on-trend beaded mirror that's both stylish and functional.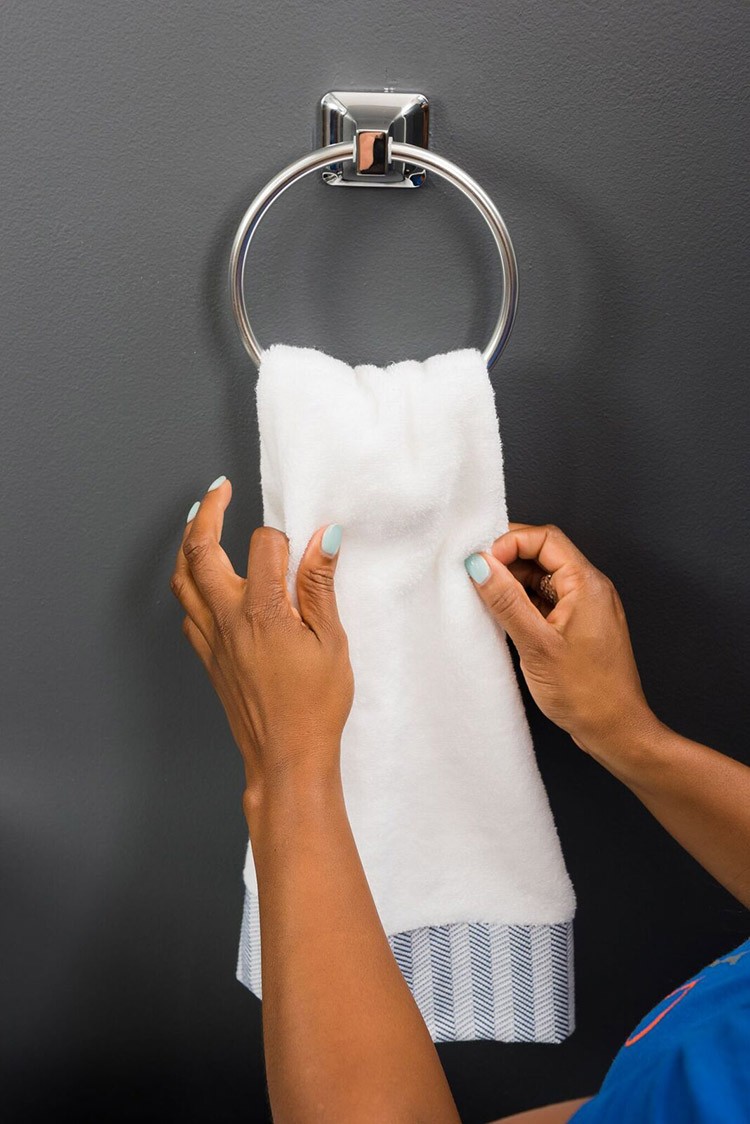 And don't be afraid to have fun when styling your newly updated bathroom.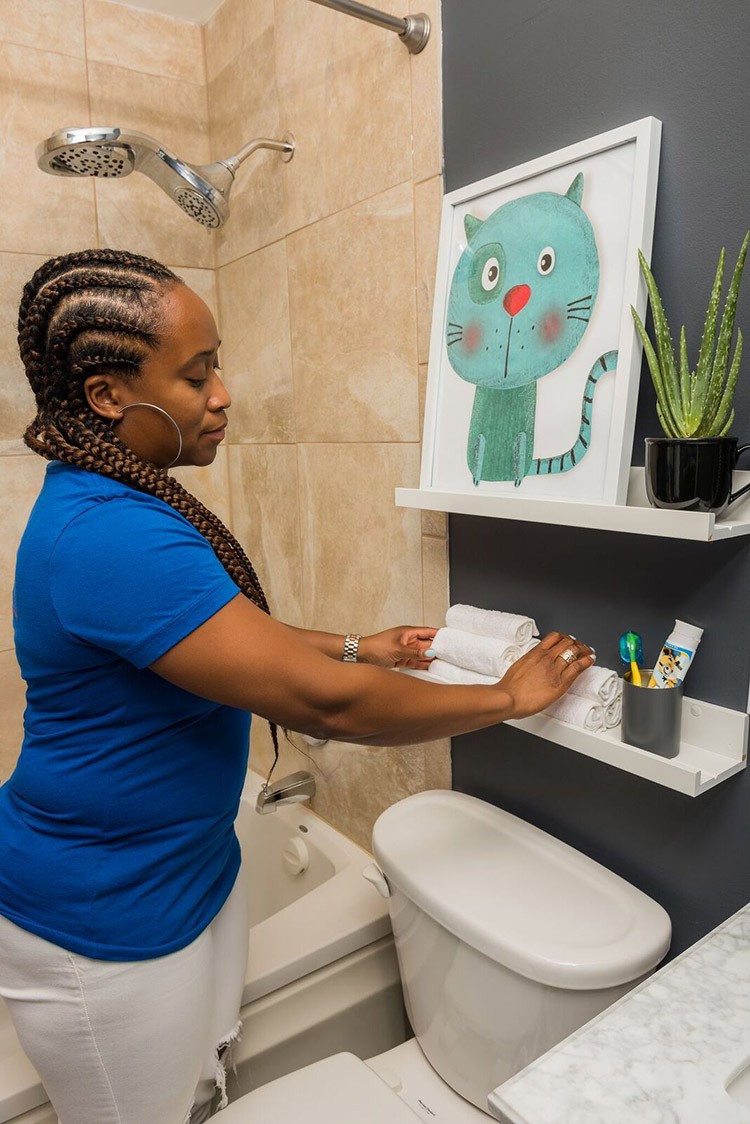 Add artwork that you can easily change as your child grows. Install shelving that doubles as a surface for both decorative items and functional ones like additional towels and toiletries for guests. I included an easy to maintain Aloe Vera plant.
And there you have it– a kid's bathroom update in a weekend. It was one of the easiest and quickest bathroom update projects I've ever tackled in my over 10 years of designing spaces.
The post Kid's Bathroom Updates You Can Do in a Weekend appeared first on The Home Depot Blog.