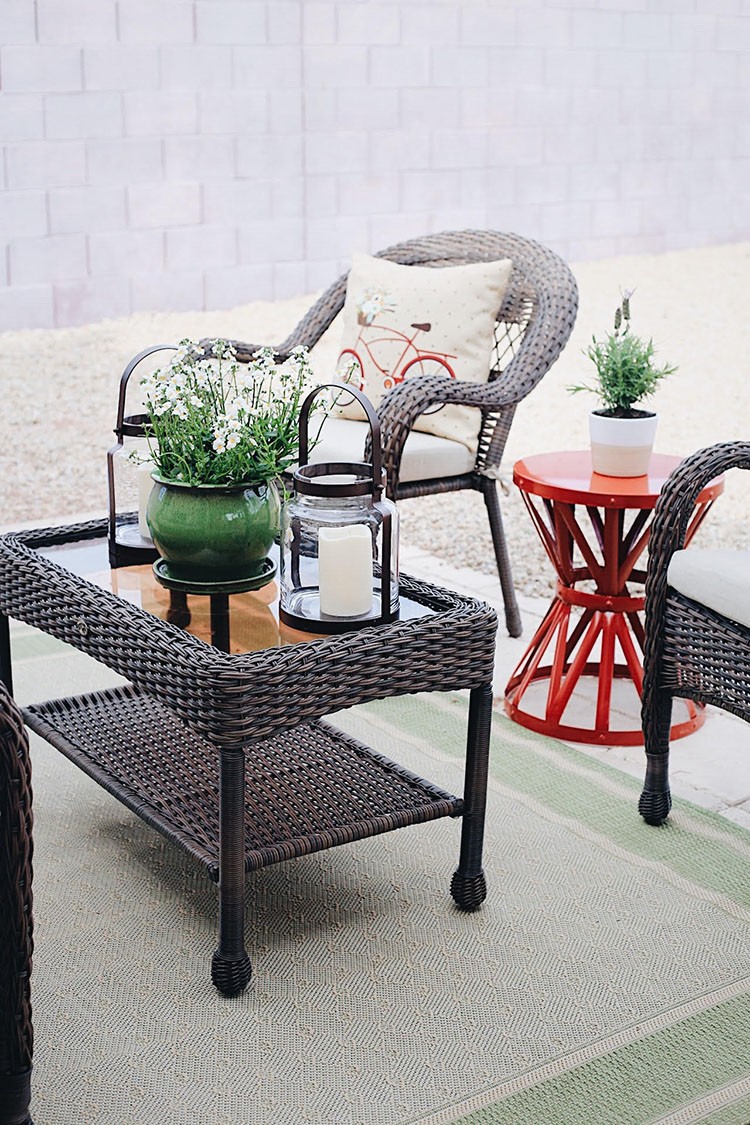 It can be difficult to style a small patio. Clarissa of My Wifestyles was inspired by this year's Patio Style Challenge to make the most of her small patio using mix and match pieces to fit her space. Check out some tips below for maximizing your small patio!
Mix and Match
As renters of our home for the past two years, you can only imagine the things I wish we could do with our yard and our house. The more I grow, the more inspiration I get. There are so many ideas, and sometimes so little I can do with them.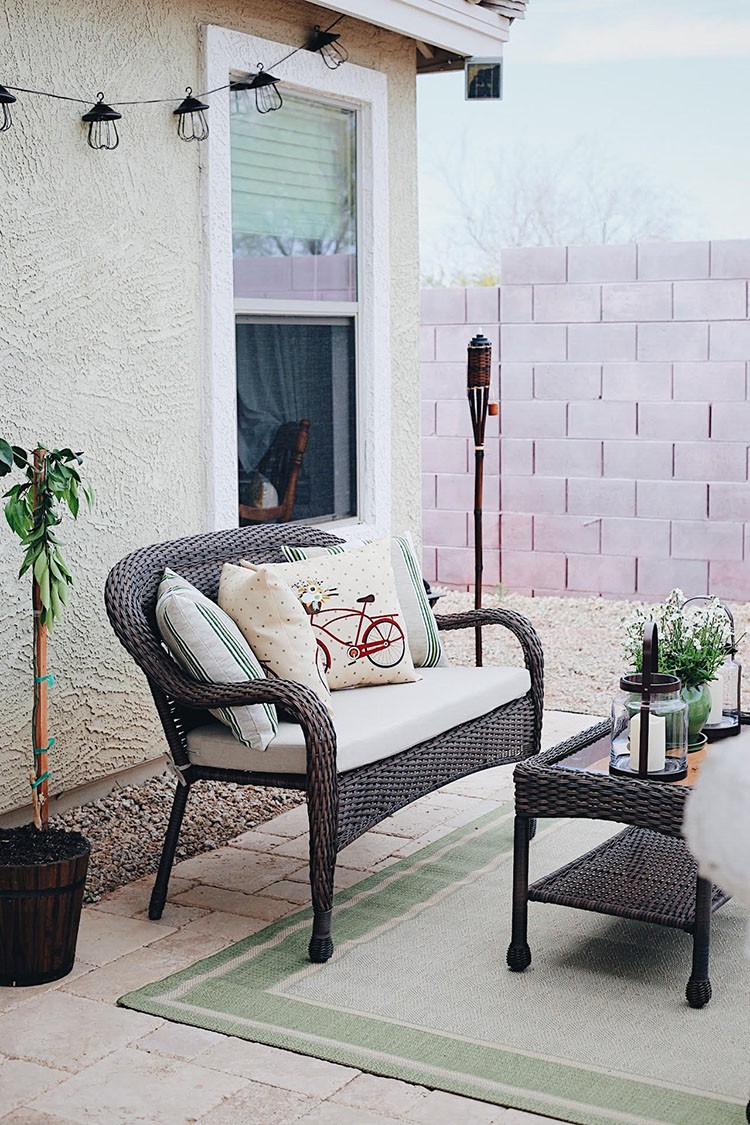 With so many great options from the Home Depot's Mix & Match Patio Furniture, it was hard to choose our favorite pieces. We decided to go with the Hampton Bay Wicker loveseat, chairs and coffee table. We knew we wanted something we could enjoy as a family. If the kids decide to picnic outside, there is plenty of space for us to sit comfortably, and for me to enjoy a much needed cup of coffee in peace.
Add Fun Colors
We wanted to use a few fun color choices to give our patio more spunk to it. Something fun, yet simple. Greens and reds were the choices we decided to stick with after falling in love with the Hampton Bay Round Metal Garden Stool in Chili. I knew I needed that table, and we coordinated everything else around it.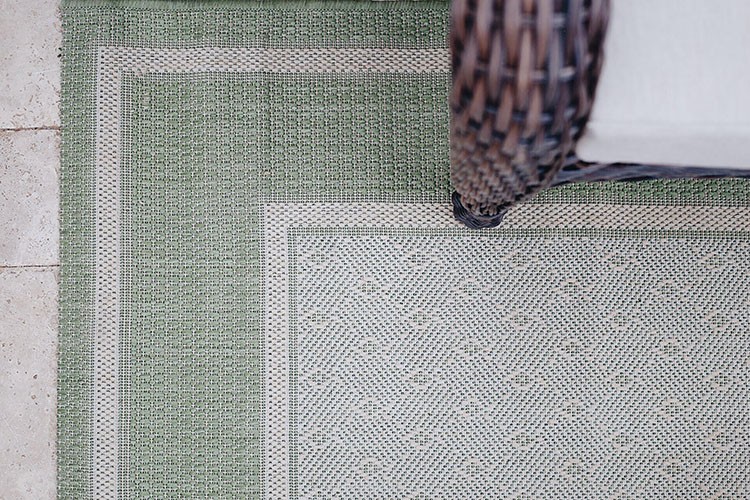 This Hampton Bay Green Outdoor Rug was one of my favorites because it wasn't too flashy in color. It had a simple yet chic design. If I wanted to keep my backyard busy with fun printed pillows and other accessories, I wanted an area rug that was warm and inviting. This rug fit exactly what I was going for.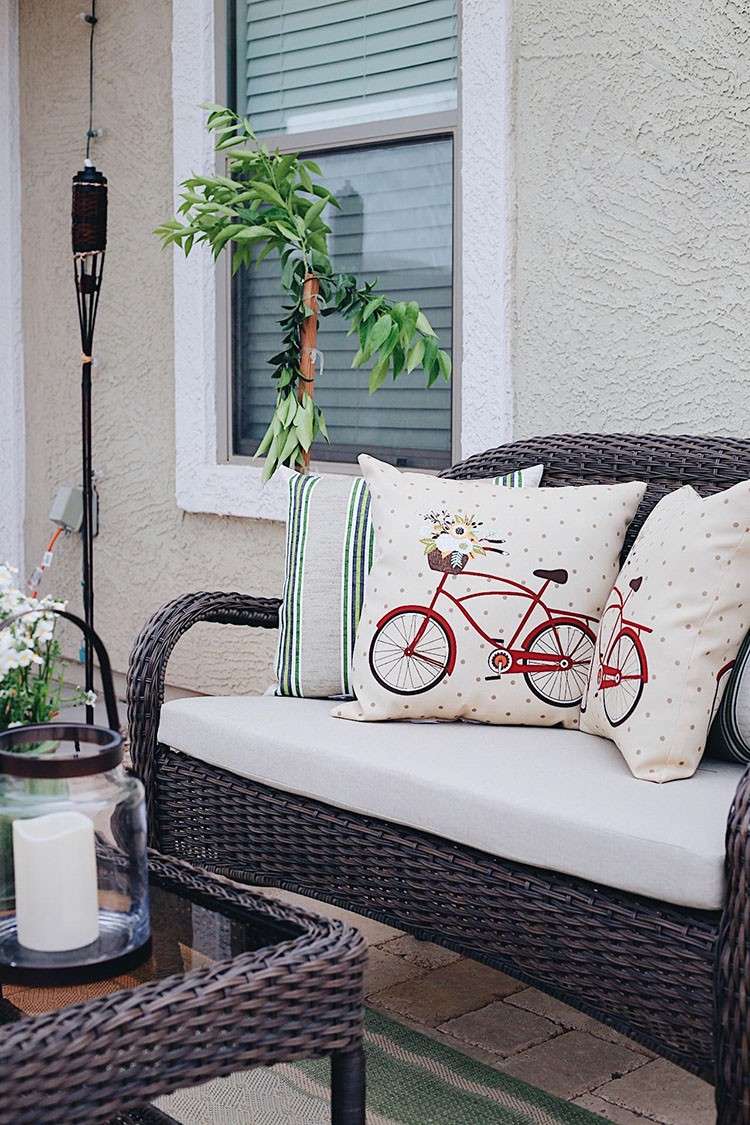 We added the Hampton Bay Ruby Bike Square Outdoor Throw Pillow and Fern Stripe Square Outdoor Throw Pillow to add some fun to our patio. These pillows really bring a cozy spring feel to our loveseat and chairs.
Accessorize with Plants
On top of our coffee table, I thought these two Hampton Bay Copper Lanterns and a green planter with beautiful white flowers added a nice touch.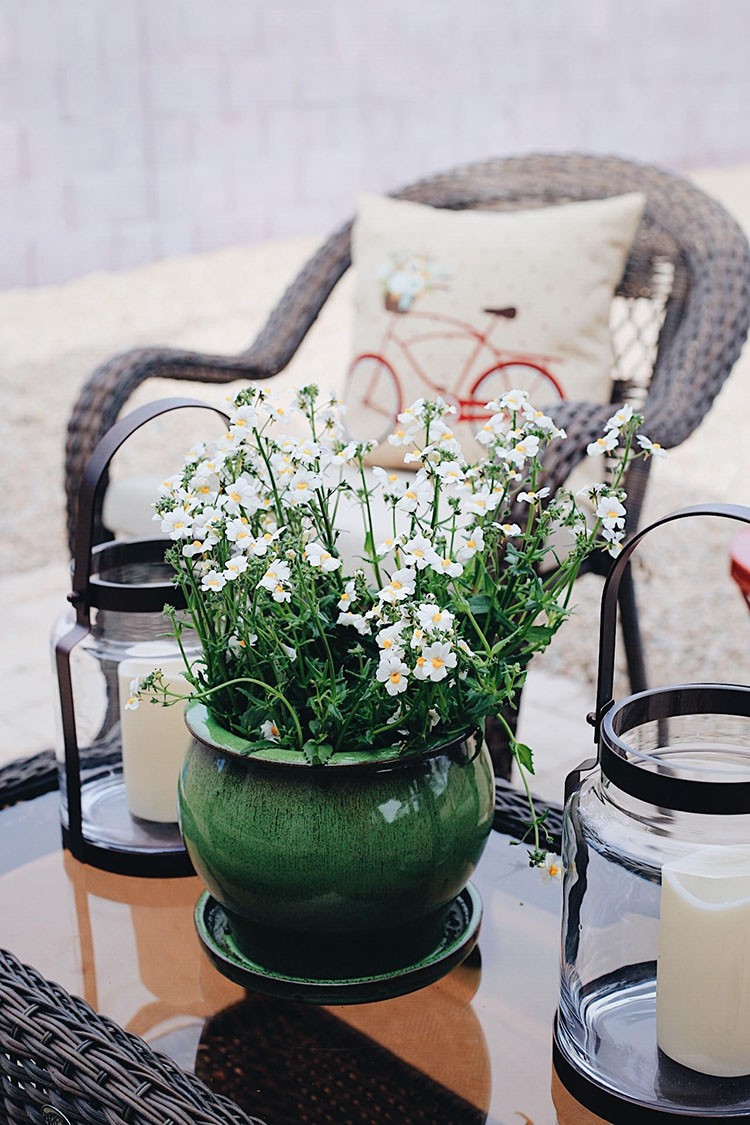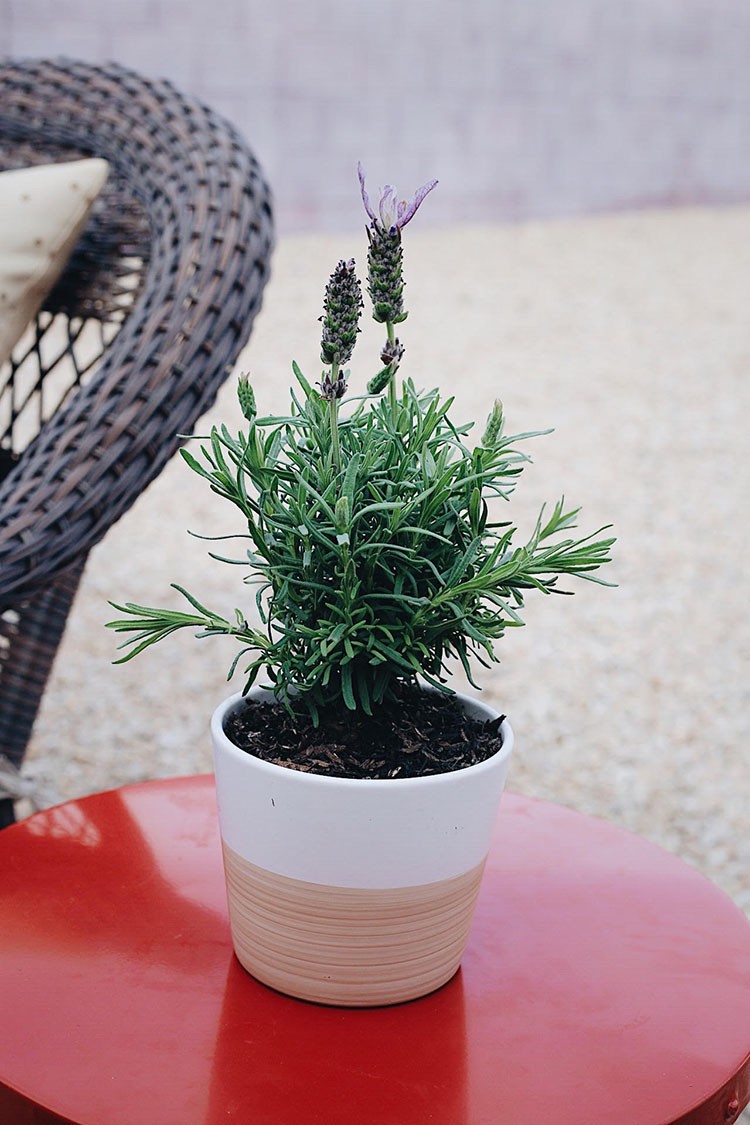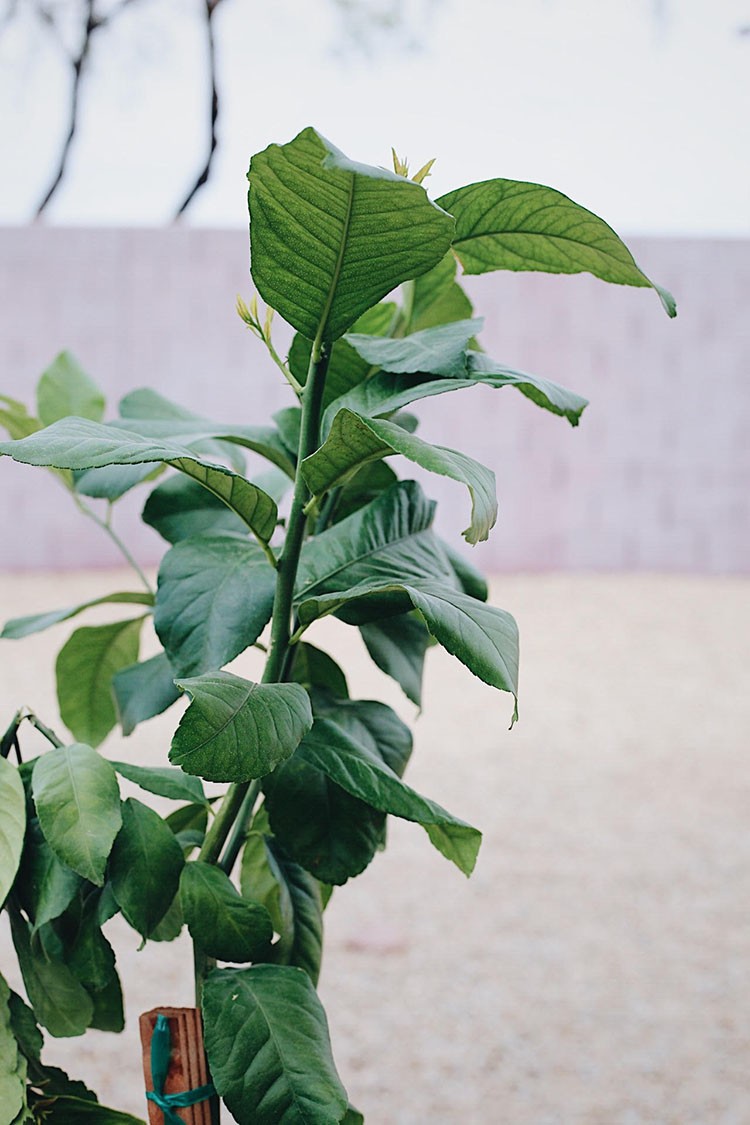 Trying to add more life to our patio, we decided to plant a lemon tree and mandarin tree. We also placed a tiny lavender plant on top of our red side table. It brings so much happiness to our little spring corner.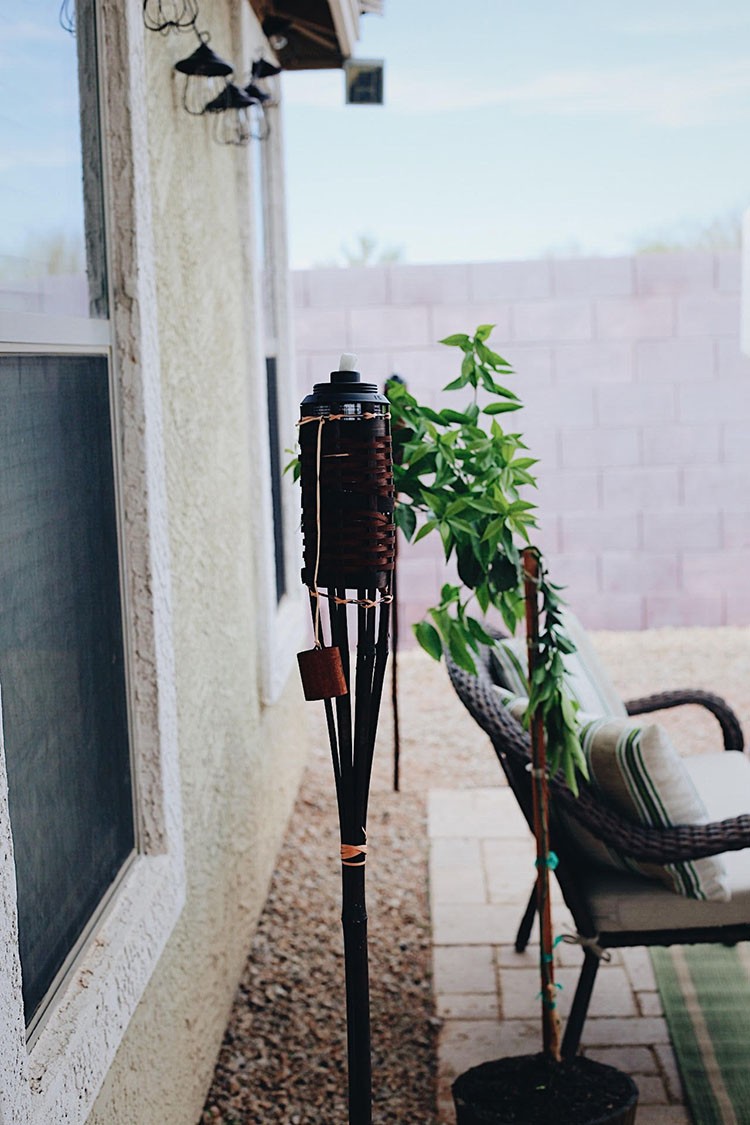 We ended up hanging more lights on our back wall to add a little touch of sparkle for those nights we decide to hang out as a family, alongside some of my favorite tiki torches.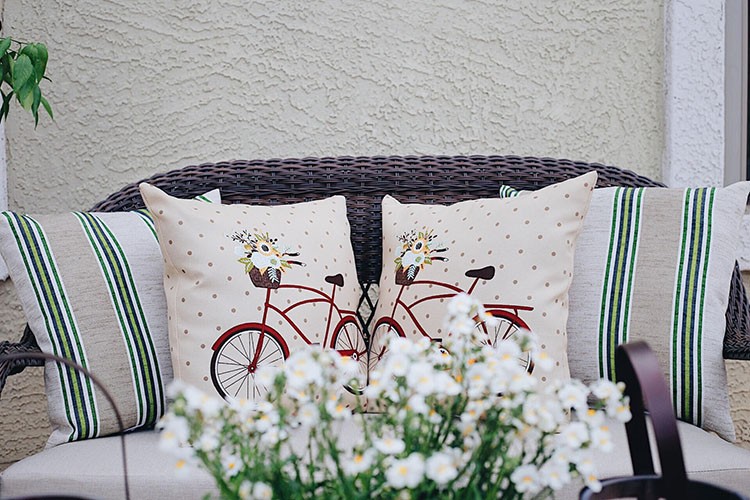 Working with what you've got can be challenging, and for the longest time, I was so uninspired with this space. My mentality was "I can't wait to move so I can have a better backyard that we can actually enjoy". I'm so happy I got to participate in the Home Depot Patio Style Challenge. Although it isn't extravagant, it's brought a sense of coziness to our home. It is also a new space we are able to enjoy as a family. I hope this can inspire you to work with you can, and make the best out of any situation!
Maximize your small patio with the help of Home Depot. Find more Patio Style Challenge ideas on the Home Depot blog.
The post Maximizing Your Small Patio appeared first on The Home Depot Blog.