When the family comes home for the holidays, there's no greater feeling than knowing you have a cozy guest room to host them in. JeriKey Moujoodi of Farmhouse Love was able to transform her office/guest room just in time with help from The Home Depot.
I was super excited about this room refresh with The Home Depot and I could not wait to start decorating! It's been a room we have not touched for over two years and thankful it is done and super cozy now thanks to The Home Depot's gorgeous home decor selection!
The Before
Here's a before picture of the office/guest bedroom. We started with a bed, office desk, dresser and chair. This room didn't have a lot going for it until this room refresh!
The Process
I was so excited for this room refresh, because like I said, we had done nothing to the room since we moved in two years ago! I was able to all get home decor I needed from The Home Depot to style the whole room as a stylist office-guest bedroom hybrid.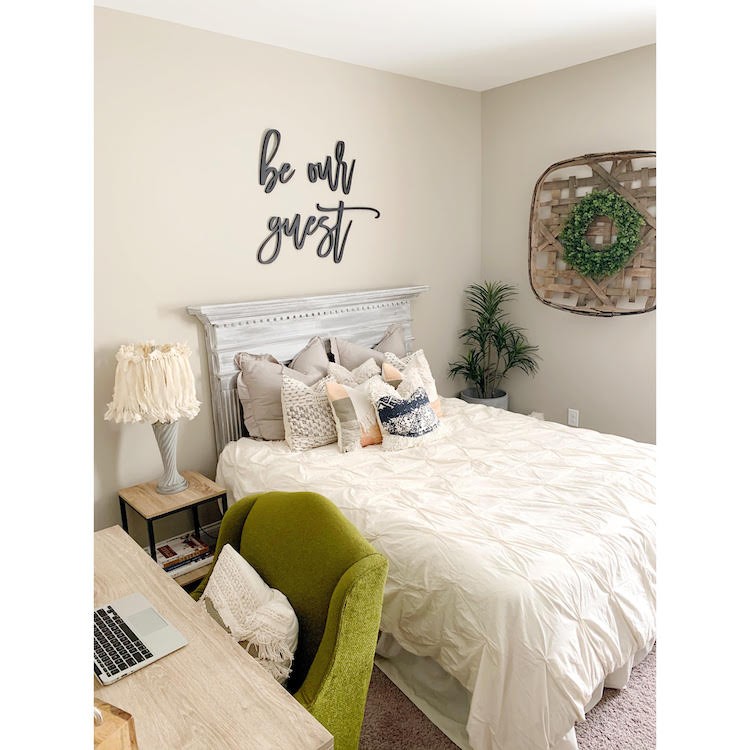 Adding a Little Green
I started with the Large: 17 in., Medium: 15 in., Small: 12 in. Light Gray Fiber Wood Planters (3-Pack) which holy moly are gorgeous and great quality! These honestly would work in any room of the house. I love all three sizes because I was able to put two on the floor and one on my desk.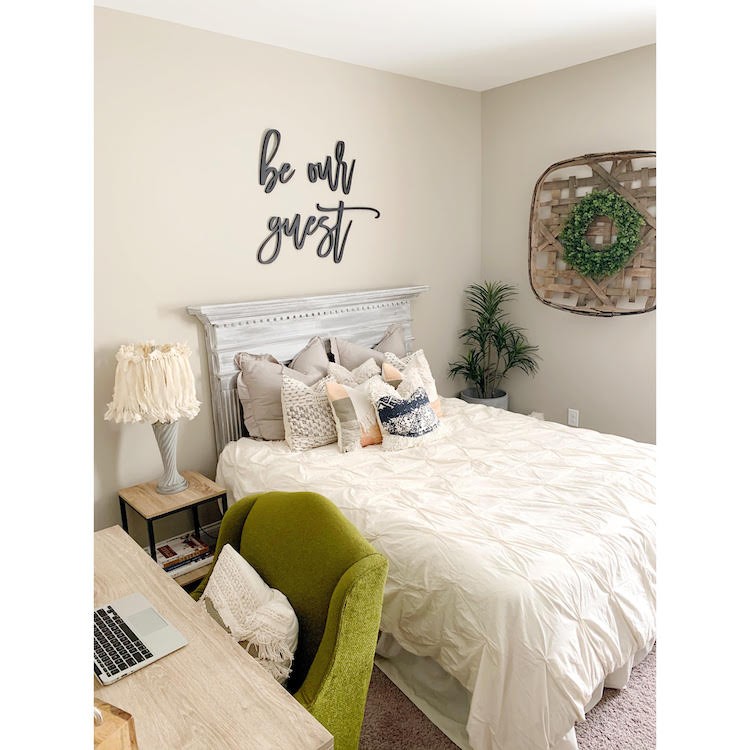 The adorable New Traditional Iron Wire Storage Basket in the corner is so perfect for storing pillows or even blankets in the corner. This basket makes the room extra cozy by having extra pillows and throws for guests.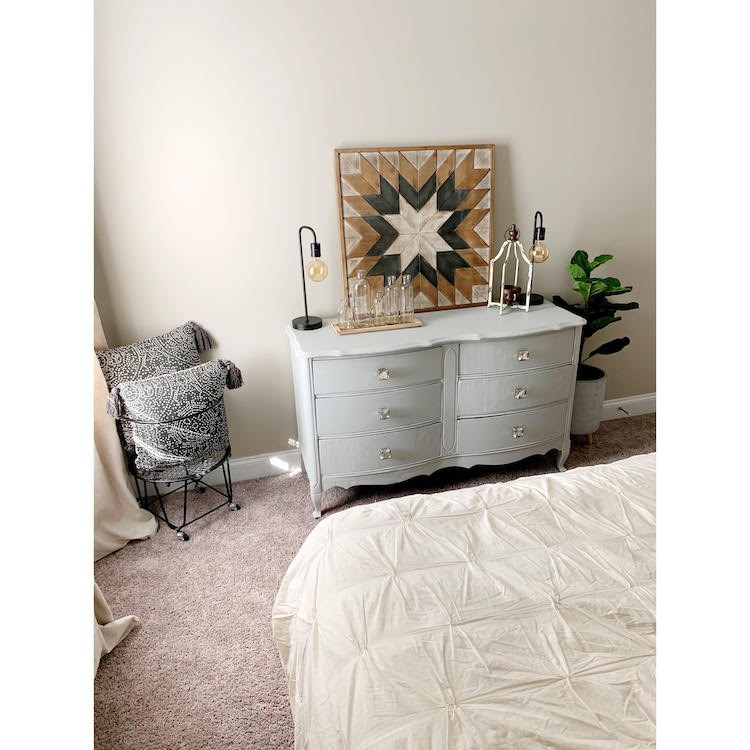 Wall Accents
I went with the Geometric Star Framed Wooden Wall Art to add more dimension to the room. The colors and size of this piece work great in this space. I also purchased two of the Holden 18 in. Black Table Lamp. These lamps are so fabulous and so rustic! To further fill out this dresser space, I added these Glass Bottle Vases with Tray (Set of 5). Lastly, finished off this area with the 8 in. Small Farmhouse Metal Lantern. I love anything farmhouse, so I knew this would look great on the dresser.
The Rustic Wood and Iron Brown Square Table Clock is such a fabulous clock that looks so wonderful in the room!
I also needed a great end table and I wanted something that wasn't too large so I went with the North Avenue Charter Oak End Table. It's a smaller end table and it's open so you can add books or cute decor on the bottom shelf.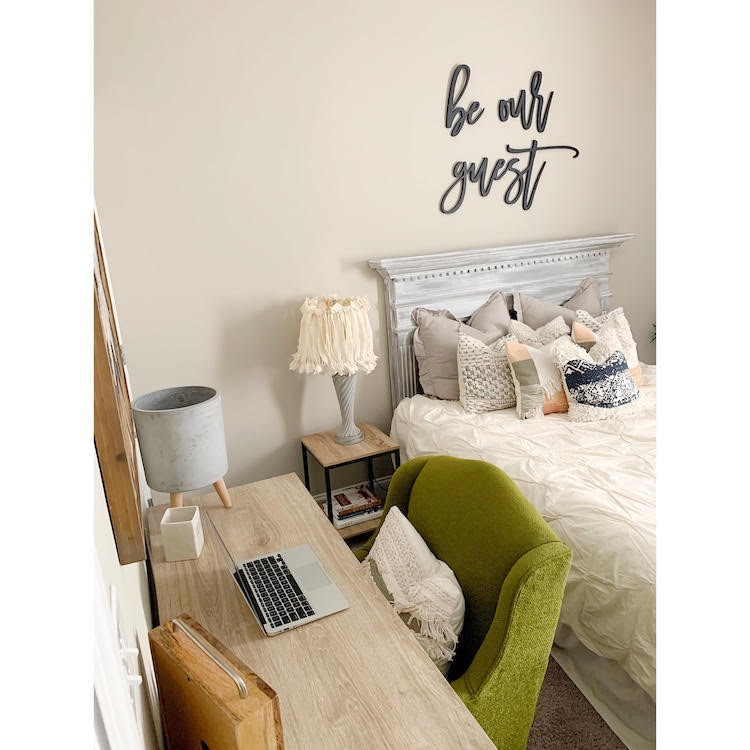 I added a few more touches by added some curtains and changing an existing lampshade. I wanted to keep things simple so when I am working in the office I didn't feel overwhelmed in the room. Also, I wanted to keep the room simple for guests that stay in the room as well.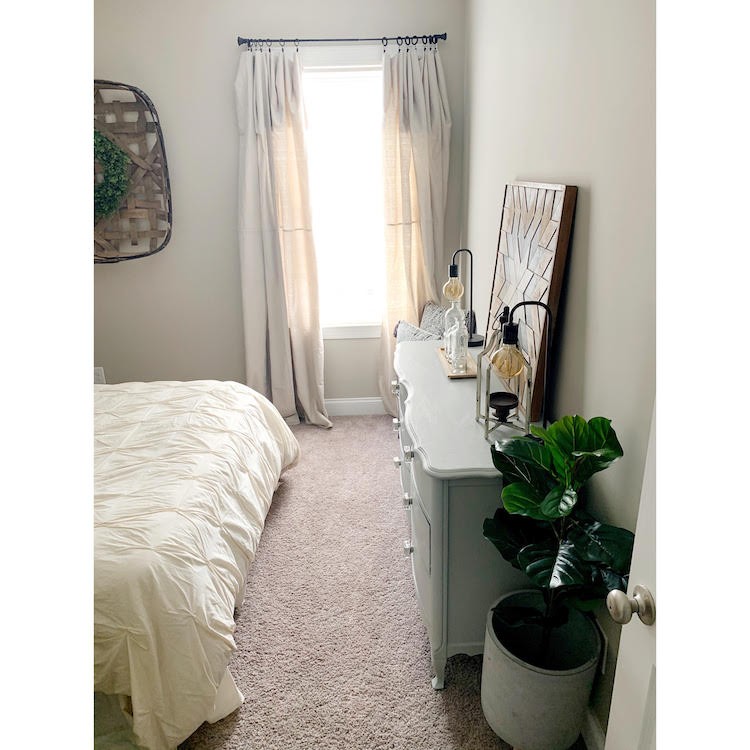 I was so pleased how everything turned out and I am so happy with the results of this makeover! The Home Depot made it so easy and simple by ordering everything online and having everything shipped to our front door! I can't thank The Home Depot enough for allowing me to partner with them for this room refresh!
The post Office and Guest Bedroom Refresh appeared first on The Home Depot Blog.